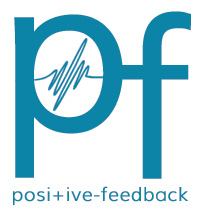 You are reading the older HTML site
Positive Feedback ISSUE
10

october/november 2003
Livin' With the Blues in Salina, 2003 Edition
by Dave Glackin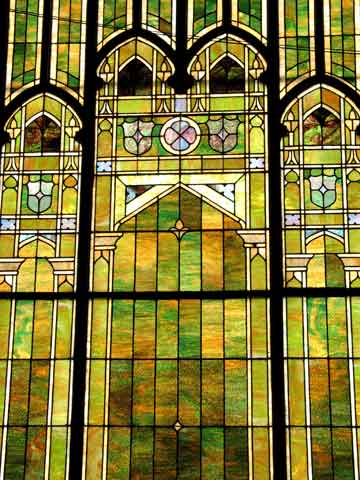 The stained glass at Blue Heaven Studios
The Sixth Annual Blues Masters at the Crossroads Festival was held in Salina, Kansas, on October 17 and 18, 2003. Once again, Chad Kassem opened the doors of Blue Heaven Studios so that 400 lucky fans of the blues could see and hear some phenomenal artists perform a tremendous range of blues styles each night. The intimate setting and great acoustic of the wooden interior of this old cathedral may be unique among blues festival venues. The concerts started before each night and lasted well past midnight. The wildly enthusiastic crowd got the chance to meet the artists up close and personal in the basement of the church throughout the two evenings.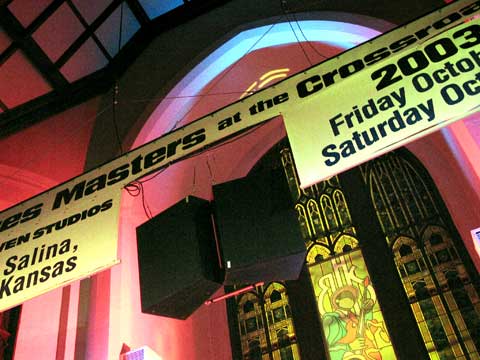 A sign of the blues…
Chad Kassem continues to be an unwavering supporter of the blues, pouring some of the profit from his Acoustic Sounds mail-order business into a world-class concert hall and recording environment. At Blue Heaven Chad has recorded aging black blues musicians, many of whom have been under appreciated and treated poorly by the industry, in state-of-the-art analog and digital sound, preserving their artistry forever. The meaning of his work has become especially poignant, as many of these artists have since passed away.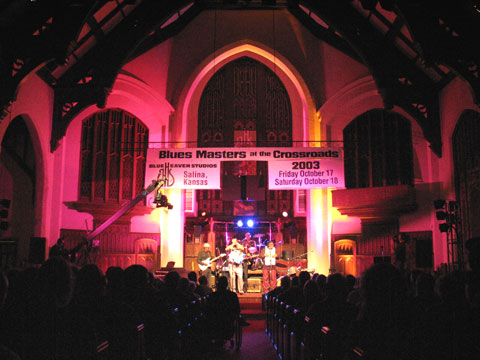 The stage at the Blues Masters concert, 2003
John Weston opened Friday night's show, working the crowd up with his one-man-band performance on harmonica, guitar, and vocals. The fact that he only started playing professionally 15 years ago is amazing. At age 76, John was the oldest performer in this year's festival (which is an unusually young limit as Chad's festivals have gone). John's daughter Carla Robinson accompanied him on electric bass and high-hat.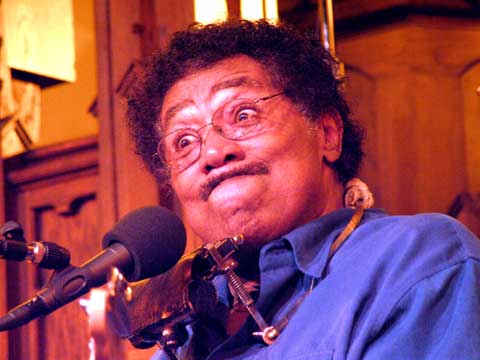 John Weston doin' that Weston thing…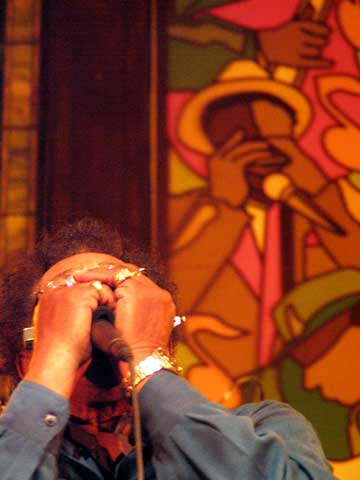 Weston hittin' the harp
Next up, Lurrie Bell sweated up a storm with his brand of rockin', joyful blues. He took a lot of high-energy solos during his set, with Mookie Brill on bass and Willie "Big Eyes" Smith on drums. Lurrie is the son of Carey Bell, and grew up around many of Chicago's blues greats.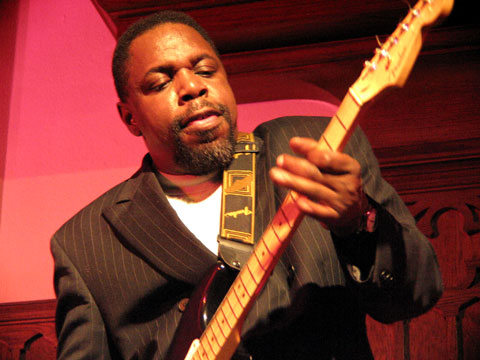 Lurrie Bell romancin' the frets
Tom "Mookie" Brill provided able accompaniment on the acoustic bass during many of Friday and Saturday night's acts. How he got his nickname while growing up in Brooklyn remains a mystery.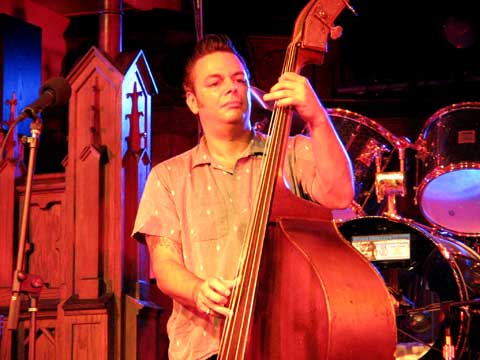 Mookie Brill and bass
Willie "Big Eyes" Smith made the music's foundation absolutely pop for Lurrie Bell. It was clear why he has been involved in so many Blue Heaven projects, and backed many of the acts during this festival.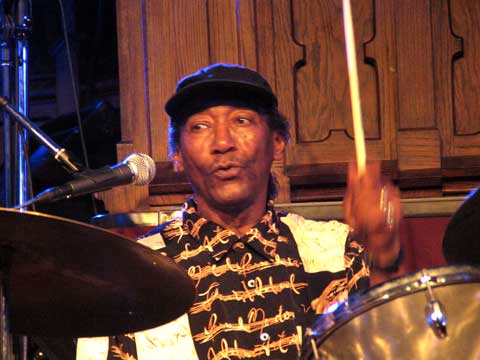 Willie "Big Eyes" Smith with his sticks
Harmonica great Carey Bell learned from masters including Big Walter Horton, Little Walter Jacobs, and Sonny Boy Williamson II. His harmonica style really wowed the crowd, and he showed them why he keeps getting invited back to Blue Heaven Studios for performances and recording sessions. He really put in an unforgettable performance.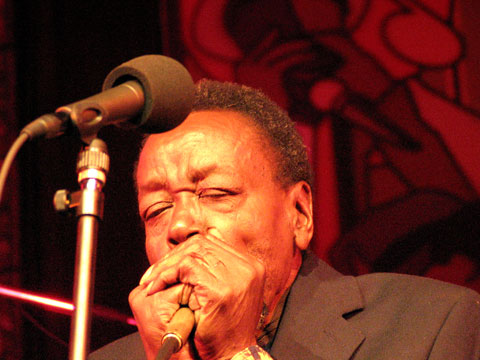 Carey Bell and his harp
Eddie Tigner replaced Johnnie Johnson on piano, and provided some great blues piano backing for Carey Bell.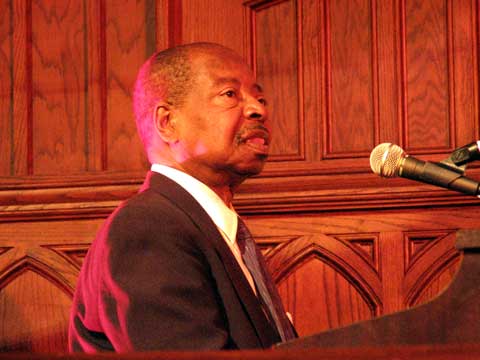 Eddie Tigner on piano
"Steady Rollin'" Bob Margolin, who backed Muddy Waters for seven years, played some very tasty guitar licks with Carey Bell and others on Friday night. His guitar work has received wide acclaim, and the reason why became crystal clear on Friday night.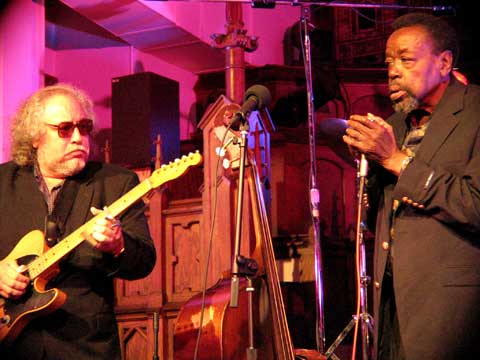 Bob Margolin & Carey Bell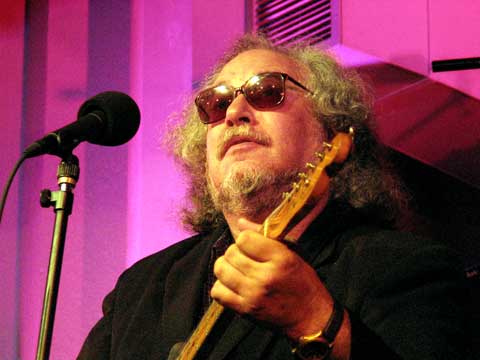 Bob Margolin
After intermission, Fernest Arceneaux kicked up a zydeco storm with his moves on the accordion. He is reportedly little known outside of Louisiana, but Chad appears to be working on fixing that problem.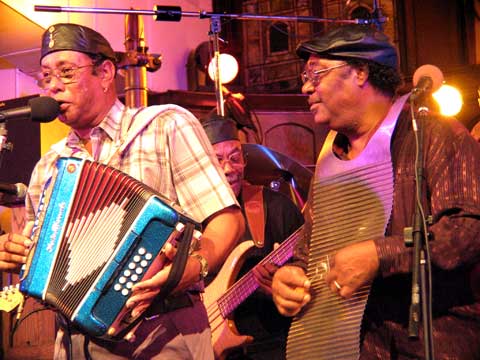 Fernest & Warren zippin the Zydeco!
Fernest was accompanied by Warren Prejean on the rubboard. Warren was happily doing his thing with no muss, no fuss, and proved to be the most photogenic musician of the evening.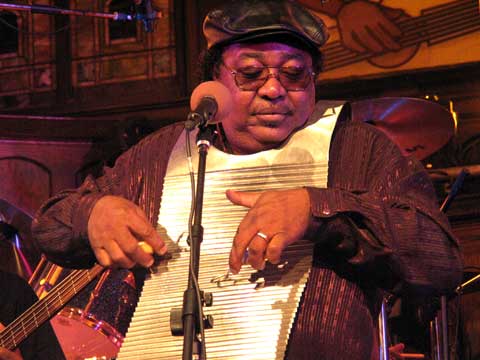 Warren Prejean with his rubboard
Fernest was backed by Paul "Lil' Buck" Sinegal on guitar, who was billed in the festival literature as the "world's finest zydeco guitarist." Sinegal just quietly laid back and did his thing, but always gettin' the job done.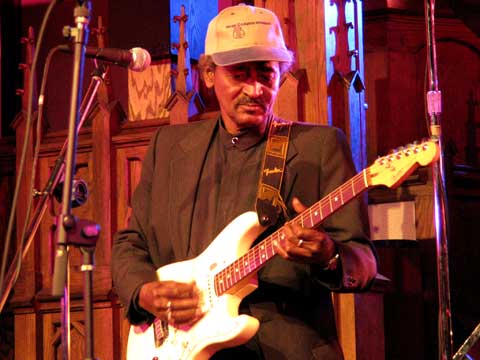 Lil' Buck
Nappy Brown closed out Friday night with some truly sizzling showmanship. Nappy went out into the audience and got up close and personal with some of the women, begging them to "let me squeeze your lemons, baby!" This guy sure didn't act like he was 74. Nappy flat-out owned Blue Heaven Studios while he was on that stage. He even rolled around on the floor and moaned. To say that he had the audience's attention is an understatement. Nappy, who got royally ripped off by the record companies in the fifties, showed that nearly fifty years later he still has the fire and vocal chops of a world-class performer.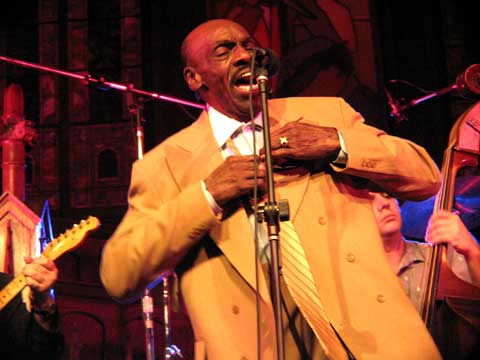 Nappy Brown hittin' the groove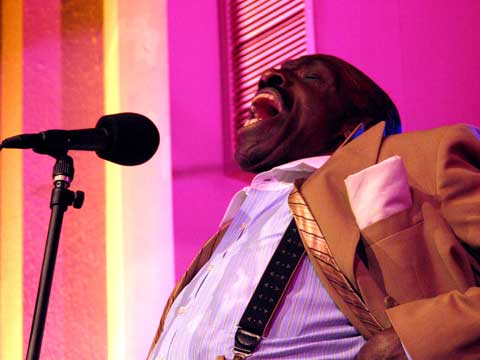 Nappy Brown in a wailin' moment
Nappy was backed by many of the artists mentioned above, as well as Mark "Kaz" Kazanoff on sax. Kaz's expressions were a perfect counterpoint to Nappy's out-there style.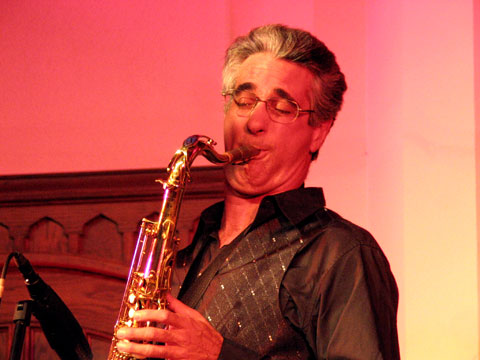 Kaz Kazanoff and sax
Whew! So much for the first night. How could Chad possibly top that? Well, he showed us on Saturday night, which seemed to have an even higher energy level and an even more enthusiastic crowd. The wick was definitely turned up one more notch.
Alvin Youngblood Hart kicked off the evening with his brand of acoustic folk blues or so-called country blues. This was my favorite performance of the festival ... his traditional style really hit me where I live. (I even forgot to take photographs for awhile.)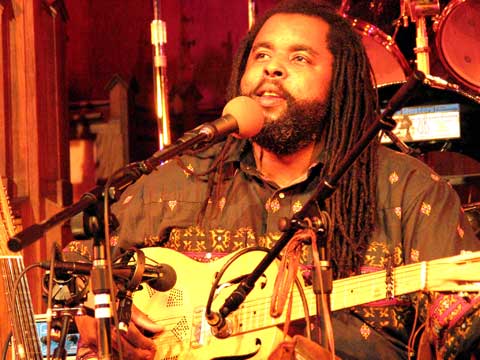 Alvin Youngblood Hart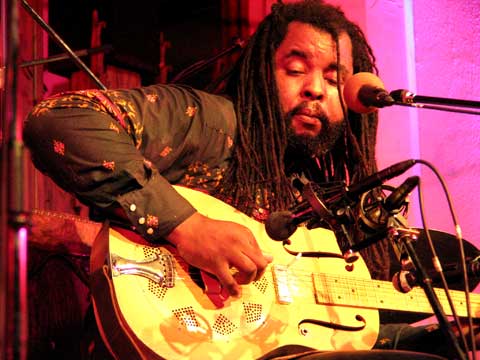 Alvin Youngblood Hart hittin' the country blues…
Deitra Farr, reportedly "one of Chicago's top vocalists," brought the house down with her high-energy no-nonsense vocal style. She was one of my favorite acts of the festival, although photographing her presented a real challenge. Toward the end of her set, she ended up practically making love to one of the cameramen through the lens. That footage may never make it onto DVD.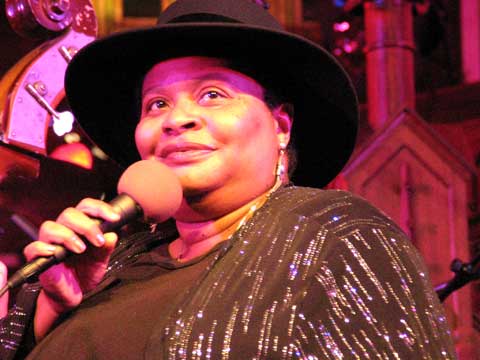 Deitra Farr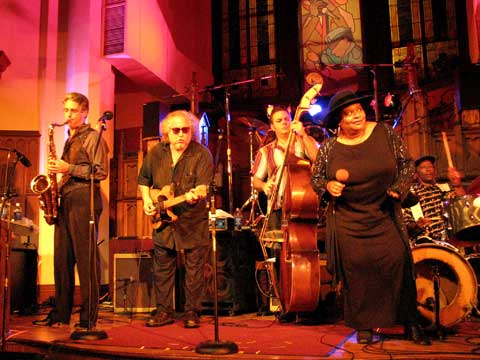 Dietra & her band: a jammin' moment!
Sweet Betty (Betty Echols Journey) really belted out the tunes, and provided the perfect act to follow Dietra. Her style was rather mesmerizing and totally natural.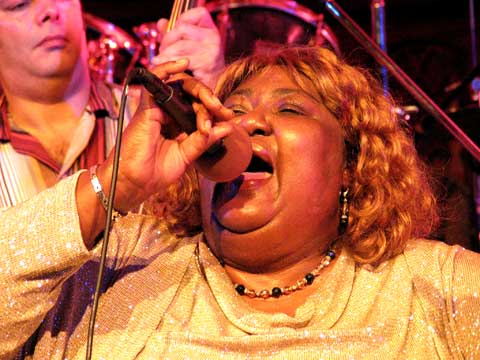 Sweet Betty in action!
The crowd was in for a real treat as Dietra and Betty took the stage together. What a great duo! These two deserve all the fame and fortune that they can find in the music business. After Alvin Youngblood Hart, this was my favorite act of the festival.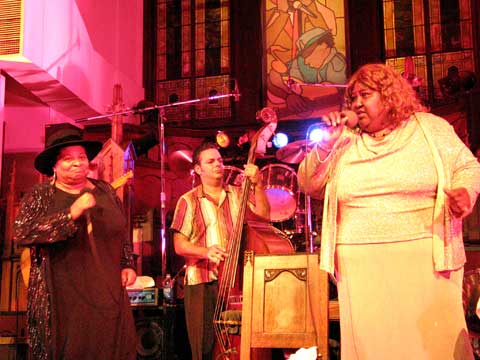 Dietra & Betty: the dyamic duo!
Tony Joe White got the crowd up and applauding with his unique version of harmonica and electric guitar. With his shades and guitar amp set to 10+ on the "grit" scale, my good friend John Volk dubbed him the "swamp Lou Reed." According to the festival flier, White's songs have been recorded by "Elvis, Ray Charles, Joe Cocker, Etta James, John Mayall, ... Waylon Jennings and Dusty Springfield." (Ten bucks says it wasn't Dusty's famous cover of "The Look of Love.") He was the easiest musician of the festival to photograph, as he just sat there and played his ass off. Here is a selection of my best pics, painfully edited from many candidates.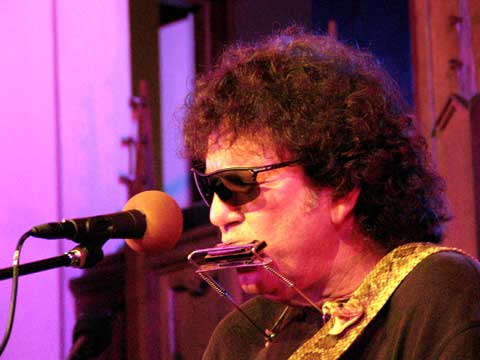 Tony Joe White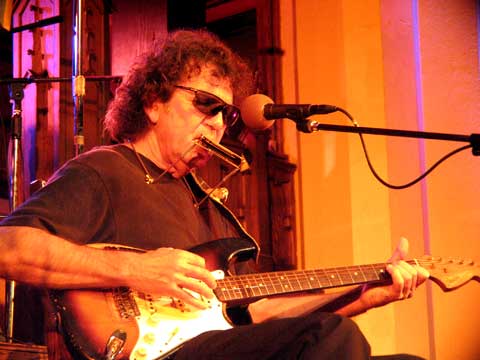 Tony Joe White and Fender…been a few miles there!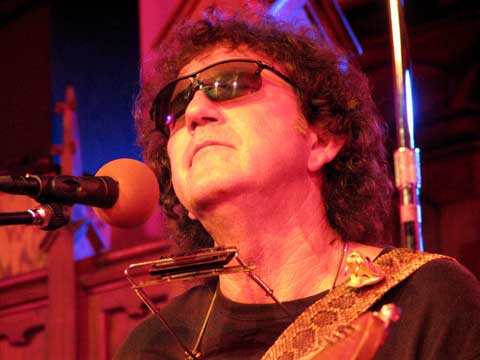 Tony Joe White contemplatin'…
For the 2003 festival, Chad chose to show us where some of the roots of the blues lie, namely in gospel music, and he had a church to play it in to boot. The Campbell Brothers play pedal steel guitar (Chuck Campbell) and lap steel guitar (Darick Campbell). With Denise Brown on vocals for most of the set, this group really got the crowd jumpin' (for Jesus, as it happened). Stan Ricker and I were both wondering just how much this old church could take. If the whole crowd had been going in unison, the Campbell Brothers might have literally brought down the house. Instead, they only did it figuratively. The energy that flowed out of Denise Brown during her vocals looked like it was sourced straight from Hoover Dam.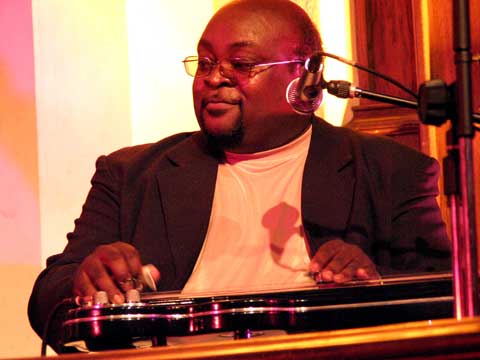 The Campbell Brothers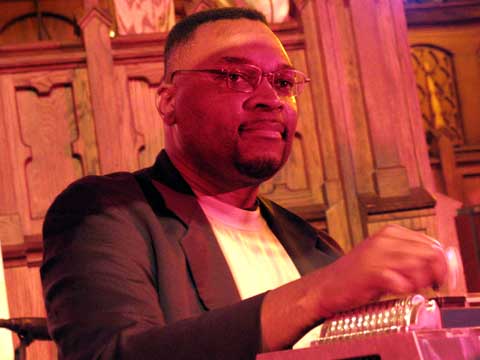 Meanwhile, back in the recording booth, I found my close friend Stan Ricker (right) enjoying the music with Gus Skinas (left) of Sony.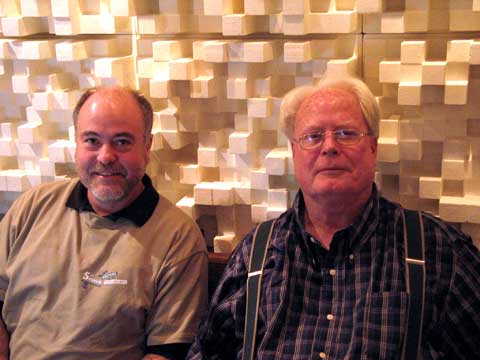 Gus Skinas & Stan Ricker
Here Gus is shown with his Sony Direct Stream Digital (DSD) recorder, mastering what could be a stunner of an SACD. Let's hope that Chad chooses to issue this one soon.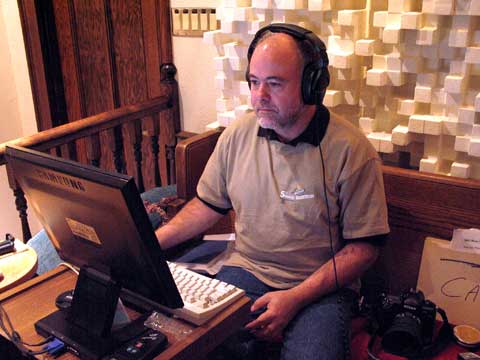 Gus Skinas of Sony's DSD/SACD Division
As the concert was ending, I captured Myra Taylor in the front row, basking in the glow of the festival.Myra was big in the Kansas City jazz and blues scene in the forties. Chad had the good sense to release a first-class recording of her on LP, CD and SACD, entitled My Night to Shine. I recently gave a copy of this to a close friend of mine who grew up in KC in the forties, and it has literally become the favorite recording in her entire collection. (Very, very highly recommended.)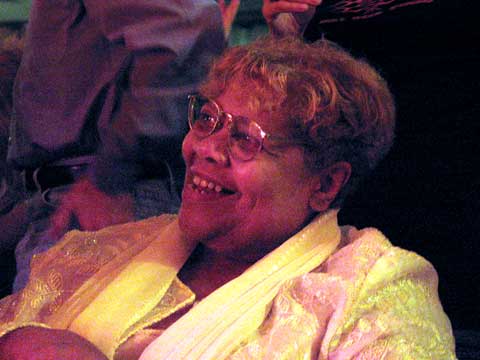 Myra Taylor enjoyin' the scene
Here is the man who made this all possible (right), pictured with his wife Lydia (center) and an unidentified member of the audience (left), just as the festival was drawing to a close. My best wishes to Chad for many more successful years of stunning Blues Masters at the Crossroads festivals. It's become an event that I can't bear to miss.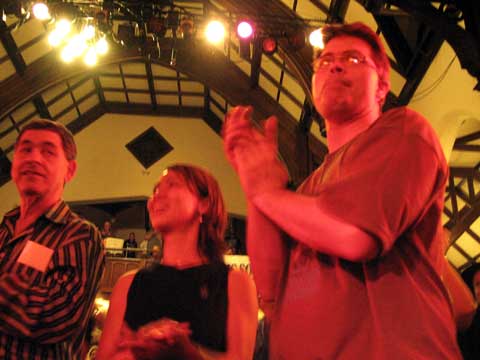 Chad & Lydia
Here are a beaming Denise Brown of the Campbell Brothers (left), Myra Taylor, and Chad Kassem, still basking in the glow of two nights of simply bodacious blues. Until next year!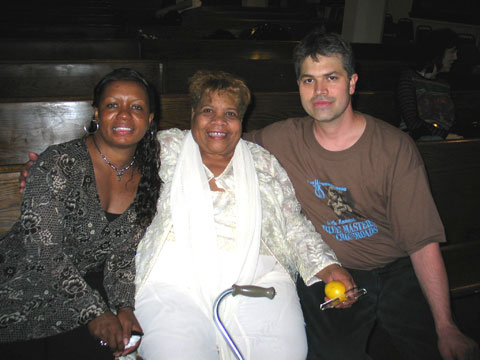 Denise Brown, Myra Taylor, Chad Kassem in a fine moment…