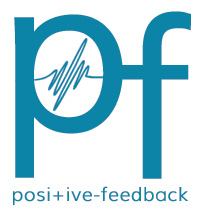 You are reading the older HTML site
Positive Feedback ISSUE
11

january/february 2004
ArtistLed - "Classical music's first Internet recording company"
by Bob Neill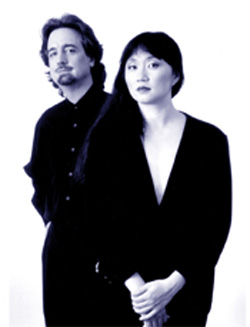 David Finckel, cello and Wu Han, piano of ArtistLed
This is a review I have been looking forward to doing for several years—ever since I stumbled into an email exchange with Emerson Quartet cellist, David Finckel, about a (seemingly forever) forthcoming recording by him of John Harbison's Cello Concerto on Albany Records. (It has just been released.) In the exchange I discovered ArtistLed, the private recording company and label through which he and his wife, pianist Wu Han, release their performances as a duo of music for cello and piano. They are joined on some recordings by their extraordinary recording engineer and violinist, Da-Hong Seetoo.
ArtistlLed grew out of a desire by these three musicians to control all aspects of a recorded performance. In their own words,
ArtistLed is an enterprise which evolved out of the desire of two musicians to produce recordings in an environment free from constraints: artistic, commercial, technical and procedural. ArtistLed is not as much a company as a means for musicians to record what they want the way they want, and to offer their records directly to the public. The musicians are controlling participants in every aspect of the recording process, from selecting the repertoire and recording venue to setting the sound, running the sessions, constructing the edits, and determining the final mix. The result is a performance which combines the excitement and spontaneity of a live concert with the sonic and musical perfection expected of a studio recording.
It didn't take me long—I ordered their Complete Music for Cello by Beethoven on the spot—to hear what they mean. It is the most powerful—musically and sonically—recording of the Beethoven Cello Sonatas I have heard. I ordered more of their CD's and then late last fall finally figured out that their project was a secret that deserved and probably needed outing.
The performances, which I'll get to in a moment, are what you should expect from the cellist who 'anchors' the world's leading string quartet; and a pianist, Wu Han (whom based on her curriculum vitae I'm embarrassed to admit I did not know of beforehand), who strikes me as his equal and who is precisely the performing partner Finckel's unique musicianship demands. Her emotional range matches his perfectly, such that all of their recorded performances are true duets. Finckel has always struck me as closer to Rostropovich's sense of cello playing than to Wispelwey's, my other standard; and as it turns out, he has been a student of the Russian master. Finckel is surely as strong in his attacks and as poignant in reflective passages. This comes out perhaps most clearly in the Shostakovich sonata. He is certainly a more worthy successor than any I know, and that this is not more widely known is a state of affairs which is due largely to the modesty and relative privacy of this project. And Wu Han's piano playing, to my ears, is a more forceful and natural match to her colleague's cello than Britten's was to Rostropovich's.
Russian Classics: Rachmaninov, Shostakovich,and Prokofiev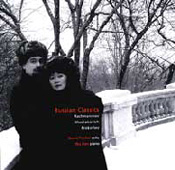 Rachmaninov has never gotten much of a toe-hold on my musical appetite, but if he's your man, his Sonata for Cello and Piano played with the lucidity and power of Finckel and Wu Han bring to it this recording will confirm your allegiance. Written soon after his much loved Piano Concerto No.2 and containing both subtle and unsubtle references to that piece's melodic eloquence, this is one of ArtistLed's most popular releases. Some of the credit for this success must be credited to Finckel's and Wu Han's recording engineer and sometimes colleague on the violin, Da-Hong Seetoo, who has managed to get all of both instruments, especially when they are playing together in the lower registers. The results are so compelling, even for someone as ambivalent about the composer as I am, that they make a strong case for staying home on a cold winter's night rather than venturing forth to a live concert. Lesser musicians (and engineers) would lose the eloquence of this music amidst its characteristic sweep and flood of sound.
In the Shostakovich, we get the opportunity to hear how forceful a combination Wu Han and Finckel can be. Her hands are sure and strong, letting the piano's clarion sound through much of the sonata ring out gloriously. The retreat to solitude in the Largo is equally compelling, maintaining just the right amount of tension to let us know, as always in Shostakovich, that the respite is temporary. The particular amplifier I am using for this audition (Audio Note Neiros with 2A3 output tubes) brings out the slashing clarity of this recording, where a 300B based amp would have featured its richness. Both are present, awaiting our preference.
Prokofiev is a musically elusive composer, closer to the Nabokov strain of the Russian aesthetic than either Tolstoy or Dostoievsky. Where emotion in Shostakovich is more single-minded and on display for all to hear, Prokofiev, here in his Cello Sonata, is his usual mixture of lyricism, brooding, playfulness (Peter and the Wolf), incisive power, and coyness or secretiveness, leaving us both moved and unsettled. I hear traces of modern French music wandering in and out of the unmistakably Russian urgency, which only adds to the piece's searching quality. Finckel and Wu Han have made this one of my favorite pieces of the cello repertoire, and I probably won't know why for years!
Tchaikovsky, Trio in A minor, Opus 50 and Kodaly, Duo for Violin and Cello, Opus 7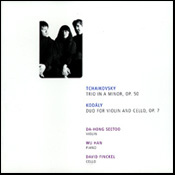 The capacity to make Tchaikovsky exciting is not vouchsafed to many musicians. Lyrical, uplifting, rapturous, of course. But exciting, especially for us jaded modern listeners who were taught to despise romanticism and who must listen to Tchaikovsky backwards through Shostakovich and Stravinsky, is harder. I love piano trios. Shostakovich's trio, from its unearthly beginning moments when the cello begins higher than the violin and then eventually crosses it, is my modern standard. David Finckel, Wu Han, and violinist Da-Hong Seetoo have now made the Tchaikovsky competitive. They do this by setting the natural timbres, of the violin and cello especially, against each other with near abandon, an approach which modern ears will love and which opens up an exciting fresh avenue to this late romantic composer. Wu Han clearly knows where her partners are going and goes with them eagerly and wonderfully.
As if to make their point clearer still, the ArtistLed musicians couple the Tchaikovsky trio with a violin-cello duo written a generation later by Kodaly, Bartok's contemporary countryman and sometime colleague. Kodaly's Sonata for Unaccompanied Cello is a modernist classic; his duo, sufficiently modernist for most, reaches back just a little toward Tchaikovsky. Finckel's bold tone helps link these two aesthetics convincingly. Da-Hong Seetoo sees eye to eye with him on the piece, demonstrating their close relationship.
Grieg, Sonata in A minor, Schumann, Adagio and Allegro, and Chopin, Sonata in G minor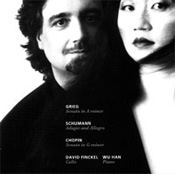 This album plays to the rich and lyrical side of Finckel's palette and to Wu Han's grace in complementing it—but it also calls to engineer Da-Hong Seetoo's formidable ability to capture both nuance and sweep. It is sometimes hard for today's listeners to understand how major a composer Grieg was considered in his time; and probably the easiest way to regain access to this composer is through his chamber music. Pianist Leif Ove Andsnes has delivered us his solo piano music wonderfully (EMI), and Wu Han and Finckel are equally compelling on this sometimes florid, sometimes subtle duo.
From the Grieg to the brief Schumann Adagio and Allegro to the best known Chopin Cello Sonata is a progression to bolder and bolder expression of the romantic style, and once again it is a pleasure to hear these musicians' bold take on nineteenth century music, making it musically exciting rather than the bravura show some others produce.
Beethoven, Complete Works for Piano and Cello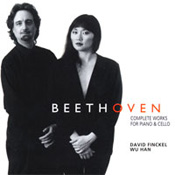 As I say, I came to this series of recordings through the Beethoven set, which still, as much for the music itself as the quality of the performances and the luminous engineering, remains my favorite. I have not heard Rostropovich on this music for too long a time to make that comparison. The two other recordings I have, both on period instruments, are Coin/Cohen and Wispelwey/Komen. Partly because of the sound of Coin's cello, which is hooded and reclusive, even a bit dreary, that version has never quite moved me much. Wispelwey's 1710 cello is both richer and more open sounding than Coin's (no information about his instrument given), and he plays it with a good deal more spirit. Before Finckel and Wu Han arrived, Wispelwey did me very well. He harks a bit more backwards to the eighteenth century than forward to the nineteenth, which is certainly a legitimate choice for Beethoven.
The ArtistLed pair are both bolder and more lyrical than either of their competition, and the engineering brings both instruments forward to a degree that the others seem rendered in pastels by contrast. Perhaps the best thing I can say in a venue like Positive-Feedback about this recording is to recommend that you buy it to find out what your music system is truly capable of. Unless I miss my bet, it will also introduce you to the Beethoven you've heard about all your life but only occasionally heard. This is a great recording in every way I can imagine.
Edwin Finckel, Music for Cello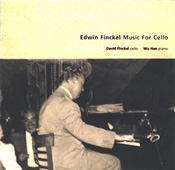 When I got to the CD of music by David Finckel's father, Edwin, this whole critical enterprise was beginning to feel personal. I assume it was extremely personal for Finckel—his father died the year this recording was made. It was personal for me because I had grown extremely fond of Finckel's and Wu Han's musicianship, and here they were, doing what I expected to be a sentimental tribute to the cellist's father 'because they could.' Because it was their label and they could play whatever they chose to play. I expected mainly a 'musical evening at home,' where I would get some personal insight into David Finckel. Instead I got a wonderful new musical experience.
An Anglo-French (Milhaud? And sure enough Milhaud turns out to be an Edwin Finckel favorite) sense of play with a romantic center. What must it have been like to grow up in a house with this musical soul in it! Late afternoons in New England are traditionally jazz times in our house, late 1950's and early 1960's jazz mainly, because it is not until then than we are calm enough to hear it. We have now added the music of Edwin Finckel to this fare.
There is one other recording on ArtistLed I did not hear that includes Richard Strauss's Sonata in F Major, Cesar Frank's Sonata in A Major (written for violin and piano, here transcribed by David Finckel), and a piece by Edwin Finckel that also appears on the Edwin Finckel CD.
This review wants a conclusion that suits both my admiration for the musicianship of David Finckel, Wu Han, and both the musicianship and engineering brilliance of Da-Hong Seetoo; and my enthusiasm for what these three extraordinary people have brought to us with ArtistLed. Perhaps that is enough to say: how often do we both admire and love a series of musical performances? I urge you to add ArtistLed to your musical lives!
ArtistLed recordings are available only through the ArtistLed web site: www.artistled.com. They cost $15 plus a little over $2 shipping for the first CD, proportionately less for more.
The system used for this audition included an Audio Note digital source, an Audio Note tubed preamplifier and monoblock amplifiers, JM Reynaud speakers, Audio Note cabling, Elrod power cords, and a Blue Circle line conditioner for the digital components.