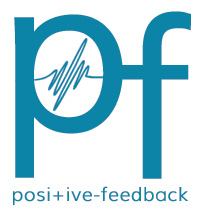 You are reading the older HTML site
Positive Feedback ISSUE
11

january/february 2004
Music, Sound and Personalities: The 2004 CES and T.H.E. SHOW
by Dave Glackin
Part 2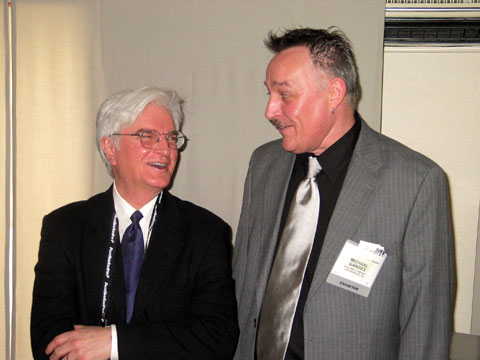 Jeff Tonkin talks to Mike Garges about his recent encounter with an AC outlet
The Hovland Company has always stood out as one that is run by people with vision who really care. They have taken a long and careful road to get to where they are, and it is always exciting to see what they will come up with next. Jeff Tonkin, Mike Garges and Alex Crespi were demonstrating a system showcasing the gorgeous new HP-200 preamp, basically an all-out revised version of the highly regarded HP-100 in which remote control is added. Iíve gotta say that the HP-200 was the Most Gorgeous New Preamplifier in the show. The technology behind the remote capability is rather exotic, in its use of metal-film resistors and reed relays. The sound was dynamic and smooth, with fantastic soundstaging. Bob Hovland, starting from humble beginnings, has built up quite a company. It was a pleasure as always, guys. Readers who do vinyl should know that Hovlandís tonearm cables have been my reference for many years. The Music Groove 2 is their best yet. Just when I think they canít possibly get any better, somehow they do.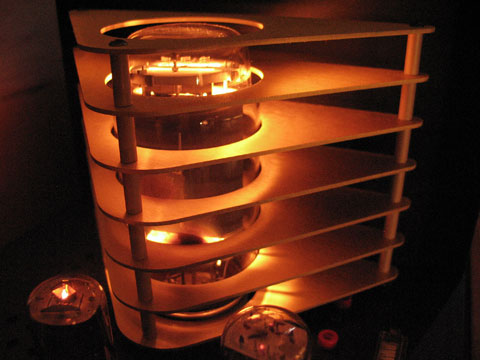 The deHavilland GM-70
George Kielcyznski of the deHavilland Electric Amplifier Company was exhibiting a very compelling system centered around the deHavilland GM-70 monoblock, a 50-watt amplifier that uses the GM-70 tube, a Soviet version of the 845. (The 845 happens to be my favorite tube of all time ... magical things seem to happen when this tube is in the room.) It turns out that amplifier designer Kara Chaffee is also a whiz with tape decks. She brought an Ampex 351-2 back from the dead, and the results are sure worth it. This system, which also featured Prana Wire from Joe Cohen, brought me as much musical joy as anything in the show, as George played reel-to-reel tapes of Simon and Garfunkel: Parsley, Sage, Rosemary & Thyme. I am intimately familiar with this album, and have never heard it like this. My biggest regret of the show, quite seriously, is that I didnít spend more time in this room, and didnít get back there with Stan Ricker. Next year, folks! This was definitely the Room I Wanted to Spend More Time In.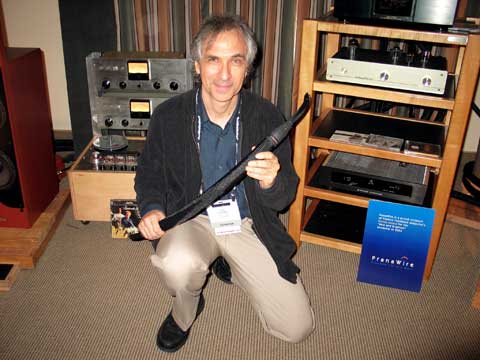 Joe Cohen of PranaWire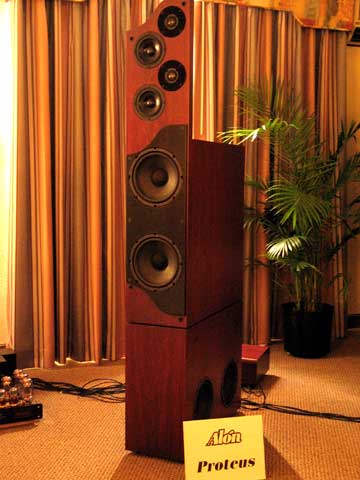 Alon Proteus
Iím a sucker for dipolar loudspeakers. The Eminent Technology Model 8 loudspeakers that I have very happily used as my reference for many years are planar magnetic loudspeakers, with cone woofers in an enclosure. The Alon Proteus loudspeaker is also dipolar, but it uses cone drivers (with Alnico magnets), and it separates the upper dipolar section from the sealed lower section with ball bearings. This system, using the Antique Sound Labs Hurricane 200 W tube monoblocks, absolutely blew me away. These are the Loudspeakers Iíd Most Like to Take Home and try out in my own system. Well, so much for not handing out awards.
Jud Barber
Jud Barber of Joule Electra was showing this year with Joseph Audio Pearl loudspeakers. Judís electronics have always acquitted themselves mightily when paired with Merlin loudspeakers. The Joseph Audio Pearls were used in the system that I most wanted to take home last year, and they worked extremely well in this system. The sound was natural, relaxed, and musical, and a sheer joy to listen to. Stan and I enjoyed Judís hospitality, and this was another room in which Stan remained firmly glued to his chair for a long time, while I went out and visited other rooms, came back and checked if Stan was ready to leave, checked out more rooms, etc. Congratulations on a magnificent sounding room, Jud.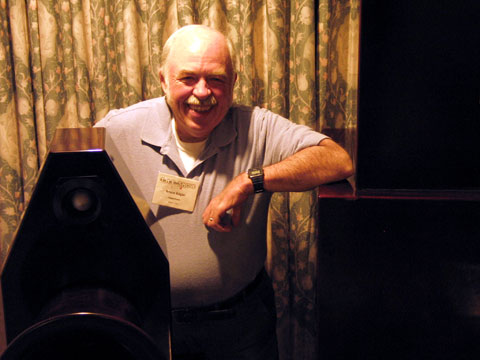 Dr. Bruce Edgar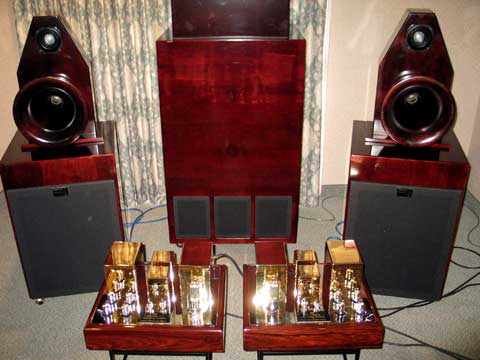 The Edgarhorn system of Dr. Bruce Edgar was sounding better than ever this year. And thatís really saying something, as loyal readers know. Amplification was provided by Cy Brenneman of Cyrus Brenneman Audio, using the 845 Silver Odyssey single-ended monoblocks. Thereís my favorite tube again! These amps use fully silver-wound output transformers from Electra-Print, and modern oil-and-film capacitors. I feel compelled to hand out an award for the Best Sounding Horn Loudspeakers in the show. This was really a no-brainer this year. In the interest of full disclosure, new readers should know that I worked with Bruce many years ago at a federally-funded R&D lab on space science, and I provided a lot of input into early versions of Bruceís speakers, including their imaging. But I have had no involvement in that for well over a decade, and those designs bore little resemblance to what Bruce is doing today. And while Iím swiftly back-pedaling on my plans to forego the awards, I must state that the 845 Silver Odyssey was the Most Stunningly Gorgeous Power Amplifier in the show.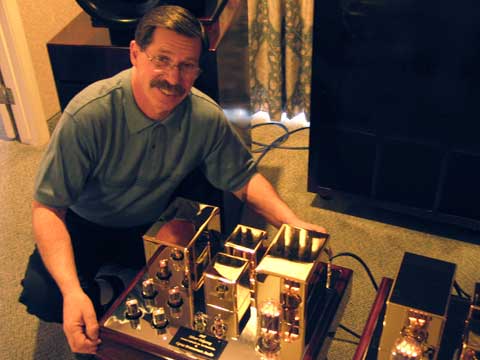 Cy Brenneman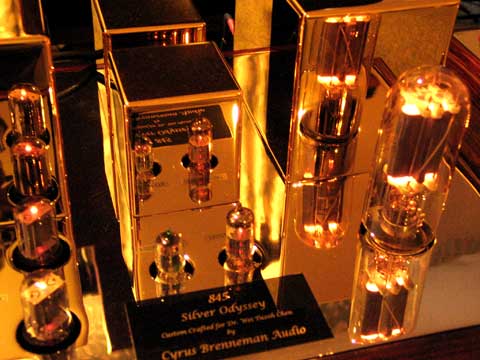 Cyís 845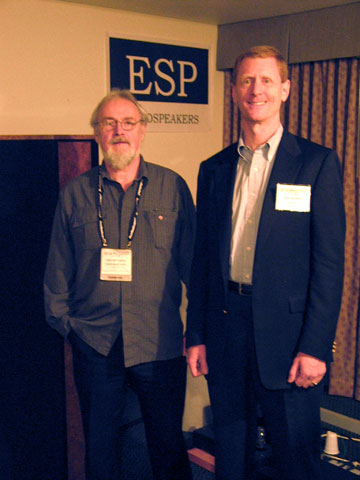 Esoteric Speaker Products (ESP) returned after a six-year absence, and Iím glad they did. Company president Mike Verretto put on a demonstration that Stan found irresistible. I found myself drawn back to the open, transparent, relaxed, and natural sound of this system, and its great soundstaging abilities. Designer Shawn McCaughan is to be congratulated for the extensive revisions that he has made to the design. The speakers were driven by Concert Fidelity 60-watt tube amps, using the 6B4G tube. Designer Masataka Tsuda manages to coerce 60 watts from a 2A3-like tube.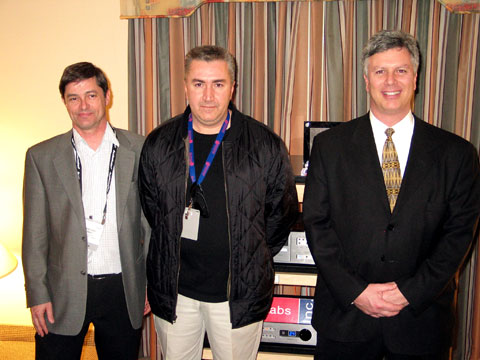 Francois Lemay, Michel Vanden Broeck, Robert Lamarre left-to-right
Tenor amplifiers were being exhibited by Francois Lemay, Robert Lamarre, and Michel Vanden Broeck (the designer). I have long admired their 6C33C-based OTL designs. They were showing the new hybrid 300Hp Mono, which uses a solid state output. The sound was well worth seeking out. CES placed Tenor alone at the very end of the last building in the Alexis Park, which was unfortunate. Hopefully the knowledgeable and the adventurous show goers made it back there.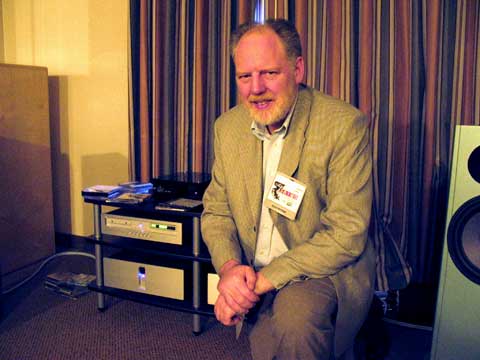 Ole
Ole Christensen of GamuT was exhibiting his highly regarded CD-1S CD player and electronics, using loudspeakers from Tony Minasian of Tonian Laboratories. The sound was quite seductive. If you are in the market for a CD player, you owe it to yourself to give the GamuT a listen. It was getting quite good buzz around the show.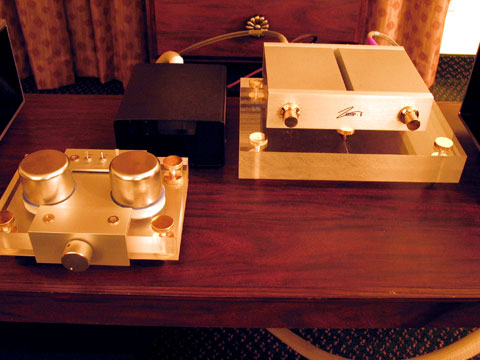 Audio Zone electronics
The MM de Capo i loudspeaker from Reference 3A was sounding superb with the diminutive Audio Zone AMP-1 from Canada. This minimalist amplifier is not unlike another product from 47 Laboratory. This combination looks to be a real winner for the music lover with minimal space; Iíve never heard the Reference 3A sound like anything other than music.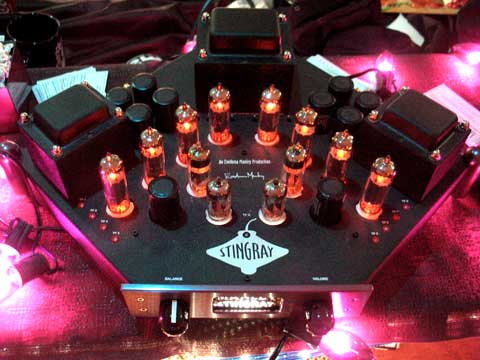 Manley Stingray, sans lava lamp
EveAnna Manley of Manley Laboratories, with Israel Blume of Coincident Speaker Technology, set up a room that sounded great as always. An impressive array of Manley gear was powering a pair of the new Coincident Grand Victory loudspeakers. Coincident has always been one of my favorite high-efficiency speakers. This model has an efficiency of 100 dB, using a very sensitive ribbon tweeter. The only thing missing from this room was the lava lamp. I propose that the Sapphire Group take up a collection to buy EveAnna a new one ... things just arenít the same without it.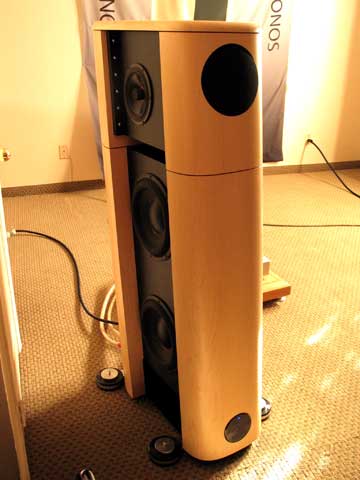 Audio Physic Kronos
The new Audio Physic flagship Kronos loudspeaker was being shown in the Immedia room with the new Audio Physic 250-watt monoblocks. The front end included an RPM turntable with a Lyra Titan cartridge, and Burmester electronics. I only saw Stig Bjorge and Jonathan Carr of Scan Tech, the company that designs and manufactures the Lyra cartridges, briefly this year. Next year, letís get together and talk cartridges, guys.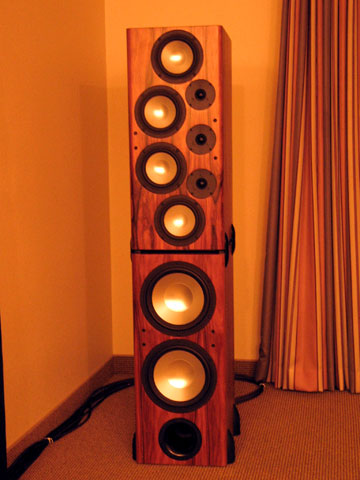 RBH
RBH, manufacturer of the Status Acoustics loudspeaker that I have given a best sound in show award to in the past, returned to the high-end show this year. They were featuring the RBH T1 loudspeaker, which captivated Stan and me in much the same way that the pricier Status Acoustics did previously. This is a full-range loudspeaker that really fleshes out the lower registers, and just sounds right throughout the rest of the range. This company deserves wider recognition within the high-end community. Stan and I were very sorry to have missed Shane Rich and Roger B. Hassing this year. We hope to rectify that situation next year, gentlemen.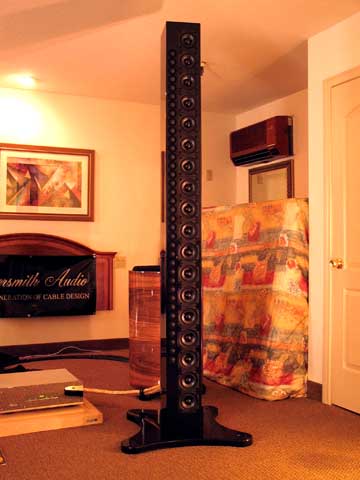 Quite impressive this year were the Pipedreams. We heard the 7-foot tower hemisphere system, with 18 midrange drivers, 36 tweeters, and two 18-inch woofers in a push-pull configuration ... per side. They were being powered by Rowland amplifiers, kindly on loan from Jeff Rowland at the last minute. The front end was by Burmester. This system gave an uncanny sense of a choir hanging right in front of you in space, and had real power in the organ (on my fave Cantate Domino CD from Proprius). The upper midrange glare that has often bothered me with this system in past years was far reduced, and I thoroughly enjoyed the presentation.
Other Items of Interest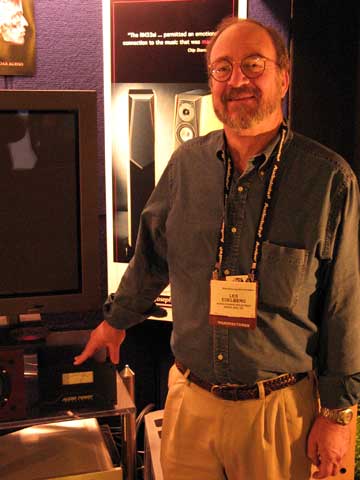 Les Edelberg of Audio Power Industries was seen about the show. The man who has taken the "Best Tie" award many years running had the audacity to show up without one this year.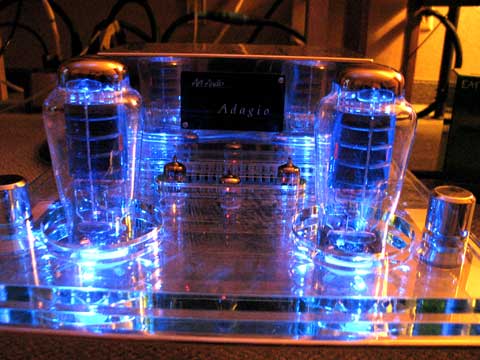 The Art Audio amplifiers were looking kinda blue this year and sounding cool.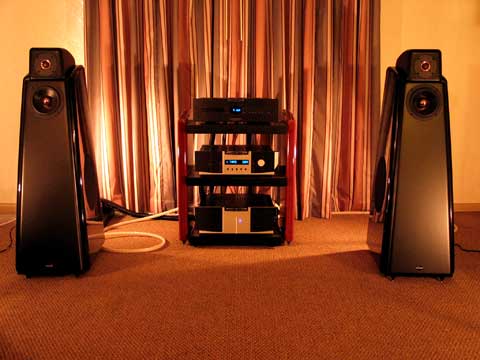 Audes LLC was exhibiting loudspeakers that have received good reviews, but which seemed to be suffering from less than ideal show conditions. This company is based in Estonia, and has been manufacturing electronics for Eastern Europe since the 1950s.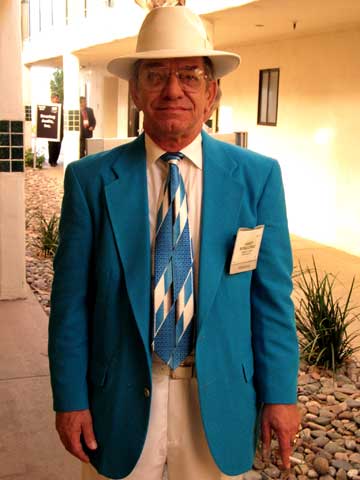 Jim Bongiorno of Great American Sound and Sumo fame was decked out in all his sartorial splendor this year. (I missed photographing the lime-green suit he was sporting on the first day of the show.) Jim was showcasing his Ampzilla 2000.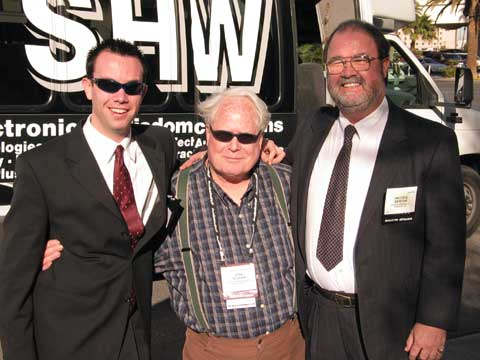 Brian Berdan, Stan Ricker and Brooks Berdan were caught coming out of T.H.E. SHOW. If youíre ever in need of a really excellent high-end audio dealer, especially one who can set up your multi-kilobuck turntable like it was meant to be, visit Brooks in Monrovia, California.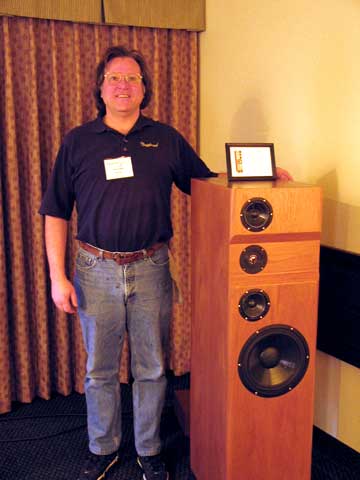 Kevin Blair of Buggtussel, a self-described "downsized UpJohn pharmacologist," was exhibiting his loudspeakers and a prototype of his new amplifier. The EBB-150 is a 150 W solid state dual mono stereo amplifier that looks promising.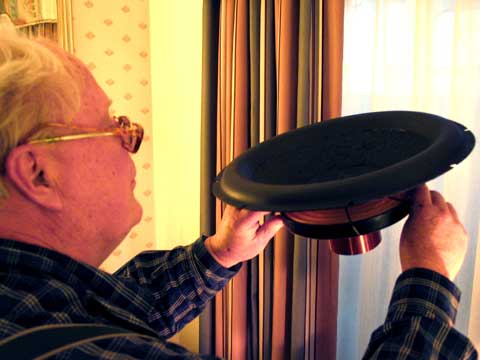 Stan Ricker was intrigued with a loudspeaker driver from the Canadian Loudspeaker Company.
DEQX introduced a New Digital Correction technique. Unlike TacT, the folks at DEQX perform anechoic phase and amplitude measurements of the loudspeaker. Then they do the room measurements, and their PDC-2.6 Digital Calibration Processor does digital inverse filtering to provide matched phase response and time alignment. I was able to walk around the room and hear good reproduction from a wide range of positions.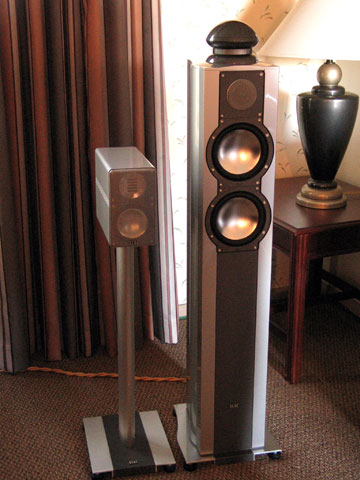 Elac Electroacustic Gmbh from Germany was showing their new FS 608-4PI loudspeaker, with an omnidirectional ribbon tweeter. (The 4PI refers to the omnidirectional characteristic, since there are 4π steradians in a sphere. Never mind.) I think this speaker shows a lot of promise, but was compromised under show conditions.
Jack Elliano of Electra-Print is known for his custom transformers, components, and complete amplifiers. Jack was showing his HD60 60-watt Class A "Booster Amplifier," using a single 211 tube. It is meant to boost the output of a low-powered amplifier, and unlike a loudspeaker, it reportedly provides a constant load to that amplifier, which should result in increased linearity. The concept comes from the remote amplifiers that were used in theaters at one time.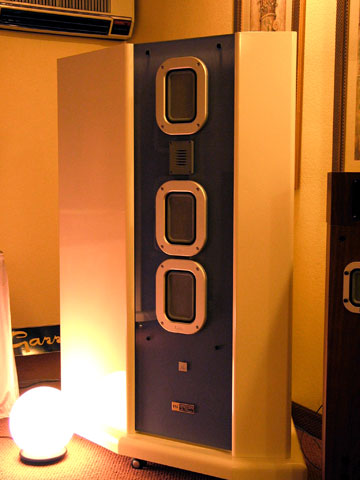 FAL Co. Ltd. of Tokyo was showing a new flat loudspeaker with a rather unusual "air motion transformer" driver. I think that this speaker holds a lot of promise, but under show conditions it was impossible to evaluate, and struck me as being quite compromised by the room.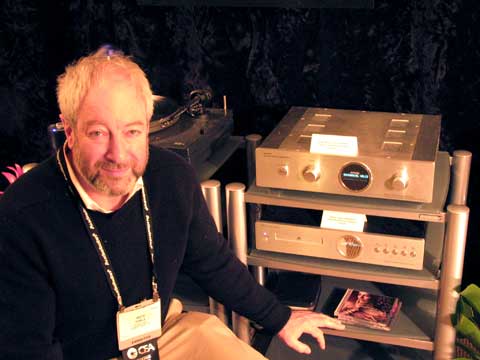 Roy Hall of Music Hall, who imports some astoundingly good equipment (like my Shanling CD player, the MMF turntables, the Epos loudspeakers, and many more) was showing off a new line.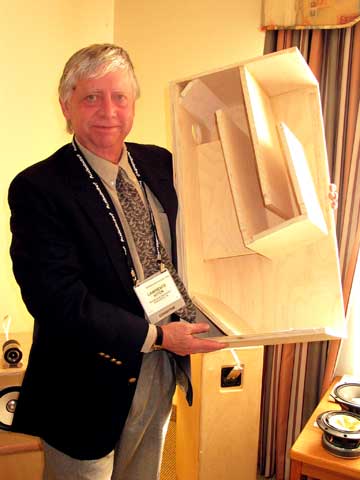 Larry Hitch of Madisound, who supplies a wide variety of excellent loudspeaker drivers, was showing off a labyrynthine loudspeaker enclosure.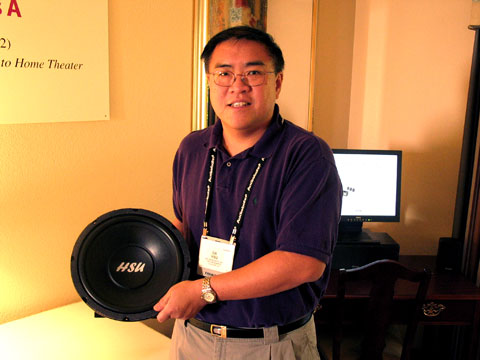 Dr. Poh S. Hsu of Hsu Research was exhibiting a system consisting of six loudspeakers and a subwoofer with an 8-inch driver that reportedly reproduces 16 Hz, all for $800. Hsu has always been known for making high-quality cost-effective subwoofers. I have heard them used to great effect in an ultra-high-end personal system.
Lamm Industries Inc. exhibited their M1.2 Reference amplifiers and L2 Reference preamplifier with Wilson Audio Watt/Puppy loudspeakers. The amplifier is a hybrid tube/solid-state design. Lamm electronics are generally regarded as among the very best in the industry, so I was expecting great things from this room. The system did sound nice and smooth, but did not quite make it into my "Sweet Sixteen." Chalk that up to the vagaries of show conditions.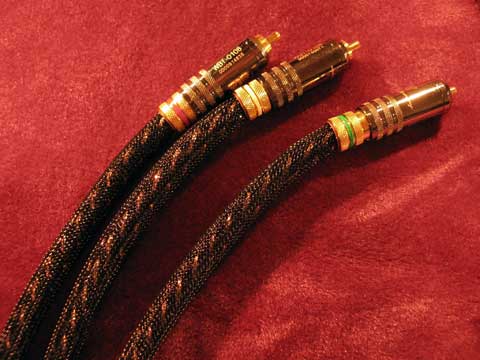 Kimber Kable had an eye-catching exhibit that allowed me to show off the macro properties of my Canon G3.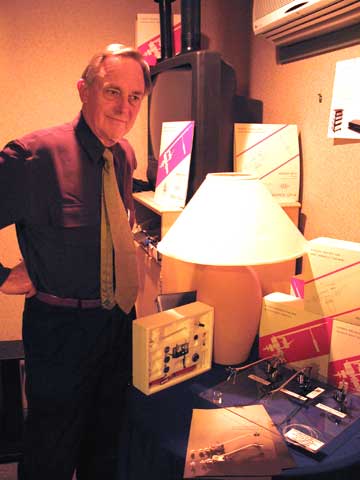 The gracious H. H. Morch was exhibiting his highly regarded line of tonearms, and was kind enough to set his exhibit back up for a last-minute photograph.
Randy Bankert of O.S. Services has made some changes to the lineup of products that he represents. I was especially taken with the Revolver RW-33 loudspeaker, which is a shielded 90 dB efficient design by Michael Jewill (who has designed loudspeakers for Mordaunt-Short, Epos, and Heybrook in the past ... a not inconsiderable resume). The Revolver shows great potential for pairing with tubed amplifiers of moderate output.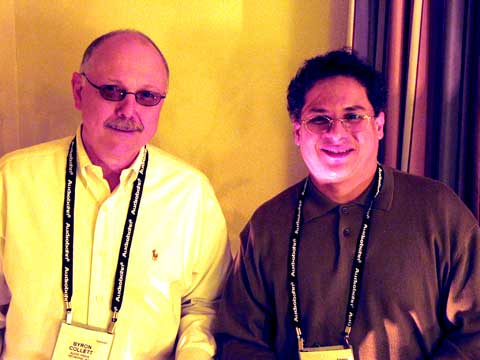 Victor Tiscareno and Byron Collett, two of the most technically astute people in this field, announced that they are leaving Red Rose Music and going back out on their own. Previously, they developed a wide variety of excellent products under the Audio Prism label. Could that moniker be returning? Time will tell.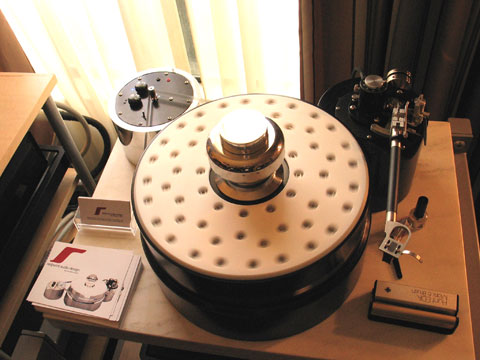 Peter Clark of Redpoint Audio Design was exhibiting a new turntable, without the faceted platter that we saw at VSAC 2003.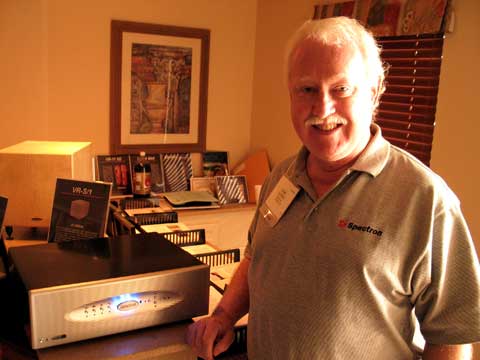 John Ulrick of Spectron, he of switching amp fame, was exhibiting his latest products.
The folks at Acoutic Dreams, in one of the nice big ballroom rooms at the San Remo, were once again showcasing the stunning V.Y.G.E.R. turntable. Unfortunately, its phono cartridge had decided to die, so we could not evaluate the sound of this system, which was one of our favorites last year.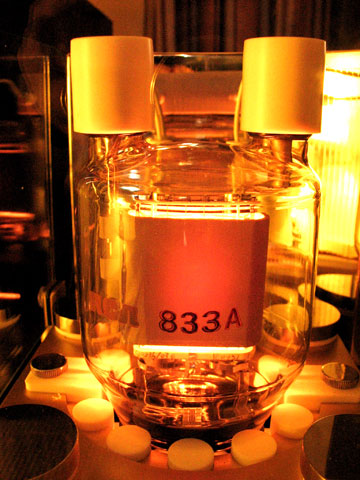 Jim Ricketts of tmh Audio and Yuzuru Ito of Wavac were demonstrating some truly impressive four-piece Wavac HE-833 amplifiers, not unlike the glowing beauties that I got to spend some time with at David Robinsonís home last September. The sound through the Firebird loudspeakers was gorgeous.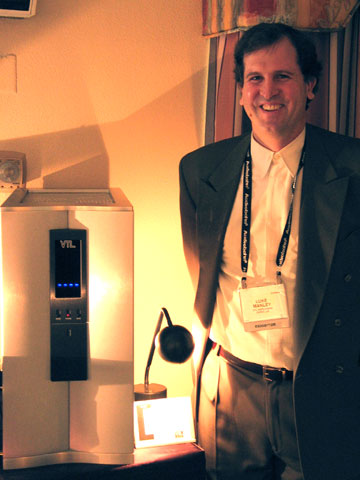 Luke Manley of VTL Amplifiers was exhibiting his TL 7.5 Reference Line Preamplifier, among other products. I have always enjoyed Lukeís products, and a pair of VTL Deluxe 300 tubed monoblocks has been happily ensconced in my reference system for the last several years. These amplifiers really make my loudspeakers sing. I was also mightily impressed in a past show with his IT-85 integrated amplifier. The fact that VTL does not appear in my "Sweet Sixteen" lineup may just be due to the fact that I got sidetracked and didnít have time to properly listen this year. Iíll try to make that up to you next year, Luke.
Until next year!