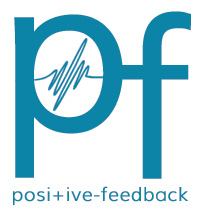 You are reading the older HTML site
Positive Feedback ISSUE
11

january/february 2004
2004 CES "blur" of a show... Part 3 of many to come!
by Dave and Carol Clark
Page 2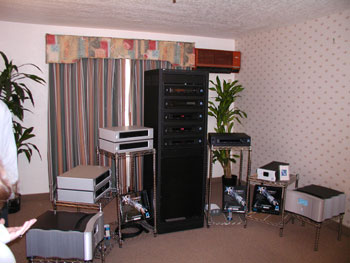 PS Audio threw in everything, but the kitchen sink.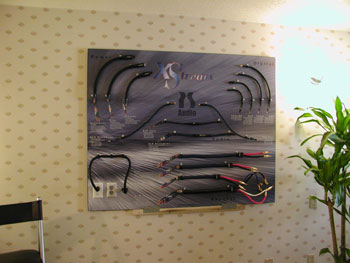 Tons of cables and wires.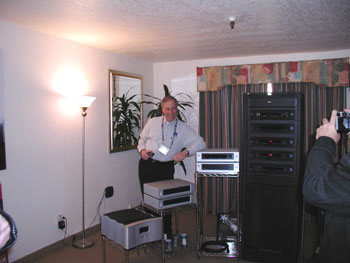 The man himself, Paul McGowan.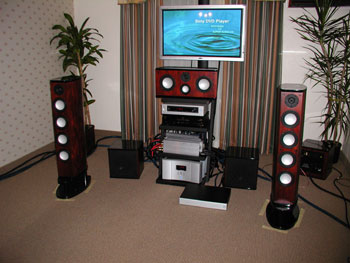 PS Audio electronics with the new line speaker from Mark Shifter—Onix loudspeakers. With Mark, you get a lot of product for the money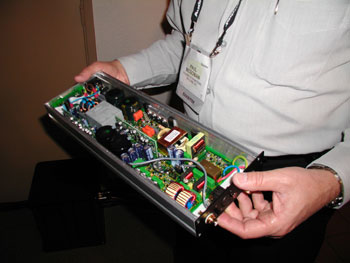 Paul holding the new amplifier module that can be configured from 1 to 6 channels. Each channel should cost you around grand!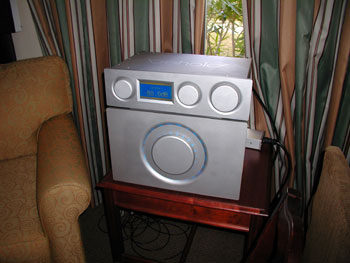 Biggest knobs (not counting the AVS attendees of course) go to this unknown amplifier and preamplifier.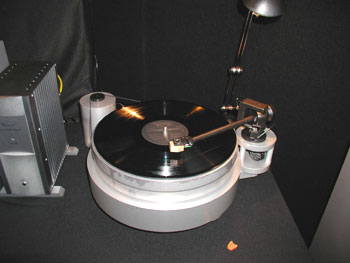 Acoustic Signature table—any material you want, as long as it is metal.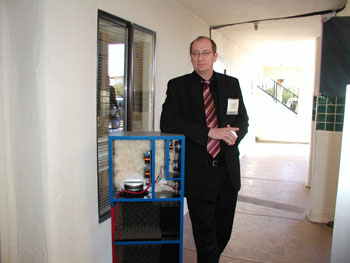 Mr. Isophon, Dr. Roland Gauder with a cross-section of his speaker.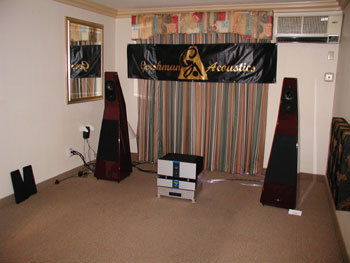 Gershman showed their updated GAP speakers. Always sounding good and musical. Was it the Linar electronics making their mark?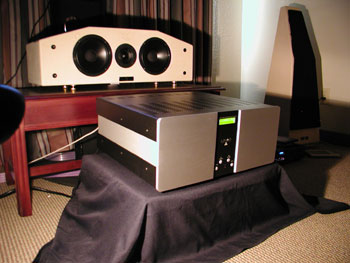 The Linar Audio amplifier.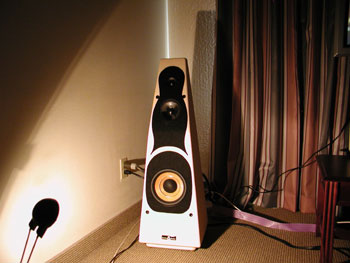 A killer sound from the Gershman Avant Garde RX-20. Small, but at the same time, oh so big!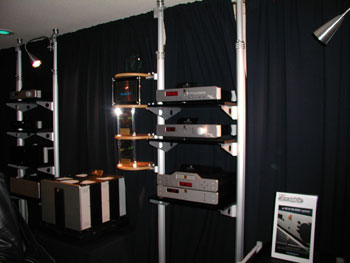 Simaudio showed their "Limited Edition" series of Moon products—only 200 of each is available.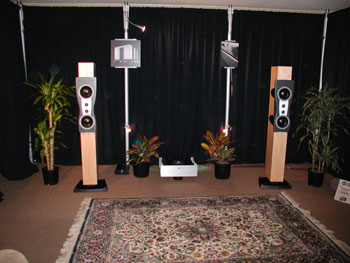 Simaudio with Dynaudio sounded big and robust with that fast Dynaudio presence.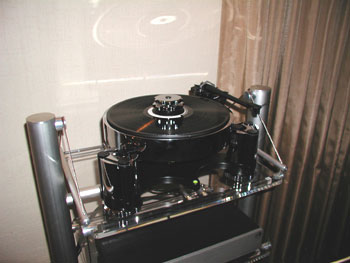 Rogue used the Avid Acutus table.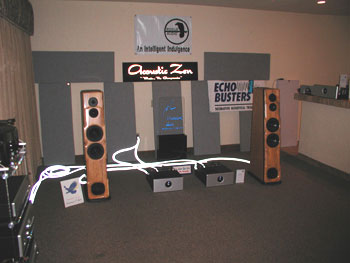 The new Rogue 150 amplifiers (more power and easier to deal with) and Meadowlark's Nighthawk sounded really good with a very musical yet not overbearing "big" sound. Just the right amount of bottom end that did not overpower the room. Oh, and Acoustic Zen cabling to hold everything together.Lights not included.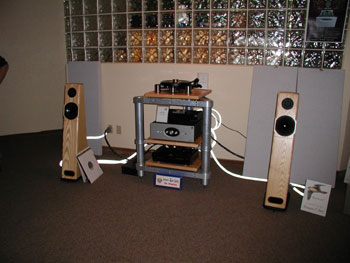 The smaller system using Rogue and Meadowlark Kestral 2s, along with Acoustic Zen cabling.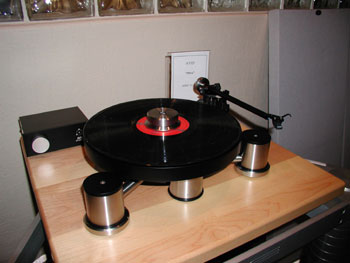 The less expensive Avid Diva table at around $2500.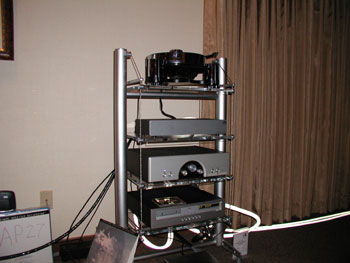 A Rogue front end with their new solid-state Stealth phono stage.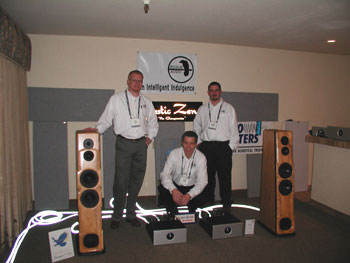 The men of Rogue; Mark O'Brien (center), Phil Koch (left), and Nick Fitzsimmons (right).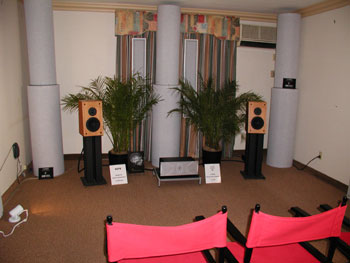 Nova and Threshold (partners) showed off components that provided a lot of musical value.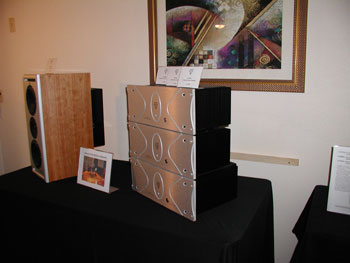 The Threshold line of electronics that bring serious performance to those with limited cash—like 25o stereo watts for $2500!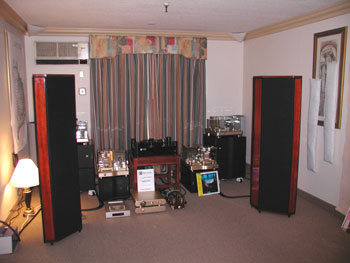 Wavac showed with ESP Concert Grands. What a smooth, effortless sound that filled the room with magic!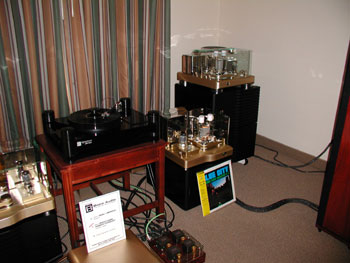 Wavac used a Basis table to good effect. Nothing inexpensive in this room—thanks Arnold!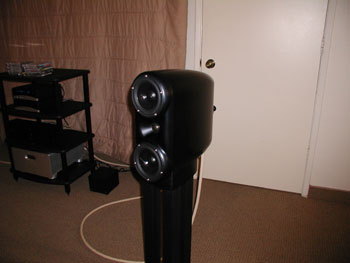 The AudioMachina room showed their new Reference Monitor that has some serious potential. Very expensive for a small, but interesting speaker.