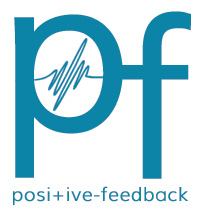 You are reading the older HTML site
Positive Feedback ISSUE
11

january/february 2004
2004 CES "blur" of a show... Part 4 of a few more to come!
by Dave and Carol Clark
Page 2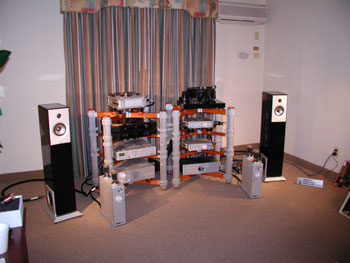 The Nagra room—how cool is Nagra?—sounded clean and very nice. Killer racks too!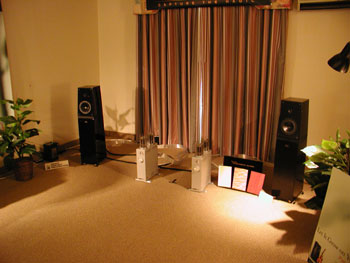 More Nagra with Verity speakers.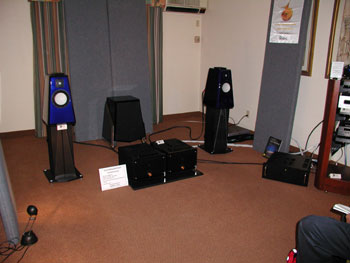 Electrocompaniet showed with the smaller Talons, along with HRS and Rives. Sounded good and well integrated with a separate sub-woofer in the middle-rear.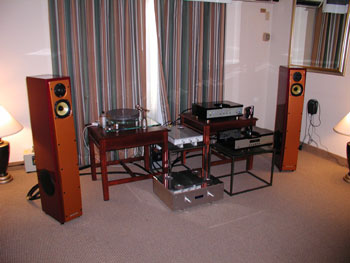 Mel Audio from Italy, showed their Casaq II integrated with some speakers that slipped by us. The Sound was very natural and relaxed. Killer looking stuff too.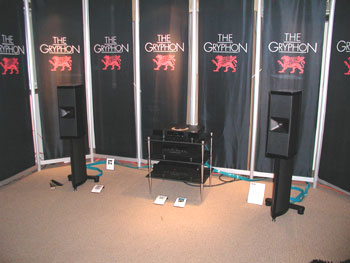 The Gryphon system producing a very clean and, at the time, way too analytical sound that lacked warmth and richness. Fortunate they got it under control and the sound was WAY better later in the show.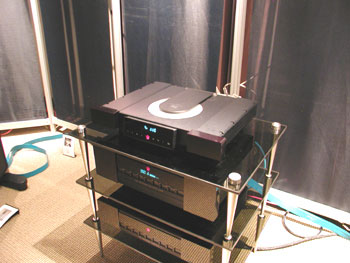 Their new statement CD player at a cool $12,500! Some of the most beautiful stuff for the eyes!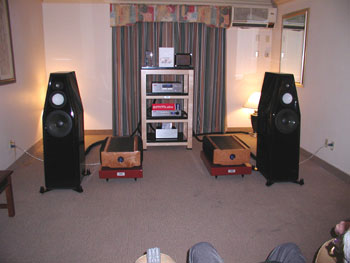 The Tenor and Kharma room sounded rather good. Very transparent and musical with nary a hint of compression.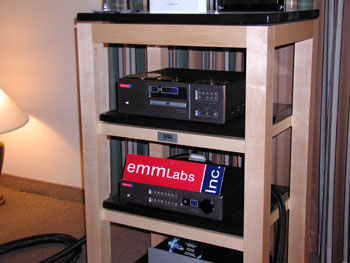 The EMM Labs DAC and transport being put to good use in the Tenor/Kharma room.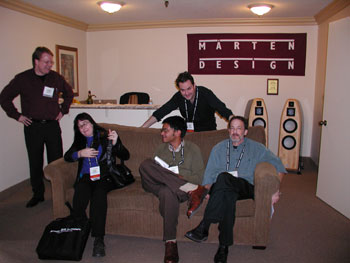 A friendly group shot of PFO's Danny Kaey (center rear), Carol Clark (left), and Carlo Flores (center), with Dan Meinwald (far right) of E.A.R. USA and Leif Olofsson of Marten Designs (far left).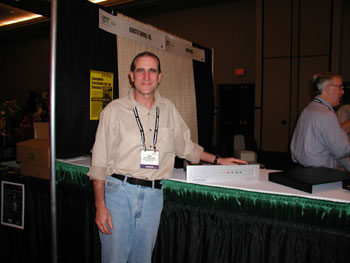 Ron Sutherland, the man himself, with his PhD. phono stage. Recipient of the 2003 Brutus Award for most excellent product. Nice guy too!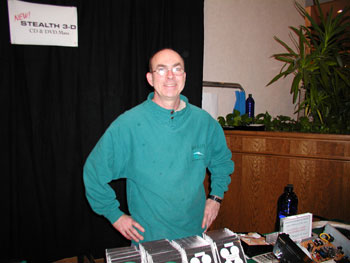 Ron Hedrich of Marigo making a nice return to the show (oh, from here on we at T.H.E. SHOW) with so many dots, you could do all of Vegas and still have some left over. A great product that belies their appearance.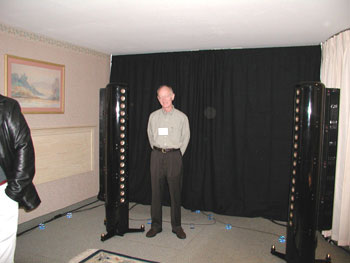 Audience's John McDonald with their integrated speakers.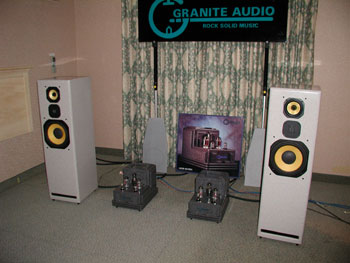 Granite Audio brought the whole factory with lots to sell. The sound was good too.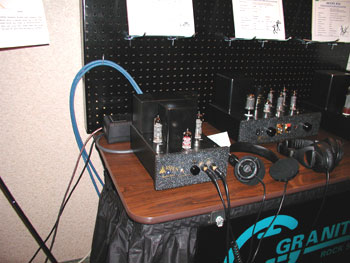 The new Granite Audio headphone amplifier.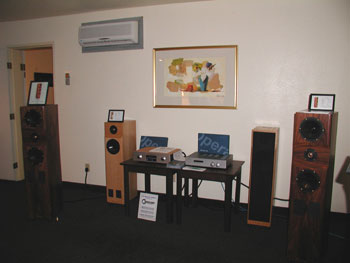 Buggtussel showed with Opera Audio (Consonance electronics) and the sound was typical of their set-ups—great musicality that was easy on the ears.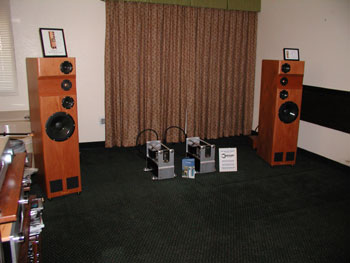 The bigger 'tussles with the Consonance Cyber 800 amplifiers. Love the Consonance stuff on looks along—but they sound really good too! All cabling by Granite Audio.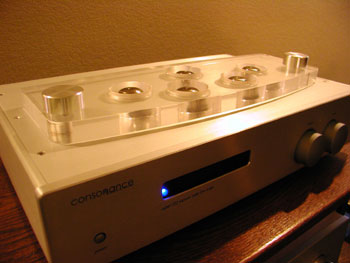 Close up of the new Consonance tubed integrated.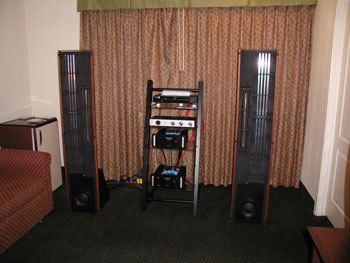 Monarchy Audio showed with Eminent Technology and the system was really swinging when we entered. Good set-up that was simple and musical.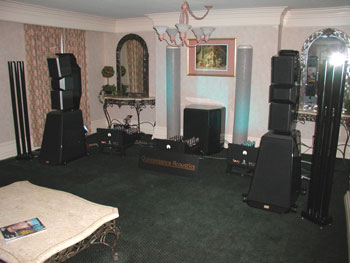 Atma-Sphere, Quintessence, Bright Star, and Goertz had a bigger room to fit a bigger system that resulted in a bigger sound. Even with all those drivers in their own enclosures, the sound was pretty much seamless and musical, but BIG!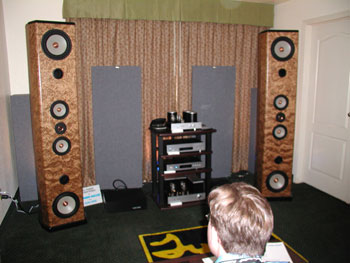 Even perhaps bigger, the Tyler room showed their new Windmere ($12k) with Jolida, Cardas, and Rowland. Nice too!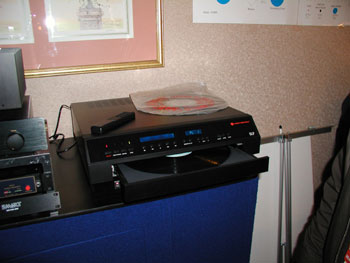 The Final laser turntable did not impress. Yes it plays records, but gee, I thought the idea was that one would not hear all the ticks and pops. Very noisy.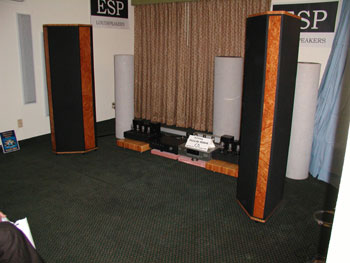 Silicon Arts showed with the ESP Concert Grands. Nice return to one of the more envied speakers around.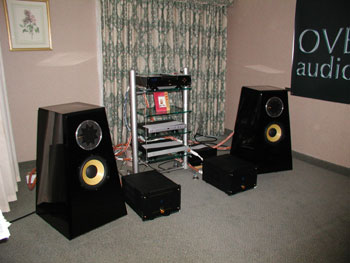 Overkill showed their speaker based on the Manger driver and their own patented "Firebird" bass system, with the big EC amps. Nice, but not enough time to say what the deal was really all about.