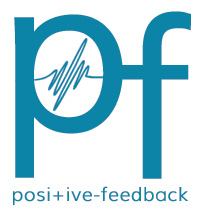 You are reading the older HTML site
Positive Feedback ISSUE
11

january/february 2004
2004 CES
by Larry Cox
CES is like New York's Grand Central Station. It's big, there are lots of people and even more commotion, and it's too much for one person to absorb. I didn't. For the past five or six years, I've gone for three days. This year, with my wife needing to start nurse practitioner school, we had only one day to look at new toys from familiar faces and then it was back to LA. I made no attempt at thorough reporting, because there wasn't time. Odd as it may sound, chatting with familiar faces was more enjoyable than listening.
When I first started reviewing, about ten years ago, there was a range of sound quality at CES between awesome and awful. It now seems that almost no one is making awful sound. I enjoyed a brief stop at about thirty rooms during eight hours of wandering. I spent a lot more time in some rooms than others, the difference being that I wanted to listen to what was new. In the case of some rooms, the greater amount of detail reflects my need to get more information for a forthcoming review. What follows is a collection of comments on some of the noteworthy things that I heard.
Perhaps the most visually arresting presentation was from MBL of Gemany, which was showing off an omni-directional speaker with MBL electronics in beautifully finished chrome and lacquer boxes, serving to create an immediate, as in up-front, presentation of Sonny Boy Williamson. The sound was vivid and inviting, although the bass was larger than life, probably a case of a big speaker in a too-small room. The sonic signature matched the visuals. My wife, who is German, enjoyed seeing something both wonderful and outrageous. The price of this gear is exorbitant, perhaps $200,000 for the system, and you're going to need a substantial room to park this gear in or it is going to hold the room AND your house hostage. However, there is an audience for almost everything, and expect people with wads of cash are lining up for the MBL stuff. I might, if I could afford it.
Jeff Rowland Design Group played music for the first time I've heard them do so at CES. It's not that their sound before was unmusical, so much as silent. A pair of their new 201 monoblock amplifiers ($4770) was powering JM Labs' new Nova Utopia Be speakers ($40,000). I believe the digital playback was an Accuphase CD/SACD player, and that the analog was Transrotor. I didn't notice the preamplification, but it could have been Rowland's new Concerto Preamplifier ($3900). My understanding is that Rowland has changed all of their amplification designs to a switch mode power supply and switching outputs, but I confess that with four hours of sleep before a four-hour drive to get to the show, the clarity needed to assimilate technical details was unattainable on my part. I am positive, though, that the Rowland gear is gorgeous to look at and listen to. The 201 monoblocks were tiny, tiny, tiny, the sound was rich and large, and the system cost was on the order of $100,000. Yikes!
Ensemble of Switzerland retired their entire previous line about two years ago, and are in the process of bringing their new designs to market. They're now awaiting only their amplification devices to be in full production. The newest item is the Dirondo transport. Built like a Swiss watch, the transport door is machined to within 1/200,000 of an inch for smooth operation. The control switches and door operation are guaranteed for a minimum of 2,000,000 operations. The motor enclosure is mechanically shielded by fourteen layers of damping material, on top of which the motor itself is again damped with a sandwich of fourteen layers of materials, for which Ensemble uses the trade name "vibrasorb." Not only is the motor damped, but the top of the CD as well, with a weight the size of the CD made of a sandwich of Kevlar/foam/Kevlar. The Dirondo;s remote features phase inversion and the ability to apply additional dither for brighter recordings. I tried the dither on a very good recording (I left the bad ones at home), and felt the undithered reproduction was much better. I'm supposed to have the combination for review shortly, so look for an update. Analog was played through their Fono Brio phono stage, sourced from a Kuzma table and Sumiko cartridge, and Harry Belafonte's rendering of "Mathilda" was a pleasure. The system cost was about $35,000, still a yikes! figure, but moving into territory where more could afford it, even if it took years to get there.
Also providing very liquid and detailed sound was E.A.R., which was showing the anniversary edition 509 monoblocks ($10,000 per pair). I own the MkII 509s, of which these are a reissue. The rest of the main system consisted of the 864 preamp ($2995), which I also own, Sony's SCD-777ES player (heavily modified my Dan Wright of Modwright), Origin Live's new Sovereign turntable and Conqueror arm paired with a vintage Koetsu Rosewood cartridge, along with Marten Design's new Coltrane Altos, a $22,000 carbon fiber speaker with a 9-inch, downward-firing woofer. Another yikes! figure, and again very, very nice. There was weight and roundness to an unknown piano recording, and the system reminded me how pleased I am with my 509/864 combination.
Next door to the statement Marten/E.A.R. room was E.A.R.'s new 834T hybrid tube input/solid state output integrated amplifier ($3600) and MSB Technologies' CD player ($8000) with the Marten Miles II loudspeakers ($7000). This very simple system provided excellent sound, at a mere $18,600 sans cabling, yikes again! But, unlike the MBL room, this system could sit innocuously in your house, providing music beautifully.
The least expensive, most musical system I heard at the show was the DeVore Gibbon 8 speaker ($2800), powered by the 15-watt Glass Amplification Company 509 amplifier ($4850) using GamuT Audio's CD player ($2995) as a transport for Audio Note's 4.1x DAC ($4000) along with BDR's (Black Diamond Racing) products. The sound was sweet, tonally true, and a pleasure to hear. Reviews of the Gibbon 8 are on target, I believe. This is a real sweetheart of a speaker.
That's it for me. I'm sure there will be other, more in-depth reporting elsewhere in these pages. Larry Cox