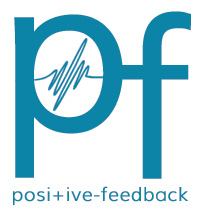 You are reading the older HTML site
Positive Feedback ISSUE
11

january/february 2004
Maltz on SACD: Verve and Impulse Start Delivering the SACD Goods
by Greg Maltz
Photographs courtesy of Gus Skinas; image processing by Robinson
I awaited the release of Universal's first batch of SACDs with great anticipation. For nearly two years after getting my first taste of the improved resolution, detail and sheer energy afforded by SACD, I had recurring thoughts that went something like this: if only I could hear John Coltrane's recordings on SACD, how fulfilling that would be. If only someone would DSD-transfer Ella's voice from original master tape, how close to the original tapes could I get? Now the "ifs" have turned real, but how good are these DSD remasters and how faithful are they to the original recordings?
Weeks prior to the SACD release of Coltrane's best known Impulse title, Viking Press published the Ashley Kahn book of the album's namesake, documenting the recording, and the notable events leading up to and following it. I credit John Coltrane's A Love Supreme with awaking in me a heightened understanding of improvised music, and a deep appreciation for jazz. Kahn, with the input of ALS's recording engineer, Rudy Van Gelder and the surviving members of Coltrane's quartet, pianist McCoy Tyner and drummer Elvin Jones, provides numerous details about the actual recording and tapes.
The overdub of Coltrane's own voice chanting on track one; the splice at the end of "Part I", breaking up Jimmy Garrison's bass solo leading into "Acknowledgement"; the additional overdub of saxophone and tympani at the conclusion of "Psalm".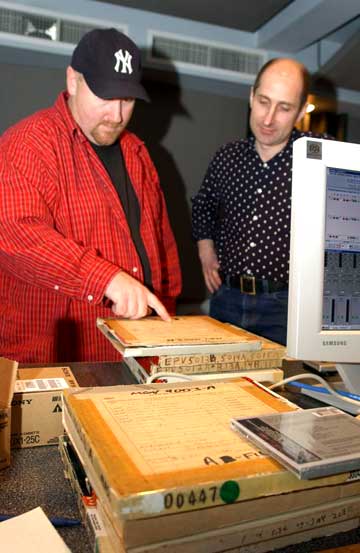 Bryan Koniarz (right) who is in charge of the Verve catalog with Kevin Reeves (left), the Universal Music engineer doing the transfers to SACD of the Verve titles. Universal is being supportive of SACD, and they are doing a very good job with the transfers. The path from the master to the SACD is as simple as it can get.
With these details fresh in my mind, I found myself peeling the shrink-wrap off the SACD. The shrink-wrap, incidentally, was adorned with a prominent Impulse-orange tag that read: "Remastered by the original engineer, Rudy Van Gelder."
The Blue Note label has produced a few dozen CD reissues—the so-called "RVG" series—that boast Van Gelder's talents in tape-to-digital transfers at 24-bit resolution. These reissues have met with both praise and sharp criticism. They are more detailed, forward and lively than previous CD reissues, but many have a digital edge or sheen to them and some have been criticized for sounding dynamically squashed and ugly. Perhaps they sound uniformly gorgeous at the original transfers' 24-bit playback, but in undergoing dithering down to 16-bit red book for CD release, many RVG titles seemed to suffer sonic setbacks.
Van Gelder worked frequently with Impulse in the '60s, but to see his name so prominently on one of the first SACDs released by Universal was a surprise. I thought perhaps it was a mistake, but the booklet confirms it:
"Restoration and mastering for SACD by Rudy Van Gelder at Van Gelder Recording Studio, Englewood Cliffs, New Jersey."
Now I was gripped with curiosity. What do Van Gelder's transfers sound like when they are not dithered down to 16-bit? What will this be like, to hear one of my favorite jazz sessions of all time in full DSD-glory?
I opened the jewel case—the insert heralding SACD as "a technology that enables you to experience music in a way never before possible" fluttering to the floor—and rushed to the warmed up SCD-1. I placed the disc on the spindle. The brass puck was set on top of it. The door slid closed and the transport whispered to life, reading the TOC. I fell back into the center of my chair and closed my eyes.
Hearing the opening of Acknowledgement, the impression that struck me, as it had so many times, was FREE. But it was a different kind of free. It was not just free of the trappings of mid-'60s hard bop, or free of the constraints of lesser musicianship. The cry of Coltrane's horn had come unstuck and stepped forward from the 2D plane between my speakers. The image was taller and more palpable than on my digital K2 Japanese import CD. The rim shots and shimmering cymbal work of Elvin Jones' drum kit shocked me anew with vibrancy, urgency and presence. And the detail in Jimmy Garrison's droning bass line and effortless underpinnings of McCoy Tyner's piano spoke to me.
They spoke of a kind of freedom that was not communicated with CD, and I was brought back to the first time I heard this album. I remember the conscious act inspired by hearing "Acknowledgement" for the first time—it was to envision this quartet working on a stage in a timeless embrace with their instruments. It wasn't until I pictured this—and I remember it being a struggle—that the pulse and meaning of the music fell into place for me and I began to understand what Coltrane and his peers were accomplishing. So began my initiation into jazz.
As the SACD spun, "Acknowledgement" ended and "Resolution" began, I realized that the struggle was no longer there. I no longer had to try to picture the quartet in front of me. I could simply close my eyes, and there they were. Resolution, indeed. And little wonder. Van Gelder's original tapes were transferred to a Sonoma DSD recorder/editor for SACD preparation. Meitner DSD converters were used (this is the case for each of the Verve and Impulse SACDs).
From Coltrane's wailing to Garrison's fingers on his right hand making percussive sounds against the strings, to the copious tape hiss during the bass solos, I was fully appreciative of Van Gelder's work on this recording.
I have only one complaint. The final, gorgeous seconds of the album, including the decay of a malet-on-cymbal shot by Elvin Jones were abruptly cut off. And I'm not sure whether Van Gelder or someone else is at fault, since my e-mails to Bryan Koniarz, who is in charge of the Verve catalog, were not returned.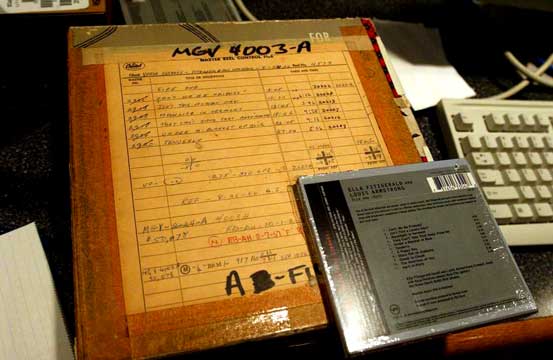 Verve takes the same approach with the three-track jazz masters, where the multichannel space of the SACD will be the original 3 tracks (that is if three track monitoring was intended at the recording) and the stereo mix would occupy the standard stereo space.
As pleased as I was with ALS, overall I was equally impressed with the Ella Fitzgerald and Louis Armstrong and the Getz/Gilberto SACDs. Ella's voice is now the one I use as a reference when demoing my system for guests, and Satchmo, as on the Sony release Satch Plays Fats, sounds to be right here in the middle of my room, his voice such an open, expressive instrument, as is his trumpet. Significant improvements were observed in the classic bossa nova staple. These are remarkable achievements for digital, despite the naysayers who insist Astrud Gilberto's voice is "cold" on the SACD. Not on my system, naysayers!
So to Bryan Koniarz, if someone passes this article along to you, I offer my thanks, and a request for about 400 other titles in your catalog which I hope see the light of day on SACD over the next few years! (Don't worry, I won't mention them here, though I see one of them, Basie's April in Paris, is on Universal's list of upcoming SACDs.)
And Bryan, do let us know why the very tip of the tail is cut off such a magical creature as A Love Supreme on SACD!