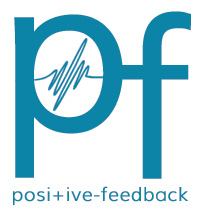 You are reading the older HTML site
Positive Feedback ISSUE
12

march/april 2004
Early Spring Flowers from Bach and Vivaldi
by Bob Neill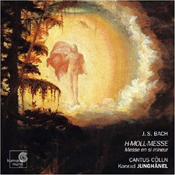 J.S. Bach, Mass in B-minor, Cantus CÖlln; Konrad Junghanel, Harmonia Mundi.
In order to appreciate the 'small' approach to the B-minor Mass made popular (and unpopular) by Andrew Parrott and Philip Pickett and updated here by Junghanel and Cantus CÖlln, you really have to hear it on a quiet Sunday afternoon when your eight-year old son is playing outside and your wife is off playing recreational volleyball. Under these ideal circumstances, its choir of ten voices and ensemble of nineteen instruments make the best case for presenting this musically monumental work as the (relatively) modest scaled piece the composer likely had in mind. We hear a chamber ensemble of individual human voices and instrumental voices rather than the glorious rich waves of choral and instrumental sound we associate with the 'large' approach of Herreweghe and Koopman, to name the two I know best. With Junghanel's 'small' approach, we are primarily aware of clarity, timbres, and crispness. This is, to be glib, a Protestant B-minor: it offers the beauty of character rather than of aesthetics. It is sturdy, urgent, and compelling rather than glorious. Soloists are strong and unsensational, an approach that can suit Bach well, and does so here. Without making foolish claims for authenticity, I'll just say that this strikes me as very likely close to what Bach would have heard. Though it was apparently written over the course of the seventeen years between 1733 and early 1750, no performance of the complete B-minor was given in the composer's lifetime. It is very likely the last piece he wrote before blindness shut down his composing.
To get a contrasting perspective, I put on Herreweghe's latest (second) recording of the B-minor (Harmonia Mundi) and was stunned at the enormous difference it presents. A grand, sweeping choral and instrumental force entered the living room, followed soon thereafter by the stunning European 'star' voices of Veronique Gens, Agnes Mellon, Andreas Scholl, Gerard Lesne, Peter Kooy et al. A check of the orchestral players revealed more of the same: Roy Goodman, Ryo Terakado, Marcel Ponseele. The immediate impression was that this cannot be the same work, and, of course, it isn't. It is a sumptuous and gorgeous B-minor made possible by the twenty-first century, which, despite rumors of a dying classical music recording industry, can still bring together leading musicians and voices of the day under a premier Bach interpreter to produce a monumental performance that, once he got up off the floor, Bach would doubtless have been impressed by. He might even have preferred it, something we will thankfully never know. Composers (and artists) are not always the best judges of what they have created and how it should go – though as Northrop Frye reminds us wryly, their opinions are always interesting and worth hearing!
For a comparison of like with like, I tried Andrew Parrott's version (Virgin), whose forces are comparable to Junghanel's. This recording was made in the mid-1980's, when its principal soloists (Emma Kirkby, Emily Van Evera, Rogers Covey-Crump, and David Thomas) were in their prime, and it is as attractive a recording of the B-minor as there is. As a presentation, it strikes somewhat of a middle path between Junghanel's sturdiness and Herreweghe's glory. The small chorus and instrumental force retain the 'small' scale, but the playing and singing seem a bit more lyrical and consciously beautiful. There is no hiding distinctive and familiar voices like those of Emma Kirkby and David Thomas, singers who make the work seem almost personable when they are singing. When it came out, this presentation sounded leaner than it does now (!). Today, it simply sounds charmingly original, idiosyncratic – and English; and it breeds more affection than awe. It remains one of my favorites.
If you collect Bach, or even if you don't and just love the B-minor, the new Junghanel version is definitely worth hearing. Its superb modern sound gives the focus on instrumental textures great force. This is strong, highly expressive Bach, a far more fundamental introduction to what the composer is about then we once thought.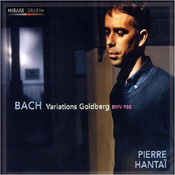 J.S. Bach, Goldberg Variations, Pierre Hantai, Harpsichord, Mirare.
Pierre Hantai's 1993 Goldberg recording on Astree has been my standard since I first heard it: my favorite recording of my favorite piece of music. There are piano versions (Nicholaeva, Goroliov, Periah, and Gould) that come close; and there is an arrangement for string trio by Dmitry Sitkovetski (Orfeo) which, depending on my state of mind, sometimes bests it. (Sitkovetsky has also done an arrangement for chamber orchestra on Nonesuch which many admire.)
Hantai breathes an inimitable quality of life and joy into this centerpiece of Bach's oeuvre that enables its formality to dance into the firmament. I could not have imagined a better performance, in particular from him. But the imagination always has trouble conceiving a better thing when it is still full of the one at hand. This revisiting of the Goldbergs is not dramatically better than the first, but my chief impression is of a somewhat lighter and more elegant touch that gives the music a bit more sophistication. It bests the earlier performance at its own game, which fully justifies Hantai's decision to do it again.
Vivaldi, La Viola da gamba in Concerto, Jordi Savall, Le Concert des Nations, Alia Vox.
You won't find this in the record shops for another few weeks, I don't think – I couldn't wait and ordered it from MDT in England! I couldn't even get a picture of the album to lure you with.
What does Jordi Savall bring to Vivaldi? To begin with, he brings Manfredo Kraemer, one of the very best solo baroque violinists in the world. And then there is Savall's own singing gamba, which, despite the album's title, plays a largely accompanying role in these concertos. Mainly, Savall brings his Concert des Nations' characteristic robustness, passion, warmth, and rosiny brusqueness that provide a full, warm, natural immediacy that no other ensemble quite gets. Savall gives especial prominence to low strings here as he always does, which no doubt contributes much to the emotional quality of his sound. Even more lyrical passages have passion just below the surface.
The most obvious contrast is Fabio Biondi's with his Europa Galante ensemble, which, in lieu of the Spanish group's earthiness, generates a lighter, airier sound. The contrast between Kraemer's and Biondi's violin styles is a fascinating one. That these two brilliant musicians can bring out such different aspects of Vivaldi's music as convincingly as they do is humbling to us amateur students trying to get a fix on the composer. Both bring their powerful musical personalities to this music and both emerge with Vivaldi, reminding us that this is the only way: if you don't approach a major composer with a point of view, you will not find him. If you don't believe me, track down Savall's Beethoven Eroica Symphony.
Vivaldi, Vespri per l'Assunzione di Maria Vergine, Concerto Italiano, Rinaldo Alessandrini, Opus 111.
I can't find an image of this extraordinary new album either, which surprises me, since this series from Opus 111 takes especial pains with its covers, featuring young Italian models, who, depending on your taste, either provide a marvelously inspired tack on the music (and us) or are highly irreverent. I find them nutty, sometimes beautiful, and often inspired, but then that's my take on the composer.
This is the eighth release in the series, all based on an archive of Vivaldi manuscripts housed in the National University Library in Turin. Another fifty recordings are planned for release by Opus 111 (Naïve) over the next ten years in the 'Vivaldi Edition.' I have heard all of them so far and while all are very good, this one is inspired, very likely because of director Rinaldo Alessandrini, who can turn gold into even more heavenly metal. No one is more to be trusted in delivering this composer. He has directed three of the eight releases so far and nearly a score of other Vivaldi releases. This album is "a reconstruction of a service of Solemn Vespers for the Assumption of the Virgin, such as Vivaldi might have performed in Venice at the convent church of Saint Lorenzo or the Chiesa della Salute." (album notes). The package includes an essay by Alessandrini that provides a gold mine of historical background as he presents the theory behind the reconstruction.
I cannot speak to the authenticity of the reconstruction, but musically (and sonically), it is one of the most enjoyable presentations and productions of baroque music I know of and easily the best album of any kind I've heard so far this year. The singing and musicianship are wonderful, the music, Vivaldi as his best. This album belongs alongside Robert King's series just completed by Hyperion as evidence that Vivaldi's sacred music is second to none but Bach's in the baroque period.
Do I really mean that? Yes I do.
The system used for auditioning these recordings included Audio Note digital and electronic equipment, JM Reynaud speakers, Audio Note interconnects and speaker cable, and Elrod Power Systems power cables.