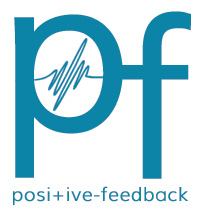 You are reading the older HTML site
Positive Feedback ISSUE
12

march/april 2004
A Long Awaited Romeo and Juliette
by Corno de Basetto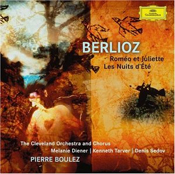 Pierre Boulez and the Cleveland Orchestra DG B30001301-02 CD
This year marks the 200th anniversary of the birth of Hector Berlioz. It seems I have been awaiting this recording of Romeo et Juliette almost that long. Well, perhaps not quite that long—only 50 years!
It was in 1953 that I saw the work performed. It was my first concert attended at Tanglewood. I was seventeen at the time, familiar only with Symphonie Fantastique and Harold in Italy. The August night was stifling in the Great Shed until a thunderstorm broke on cue during Friar Lawrence's sermon. The pyrotechnics were in tempo with that supercharged performance by the Boston Symphony Orchestra, the chorus and soloists conducted with supreme authority by Charles Munch. It was a spectacular concert! I became "hooked" on the music and eagerly awaited the release of LM 6011 with Munch, the BSO and the same vocal forces.
During the ensuing years I have gone thru 2 copies of LM 6011 with great pleasure and an increasing understanding of this compelling work. Unfortunately in becoming intimate with this venerable recording, I have become aware of its technical and musical deficiencies. Charles Munch was a charismatic, and at times improvisational, conductor. He did not shy away from going "over the top," and rarely understated a dramatic musical passage. For R&J this is often in keeping with the dramatic action. Yet for me now, this recording verges too often on becoming blatant and losing the refinement or light touch desired by the composer. LM 6011 is exciting, to be sure; it is also wearing.
I also have the Colin Davis LSO Philips recording as well, which is very beautiful, very refined, but alas, not very exciting.
Being quite familiar with Romeo et Juliette, I regularly "conduct" the Queen Mab Scherzo and sing Friar Lawrence's sermon in my study. It was therefore with more than my usual "new release" anticipation that I awaited auditioning the Boulez/Cleveland Orchestra R & J recorded in 2001 at the Masonic Temple in Cleveland by DG (B30001301-02) with The Cleveland Orchestra Chorus and a fine trio of soloists: Melanie Diener, soprano, Kenneth Tarver, tenor, and Denis Sedov, bass.
I have described my impressions of The Cleveland Orchestra in previous reviews. For me, this is the most flexible of the world's great orchestras—capable of shaping its sound to the widest range of musical styles. The Cleveland may play with absolute refinement and/or great power. Romeo et Juliette requires chamber-like refinement as well as near bombast. The instrumental and vocal forces are large in scale, but are often intended to be understated, as in the sections when the contralto and tenor are accompanied by the small choir, and in the celebrated Queen Mab Scherzo. The grand fete at the Capulets and Friar Lawrence's sermon are highly charged, luxuriant with orchestral and vocal muscle.
This new DG recording does not disappoint. It is all things for Romeo et Juliette: gorgeous in conception, features impeccable choral and instrumental playing, and is beautifully recorded by DG. It should be stupendous in multichannel sound.
The "filler" (and quite a filler it is) is Les Nuits d'ete. Six songs with small orchestra comprise this cycle originally written for mezzo soprano or tenor with piano, later orchestrated and usually performed and recorded by soprano with orchestra. Marvelous recordings are available by Janet Baker with Sir John Barbirolli and the LSO, and Regine Crispin with Ernest Ansermet and L'Orchestre de la Suisse Romande. This recording allots 2 songs each to each of the soloists of Romeo et Juliette. It is beautifully executed, capturing the soaring lines and languor found within these songs. The Cleveland Orchestra conducted by Pierre Boulez is a magnificently French collaborator.
This 2 CD release from DG is most highly recommended.