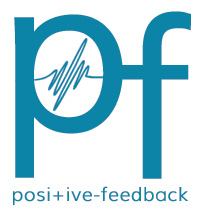 You are reading the older HTML site
Positive Feedback ISSUE
12

march/april 2004
CES 2004 Show Report
by Francisco Duran
It's embarrassing, but getting ready to go to CES each year, I get as excited as a kid going to his first prom. This year was no different. Many of us in the audioMUSINGS group of Positive Feedback are fortunate too live just a few hours drive from Las Vegas, so each year we hit CES and T.H.E. SHOW in droves. If one of us misses something, you can be sure another will catch it. This year, as with previous years, it was the people that fueled my fire. I have more fun talking than listening, but don't get me wrong, things like the new Marten Design Alto speakers or the cool new Daleth 5.1 analog surround processor from Margules Audio are enough to whet the appetite of any card-carrying gearhead.
Speaking of Margules Audio, I am always amazed by the sound they create in their rooms. Their two-channel setup was in the smaller room of their suite, while the 5.1 setup and Dr. Julian Margules greeted you as you entered the main room. The new Daleth processor was in control of the movie, while several of their new Arch 1.2 integrated amps provided the power. The sound from this system was smooth, detailed, and exciting, with very clean and articulate dialogue. I was surrounded by arrows shot by Orks as The Lord of the Rings: The Two Towers was playing. Although the satellite speakers being used were quite inexpensive, there was excellent integration of the sub and satellites, without a lot of that excess whooshing sound that always seems to accompany home theater.
A short distance from the Margules room, I met Stan Tracht of Thee High End, the distributors of Usher Audio. I came to listen to their speakers, but it was their electronics that really caught my attention. The smooth-sounding R-1.5 amp and P-307 preamp sounded anything but solid state. They are surprisingly affordable components, and have great looks and build quality to boot. Usher had an array of speakers in the front of the room set up in an arc, but the ones you couldn't help but notice were the big, beautiful D2s. They are very efficient at 98 dB, are over 176 cm high, and weigh 236 kg. They look like they would be a heck of a lot of fun if you were to hook up a sweet little SET amp to them. I didn't get to talk to Stan as much as I would have liked. The room was packed with people, and it looked like a sale was going on.
Warm and seductive tube sound drew me into the Connoisseur/Audio Reference room. The SE-2 integrated tube amp sports two 300Bs, two 12AX7s, and two 5AR4s, and is configured for nine watts of very musical sound. This $2699 amp was driving a pair of two-way stand mounted Audio Reference Model One speakers, which retail from $1299 to $1699 depending on finish. Those nine watts had no problem driving them, as the Model Ones have a sensitivity of 90 dB/w. There was not much conversation in that room, as the music did the talking through a Connoisseur CD1 CD player, with the system wired with Connoisseur pure copper cable. The music held together very well at high SPLs, with a very dimensional stage and natural-sounding midrange and high end. Who says 300B sound is not affordable?
No CES would be complete without a visit to OSS Services and Randy Bankert. His two rooms at the San Tropez were stuffed full of Audion and Nightingale tube equipment and Revolver speakers. How could anyone resist? The ear candy flowed in the Manley Labs room as well. The sound from their 300B monoblocks and the Coincident Technology Grand Victory floorstanders was bold, dynamic and engaging. These speakers are 100 dB/w efficient, flat at 8 ohms, weigh
250 pounds each, put out 30 to 45 kHz, and cost only $9500! I also got a Tubes Rule coffee mug and bumper sticker. Thanks, guys! I also think tubes rule!
A quick drop-in to say hi to Mr. C.C. Poon of Monarchy Audio proved unsuccessful. I was told he was out buying records—now there's a man who has his priorities straight! His new hybrid monoblock amps, the SE-250s, were driving a pair of Eminent Technology LFT-8 speakers, and the sound was excellent—transparent, dynamic, fast, sweet, you name it. These are great people making great high end gear that regular folks can actually afford.
Speaking of big guys, it seems like I always run into Mark O'Brien of Rogue Audio in some hallway. I liked the sound that the Rogue crew was getting with their new M150 monoblocks strapped to a pair of Meadowlark Audio speakers. The music was solid, open, and inviting. The new cosmetics looked nice, but I missed the Rogue Audio crow silkscreened to the faceplate. Here is another company that does it right. Their gear is affordable, well built, and always musical.
One surprise was in the Polk audio room. They had four LSi9 speakers along with a Polk sub being driven by a cool looking Sony DA-9000ES amp and XA9000ES SACD player. The sound was very open, dynamic, and slightly warm, which made for a really inviting sound. Come on audiophiles, they haven't been in the audio business over thirty years for nothing. Even though they were playing the new SACD version of Pink Floyd's Dark Side of the Moon, I quickly got into the music and forgot about the gear.
I finally got to meet Jolida's Michael Allen, a man with gear that is dear to me. Affordable, great sounding tube electronics is what people need. His JD-100 CD player was most impressive, all 22 pounds of it. Michael is a man that can keep a conversation going, and I was all ears. Jolida has been in the affordable tube market for years, and their products have also been a tweaker's delight. Hopefully, I will be listening to review samples of some of their new products soon. Speaking of affordable tube gear, upon entering Tash Goka's Divergent Technology room at the Alexis Park, I was treated to a room full of glowing glass. Tash had a pair of Antique Sound monoblocks, their passive line stage, the T-1DT, and a pair of the small but very good looking reference 3A Dulcets making beautiful music. These little speakers have some serious bass, and image like all get out! I hung around quite a while trying to break into a conversation between ASL's designer Joseph Lau and Dick Olsher, but the music kept drawing me back to the couch.
I went into the Gilmore Audio room at the San Tropez because I really wanted to see their new speakers, and to my surprise, Abe Laboriel walked into the room, plugged his electric bass guitar into the system, and proceeded to blow everyone away with a demo that was nothing short of amazing. God bless Glacier Audio for bringing this man to T.H.E. Show! It seems that Harry Blazer, president of Glacier Audio and Mr. Laboriel are old pals, whose friendship dates back over thirty years to their days at Berklee College of Music. The two have played together with such jazz notables such as Gary Burton, Lee Ritenour, and Johnny Mathis, to name a few. Laboriel holds the distinction of being the world's most recorded bassist, with over 4000 recordings to his credit, covering music from just about every category. He has also contributed his talent to many film scores.
The point of using a live bass player was to demonstrate how the Gilmore Model Two speakers could handle dynamics. The speakers, along with a beautiful all-tube system from Atma-Sphere Music Systems, aptly showed their dynamic prowess. Mr. Laboriel didn't hold back. He let that bass have it with all he had. It was heartening to see this man smiling and laughing as he played for this small audience of audiophiles. It seems that the years and accolades that have been bestowed upon him have not curbed his enthusiasm. Blushing fan that I was, I had to get an autograph. A few moments later, after I frantically tracked down Victor Chavira and pulled him into the room, we felt like we were walking about two feet off the ground.
How do you follow up such a great demo? Well, for me it was straight to Alan Yun's Silverline room. Always the gracious host, Alan let me have command of his rig, and what a rig it was. Hooked up to his Sonata Mk III speakers was an amp of his own design. This seven-watt, 300B-based, single-ended beauty is one of only about twenty amps that were designed and built by Alan, but unfortunately they are not for sale. They are hand built from 100 pounds of nickel plated, 16 AWG stainless steel, and those glorious seven watts were more than capable of manhandling the Sonata Mk IIIs. Alan's setup was definitely a sonic highlight for me. The heartbreaker was that Silverline won't be putting those amps into production, but the good news is that I am listening to a pair of Sonata Mk IIIs as I write this.
Once in the Tetra Loudspeaker room, I knew I was in for a treat. Staring me right in the face were their beautiful Live speakers, hooked up to a Conrad Johnson amp and preamp with Birdland Audio doing digital duties. This combo sounded great! The music sounded wide open (a Tetra trademark), coherent, and very inviting. Not only that, these speakers look unlike any others around. Talk about a conversation piece that also delivers the goods! In the adjacent room, Adrian Butts had a very interesting five-channel system going, but it was the main system that I told everyone I ran into to go have a listen. This system delivered great music in spades.
Every year, Dan Meinwald of E.A.R. U.S.A. comes up with fascinating new audio candy for folks to lust after. Last year it was the fantastic Marten Coltranes, and this year was no exception. The folks at Marten have come up with another winner in the Coltrane Altos. At $22,000, they are a scaled-down version of the bigger Coltranes in both price and size. Similar materials are used in their construction, with the exception of the big Coltranes' diamond tweeters. With the Altos hooked up to a pair of E.A.R. 509 Silver Anniversary monoblock amps, E.A.R. 864 preamp, and a new and very cool Origin Live Sovereign turntable with a Koetsu Rosewood cartridge, I could not help but be smitten with this system's music-making abilities. The music sounded very clean, with a great amount of resolving power yet just the right amount of sweetness and warmth. Dan is another one of those guys who gets very musical sound out of his room at the Alexis Park year after year.
What can I say about Art Audio electronics and Cain & Cain speakers? Every time I hear Art Audio gear, it seems to transcend the boundaries of mere music. By the time I reached this room, it was getting dark, and Joe Fratus and Ian White were just sitting and talking. As the sun set in the window behind us, Ian slipped on some Los Lobos and there was that magic again. We ended up talking about our ethnic backgrounds more than things audio. We found out that Italian, Jewish, and Hispanic guys have more in common than you'd think. Those few minutes that I spent talking to these fellow audio brothers ended up being the most interesting and pleasing conversation of the show.
There was a lot of gear that I missed at this year's show. It is hard to see it all in a matter of a few days. It is harder still to try and catch all of the people you want to talk to. It is even harder to write a best-of list, considering there were so many great systems this year, but here goes. For me, the best sound was at the rooms mentioned above. It would be hard to go wrong with any of them. The award for the best live musical surprise has to go to the Gilmore Audio room for the Abe Laboriel demo. The best, and loudest, free show award (thanks, Dave) goes to the Santana concert in the ballroom at the Paris Hotel, thrown by Noel Lee and his crew at Monster cable. Thanks, Mr. Lee. And last but not least, best ad goes to Gilmore Audio, hands down.
By the way, the CD I used to demo in most of the rooms was a hit. The Skatalites' Ball of Fire had them dancing in almost every room I played it in, and the name of the disc was written down many times. I just hope that by next year, exhibitors will tire of Nora Jones, but I hear she just released a new album! Francisco Duran