DAVID ROBINSON'S SYSTEM
LOUDSPEAKERS
Kharma Grande Ceramique loudspeakers, Nova Rendition II loudspeakers, Nova Ovation monitors.
ELECTRONICS
Linn Klimax power amps (1 pair), Meitner EMM Labs Switchman-3 (SWM3) 2/6 channel preamp, Balanced Audio Technology (BAT) 6200 2/6-channel reference amplifier, Linto phono amp.
SOURCES
Meitner DAC6 2/6 channel DAC, Meitner-modified EMM Labs Philips SACD 1000 w/optical DSD output (2/6 channel), Linn CD-12 reference CD player, Linn LP-12 turntable, with the Akiva reference cartridge, Ekos tonearm, the new Lingo power supply, Cirkus subchassis, Linn reference silver phono cable, Revox B-77 Mk. II 15ips half-track reel-to-reel tape recorder, Pioneer RT-707 7.5 ips quarter track reel-to-reel tape recorder, Nakamichi Dragon cassette deck, Panasonic SV-3900 DAT player, Magnum Dynalab FT-101 tuner w/Audioprism 6500 internal antenna, Taddeo Digital Antidote II, Monarchy Digital Interface Processor (DIP) modded by JENA Labs
CABLES
Interconnects by JENA Labs, Cardas, and Kimber. Speaker cables by JENA Labs, Cardas and Kimber. Power cables by JENA Labs, Cardas, Kimber, FIM, and VansEvers.
ACCESSORIES
Vibraplane turntable isolation platform, Sistrum SP-101 amplifier stands, Black Diamond Racing "The Shelf" and cones, Extremephono VCS Platforms w/Black Diamond Racing cones under the Switchman-3, JENA Labs Fundamental Power (Washing Machine) 6.1 (line conditioning for primary sources), Shakti Stones and Shakti Onlines, Tice Signature III Power Block (line conditioning for secondary sources), VansEvers Clean Line, equipment racks by Michael Green and Target, VPI 17F LP cleaning system with the Record Research Lab LP cleaning system, Torumat TM-7XH Superfluid cleaner, and acoustical treatments by ASC, VansEvers, and Michael Green.
Iced up in River City!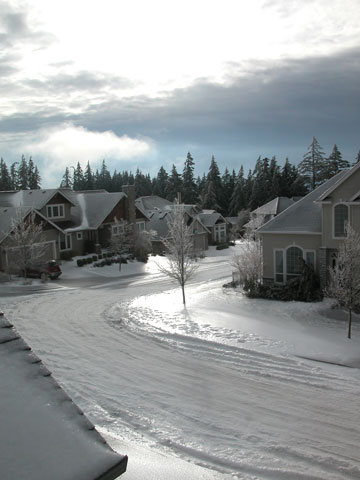 Tragedy strikes! CES 2004 is at hand, and the Pacific Northwest is in the grip of the worst snow/sleet/ice storm in many years… your editor is ruefully marooned on top of Mount Scott, with the local road looking like an icy Via Dolorosa. Guess I'll be missing CES, which will be a major drag, for sure. It's my best opportunity to see all my audio friends, and get an idea of what's worth checking out for the balance of the year.
Drat!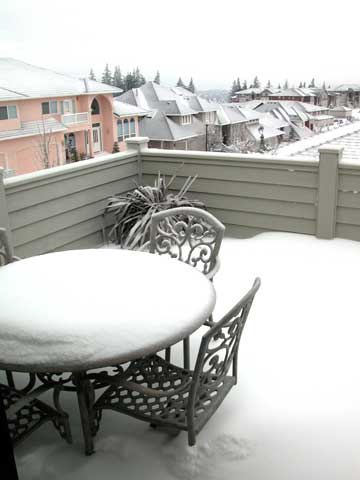 Looking out through a window on Ye Olde Editor's smoking deck (in the summer time!)…two foot drifts! I'll have to remember this frosty, ironic moment next time I'm sitting at the table with Port and cigar in hand….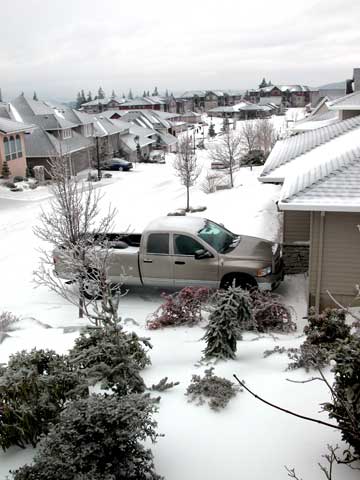 On the brighter side of things, all this cabin time has given me an opportunity to catch up on some writing for PFO. I've been meaning to do a brief piece summarizing my notes on the very cool deHavilland UltraVerve preamp—this is a good time to do it!
Georgie the K! & Kara too! deHavilland redux
I've known George (Georgie the K!) Kielczynski and Kara Chaffee (brilliant design engineer and audio deep-think) for a number of years now. Whenever I attend CES or VSAC, I always make sure to drop into their room, since I'm sure of hearing great music, excellent audio reproduction, and having a good time. This is not just my impression; my long-time PFO colleagues Dave Glackin (see, for example www.positive-feedback.com/Issue9/vsacdg.htm) and Roger S. Gordon (see www.positive-feedback.com/Issue4/ces2003rg.htm) have also found the deHavilland designs to offer superior sound, year in and year out. (Indeed, Roger S. Gordon is doing a parallel review project of the deHavilland Aries 845G & UltraVerve preamp which we hope to publish later this spring.)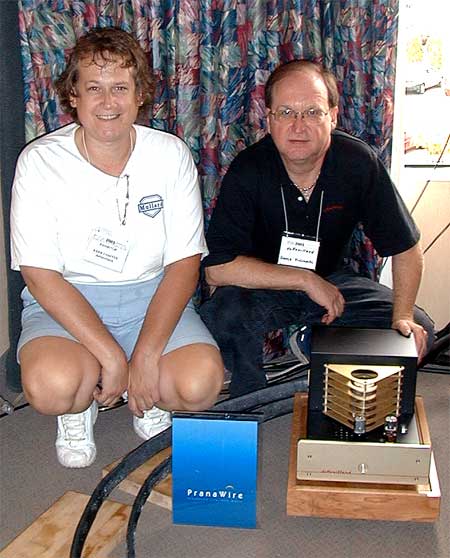 Kara Chaffee and George Kielczynski of deHavilland at VSAC 2003, posing with their new GM-70 monoblock
On the amp side of things, I am most familiar with deHavilland's 845 (30 Watts per channel)/845G (36 Watts per channel) design in their monoblock amps. I haven't yet gotten to hear their new generation of SET triode amp, the GM-70, based on the Ulyanov GM-70 tube. Kara and George claim 50 Watts per 'block with this tube. While not the highest power rating for SET amps (WAVAC has monoblock SETs with 55, 100 and 150 Watts per channel), 50 Watts is still bloody respectable. Who knows? Perhaps later this year I'll have a chance to hear these beefier boys…
Anyway, the design work over at deHavilland gets better year by year. The progression in the quality of sound from the Aries series (Aries 572, Aries 845, Aries 845-G) is typical of what's been happening over there: more power, more finished design, an increasingly well-rounded sound, with no noticeable weaknesses in my book. Given the price points that deHavilland is operating at, this is a very fine achievement; superior "bang for the buck" in classic looking packages is a trademark of deHavilland.
As it turns out, that's precisely what George and Kara are aiming to do. The design philosophy of deHavilland is short and to the point (see www.dehavillandhifi.com):
"Our mission is to build ultimate performance vacuum tube amplifiers. Our designs offer sound quality usually found in products costing several times as much, and this is consistent with our goal of making top quality audio performance available to the enthusiast and recording studio alike.

Another aspect of our mission is to have more people experience single-ended vacuum tube sound. Our single-ended amplifiers will drive medium, as well as high efficiency speakers, making this type of amplifier available to a much wider range of listeners.

We try to keep our designs simple and rugged and offer the most sound per dollar that we can."
My ears tell me that they've been able to do a very good job of this with their amplifiers over the years—but what about their preamp?
Enter the UltraVerve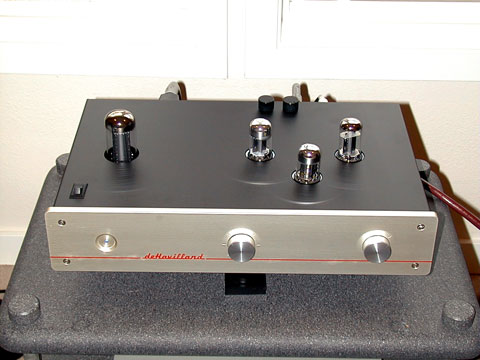 deHavilland actually makes two different models of preamp: the Verve at MSRP of $1695, and the UltraVerve at $2495. Both share a common set of claimed specifications (from http://www.dehavillandhifi.com/verve.html):
" bandwidth: 20Hz to 80 kHz (no dB down level provided)

"output class: Class A

"maximum output: 30 volts p-p; gain approximately 12dB

"signal triodes: 6SN7 GT, GTA, GTB, WGT

"rectifier tube: 5U4 G, GA, GB

"signal/noise ratio: 85dB

" inputs: four stereo

" outputs: two stereo

"input impedance: 50k ohms.

"output circuit: Cathode follower, min. 10k Ohm load recommended

" dimensions: 18" W x 11" D x 6" H

" weight: 15 lbs. including shipping carton.

"power requirement: 115 VAC, 60Hz, 40 watts.
The big-bro' version of the Verve is the UltraVerve, which deHavilland says has a number of enhancements:
"Higher voltage power supply transformer

"High voltage 5AW4 rectifier tube

"Cardas Litz wiring

"Silver Teflon-coated high purity copper wire

"Military Spec Paper in Oil Capacitors

"Roederstein Resistors

"Goldpoint stepped attenuator features
"Smooth "precise feel" turning torque.

"Highest quality, Swiss made switch components.

"24 position switches with "make before break" contacts.

"Silver plated rivet type switch contacts with gold anti-corrosion coating.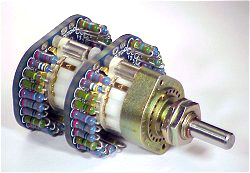 Love that Goldpoint stepped attenuator!
The improved parts throughout the UltraVerve version of the preamp make the increase in price very reasonable. The "K" especially singled out the new stepped attenuation in the dual separate volume controls as a significant upgrade, but the component list shows that there are lots of other "step-ups" throughout the box. If you think of this as a sort of "POOGE right out of the box," you'll be about right. It's a preamp for folks who don't drive stock, with the modifications already in the box!
Before going on, I should note that the UltraVerve features a non-transferrable two year warranty on parts, one year on labor, and 90 days on the glass. Not that I've ever had to use it, but it's good to know that it's there.
The Sound—and a Necessary Digression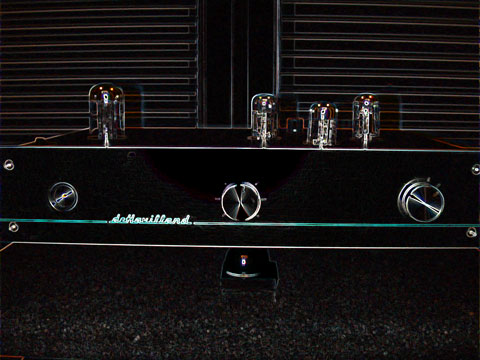 I haven't had an opportunity to audition the non-Ultra version of the deHavilland preamp, so I can't comment on the little brother to the UltraVerve, or the nature of the sonic differences that the upgrade rendered. So I'll have to stick to what I heard during the months that I had the UltraVerve in place.
Sequentially, the UV was placed in the River City listening room after I finished a long session with the very fine BAT VK-51SE (notes to be forthcoming), and just before the exceptional Brutus Award-winning Linn Klimax Kontrol preamp (see www.positive-feedback.com/Issue11/linnkontrol.htm). I had been listening to the UV from time to time, but the formal review was held over until mid-2003. This sandwiching of a preamp costing less than half of either of its neighbors was deliberate on my part; I was curious to see how the deHavilland would do in comparison with its better known compadres.
(The Supporting Cast)
The UV was placed on a CeTech carbon fiber isolation platform on one of my Michael Green Justaracks, with Cardas power cable and Cardas Golden Cross interconnects from the Linn LP-12 system, feeding another Brutus Award winner, the terrific Manley Labs Steelhead (see www.positive-feedback.com/Issue11/manleysteelhead.htm for my review). On the SACD side of things, input from the Mighty Meitner DAC6 was accomplished via Empirical Audio custom XLR to RCA cables, kindly provided by Steve Nugent of EA. (Notes on the EA cables will be coming soon.) Yet another Brutus Award winner, the JENA Labs Fundamental Power 6.1 (see www.positive-feedback.com/Issue10/brutusawards.htm for more on this one) supplied line conditioning. Amplification was courtesy of the awesome WAVAC HE-833 DHT SET monoblocks, tickling the Brutus Award-winning Kharma Grande Ceramique loudspeakers via another award winner, the JENA Labs Pathway speaker cables. (Room and power parameters are listed in my room description at www.positive-feedback.com/staff.htm.)
All in all, quite the select company for the UltraVerve!
Right off the back, I had to deal with a minor hum problem that occurred upon powering up the UV. This happens from time to time with a component. Normally, I have to pull out my floater plugs, isolate the problem, and float the ground on that side. Fortunately, deHavilland placed a feature on the UV that I don't see often enough on fine preamps: a switch on the back panel to float the ground. One flip of that switch fixed the hum problem immediately.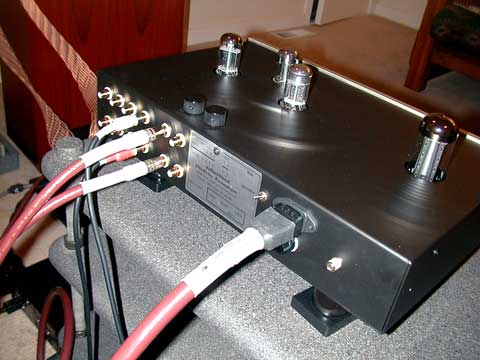 Rear view of the deHavilland UltraVerve during an earlier pre-review listening session (this is not the configuration used during the formal review); note the ground floating switch to the left of the Cardas power cord. Works like a charm!
Other than that, the UV didn't present any special problems. The action of the dual volume controls was detented and smooth, providing excellent gain throughout my listening sessions with it.
I spent several months listening to the UV, most carefully from the late spring to the late summer of 2003. Both SACD and LP sources were used, with classical, jazz and rock sources all in the rotation. SACD sources included various discs from my FIM, UMG, Analogue Productions, Sony, Mobile Fidelity, GrooveNote, and Audio Fidelity catalogs. LPs were mainly Simply Vinyl and Analogue Productions, with some MoFi's thrown in.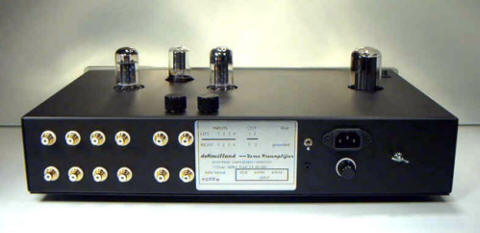 Full-on rear view of the Verve preamp, kid brother to the UV.
Throughout it all, the thing I noticed most about the UltraVerve was that it had jump. It was quick, responsive, and had a really clean kick to it that made most everything I listened to sound like you wanted to get up and dance. "Jump," or "kick," are hard things to define—but you know it when you hear it! What do I mean when I use these terms?
Very good question.
Art Dudley and the gang over at Listener used to talk about what they called "PRAT." This stood for "Pace, Rhythm, And Timing," qualities that Art & Company valued as representing truly musical values, as against some of the attributes that can lead to audio obsessiveness, and which might be termed "'phile phrenzy" or audiophilia nervosa. Some say that too much concern with soundstaging, imaging, detail, or dynamic slam is evidence of a concern with non-musical values, and addiction to merely audio reproduction values. Of course, too much concern with anything is a problem, but the point is well taken, and my meditations on the UV are a good place to address this matter.
Long-time readers of my work know that my reference for fine audio reproduction consists of mic feeds and master tapes. My audio voyage has sought for many years to draw closer to the original signal generated in the original act of making a recording. I believe that fine audio is an art form, independent and non-derivative. I do not believe that a deep concern for what may be termed audio geometry (imaging and soundstaging in stereo reproduction, or soundfield in multi-channel systems), audio texture (e.g., detail, whether "inner" or "outer," timbre or tone color, or shimmer) or audio scale (micro-/macro-dynamics, capability of intensity, or "slam") necessarily negates a love of "musical values." The true audiophile loves and appreciates both worlds, knowing that if one or the other predominates, there is no possibility of converging the two domains.
Such either/or thinking has led to numerous unnecessary confrontations over the years, as "truth" and "beauty" squared off to joust for supremacy. This is not an either/or question; it is instead a both/and proposition.
Truth is, we need beauty—and it is beautiful that we need truth.
Fine audio cannot long without the fusion of the two. Flannery O'Connor entitled one of her many remarkable short stories, "Everything That Rises Must Converge."
If we are to achieve what can be done with the blessings of fine audio, we will have to approach the listening room as a place in which audio geometry, audio texture, and audio scale are balanced with PRAT, in a way that liberates us to dance, to sing, to be struck dumb, to be amazed, to be transported. Anything that moves us along the path of reconciling these worlds… the way of audio convergence… is to be welcomed. My old friend Gizmo used to talk about this sort of thing in his remarkable writings on audio ecstasy; we agreed that there were just too many "rich white guys" sitting around in solitary listening rooms, listening to the same 100 LPs or CDs over and over again. Or, worse yet, inflicting these on their neighbors at each and every CES or audio club gathering, year after year. This is audio pathology, not audio connoisseurship. If this is what you are doing, then your understanding of what fine audio should be is leading you to death, and not to life.
Tragic stuff. You'd think we could do better than this.
There is good news, though. I'm glad to report that Kara and George at deHavilland have done better than this. They have produced a preamp that is juicy with jump, one that sounds as fine and uncluttered as it looks… and makes you want to tap your feet and dance at the same time. The music was always right there, ready to roll me up. And the UV did so without making me feel like I was facing the dreaded "either/or question." What a relief!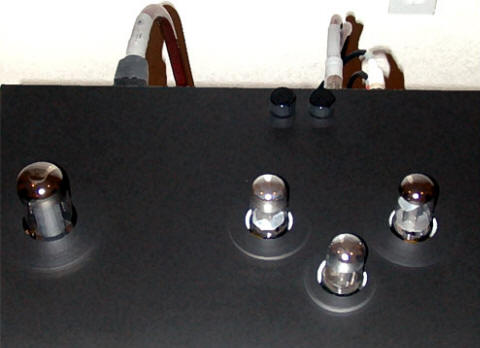 Conclusion
I tried the UltraVerve with both the Linn Klimax monoblocks ($20,000/pair) and the incomparable WAVAC HE-833 SET's ($57,000/pair), and I never lost that sense of musicality and dimensionality getting close enough together to make every session worthwhile. Given the high level of audio achievement that these amplifiers represent, that's quite a compliment. Months of listening never palled, never became dull; I never found myself wondering why I was bothering with the UV. (Yes, that has happened with other designs.) And I never quit tapping my feet! The UltraVerve was a splendid companion with both solid-state and tube components which cost many times its extremely reasonable price of $2495.00.
What can I say? I told Georgie K shortly after I got it that the deHavilland UltraVerve "is one hellaciously good preamp!" and I told him that he could quote me on that.
He did (see www.dehavillandhifi.com/verve.html)... and nothing's changed since then to alter my evaluation.
If you're looking for a well-designed tubed preamp with no bad habits, no excesses, that works well with both sand and glass amps, and gives you music galore with both SACDs and LPs—and all at a very reasonable price—then your search may be over. The UltraVerve could be just the thing for you.
The deHavilland UltraVerve therefore receives Ye Olde Editor's "very highly recommended!"
deHavilland Electric Amplifier Company
108 Wallace Lane
Cloverdale, CA 95425
TEL: 707. 894. 0176
email address: 6SN7@abac.com
web address: www.dehavillandhifi.com