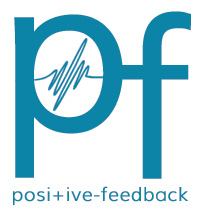 You are reading the older HTML site
Positive Feedback ISSUE
12

march/april 2004
Max Dudious on the Music, Part 2
by Max Dudious
This review first appeared in the March, 2004 edition of Audiophile Audition.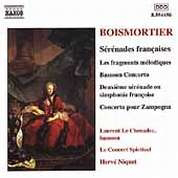 BOISMORTIER: Sérénades françaises, Les fragments mélodiques, Bassoon Concerto, Deuxième sérénade ou simphonie françoise, Concerto pour Zampogna – Le Concert Spirituel/ Laurent Le Chenadec, bassoon; Hervé Niquet, conductor – Naxos Stereo 8.554456.
According to my 1935 Grove's Dictionary of Music and Musicians, Joseph Bodin de Boismortier was born in Perpignan c.1689, and died near Paris c.1755, which makes him a close contemporary of J.S. Bach (1685-1750) and Telemann (1681-1767). "He composed four ballet operas, of which three met with great success, the fourth was not performed; a number of cantatas, and over 50 opus numbers of instrumental works, including a large number of pieces for musette and vielle (hurdy-gurdy) which (c. 1725-35) were in the height of fashion, especially at the French court. He was a gifted composer, but writing at high pressure for gain detracted from the value of his work. In spite of this, however, it contains here and there a distinct gem." That's it. One paragraph. You might call his work obscure.
So it was with low expectations that I flipped this CD into the tray of surprises, and lo and behold! Pretty damn nice music. Especially the bassoon concerto. I can't say the music mimics anyone else's in its essence. It doesn't have Bach's unrelenting adherence to form, though it obeys the rules of the day; nor Bach's harmonic adventurousness. It doesn't have Vivaldi's showcasing of virtuoso instrumentalists, perhaps because he didn't have any to write for. Nor does it have Telemann's invention of new orchestral combinations, though it obviously has some. What it has is a Gallic flair, a lightness of touch, a lack of serious purpose beyond bringing pleasure, and these elements make it much like Telemann's lesser works, his Tafelmusik, or table-music. This 18th century music is something we 21st century folks might enjoy at a dinner-party, as it isn't so engaging to force us to attend. When asked why he didn't write more serious music, Boismortier would say, "I am earning money." In today's parlance; "This is how I earn my living." To which what riposte could one offer?
What we have here is an anthology of occasional pieces, some with unusual instruments (hurdy-gurdy), some in standard instrumentation, some charmingly different dances, a brief bassoon concerto, another for zampogna (Calabrian bagpipe), all done with remarkable grace. If you are interested in French court music, this album touches many of the bases. If you'd like to stump your friends with unusual music while dining, this is certainly a product of a dark corner in music history, but one well worth shining light on. (As Sir Winston Churchill once wrote as marginalia to an aide who went to extraordinarily awkward lengths to avoid breaking the rule against ending a sentence with a preposition: "This is the sort of English up with which I will not put.")
Seriously folks, if you would know more about the first half of the 18th century in French music, this collection of Boismortier's work is a fine place to start. If you already have a taste for that place and time, this album will round out your collection. This is good music, well-played, and well-recorded, and will make a fine addition to any period collection. The compositions may not be two or three part inventions, but "Recommended" nonetheless.
High scores for grand style.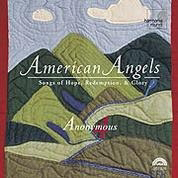 ANGLO-AMERICAN ANONYMOUS: American Angels; songs of Hope, Redemption, & Glory. – Anonymous 4 – harmonia mundi, Stereo CD HMU 907326.
This collection of largely 19th century American folk hymns, gospel songs, camp revival songs, psalm tunes, fuging tunes, and religious ballads is a surprising, if not wholly unexpected, departure for Anonymous 4, who usually focus on medieval music, Hildegard von Bingen and the like. The names of the usually unnamed group are Marsha Genensky, Susan Hellauer, Jacqueline Horner, and Johanna Maria Rose. The talent of these four women has won citations and awards ranging from "A Record of the Year, 2001" from The Sunday Times, London; and "Editor's Choice" from Gramophone magazine, to a "Classic CD Award, 1996" from Classic CD magazine, and a "ffff" from Télérama. They have also been awarded a "Diapason d'Or" (or Gold Medal) from the French recording industry, like an American "Grammy." The single word that best describes their oeuvre is "extraordinary."
From "Songs to the Virgin from 13th Century France," to John Tavener's recent compositions "The Bridegroom & other works," Anonymous 4 have redefined the role of a capella singing for female voices. They have been together for the past eighteen years, and this album may be their last—this collection of isicathamiya (a capella singing of one's homeland).
The collection starts out as an attempt to capture the various singing styles that were in use in the eighteenth-century Colonies and follow their development through that and the nineteenth century, from the Northeastern cities back to the rural South via printed tunebooks, and back again to the north via oral traditions saddlebagged onto migration patterns. Most important were the singing schools, "where students practiced singing the octave scale with European solmization syllables, fa-sol-la-fa-sol-la-mi-fa, and learned to sing music composed in three and four parts." By the early nineteenth century, "Singing school masters now published tunebooks containing a new 'patented' notation using four different shapes for noteheads (triangle Δ for fa, circle О for sol, rectangle ð for la, and diamond ¨ for mi." This system caught on in helping students learn more quickly how to read music. It became known as "shape singing," and such singing became central to the lives of folks attending revival meetings, huge evangelical religious gatherings venerated as "that old-time religion."
Some of the songs have survived down through the centuries and have been included in recordings by such artists as Ralph Stanley, the Louvin Brothers, Emmylou Harris, and the Nitty Gritty Dirt Band, among others. The most familiar titles include, Shall We Gather at the River, Angel Band, Wayfaring Stranger, Amazing Grace, and In the Sweet By and By. For a more complete mini-history, see the informative album notes by Marsha Genensky quoted above.
This album is a compilation of songs familiar to those who might enjoy the soundtrack album of the film Oh Brother, Where Art Thou? or the Smithsonian anthology known as The Harry Smith Collection. Such songs are variously categorized as hillbilly, bluegrass, country, and Southern gospel. All of these categories share a set of common roots. And all of those go back to Colonial times, Anglo-American hymnals, and their early "shape-singing" arrangements. This latest, perhaps final, album is an attempt by Anonymous 4 to bring their musical sensibilities and scholarly approach to this material. This album is highly successful, and highly recommended.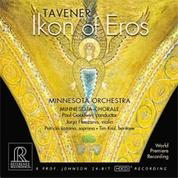 TAVENER: Ikon of Eros. – Minnesota Orchestra; Minnesota Chorale; Jorja Fleezanis, vn; Patricia Rosario, sop; Tim Krol, bar; / Paul Goodwin, conductor – Reference Recordings, Stereo HDCD, RR-102CD.
Sir John Kenneth Tavener was knighted by Queen Elizabeth on 1 January 2000 in the Millenium Honours List. He completed Ikon of Eros in October of that same year. We might see it as a composition by a mature artist at the top of his game. According to the author of the album notes, Michael Steinberg, Tavener is a composer "who in his composing lives in the world of the Divine and the Numinous. So it has been for the last twenty years, and what he has written in that period has made him, among living composers, the one with the largest, widest, most diverse audience." In this secular age, Tavener seems to have found a porthole, what Rumanian scholar Mircea Eliade saw as an interface between sacred and profane where the Divine may intrude on our everyday lives.
The first paragraph of the album's notes offers a list of instruments, as if a partial explanation of the music about to be experienced. "Ikon of Eros is scored for five groups of performers: solo violin, solo soprano, and dholak (a double-headed cylindrical drum); Greek psaltist (or cantor), mixed chorus, and very large Tibetan temple bowl and very large tamtam; two flutes, two oboes, two clarinets, two bassoons, small Tibetan temple bowl, very large tamtam, and dholak; four horns, four trumpets, three tenor trombones and bass trombone, large Tibetan temple bowl, and very large tamtam; medium Tibetan temple bowl, very large tamtam, dholak, and strings." This is a big work, partly Greek and partly Tibetan in its influences.
In the album notes there is also a bit of Tavener's "philosophy" and his "likes and dislikes" of other composers. I have trouble with this aspect of his public persona. I'd rather not have known so much about him, and let his music stand on its own. And formidable music it is, ranging from one extreme to another from moment to moment. Tavener takes us from religious transfiguration, to Divine love, to religious ecstasy, and to hallelujahs. It is not so much that he does it, as how he does it. He brings us to the mysteries with eerie sounding echoes of the past. He sees the closeness of "the self-abnegation of Byzantine orthodoxy" and similar Buddhist teaching: "To deny wanting is to deny suffering; to deny wanting is to deny the self: to deny the self is to deny suffering." To underscore this, he goes from Greek Orthodox liturgical music to Tibetan, from beautiful cantorial singing to the cacophony of beaten drums and bowls. It is eerily beautiful.
To understand how he gets us to go along – to experience transfiguration, Divine love, religious ecstasy, and prayers of praise – is to understand his art. This is music to be played loudly for effect, in surround sound, or in the case of this recording, and on my system, in simulated surround sound, to capture the spaciousness of the venue, the Cathedral of Saint Paul in Saint Paul, Minnesota. Perhaps we should don saffron robes and sandals to listen to this work. Whatever will put us in the spiritual condition to seek interface with the Divine will do.
This spiritual work is one that shares the religious impulse with all the great works of the past, Bach's Cantatas, Handel's Messiah, Mozart's Requiem, etc. though it is not in the same idiom. Whether you agree with Tavener's philosophy or not, this is powerful stuff.
Most highly recommended; among the most exciting music I've heard lately.