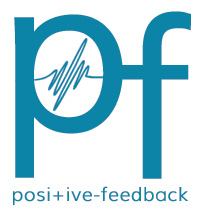 You are reading the older HTML site
Positive Feedback ISSUE
12

march/april 2004
Max Dudious on the Music, Part 3
by Max Dudious
This review previously appeared in the March, 2004 edition of Audiophile Audition.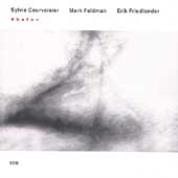 COURVOISIER: Abaton. – Sylvie Courvoisier, piano; Mark Feldman, violin; Erik Friedlander, cello – ECM Stereo CD, ECM 1838/39, B0001308-02.
I have to indecently expose my prejudices from the start when writing about what I term "academic music" of the 2nd half of the 20th century. Most often, but with a few exceptions, I just don't like it. I feel the music of Stockhausen, Schoenberg, Berg, Ligeti, and Berio mannered in a fashion I find to be a dead end. I think the styles known as "minimalism" and "neo-romanticism" have begun to supplant it in the popular taste and in the conservatories. This "modernist" music seems on its way out, despite many attempts to revive it.
In his liner notes to this two CD collection, Thomas Steinfeld, in his thoughtful essay about the music of the Sylvie Courvoisier trio, Abaton, makes a telling observation. He writes: "...But newness has long lost its novelty, and the wildest of undertakings have become ordinary artistic fare. Indeed, the surreal can be provoked, incoherence can be summoned up at will, and for decades there have been familiar signals to indicate that a norm is being broken, a convention abandoned, and expectation thwarted. Intervals start leaping far beyond the fifth, a gigantic scratching, drumming and whistling ensues, and before long we hear Karlheinz Stockhausen twiddling the dials of a radio. At the end it all sounds like the country fair in Georg Büchner's "Woyzeck," except that we seem to hear a source reference for every idea. ... Courvoisier ... has also studied Arnold Schoenberg's musical teachings and learned from them that even atonal series must be composed rather than produced with a throw of the dice..."
These thoughts seem to place the whole of "modernism" under an unflattering light. It has lost its appeal to newness. Its favorite tropes no longer generate a "primal and elemental amazement." Its wildest undertakings have become ordinary, which leaves us with a "gigantic scratching, drumming and whistling." We hear the echoes of pioneering modernism only slightly refreshed in more recent works. Steinfeld, after passing such judgment on the style of music in the album, falls back on the taste of Sylvie Courvoisier. He claims that her application of these techniques is, somehow, above the herd. I'm not so sure. I think the music, itself, limits any of its practitioners. Sorry. The first CD of this collection (a more heavily arranged series of four pieces) doesn't do it for me. It has its moments, but on the whole it doesn't knock me out, or even raise a smile. Sylvie Courvoisier's cool musical style isn't enough to dissuade me of the difficulties with this school.
The second CD is a group of jazz-like improvisations named for fictional places, such as Brobdingnag, from Swift's Gulliver's Travels. [Who was it that said, "Swift should have been named Sterne; and Sterne, Swift?" Sir Winston? George Bernard Shaw? Harold Bloom?] It is more spontaneous, and more fun. I find more spits and giggles here. But not a great deal. Feldman and Friedlander are witty in their idiom, but I still prefer Brubeck and Desmond, or Stephane Grapelli and Yo-Yo Ma. I wish I could wax more enthusiastic about this album, but this school of music just leaves me cold, and (I think) brings its practitioners down. Excu-you-ooze Me!! But, in the end, not recommended.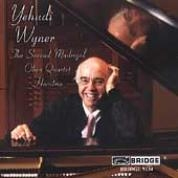 WYNER: The Music of Yehudi Wyner; The Second Madrigal, Quartet for Oboe and String Trio, Horntrio. – Numerous Assorted Artists/Yehudi Wyner, conductor – Bridge Stereo CD 9134
Yehudi Wyner (b. 1929) is a composer of long experience with "modernist" music and has developed the much sought-after combination of good "chops" and good taste. These three pieces were all completed between 1997 and 1999. The period of this music very much reflects the style I refer to as "academic music" of the 2nd half of the 20th century. It is characterized by many of the tropes introduced by Karlheinz Stockhausen, Arnold Schoenberg, Alban Berg, György Ligeti, et al, during the early Post WWII period. It is not my favorite period in music history, nor my favorite style I must confess. In Wyner's competent hands it fares better than usual.
The Second Madrigal: Voices of Women (1999), scored for soprano and eleven instruments, features ten songs that serve as the unifying threads of each of the ten sections of the song-cycle (could we call this a cantata?). The titles are: I Getting Up In Winter; II In The Morning; III Morning; IV When He Pressed His Lips; V The Second Madrigal; VI Thank You, My Fate; VII Cosmetics Do No Good; VIII The Greatest Love; IX Hopelessness; and X Question. They are sung in English. The soprano, Dominique Labelle, for whom it was written, does an excellent job with a tough assignment. The ensemble weaves its tapestry very artfully. "Good job" to Daniel Stepner, vn; Judith Eissenberg, vn; Mary Ruth Ray, va; Rafael Popper-Keizer, clo; Carolyn Davis Fryer, cbass; Susan Gall, flt; Peggy Pearson, oboe; Katherin Matasy, clnt; Janet Underhill, bsoon; Jean Rife, horn; Robert Schulz, pcus; Yehudi Wyner, cond. Wyner writes: "Verdi used to speak of his need for 'la parola scenica,' the words that encouraged the scene to be immediately suggestive and clear and which also allowed the music to animate and provide new values to the text. I have tried to choose texts which embody 'la parola scenica' and seek to liberate the music which may lie dormant in those texts." In large measure, Wyner succeeds. He is a good musician.
Quartet for Oboe and String Trio (1999) was written for the terrific Boston oboist, Peggy Pearson. Wyner's album notes describe the compositional practice and why he made certain decisions to include this but not that, or to employ a particular device. Having heard Peggy Pearson play two of Bach's cantatas, and how she was able to develop the long singing line necessary for her to play oboe in duet with the Mezzo-Soprano soloist, I feel the beauty of her tone, and the plaintive quality of her phrasing was lost in this very staccato piece. This is a good example of how even the best modernist compositions can bring some of the instrumental talent down from what they do best. But, on the whole, an interesting effort.
Horntrio (1997) is filled with modernist devices. It is "very quick, full of fragments, spiky figures, and contradictory events. Toward the end of this short movement, a grave and mysterious dirge-like music interrupts with no apparent preparation and is followed by a very compact coda conclusion." Wyner describes these traits as if he's proud of them, and ironically, they are precisely the practices of modernism that I find most difficult to value. Still, he pulls them off in pretty good shape. This is an admittedly good example of a style for which I have little sympathy. If you are a fan of post WW II "modernist" music, you might like this. A very exacting performance, with good engineering and production values. With reservations, recommended. I think this music is for those who already have a grounding in the period and its practices.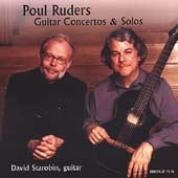 RUDERS: Guitar Concertos & Solos. – David Starobin, guitar; Speculum Musicae/Donald Palma, cond.; Odense Symphony Orchestra/Jan Wagner, conductor – Bridge Stereo CD, 9136.
Somewhere in Dante's Inferno there is the realm of adulterous lovers whose punishment for their worldly sins is to copulate throughout eternity without fulfillment. I recently dreamed that I was living in my own private Hell, wherein my punishment for worldly sins was to listen to modernistic, what I call "academic music," of the 2nd half of the 20th century. Here the music of Schoenberg, Berg, Stockhausen, and Ligeti, together with those lesser composers whose music they inspired, plays on throughout eternity. And here I sit, made to listen to them by my infernal tormenter, my editor, Dave Clark, over and over, and then over and over. Egad! I was pleased to awake in a cold sweat.
Don't get me wrong. The work of Poul Ruders on this album is this type of "modernist" in style, but he does it well. As a matter of fact, his treatment of the Paganini Variations (Guitar Concerto No. 2) is one of the more successful pieces in this style I can remember. That may be due to having the work of Paganini as its foundation. Or, it may be due to having the creativity of Poul Ruders guiding its superstructure. Either way, it's better than O.K., if you don't mind, as I do, the characteristic tropes of this kind of music. I just can't get past the disjointedness. The emphasis on sound qua sound. Thankfully, they don't figure as largely in this one work.
A good example of how Ruders composes is the "Cadenza for All" in Psalmodies or (Guitar Concerto No. 1), Section VIII. In this section Ruders deals with the descending glissando. He does it with the guitar and with different sections of the orchestra. It is an etude focused on the glissando demonstrating how it can be done away from the piano or the violin, on which it is apparently easier. There is a famous ascending glissando for the clarinet at the beginning of Gershwin's Rhapsody in Blue. But, I think, it is more of an isolated coloristic device. In Ruders score it becomes a three minute discourse on how to do a glissando breaking the actual slide into its component notes. It is a little jewel. Fascinating. In the 16th variation on a theme by Paganini he uses the strings after the fashion of György Ligeti, whose music came to prominence in Stanley Kubrick's film, 2001. Ruders seems a bit taken by Ligeti and his various tropes are heard here and there in Ruders' works. Which is not to say he heists them, but he uses them with good effect to his own ends, most notably in the 16th and 20th variations. Rachmaninoff would have enjoyed them.
David Starobin does an outstanding job on guitar, playing music that demands the highest virtuoso technique, both the solo works (Etude and Ricercare, 1994; and Chaconne, 1997), and the two Concertos. The orchestral work is very good and under good control. The tricky balance between the not loud acoustic guitar and sometimes very loud orchestra is quite well managed, and the hall acoustic in the Paganini Variations is quite good. I'd say the production values of this set of recordings is of the highest level, and the recordings are very well engineered. I'm sure Aaron Shearer is delighted to hear how effortlessly his pupil, Starobin, plays this program. In all, a series of modern works for guitar that overcome the limitations of the "modernist" idiom somewhat. I guess that places Poul Ruders in the vanguard of those composers who use the idiom. He has won me over. I sense myself moving from Hell to Purgatory.
Thank you, Poul Ruders and David Starobin. You have elevated me, I hope, on my spiritual path.