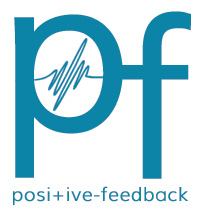 You are reading the older HTML site
Positive Feedback ISSUE
12

march/april 2004
Max Dudious on the Music, Part 4
by Max Dudious
This review previously appeared in the March, 2004 edition of Audiophile Audition.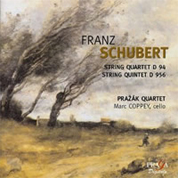 SCHUBERT: String Quartet D 94, String Quintet D 956. – Prazák Quartet/Marc Coppey, cello – Praga Stereo SACD, PRD/DSD 250 191.
This recording by the Prazák Quartet (Václav Remeš and Vlastimil Holek, violins; Josef Kluson, viola; Michal Kanka, cello; & Marc Coppey, cello D 956) doesn't quite do it for me. I'm sure the musicians have played these works many times. Oh they see the larger picture, play all the notes beautifully, follow the dynamic instructions from soft to loud, but there is something missing. I may be stretching a bit here, so forgive me. What is, for me, lacking is a sense of tension building and released. This tension and release is, in the mature Schubert works, a thumbprint upon his compositions as his six year battle with illness drew to an end. Schubert died of syphilis, which was like dying of AIDS in 19th century Europe. Nice people (and album notes) never spoke of it. But by 1980 scholars agreed on the cause of his death.
At a summer festival years ago, I heard Pinchas Zuckerman lead a group through Schubert's Cello Quintet D 956. It seemed, particularly in the 2nd movement, that he stretched the notes out interminably. Not only did they swell with extreme poignancy, rise and fall, but they held on noticeably longer than I'd ever heard them played before. Zuckerman, on the lead violin, seemed to have the notion such a performance would lend the work greater weltschmerz (world-pain, or world-weariness). He held the long notes heartbreakingly long enough to bring beads of perspiration to his brow, and bring the large veins in his neck and forehead to bulging. His playing was always under consummate control, and mixed with the sweat I thought I saw tears. But maybe the whole thing was a projection of my own, my first-time realization that this work was so elegiac, so suffused with Schubert's oncoming demise, so much a mourning of his own death. As Sergei Rachmaninov said, upon being informed that he was dying from cancer; "My dear hands. Farewell, my poor hands." The Cello Quintet, I feel, was Schubert's way of saying the same.
The Quartet in D major, D 94, was written when Schubert was a student and drew jeers from musicologists for generations as a minor work. It has outlived this early judgment and is now seen as ebullient and having the vitality worthy of Haydn. It is a charming piece, like many of the pieces written by the young Schubert. It does seem to look backward to the classicism of Mozart and Beethoven, rather than forward to the "Romanticism" of the Cello Quintet. It is a good example of Schubert's juvenilia and demonstrates how talented and competent a musician he was at age seventeen. The Prazák Quartet's approach to this work I find much more to my taste.
What we have here are two performances, one I liked, the other I have some reservations about. My hesitation about this reading of the Cello Quintet is one of subtlety in performance. Many listeners would find this reading just fine, maybe prefer it to a more maudlin approach. Actually, but for this detail, the choice not to stretch out the somber passages for a few more beats, I would find this performance one that hits all of the themes of the music with great panache. Maybe I'm searching for an ideal that exists only in my mind. It's like the anecdote from Citizen Kane, when one of Kane's lieutenants remembers seeing a beautiful woman on a streetcar decades before, and comments, "Not a day in my life has gone by that I haven't thought of her." When I hear the Cello Quintet I can't help thinking of Pinky Zuckerman sweating and weeping his way through the most riveting second movement.
This one doesn't do it for me. Recommended to those who'd know.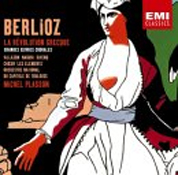 BERLIOZ: La Révolution Grecque; Grandes Oeuvres Chorales. – Choeur 'Les Elements,' Orchestre National du Capitole de Toulouse./Michel Plasson, conductor – Stereo CD, EMI 7243 5 57490 2 5
Some music-lovers hate Berlioz' work. Of them I ask, "How can you hate Berlioz' music and call yourself a music-lover?" Who was it who first said? "You never know, ya know." Ah, yes. Cindy Lauper. When you think of Schubert, you think of his predecessors; Bach, Haydn, Mozart, and Beethoven. When you think of Berlioz there are no predecessors. He seems to have sprung from the forehead of Zeus, sui generis, a mature musical personality already formed with no musical parents. His innovations and contributions to European classical music are so many and varied that whole books have been written about them. He began his music studies at age 23, and at age 27 he wrote his Symphonie Fantastique. And yet there are his detractors who would make of him a mere colorist, an innovative orchestrator. You never know, indeed. The Concise Oxford Dictionary of Music (1980) says, "His extravagances in his scores, no longer very remarkable but ahead of their time, diverted critical attention, even among his admirers, from the classical purity of his melody and the Beethovenian grandeur of his command of dramatic contrasts. Today, the opera Les Troyens, the Grand Messe des morts [now known as his Requiem], and the Nuits d'été (forerunner of Mahler's song-cycles with orchestra) are recognized for their poetry and originality." I'd add Berlioz is by anyone's measure a truly great composer whose overtures alone would rank him with Rossini.
This two CD set of Choral Works is a two hour anthology of some of his lesser known compositions, and it reflects some of his earliest and latest efforts, though concentrating on his most prolific middle period. I think this music is for the already converted Berlioz fans, not for initiates. It employs a range of moods and a variety of forces ranging from female chorus and orchestra; mixed chorus and orchestra; to 2 basses, mixed chorus and orchestra; tenor, female chorus and orchestra; tenor, bass, male chorus & piano; etc., etc. The soloists are: Rolando Villazon, tenor; Nicolas Rivenq, baritone; and Laurent Naouri, bass. David Bismuth is heard on piano; Frank Villars on Harmonium. The recording was done in Toulouse, Halle aux Grains, in April 2003. The hall acoustic is excellent.
I've never heard most of these compositions before. They strike me as good examples of Berlioz' choral works. They display many of his compositional traits, his favorite tropes, his purity of melody, his sense of grandeur, his flexibility, his ability to write for occasions, such as a cantata on the death of the Emperor Napoleon, or a "Warriors' Song," or a "Locomotive's Song," as well as a "Sacred Song," and a "Hymn for the Consecration of the New Tabernacle." All of these pointing toward his Nuits d'été (Summer Nights). The album notes opine, "... his handling of the text could not be more skillful and apt, and his light touch with the orchestra, especially the woodwind, is something we must recognize as entirely characteristic. Berlioz could and did roar like a lion; in such refined choruses as these he sings like a nightingale."
What we have here is an attempt to communicate the varied choral writing of a master: some from his early career, many from mid-career, and three from his final years. They show his development as an artist, his ability to write for a wide array of emotional effects, his mastery of many forms. Berlioz' first student composition was an opera, and his second an oratorio. These are the musical genres he was drawn to, and at which he excelled.
This collection is a perfect reference for students of his work, and a welcome addition for Berlioz lovers. Recommended.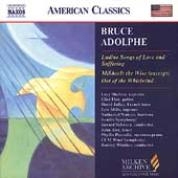 ADOLPHE: Ladino Songs of Love and Suffering, Mikhoels the Wise (excerpt), Out of the Whirlwind. – Lucy Shelton, soprano; Eliot Fisk, guitar; David Jolley, French horn; Erie Mills, soprano; Nathaniel Watson, baritone; Seattle Symphony/Gerard Schwarz, conductor: John Aler, tenor; Phyllis Pancella, mezzo-soprano; CCM Wind Symphony/Rodney Winther, conductor – Naxos Stereo CD, 8.559413.
This is another in the Milken Archive series of American Jewish Music, and it is a series of attempts by composer Bruce Adolphe to set various documents to contemporary music. Some succeed brilliantly: most of the others do not. To explain myself I guess I ought to get my prejudices out on the table right from the start. The idiom of what I think of as "academic music" of the 2nd half of the 20th century is not to my liking. Unfortunately, Bruce Adolphe was educated when such music was enjoying its greatest vogue. Signs suggest it will prove to be a dead end. Nowadays, there are fewer compositions being written in this style, which has already given way to "minimalism" and "neo-romanticism" in popular taste and the conservatories.
The music has little melodic content that you come away from performances whistling. As there is no base of memorable melody lines, it is hard to recognize what might be a perfectly dazzling set of variations, or a subtle set of harmonic shifts, or a polyphonic development. Every phrase of this style stands alone, new, neo-natal (or just born) in time. The phrases go from one to another with a minimal sense of connection. Moreover, the compositions are like charm bracelets where each charm may be completely unrelated to the next. So we examine them each out of musical context. In the best of this type of music, say Arnold Schoenberg's string quartets, there are startling, if isolated, moments musicaux. These are set up as stratagems almost, punchlines to musical jokes, or musical declamations that summarize or invert what Schoenberg has been doing in a given composition, or movement within a composition. There is some substance there for the listener to have as a reward for his attention. In lesser hands these rewards are meager. Bruce Adolphe is not up to the standards set by Schoenberg. Nonetheless, he has his moments.
I found affecting the closing soprano aria, "Lullaby of Birobidzhan," from the Mikhoels the Wise excerpt, the orchestral playing by the Seattle Symphony under Gerard Schwarz quite good, if mannered. I found most of Out of the Whirlwind moving, though I couldn't decide if it was due to the sadness of the poetry, and my conditioned response to it, or the music which I found arresting if only in isolated spurts. Again, the accompaniment of the College-Conservatory of Music Wind Symphony, under Rodney Winther, was very apt. Bruce Adolphe is obviously a talented composer who knows how to produce evocative effects from an orchestra or a soprano-guitar-French horn trio. I wonder what he'd be able to do if he turned his talent to minimalism or neo-romanticism. I'm sure compositions in those styles would broaden his listener base.
This album is an interesting example of what can be done by a composer writing in the "academic style" of the 2nd half of the 20th century. It has extraordinarily good musicians playing and singing in very good recording venues. Apparently no expense has been spared in the production values. The recording engineering is excellent. The resulting CD is excellent. Everything works. This is an extraordinary album for the student who would know more of this type of music, what works, and what doesn't.
A very mixed bag, but not for me. Recommended, just barely.
PUCCINI: La Bohème. -- Angela Gheorghiu (Mimi), Roberto Alagna (Rudolfo), Elisabetta Scano (Musetta), Simon Keenlyside (Marcello), Roberto de Candia (Schaunard), and Ildebrando D'Arcangelo (Colline); Coro del Teatro alla Scala di Milano, and Coro di voci bianche del Teatro alla Scala e del Conservatoriao "G. Verdi" di Milano, Roberto Gabbiani, chorus master; Orchestra del Teatro alla Scala di Milano, Riccardo Chailly, conductor — Decca multichannel SACD 470 614-2 DSA2.
From the beginning I was nearly struck dumb by the overall excellence of this recording. It is, finally, what we were promised from the industry twenty years back: superlative recording engineering, breathtaking singing, superb orchestral playing, holographic imaging, and clarity of detail up and down the audio range as I have never quite heard them before. When I popped this recording, known as the Gheorghiu-Alagna-La Scala/Chailly La Bohème, into my friendly CD player my tray of surprises became my tray of astonishment. I wheeled my listening chair into the sweet spot in my "lab" and the thrills and chills started running up and down my spine, while a sly smile made its way onto my face.
There are some who say that SACD is only marginally better than a well-engineered 20 bit standard CD. I most vigorously disagree. Not only is there better clarity and detail throughout the audio band, there is improved string tone without the barriers and brickwall filters of 44 kHz/16 bit PCM recordings. With SACD (at 192 kHz/24 bit via DSD) there is greater headroom, making sudden spikes (like bass drum shots) easier to handle. And there is greater ability to follow singers as they walk around the soundfield; left to right, and front to back. The echo and decay of the natural recording venue offer greater clues of location than the artificial method of merely lowering the gain. This album uses the new SACD multi-channel technology in service of the music. It raises the bar for the whole industry.
The cast sings with the kind of ease and confidence we've come to expect of La Scala performers. In the first act, after all the exposition and introductory arias, when the lovers finally meet and tell each other their life stories, the ravishing voices of Angela Gheorghiu and Roberto Alagna (who are husband and wife in truth) are captured in such a manner that not only can we grasp their technical excellence, but we hear in an instant they are young people's voices. These extra textual impressions are a function of the new technology. Then, when Alagna (Rudolfo) hits and holds the high note just a beat or two longer than usual, going for a little extra volume while trying to convince Gheorghiu (Mimi) of his love, it is more believable. As it is more believable, it engages our feelings. As it engages our feelings, it helps us toward the teleological suspension of disbelief, and suddenly we identify with the young lovers, and suddenly our chests swell with the rush of first love. And the art of the singers, together with the new multi-channel technology, makes grandfatherly me re-experience, for the moment, my youthful ardor, my adolescent longing. If this isn't what opera is all about, what audio is all about, I'm wasting my time writing this, and you, gentle reader, are wasting yours reading it,
Of course for us to experience the ecstasy of first love, and the agony of loss at Mimi's demise, we need the resources of La Scala, and Decca Records, and a pretty good multi-channel music system. To me such resources are one of the wonders of living in the 21st century, along with modern medicine, modern travel, modern communications, etc. Just yesterday I spoke with a guy in Valleta, on the island of Malta. It was like talking cross town.
To be successful, everything about this recording needed a whole string of things to go right. They did. The lead singers sang extraordinarily; the choruses under Roberto Gabbiani rose to the excellent standard; the orchestra played with inspiration; indeed, the whole enterprise under Maestro Chailly's scholarly eye concerning past performance practices, went well. The recording team managed to get it right, capturing every subtle little nuance just so. This must have been an elating project to be in on. (I wonder what Sir Winston would have said about ending a sentence with two prepositions.) I think everyone involved deserves a couple of "Good jobs!" and an "attaboy." Maybe a cookie. How is that said in Italian?
If you haven't got a surround-sound rig, but you're an opera-lover, this recording ought to convince you. It is a hybrid recording, so you can play it in standard CD – I can't wait to listen to it on headphones. You can also listen to it in SACD stereo, or in SACD multi-channel.
In case you are wondering if I find this album good enough to be "Recommended," I haven't world enough or time to express how highly I'd recommend it. If you like opera, if you've ever wondered what opera is all about, if you like Puccini, run, don't walk, to your favorite vendor and order this one today. This minute. Do it now. You won't be sorry. And tell 'em Max Dudious sent you.