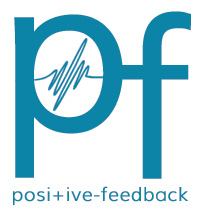 You are reading the older HTML site
Positive Feedback ISSUE
12

march/april 2004
Mid-winter Music Fest: Hummel, Monteverdi, Mozart, and Haydn
by Bob Neill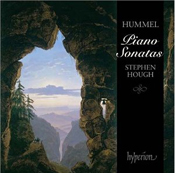 Johann Nepomuk Hummel, Piano Sonatas, Stephen Hough, piano, Hyperion Records.
If you like CPE Bach, you're ready for Hummel—not because they are musically similar but because they are both intriguing transitional composers who are only audible and hence appreciated by those who can hear through the glare of the reputations of the major composers around them. We don't have that problem with contemporary composers of their quality—and neither did music lovers of the eighteenth century. We are told that time chooses who the major composers are. It does but it also tends to bury some jewels. What will time make of Osvaldo Golijov, the rage of Brookline, Massachusetts, who is deservedly turning our heads around now? Who is in a better position to evaluate his music—we or our grandchildren?
Hummel was a student of Haydn, Mozart, and Beethoven, and a teacher of Mendelssohn. Chopin admired his work enormously and took his concertos as models. In his time, he was seen correctly, like Beethoven, as facing toward both the eighteenth and nineteenth centuries. He was well respected and very popular. In our time he has very nearly become a footnote, except to those who truly know music. I discovered him because the organist at Northfield Mt. Hermon School in Northfield, Massachusetts in the late 1980's, Joseph Elliott, made a cassette tape of Steven Hough's brilliant 1987 recording of his piano concertos on Chandos (Opus 85 and 89), which were passed along to me by his son. Now, 17 years later, Hyperion has turned this fine pianist loose on the three of Hummel's piano sonatas.
The concertos fall between the sonatas in chronology, and while definitely facing into the nineteenth century, they have a tighter feel emotionally and structurally then the music of Chopin, Mendelssohn, and Schumann, with whose music I've heard them compared. At least that is how Hough interprets them. Musically, we are still close to Beethoven. Hough plays the sonatas the same way, leaning into them to feature their forcefulness, giving even the quieter movements a sense of eloquent intensity. This strikes me as the way to let this music live the life intended for it. I can imagine it played with a lighter hand, reinforcing one of the views of the composer as one who writes "ear candy." In Hough's hands, the sonatas are bold, melodic, and a great deal of fun to listen to. I would love to see Hyperion commission Hough to remake the concertos, bringing the recorded sound up to date. And on the basis of what I hear from these three sonatas, they should do more of them as well: apparently there are another 22!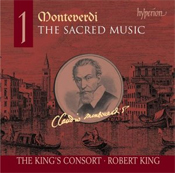 Claudio Monteverdi, The Sacred Music, Volume One, The King's Consort/Robert King, Hyperion
The appeal of Monteverdi to many of us, like that of his near contemporary Schutz on a smaller scale, is hearing the formal renaissance aesthetic move toward the freer and more virtuosic baroque. With Monteverdi, we hear large chordal waves of an almost militant quality, in counterpoint with solo voices that not so much resist it as emerge from and then retreat back into it. If they broke truly free, we have the sense we would have the baroque; but of course they do not.
Because Monteverdi is monumental, I met the announcement a while back that Robert King's forces, who have given us poignant Purcell and vivid Vivaldi, were going to undertake a Monteverdi series, with a little anxiety on their behalf. I needn't have worried. King has expanded his choir from around 18 to 25 voices, but that alone hardly accounts for the added sense of weight the consort and choir together produce—and we know from listening to Andrew Parrott's traversal of this music that it doesn't take numbers to give Monteverdi his due. It takes musicianship. To hear King and his musicians, instrumental and vocal, make the move from Vivaldi (back) to Monteverdi increases my respect for them and Hyperion's continuing faith in their excellence.
Because Parrott uses dramatically smaller forces, allowing his soloists to play a dominant role and his instruments (alas, no sackbutts) to sound individually clearer, his approach emphasizes the lyrical qualities of the music, which is why many of us would never be without his Monteverdi—or his Bach. But King's Monteverdi is rich, darker in tone, and very effective. It is probably closer to what most of expect from the Italian master.
A surprisingly satisfying beginning to what promises to be another fine series from Robert King and company.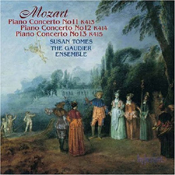 Mozart, Piano Concertos Nos. 11, 12, and 13, arranged for small string ensemble, Susan Tomes and the Gaudier Ensemble, Hyperion
Three early Mozart piano concertos arranged by the composer for five strings and piano, in order to…what? Increase the demand for the music among amateur musicians? Give them an opportunity to show off their lyrical qualities in more intimate settings? I was not wild about the scaled down Haydn London Symphonies I reviewed a few issues ago, but I am very happy to report that this arrangement really works. The success of the enterprise is thanks in no small part to pianist Susan Tomes' skill and experience in working in small groups. (She is one of the founders of Domus and the founder of the extraordinary Florestan Trio.) Note: The Florestans are performing at Union College in Schenectady, NY; Middlebury College in Middlebury, Vermont; New York City, Memphis, and Chicago this spring. http://www.florestantrio.com/)
The temptation in this situation, I would think, would be to adapt ones piano style by making it more sprightly and charming, an approach I can imagine and would hate to hear. Instead Ms. Tomes plays a strong, clear piano as she is wont to do, which with the five string players around her creates an overall sense of rich elegance. It is almost more moving to listen to than the full orchestral version because we can hear all of the individual instrumental voices—the double bass is terrific. This means that rather than being a scaled down concerto, we hear a whole new piece of chamber music. I may come to prefer this version it is so utterly convincing.
The overall presentation is not au courant snappy and brisk and it is on modern instruments. It is British—lyrical, flowing, and more interested in melody and detail than contrast and relief. I love it.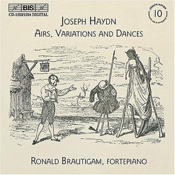 Haydn, Complete Solo Piano Music, Volume 10, "Airs, Variations and Dances", Ronald Brautigam, BIS.
I will listen to anyone play Haydn's piano sonatas. I listen regularly to John McCabe, Andras Schiff, Alain Planes, and Alfred Brendel, each of whom by leaning this way rather than that brings a slightly different light to bear on this utterly delightful music by the composer who stands at the center of classical music. Not the greatest composer—greatness tends to preclude standing at the center of anything! I am saying that to my ears all music before and after Haydn seems to take its bearings from him.
The last year or so I have discovered a new performer of the sonatas, Ronald Brautigam, who has a very decent if somewhat plummy sounding version of the Mozart sonatas already to his credit (BIS) and who may be known to many for his role as accompanist to stunning violinist Isabelle Van Keulen. I have always liked his work but it did not prepare me for this: Brautigam's Haydn is among the very best I've heard. He has a intuitive feel for both the joy and melodic strength of this music and has clearly mastered the forte piano on which he plays, such that its natural poignant sound becomes an asset to Haydn rather than a combatant, as it can sometimes be in less skillful hands.
This is Volume Ten of Brautigam's traversal of Haydn (14 CDs so far. According to BIS, there is one more single CD album coming to complete the series.
The system used for this audition included an Audio Note digital source, an Audio Note tubed preamplifier and monoblock amplifiers, JM Reynaud speakers, Audio Note cabling, Elrod power cords, and a Blue Circle line conditioner for the digital components.