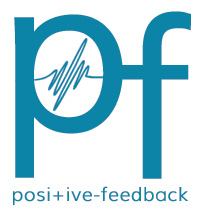 You are reading the older HTML site
Positive Feedback ISSUE
13

may/june 2004
A trio of classical releases: Bach, Dvorak, and Berlinski
by Max Dudious
These reviews also appear in the current issue of Audiophile Audition.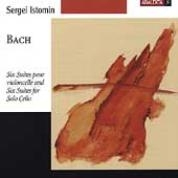 BACH, J.S.: Six Suites for Solo Cello. – Sergei Istomin – Analekta, Stereo FL 2 3114-5
The intellectual challenge of music reviewing is, one never knows exactly what one will get for review. One often finds the unexpected in the monthly box of goodies. Then one has to devise a small essay appropriate to the music at hand. So it was with the usual curiosity that I plopped the disk of well known cello suites into my tray of surprises. And, indeed, this was a great surprise. Here were the Bach suites all new and fresh, perhaps due to the Russian conservatory trained Sergei Istomin, or due to his original instrument approach to these suites, or due to the period-correct practices outlined in newly discovered performance manuals. These suites were a new venture into old terrain. This time I wore some period-correct filters over my regular eyeglasses.
Over the years, I have listened to two particular sets of this music. One performed by Pierre Fournier, the renown French cellist (on Archiv label LPs), whose style on his recordings (1960) follows the lead of Pablo Casals and emphasizes the light, dance-like qualities of the tempi suggested in the titles; Allemande, Courante, Sarabande, Gavotte, and Gigue, all dances of the day. The other set, performed by Mstislav Rostropovich (on EMI label CDs)—another Russian conservatory trained soloist considered the greatest cellist of his generation—whose style on his recordings (1995) is considerably more dramatic, aiming (as he says in the album notes) for the big emotional effects where possible. Slava, as he is called, seemed to play these suites as pure Romantic era music by de-emphasizing the dance qualities, which pleased some and infuriated others. Istomin plays the same notes, but his interpretation is one developed out of the growing information base of performance practices of Bach's era. Since Fournier's and Rostropovich's student days, many old manuals of how-to-play various instruments have been discovered. This new information has led to a handful of wonderful new interpretations of Vivaldi's The Four Seasons, for example. Here is a new set (2004) of the solo cello suites, played on a period-correct instrument, tuned to A-415 for a somewhat darker sound, informed by performance manuals of the period.
The first thing that struck my ear was the call-and-response characteristic of many passages. We know Bach didn't want for inventiveness. Yet, he wrote in a number of repeat passages. Istomin often drops the volume level on the second of these passages (the response), and in so doing creates the illusion of a dialogue with another instrument farther away, which requires consummate control. This stylistic trope is also found in the most recent of the Vivaldi recordings. Istomin often uses a more relaxed tempo, another period influenced mannerism. Rostropovich, from the outset of the Prelude to the first suite (G Major), takes the tempo to an agitated state that brings the listening exercise to a highly emotional plane. Fournier, liberally applies rubato to generate syncopation, emphasizing the dance quality of the music. Istomin, in that same Prelude, plays at a slower, more cerebral pace, which allows the listener to reflect on the sonorities and harmonies he hears. A- 415 tuning takes the treble edginess down a tad, compared with A- 440, and with the relaxed tempi makes for cooler, more reflective auditioning.
Istomin's performances are a good introduction to the music for a student just learning about Bach, or a welcome addition to a collection rife with garden-variety Bach interpretations. Istomin's reading is arresting. It is patiently conceived, well reconstructed, and consistently period-correct throughout. These are exceptionally well played, well-recorded cello suites. Istomin is a rare musician. His Bach, quite revelatory. A must-have if you like Bach.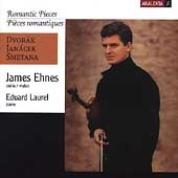 DVORÁK, JANÁCEK, SMETANA: Romantic Pieces. – James Ehnes, violin; Eduard Laurel, piano – Analekta, CD FL 2 3191
This CD is a great example of the best talent our conservatories are turning out lately. The young violinist James Ehnes seems to have been working the past few years in the vineyards of notoriety just across the river from Chateau Lafitte Dudious and somehow I've missed him. His list of credits takes a whole page in the booklet that comes in the little jewel box with this CD, yet this is the first I've heard of him. His accompanist, pianist Eduard Laurel, has nearly as long a pedigree of his own. Together they make a quite dynamic duo, like Batman and Robin. You, too, might enjoying hearing, via this collection, from the cerebral Laurel and hearty Ehnes.
The album title they have selected comes from Antonin Dvorŕk's Romantic Pieces, Op.75 for Violin and Piano, played in its entirety; but it also includes from Bedrich Smetana's From the Homeland, Two Pieces for Violin and Piano; Leos Janŕcek's Sonata for Violin and Piano; as well as Dvorŕk's Sonatina in G major for Violin and Piano, Op.100 B183, and Humoresque, Op.101 No. 8. These pieces range over seventy-five years from the mid-nineteenth to the early twentieth century, from the lovely to the fierce.
Some of Dvorak's music has been seen by the critics as "childlike" or "music for children," especially the Dumka Trio, and to a somewhat lesser extent the Humoresque. This strain in his music has rich melodic lines stated in a deceptively simple fashion. Some of the music in this collection has that sort of appeal. Some of the Janŕcek, on the other hand, seems obviously influenced by the modern influences of his day, like Stravinsky and Bartok, and uses tropes that bring out "primitive" or "folk" elements. The rest of the music is fairly standard.
How it is played is what makes this album worth its salt. Both the musicians have an uncanny ability to go from the languorous to the hyper-kinetic in an eyeblink. James Ehnes' tone is quite lovely, brought out by the 1715 "Ex Marsick" Stradivarius he plays. And yet he can saw away in the most Bartokian manner when called upon. His fleet and nimble fingering matches the best of his contemporaries, and his tone ranges from robust to tender and sweet. Eduard Laurel is equally facile and plays his part of accompanist with self effacing tact, showing rare restraint on his brief solo, the Humoresque. Ehnes has previously recorded the Bach Six Sonatas and Partitas for Solo Viiolin (also for Analekta), and it is clear his career (he was born in 1976) is something to watch. With the Bach, this recording demonstrates his mastery of at least two of the major period styles and techniques of violin playing.
The Analekta label is a relatively young Canadian venture and is trying to generate a following of its own. To this end they have put together a 2nd CD of musicians and ensembles under contract with them as a promotional extra. The list of works included on the sampler is too long to go into in detail, but there are pieces for symphony orchestra, chamber orchestra, on down to trios and solo instruments covering three or four centuries. Most of the artists seem to be Canadian. Either of these discs alone would seem a bargain, and together they verge on irresistible. These are not CDs for everyone. They are more for the music lover with well-developed tastes, already well enough versed in the period, and with a taste for piano/violin sonatas, to appreciate what is offered. That said, highly recommended. James Ehnes is someone worth watching.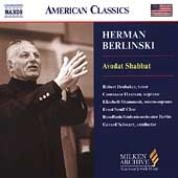 BERLINSKI, Herman: Avodat Shabbat. – Rundfunk-Sinfonieorchester Berlin/ Gerard Schwarz, cond. R. Brubaker, ten., C. Hauman, sop., E. Shammash, mez., Ernst Senff, Chor – Naxos CD 8.559430
This album (Service for the Sabath Eve) is a series of liturgical compositions for the Reformed Jewish Friday Evening Services, a song cycle or cantata (if you will), putting ancient prayers to modern music. Though I'm not conversant with the liturgical music of all sects in contemporary Jewish life, the traditional music accompanying these prayers has long been in need of overhaul. With all the Jewish composers of recent centuries, few brought their talent to the liturgy. Hats off, at least momentarily, to the late Herman Berlinski and his effort in this direction, with which he joins only Ernest Bloch and Darius Milhaud. Like the other recordings in the Milken Archive series, this one is well recorded; has very good sonics; uses the latest techniques to capture the performance in great detail, with its life-like sound-staging—and is a better than average effort even for Naxos. The music is written for a trained cantor, trained soloists, and a trained choir—make no mistake about it. Though the Hebrew words of the prayers are familiar, they are definitely not for the congregation to sing, with much too-difficult vocal terrain to cover. As such, the cantata has become a performance piece to be sung and played by professionals in synagogue, or concert setting. In this light it is very interesting music, some say organist Berlinski's magnum opus.
Herman Berlinski (1910-2001) came of age before, during, and immediately after World War II. Everything he experienced was filtered by his Jewish consciousness. It was so important to him he came to loggerheads over it with one of his most famous teachers, Nadia Boulanger. She couldn't relate to his preoccupation with things Jewish, and he left her prestigious Ecole Normal de Musique as a consequence. He soon began consorting with the mystical Catholic composer, Olivier Messiaen, and other Parisian avant guard musicians. A little later he left Paris for New York where he met many prominent American musicians. About then World War II officially broke out. Berlinski's biographical information is not contained in either The New Columbia Encyclopedia (1975), or in a recent Grove's Dictionary of Music and Musicians, though there is a brief paragraph on him in The Concise Oxford Dictionary of Music (1980). Surprisingly, the best source I've found on Berlinski is the album notes to this CD, which speaks well for Milken Archive's scholarship. To know more about his fascinating life alone might justify the cost of the album.
About the music there is much to say, more than space allows to do adequately here. The music relies largely on Ashkenazi prayer style, and the harmonies of the "Hungarian" (or "Jewish") modal scale. The biblical cantillation motifs, or stylistic trills and adornments favored by cantors, are called upon—but not slavishly adhered to. Blending these musical influences with 20th century French, International, and American idioms, the cantata offers a range of musical expression quite unexpected in the usually tradition-laden realm of liturgical writing. As a composition it is free and easy-going, quite unburdened by generations of a culture clinging to its past to preserve its present. It is a subtle testament to the security international Jewry has enjoyed since World War II.
Of the Milken Archive recordings I know, this cantata (and I use this word stubbornly to suggest its connection to Bach's cantatas and the religious impulse from which both spring) is the most moving and successful. I hope you will share in its musical ecumenicism. I know it will please the Conservative, Reformed, and Revisionist sects: I hope, all others.