ROBERT H. LEVI'S SYSTEM
LOUDSPEAKERS
Avalon Eidolons and REL Stadium III subwoofer.
ELECTRONICS
Marantz 17 tuner, Pass XONO and E.A.R. 324 phono preamplifier, E.A.R. 890 amplifier, Pass X1 preamplifier, and an Adcom 750 preamplifier for secondary sources.
SOURCES
VPI Scout/JMW 9 tonearm, VPI SDS Controller, and Benz Ruby2 H cartridge. Sony SCD-1 SACD player, Theta Gen. 5a DAC, Theta Jade transport, Alesis Masterlink, Theta Data II DAC, Marantz DV8400. Magnum Dynalab MD 108 Hybrid Reference Tuner
CABLES
Kimber Select balanced, Kimber TAK phono AG, Kimber Hero balanced and single ended, Kimber KCAG/KCTG. Soundstring Alpha interconnects and speaker cables, and AC power cords. Eichmann Express AC cables and interconnects for secondary system.
ACCESSORIES
Power Wing line conditioning,
Tice Power Block, Kimber Palladian power cables, Tara RSC and Decade power cables, Tiff power cables, Tice power cables, Tice Clock, and Audio Prism Quiet Line IIs.
I shouldn't tip my hand, but if I had the Cary PH-302 phono preamp in the 80s, I'd have spit in the eye of CD. I can't tell you how much money I would have saved in my search for a tube phono stage that was neutral, colorless, endlessly smooth, dynamic, quiet, nuanced, and made great music. Dennis Had has accomplished a wonder of musical truth with his latest creation, and I say better late than never!
While you should expect superb sound for $2400, you should only expect enough features to get you by. On its face, the PH-302 has a power switch, mute switch, and MC/MM switch. The back has RCA inputs for MC/MM and outputs to preamp/amp. It also has a ground post, a switch to float AC, and the socket for the detachable power cord. That's all! It is set internally at 100 ohms for MC and 47k for MM, with no provisions for user changes. It has excellent fit and finish.
Experts disagree on the perfect MC loading impedance. On paper, 100 ohms is the best all-around choice for purity and accuracy. In ultra-smooth systems, the 47,000-ohm setting may sound more airy and delicate. I run my reference E.A.R. 324 phono stage at 15 ohms, which sounds the smoothest and most detailed. (Note, though, that the 324's 15-ohm load is via a pair of step-up transformers, and transformer loads do not correspond to resistive loads.) I know folks that load at 100 ohms, others at 1000. The Cary at 100 ohms sounded very close to my reference.
I set up the 302 in a "hotrod" arrangement, with a Tara Decade AC cord and Kimber single-ended cables direct connected to the inputs of my amp, which has volume controls. This avoided any ground loop hum and yielded supreme quiet. I normally run things balanced, and this unusual setup gave me the signal-to-noise ratio to which I am accustomed. The unit was broken in before auditioning, and did not require much warmup before use. Placement was not critical.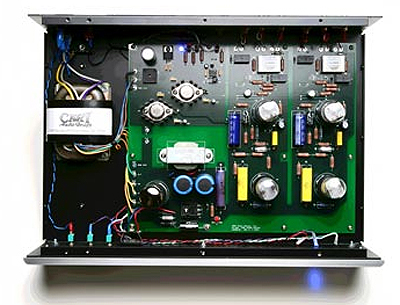 I started with Blues in Orbit from Classic Records, with The Duke and his orchestra, and listened to "Blues in Blueprint" and "Swingers Get the Blues Too." The tape hiss on this 60s recording was baby soft. The sound was neutral, yet supremely smooth and realistic. Imaging was A+, with the positioning of instruments within the studio spot on. The bass clarinet was solid and textured. Cymbals were just right—silvery and lingering, with no smear. This is the fastest tube phono stage I've ever heard, with nary a coloration. Airy highs are complemented with tight, bloomy lows that are almost solid state in their accuracy. If there is veiling, I didn't hear it! The 302 gave me musicians in a studio, played back with master-tape-like nuance and clarity.
Cannonball Adderly's Somethin' Else, on a 45rpm from Classic Records, sounded as its name implies. The 302 gave natural, toe-tapping sound, with pace and drive that felt right. From 20hz to 20kHz, there was not a flaw or a lump. The 302 is as even at all frequencies as the finest solid state phono stages, is ultra low in distortion, and has lots of natural, live character. Its lack of veiling is spectacular at its price, or any price. I loved the drums. I loved the instrument decay. I loved being able to follow every musical line. The sound was so close to the state of the art that it will be state of the art on nearly all systems.
What's New , with Linda Rondstadt and Nelson Riddle and his Orchestra, was superb. Her voice was as textured and realistic as the system allowed, better than the new DVD-A version at 128K sampling. The violins were textured, layered, smooth, detailed, and a bit sweet. The recording is exquisite, and it sounded that way on the Cary. The bass was clean, clear, and smooth, the piano just right. Dynamics were spot on, and the ambient cues near perfection. The background was jet black, close to that of the very best solid state phono stages and at the top of the heap for tube units.
On Pictures at an Exhibition from Classic Records (200-gram edition), "Great Gate of Kiev" was terrific. The full-bodied orchestral sound was realistic, smooth, airy, extremely detailed, exciting, and nuanced. It was a bit less textured than with some of the cost-no-object designs I've heard, but oh so close! The sound was listenable forever.
Virgil Fox's The Fox Touch, a direct-to-disc LP on Crystal Records, features Bach's "Toccata and Fugue in D Minor." I first noticed the space in the church, which was unveiled and pure in ambient cues. Then I heard the powerful, nuanced bass, accurate yet natural and musical. This is the best bass I've ever heard from a tube phono stage. I recently reviewed two tube phono stages, and the Cary was better on this disc in every parameter. The definition is exceptional. Sonorities are smooth and accurate. It was hard to stop listening and start writing.
Paray conducting the music of Chabrier on Mercury, in Classic Records' 45-rpm, 200-gram edition, was the final LP to spin through the 302. The orchestra was powerful yet delicate, uncolored, and natural sounding. The violins were ultra textured and winning, and spread wall to wall. There was a lot of controlled, powerful slam. The lack of coloration, coupled with wondrous tube smoothness, was thrilling. The sound was very detailed and slightly sweet, but never glassy or cool, even in crescendos. It was wonderful.
What more would I want? As an audio perfectionist, I'd like a more flexible, full-featured, balanced/single ended version for more money, but that's just me. The PH-302 is chock full of musical magic right now, and might not sound as good if it were more complex! It might be possible to enhance the Cary even more with extraordinary cables or just the perfect power conditioner. Who knows? I can tell you that this is a near-perfect piece, and Cary Audio's best phono stage to date. It is also the best tube phono stage I've heard so far, and there is nothing within $1000 of its $2400 price, solid state or otherwise, that I'd rather listen to. It's an instant classic. Robert H. Levi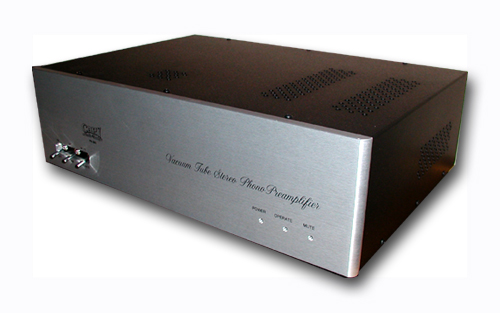 Cary Audio Design
TEL: 919. 481. 4494
web address: www.caryaudio.com
email address: info@caryaudio.com