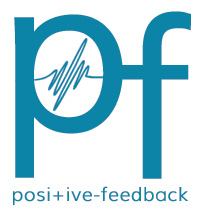 You are reading the older HTML site
Positive Feedback ISSUE
13

may/june 2004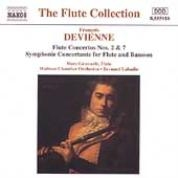 DEVIENNE: Flute Concerti: No. 2 in D; No. 7 in E minor
BRÉVAL: Symphonie concertante (arr. DEVIENNE for Flute and Bassoon)*
Marc Grauwels, flute; *Alain De Reijckere, bassoon; Walloon Chamber Orchestra/Bernard Labadie Naxos 8.555918. TT: 59:10
Naxos's licensing of a program once briefly available on Belgium's Syrinx label affords a convenient and inexpensive opportunity to get acquainted with François Devienne (1759-1803). His music offers an immediate melodic appeal and Haydnesque elegance and grace (which some might choose to hear as specifically "Gallic"). Like his equally unfamiliar Bohemian contemporary, Franz Krommer-Kramář, and the better-known Domenico Cimarosa, Devienne was a master of fluent, idiomatic woodwind writing, as these concerti illustrate.
The prize here is the buoyant, tuneful D major concerto. The sunny first movement affords the soloist numerous virtuosic-sounding scalar flourishes, which Marc Grauwels executes deftly and with liquid tone. The string octaves at the start of the Adagio usher in a contrasting mood of restrained unease, sustained by the flute as it spins long, poised lyrical lines. The closing Rondo reverts to good-natured, well-mannered optimism.
Similarly delightful is Jean-Baptiste Bréval's graceful, galant Symphonie concertante for oboe and horn. Devienne's rearrangement, substituting flute and bassoon, mostly works well; only the finale's close-position solo lines, oddly matched to these two instruments, hints at the score's origins. Alain De Reijckere's pleasing, woody bassoon tone contrasts nicely with Grauwels's clear, "open" sound, and he brings off even the most florid passagework splendidly>—he must be dazzling in Beethoven's Fourth Symphony. In the ritornellos, sharp-eared listeners will hear a flute—presumably not the soloist, but the Walloon orchestra's principal - doubling the first violins in the ritornellos, which may cause passing aural confusion (a problem that doesn't arise, of course, opposite the original concertante oboe). Perhaps when this arrangement is played, that flute should be omitted (I'm surprised Devienne didn't).
Unfortunately, the E minor concerto starts the program off on the wrong foot. The opening ritornello, whose taut drama recalls Haydn's Sturm und Drang symphonies, sounds blowzy, with the sustained winds blurring the orchestral textures; and potentially shapely transitions, such as the violin phrases at 6:42, are dry and deadpan. In this piece, an admixture of breathiness gives Grauwels's tone a pleasant chiffy edge, but it limits his ability to color the long lyric lines of the central Adagio expressively. The finale, at least, is rather interesting: the flute's chipper soli constantly undermine the orchestra's attempts to return to the initial drama, producing an unsettling quicksilver ambivalence. Grauwels handles this movement's technical demands - repeated staccatos and other rapid passagework—most impressively.
The engineers capture Grauwels in a clear, plausibly forward perspective; De Reijckere's bassoon in the Symphonie concertante sounds a bit closer. The reverberation is "long" in the E minor concerto, but the orchestral image improves subsequently. Stephen Francis Vasta