DAVID ROBINSON'S SYSTEM
LOUDSPEAKERS
Kharma Grande Ceramique loudspeakers, Nova Rendition II loudspeakers, Nova Ovation monitors.
ELECTRONICS
Linn Klimax power amps (1 pair), Meitner EMM Labs Switchman-3 (SWM3) 2/6 channel preamp, Balanced Audio Technology (BAT) 6200 2/6-channel reference amplifier, Linto phono amp.
SOURCES
Meitner DAC6 2/6 channel DAC, Meitner-modified EMM Labs Philips SACD 1000 w/optical DSD output (2/6 channel), Linn CD-12 reference CD player, Linn LP-12 turntable, with the Akiva reference cartridge, Ekos tonearm, the new Lingo power supply, Cirkus subchassis, Linn reference silver phono cable, Revox B-77 Mk. II 15ips half-track reel-to-reel tape recorder, Pioneer RT-707 7.5 ips quarter track reel-to-reel tape recorder, Nakamichi Dragon cassette deck, Panasonic SV-3900 DAT player, Magnum Dynalab FT-101 tuner w/Audioprism 6500 internal antenna, Taddeo Digital Antidote II, Monarchy Digital Interface Processor (DIP) modded by JENA Labs
CABLES
Interconnects by JENA Labs, Cardas, and Kimber. Speaker cables by JENA Labs, Cardas and Kimber. Power cables by JENA Labs, Cardas, Kimber, FIM, and VansEvers.
ACCESSORIES
Vibraplane turntable isolation platform, Sistrum SP-101 amplifier stands, Black Diamond Racing "The Shelf" and cones, Extremephono VCS Platforms w/Black Diamond Racing cones under the Switchman-3, JENA Labs Fundamental Power (Washing Machine) 6.1 (line conditioning for primary sources), Shakti Stones and Shakti Onlines, Tice Signature III Power Block (line conditioning for secondary sources), VansEvers Clean Line, equipment racks by Michael Green and Target, VPI 17F LP cleaning system with the Record Research Lab LP cleaning system, Torumat TM-7XH Superfluid cleaner, and acoustical treatments by ASC, VansEvers, and Michael Green.
2003 Brutus Award Winner
Fine Audio and the Ava Raris
This is one of the easiest reviews to write that I've ever written, and I've written a few. (Pace, Clark!)
Contrary to conventional wisdom and the reams of hype that is all too common in audiopressdom, truly exceptional designs arrive only every now and then in fine audio. As I think back over the very best of what I've heard over the past 15 years, some really delightful work comes immediately to mind: Scott Frankland's MFA MC Reference preamp and Wavestream triode monoblock amps, Ed Meitner's EMM Labs DAC6 (still the best ever, both for SACD and for CD) and Switchman-3 preamp (reviewing forthcoming), the Linn CD-12, the WAVAC HE-833 SET monoblocks (wondrous!), Jud Barber's 100 Watt Marquis Mk. III OTL's (the best OTL sound that I've had in my listening room... so far), Paul Weitzel's colossal Tube Research 800 Watt triode monomonsters flogging the heck out of a pair of Avalon Eidolons (the best that I've ever heard Avalon speakers sound, by the way), George Cardas' custom work on Maggie 3's and 20's, Jennifer Crock's JENA Labs reference grade interconnects and speaker cables, the Sony/Phillips SACD surround system demo room at CES 2001, Alan Yun's vast Silverline Audio Grandeurs (gone from the listening room all too soon!)...the list, incomplete as it is, goes on... .
Don't get me wrong: there are many good audio designs, and some that are really good. Over the years at PF and PFO, I've gotten to hear some audio components that were a real treat to listen to. Of course, I've also heard some kit that made me sorry that I unboxed it—no local magic, no in loco mojo, no simpatico, no juice at all.
But not this time. Read on...
It was all Jennifer and Jonathan's fault...
...really it was. I was looking for a new PFO speaker review project in late 2002, when audiobud Jennifer Crock of JENA Labs mentioned that she had just heard a pair of speakers from Kharma over at Jonathan Tinn's Chambers Audio that had blown her mind, and that I should really give them a try. Now you have to understand that Jennifer is one of my trusty references for the truly righteous audio stuff. When she's impressed by something—which is pretty rare—I pay attention.
So I got in touch with Jonathan to see if a review of the Kharma Grande Ceramique (KGC) could be arranged. After making a call to Bill Parrish of GTT Audio, the USA/Canada distributor (who is, by the way, a very fine fellow), Jonathan confirmed that we had a go. Shortly thereafter, the Kharmas arrived in flawless shape.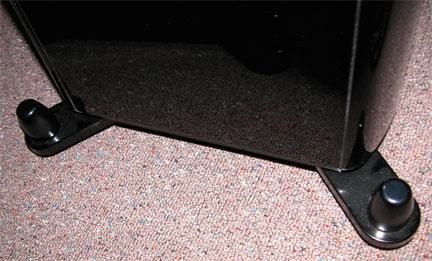 Rear view of the Kharma stand and tiptoes in the PFO equipment staging room…don't drop these on your foot!
It took some real caution and elbow grease to get them out of their crates…the Kharmas are no lightweights, and the high-gloss finish on the speakers means that you'll handle them the same way that you'd work with fine furniture. With the help of son John, we soon got the KGC's carried into the listening room. Within a short time, I had the heavy-duty Kharma SDSS speaker stand plates attached to the bottom. Into these I screwed the hefty matching tiptoes, four per speaker. Then we were ready to put the Grande Ceramiques into the listening room.
Placement wasn't too hard to do. Over the years, I've gotten to know my listening room pretty well, having had everything from mini-monitors all the way to large floor-standing transducers in residence. After some experimentation, I found a position approximately 30" from the rear walls and about 16"-18" from the side walls, with a very light (perhaps 5 degrees) toe-in. At that point I the supplied metal pucks under the tiptoes, and all was set.
Description & Specifications
Sometimes specifications tell you a lot; sometimes you can't map what you read to what you hear. In this case, the Kharma Grande Ceramique embodies some numbers that impress in print, and do match the sort of experience that I've been having with them.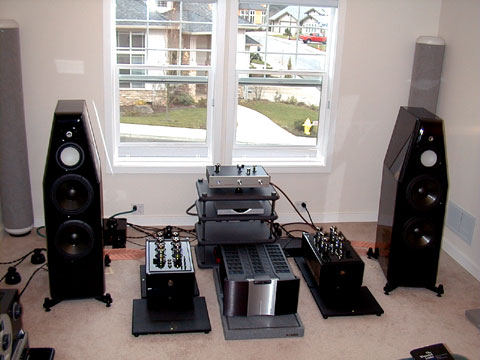 The Kharma Grande Ceramiques with the Joule Electra Marquis Mk. III OTLs
The GC's are a four-way ported design in a fabulous polished black carbon fiber cabinet of flawless Steinway-like finish. The size is 46" high x 16" wide x 22" deep, with each unit weighing in at a hefty 240 pounds. The driver array includes two 11" Nomex Kevlar woofs, one 7" concave ceramic midrange (thus the name), and one 1" concave titanium dome tweet. (There is an available diamond tweet, but the current cost of that upgrade, about $20,000, made it prohibitive for this review.) The crossover is listed as making transitions at 80Hz, 150Hz, and 2kHz, but no other details are given as to which configuration is being used. Kharma offers the "Enigma" option to wire the KGC with cryo'ed silver/gold cabling in the crossover network, but that was also not used in this review... these Kharma's are stock "entry level."
The nominal impedance of the KGC is 4 Ohms, which sounds about right. I don't have the equipment to measure impedance over frequency range, but the Kharmas never caused any of several associated amplifiers to breath hard, regardless of the volume that I used. (Not true of all speakers, by the way; the nominal 4 Ohm Linn Komris were quite capable of pushing the Linn Klimax monos into thermal interrupt... not too surprising at 87dB/W/M, when driven by very deep bass.)
The stated frequency response is 25Hz – 25kHz (the upper end is 100kHz with the diamond tweet), though Kharma supplies no -dB down points for this range. I assume that we're dealing with -3dB here, but can't say for sure. The spec sheet says that the GC has an efficiency of 93dB/1 Watt/1 Meter, which again sounds about right subjectively, given the level of output that I heard in comparison with three or four other speakers over the past year and a half or so. One doesn't have to push a preamp through the roof to get very satisfying levels of sound with the Kharmas.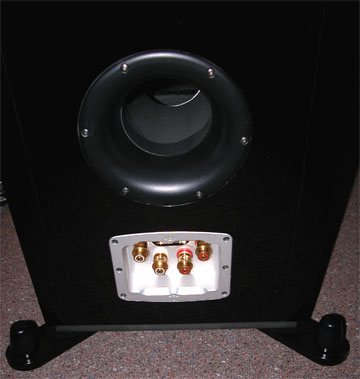 In the PFO equipment staging room: the connectors for the KGC, located just below the port.
The Kharmas have a bi-wire connect system with high quality posts that allow for easy connection of either strapped single pair, or bi-wiring. Unlike some speakers with hard-to-access cable posts, the Kharmas didn't force me to become a contortionist or damage my fingers when connecting cables. (Speaker designers: take note!) The JENA Labs Pathfinder bi-wired speaker cables slipped into place without a problem.
Review system components used with the Kharma Grande Ceramique
I have evaluated the KGC's with a number of different system configurations over the past year and a half. These have included:
Sources: the EMM Labs DAC6/Philips SACD 1000, the Linn Unidisk 1.1, a highly modded Sony SCD-1 (Richard Kern mods), the Linn CD-12, the Linn LP-12/Ekos/Arkiv II and Akiva reference cartridges/Lingo II/Cirkus.
Preamps: the BAT VK-51SE, the Manley Shrimp, the Linn Klimax Kontrol, deHavilland's UltraVerve, and the EMM Labs Switchman-3.
Phono amps: the Linn Linto, the Manley Steelhead, the Aesthetix Rhea.
Amplifiers: the Manley Snapper monos, the Joule Electra Marquis Mk. III OTL monos, the WAVAC HE-833 SET monos, the Linn Klimax monos.
Cables: interconnects, speaker cables and power cables from JENA Labs, Cardas, Empirical Audio, Kimber, FIM.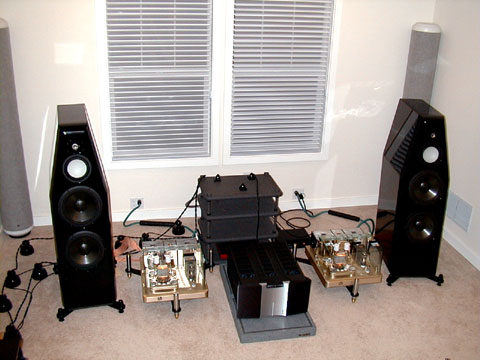 The Grande Ceramiques with the awesome WAVAC HE-833 SET monoblocks.
The Sound
The diverse component combos that I have used with the KGC's have given me an excellent opportunity to critique this speaker under a broad array of conditions: push-pull, OTL and SET tubed (all at a constant 100 WPC), and solid-state at 500 WPC. I was curious to see how well the Grande Ceramiques would perform as time... and configurations... went by.
The first system that I heard the Kharmas with was the BAT VK-51SE and Manley Shrimp preamps driving the punchy Manley Snapper monos at 100 WPC of push-pull. I had been using the Nova Rendition II's, a Scanspeak design, with roughly equivalent frequency response, and a very smooth and musical sound. Keeping everything else constant, the substitution of the KGC's, cold, and right out of the box, was a pretty serious revelation of what had knocked Jennifer out when she had heard them.
Break-in? Well, the Kharmas did get somewhat better over the first several days, but frankly, these are the best speakers out of the crates that I've ever heard. The drive and detail of the Manley amps were revealed with a seamless elegance that I've never heard in my listening room. There were two rather large and imposing speakers…and they simply weren't there. The Snappers were able to strut their stuff without ever having to push the KGC's out of the way.
Things were even better with the Joule Electra Marquis Mk. III OTL monos. The main sonic advantage of well-done OTL designs is the inherent quickness and clarity that the lack of a transformer imparts to their presentation. It's very tough to get OTL right; Jud is one of the very few who's managed to do this well. His Marquis Mk. III's were an absolute joy to listen to via the Kharmas. The crisp clarity of the midrange and high frequencies were made immediately obvious, and yet there was a seamlessness to the Kharma sound that beggared me to find any parallel in my fine audio experience. Where were the drivers?! You couldn't find them! Furthermore, the wonderful richness of the OTL bass of the Joule Electras was presented exceptionally, without any flaw that I could hear. No tubbiness, no lard... just a precisely controller foundation that brought joy to the heart of this "full frequency range" lover.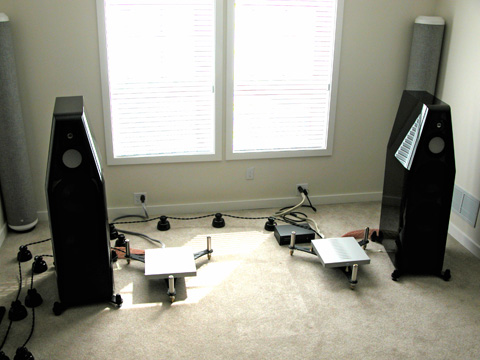 The Kharmas with the Linn Klimax monoblocks on their Sistrum SP-101 stands.
I also have run the Kharmas with a very fine solid-state design, the Linn Klimax monoblocks. With 500 WPC at this impedance, the Linn are no power slouches, and avoid the sort of harsh, brittle nastiness that solid-state amps can be subject to. No problem here: the Kharmas remained transparent, and chameleon-like, simply let the character of the Klimax... a touch leaner and less warm than the Joule Electras... come right through.
The top of the heap, however, came when I placed the WAVAC HE-833 SET monoblocks (the best amps I have ever heard... another rave!) into place with the Linn Kontrol preamp, sourced with the EMM Labs DAC6,line conditioned with the JENA Labs Fundamental Power 6.1, cabled with Empirical Audio from DAC to preamp, and with JENA Labs all the rest of the way. (My listening experience since then indicates that the EMM Labs Switchman-3 2/6 channel preamp would also qualify as an equivalent preamp for this tandem.)
Holy guacamole!! Roll me up and ship me to the heavenly places!! This was simply the very finest sound that I've ever heard in 15 years in my listening room. No exceptions.
Please re-read those last three sentences, amigos. Those who know me and know my reviews over the years also know that I do not have a membership card in the "Oh wow, that's absolutely the best [fill in the blank] that I've heard this whole month or until our next issue!!!!!" review club. As a matter of fact, there is only one "best I've heard" in any category, and if you've got some serious experience under your belt, it shouldn't change very often. It sure doesn't for me.
Where to begin? The Kharmas Grande Ceramiques have a top-to-bottom coherence in phase and time presentation. There's no narrow sweet spot, no laser-beaming from its driver array. Instead, there's an almost "point-source" quality to the seamlessness of the Kharma sound. If you close your eyes, you can't point directly to a driver with any confidence. Given the fact that I'm listening in a moderately near-field configuration, this is quite an accomplishment. Clearly the drivers are of superior quality, and the crossover is very fine, but the cabinet design also seems to be assisting by avoiding hard edges and the "boxy" sorts of errors that can lead to poorly integrated acoustical presentation.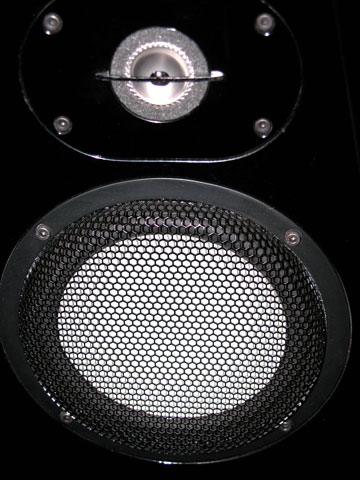 I've had some bum experiences with metal tweets in the past, and so I'm relieved to report that the inverted titanium driver doesn't drive nails through your tympanics, or get harsh or brittle. The Nova Rendition II's use a Scanspeak soft dome tweet, and over time I've really grown quite fond of soft domes, but I'll admit that the Kharmas have pulled me back to admitting that there are metal domes that are excellent. One caveat: I'd be interested in hearing the diamond tweets, since I listen to so many SACDs and LPs... 100kHz extension is essential for the rendition of space and atmosphere, in my experience.
The midrange of the Kharmas is very special. This is my first work with ceramic drivers. If the Grande Ceramique is any indication of what they can do, then sign me up! To have such a combination of midrange detail and neutrality, and spot-on musicality, was a distinct pleasure. This concave midrange ceramic driver is both quick on its feet and supple in its delivery, without a single trace of the kind of forwardness that leads to midrange "honkiness." A number of visitors to my listening room commented on the quality of the midrange... its trueness, its fundamental rightness... and I would agree wholeheartedly. Regardless of source, the 7" ceramic driver delivered nicely integrated mids that were never nasal, phasey, or out of touch with the other drivers. (That must some fine crossover network that Kharma is using!) And given the number of quality SACDs and LPs that flow continuously through my system, I'd have to say that this is a categorical assessment... no qualifications here at all.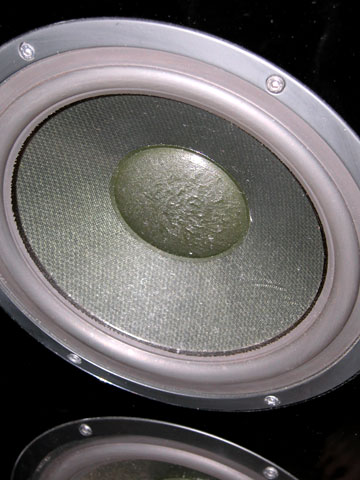 In tandem with the amps that I used, the 2 x 11" Kevlar driver-based bass of the Grande Ceramiques is focused, controlled, and well-extended. Note that we used only amplifiers of superior quality with the KGC's, and I would recommend that you do the same. (Of course, this would be rational, anyway; given the cost of the Kharmas, you wouldn't want to skimp on the associated electronics.) Overall, I found the best bass response to be with the WAVAC HE-833's, but that would be true in all other categories anyway. The WAVAC's muscular 100 Watts, plus all the glorious virtues of directly-heated single-ended triodes (especially the ability of the WAVAC to deliver incredibly three dimensional signal), made it the clear premier choice for the Kharma out of all the amplifiers tried. With the 833's in place, the bass of the KGC's was at its best, being effortless, rich, detailed and deep. It wasn't absolutely the deepest bass that I've heard in my room... the Linn Komris or the Silverline Grandeurs would take that honor... but it wasn't far off, either.
The soundstage presentation of the Kharmas was exemplary. Despite being placed fairly close to the sidewalls, the KGC's were able to vanish completely into a remarkably wide presentation of the music. Sound height was as good as anything I've had in my room, but the depth was better than anything else I've known, bettering both the Linn Komris and the Silverline Grandeurs.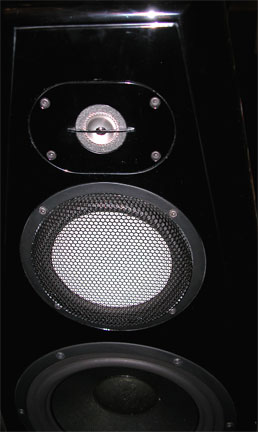 Reference SACDs can project an incredible soundstage depth—indeed, this is one of the very first things I noticed about SACDs back in the summer of 1999, when we first got the Sony SCD-1 in for review. The right combination of gear, through good speakers, show us that you don't have to go multi-channel for an exceptionally enveloping musical experience... great stereo recordings are DEEP and WIDE! And the Kharmas handled soundstage depth with an aplomb that was almost casual: you played the music, and the speakers just disappeared, leaving only music that extended well beyond the back walls in my listening room. (This is an effect in SACD sound reproduction that Alan Yun of Silverline noticed immediately when we set up his Grandeurs. "The sound is so deep! It's like the walls have gone away!" Amen!) The Kharmas are that rare thing: speakers that aren't there.
Way scary good
Because of the phase and time correctness of the Kharma design, I adjudged the imaging of the Grande Ceramiques to be the finest that I've heard. While some reviewers and editors discount the importance of imaging, claiming that its nothing more than an anomaly of stereo recordings... well gents, that's exactly what the recording is, no? What the heck else would I expect in stereo, but stereo? The ability to locate players and layers in space is part of the delight of stereo, and the Kharmas do this exceptionally well.
The tonal rightness and PRAT (thanks, Art!) of the KGC's is world-class. In my opinion, it flows from the neutrality, driver quickness, and excellent cabinet and crossover design. This has produced a speaker that is colorless and truly neutral, able to shape-shift across the entire array of musical categories, from country-western to rock to classical, without skipping a beat. You'll often read speaker reviews where a commentator will say that Speaker X would be best for lovers of chamber orchestras, or that Speaker Y is a real rock 'n roller, while yon Speaker Z is perfect for jazz.
Not in this case. The Kharmas handled everything from alternative rock on SACD to massed orchestra on LP without blinking, and without me thinking, "Gee, I wish I had Speaker Z for this recording... it would be perfect!" Get it? Everything. Without exception. No lie, and no fooling. This is a bloody awesome accomplishment, and rare as hens with dentures.
A footnote or three
There are only a few areas where the Grande Ceramiques in the configuration that I reviewed them might be bettered, though this is only in a relative way, and is speculative on my part. First, I would want to hear the "Enigma" configuration to see what effect the internal wiring and cryo upgrade would have on the KGC's. It's hard to believe that there could be even more transparency possible, but I'd be willing to be amazed once more!
Second, while the KGC's reach very low in the bass, I have heard other speakers (e.g., the TDL Reference Transmission Lines, the Silverline Grandeurs, and the Linn Komris) that reach down as low as 16-18Hz, compared with the KGC's still very respectable 25Hz. Those 'philes wanting that last bit of subterranean bass will need to keep this in mind, though if you have a very serious budget (!) you can look at the Kharma Grande Exquisite Reference 1A's. The Silverline Grandeurs were the closest in providing the overall experience that I had with the Kharmas, though I would give the nod to the Kharmas in every category except absolute bass extension in my listening room.
Third, I am quite sure that the diamond tweet upgrade would enhance the ability of the Kharmas to present spatiality and that sense of "air" and "presence" when reproducing SACD, open reel tape or LP playback. (The less said of CDs, the better!) The last figure that I was given for this upgrade was $20,000; if Kharma can lower this number substantially, then perhaps we'd be able to re-visit the issue and confirm my speculative certainty on the subject.
Apart from these nits, I am at a loss to fault the Kharma Grande Ceramiques in any other way. They are that good.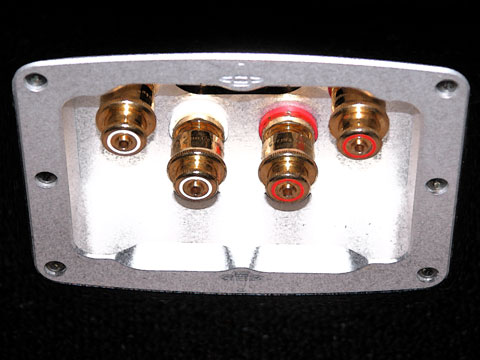 Conclusion
Let's make this short and sweet: the Kharma Grande Ceramiques are the finest loudspeakers that I've ever heard in my listening room. In the year and a half that I've worked with them, using a wide variety of associated components and combinations, I have found nothing but musical delight. In every category of fine loudspeaker performance, the Grande Ceramiques proved to be exceptional transducers, presenting reference-grade sound without ever drawing attention to themselves (other than their stunning visual appearance, of course).
Of no other loudspeaker have I ever been able to offer such unqualified praise in all my years of reviewing. Brilliant right out of the box; superbly transparent; absolutely seamless in all frequency ranges; having no phasiness or beaminess, and thus embodying complete coherence; presenting soundstaging and imaging of true world-class, reference quality... deep, wide, and precise; and working effortlessly with all major tube categories and solid-state designs. The Kharma Grande Ceramiques have demonstrated over time their ability to produce that rarest thing of all audio experiences in my heart: consistent musical ecstasy.
If you are looking for loudspeakers that you could live the rest of your 'phile life with, I can recommend the Grande Ceramiques without any reservations whatsoever. My confidence in their excellence is that strong, my friends.
This is why I awarded the Kharma Grande Ceramiques the PFO Brutus Award winner for loudspeakers in 2003.
Enough said!
Grande Ceramique loudspeakers (as reviewed)
Retail: USD $53,000/pair
For more information:
Manufacturer:
Kharma
Kalshoven 7
4825 AL Breda
The Netherlands
TEL: +31 765715010
email address: info@kharma.com
web address: www.kharma.com
USA and Canada Importer
Bill Parrish
GTT Audio
356 Naughright Road
Long Valley, NJ 07853
TEL: 908. 850. 3092
email address: av@gttgroup.com
web address: www.gttgroup.com