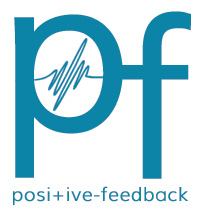 You are reading the older HTML site
Positive Feedback ISSUE
13

may/june 2004
A Second Look at Telarc's Romeo and Juliet
by Tom Campbell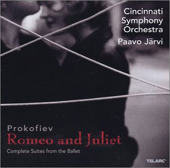 As you may know, Max Dudious has already written enthusiastically, and rather lengthily, about this Telarc SACD in the December 2003 edition of PFO. This piece will echo a number of Max's points, and hopefully add a few of my own. To be honest, though, my main motivation for writing these second thoughts is a purely practical one. I know that as a prospective buyer myself, I have something of a handicapping system for reviews. One five-star review will get my attention—but a second rave is often the one that pushes me toward purchasing action.
I hope this second review will do that for some readers, because this recording of the Cincinnati Symphony, in my opinion, has set a new standard: it is the most realistic and natural-sounding orchestral disc I've heard. While I tip my cap to the classic and revered late '50s RCAs, Deccas and Mercurys, and readily acknowledge the fine work done in recent years by Keith Johnson for Reference and Tony Faulker for several labels, this is the one that for me comes closest to capturing what music sounds like in the concert hall.
The usual fundamental differences between live and recorded acoustic music are widely acknowledged. Both can be thrilling, to be sure, but they tend to be thrilling for different reasons. Even the most celebrated Living Stereos and Living Presences are much more up-front than a true concert hall experience, and the resultant sound is harder and brighter than the real thing. The frequency range on those old tapes is also chopped off at both the top and the bottom; even the audiophile reissues are not full-range (the original LPs were even further EQ'd, of course). Don't get me wrong—on many levels, those late '50s classics deserve their exalted reputation. But in their larger-than-life vividness, they're something of an experience in themselves, as opposed to being legitimate claimants to any sort of "absolute sound."
In general, the silky, shimmering, floating quality of live strings is almost never captured on record, replaced by a sharper, steelier sound. This is a particular peeve of mine. Live strings are heavenly sounding, impossibly beautiful and easy on the ears. There are few recordings that come close to doing them justice. Also, particularly on modern productions, proper orchestral balance—for instance, the way the winds blend in to add their subtle, woody warmth—is betrayed by close-mic'd, heavily edited recordings that place all the instruments in your face, with little regard for appropriate scale.
This recording of Prokofiev's suites from Romeo & Juliet gets orchestral scale right. The perspective is slightly further back than on most classical recordings. Instruments are not thrust in your face, but when they're meant to be impactful, they're impactful in a big way. These are the widest and most spectacularly convincing dynamics I've ever heard on record, from the quietest pianos to the most tremendous fortes, with little or no sense of congestion in the dynamic peaks (and when the sound does hit the ceiling, it has more to do with the limits of my system than with the recording; however, I must say, I am quite proud of how well my Coda integrated amp and humble mid-size Harbeth speakers handle the challenges of this super-dynamic disc). Textures, timbres and balances are exemplary, as is the sense of air and venue space. Finally, there is the imaging, which approximates that of your own ears in a live venue as opposed to the sharp-right, sharp-left, laser-etched effect of most stereo recordings.
In short, it's all extraordinarily open and natural-sounding. In equipment reviews, writers often make the distinction between "musical" and "hi-fi" loudspeakers, amplification, etc. This CD/SACD hybrid strikes a perfect balance, to my way of thinking, between the yin and yang of our hobby: musical and hi-fi qualities each serving, neither at the expense of, the other. For the record, I'm listening to the two-channel SACD layer on my system; the CD layer is just a bit constricted in comparison.
Having rendered that opinion, it's fair to say that not all listeners will be swayed. I have conversed with at least one other PFO reviewer who finds these latest Telarc classical recordings a little on the "light" side. I don't necessarily agree, but I know what he means. If you're used to, and like, the typical close-mic'd orchestral recording, the closer to fourth- or fifth-row perspective offered here may seem slightly thin, the images of individual instruments not as big and round as you're accustomed to. I find this arguable shortcoming more noticeable on the new Telarc/Cincinnati recording of Stravinksy's Petrushka than on this one of Romeo and Juliet. However, any doubts one may have about low-end foundation will be dashed by the floor-shaking climaxes on both discs. If you're among the doubters, give "Montagues and Capulets" a spin, and be prepared to get knocked out of your listening chair. (I agree with Max: this particular track is one of the best system-testers I know of.)
In summary, I think what engineer Michael Bishop is doing for Telarc is creating a sound that, finally and for once, bridges the gap between live and recorded music and puts in sharp relief the "enhancements" (i.e. up-close spotlighting of instruments and the concomitant obscuring of relative timbres, image sizes and hall acoustics) that classical listeners take for granted on recordings. Yes, you will need to adjust your ears to a different perspective—for once, we have a classical disc that does not put you directly above or literally in the orchestra, but in a prime seat in the audience which is, after all, where you belong. If you're willing to put aside those hard-wired preconceptions, I think you will be blown away by the results here: natural balance, scale, coherence and warmth.
OK, so enough about the sound. Happily, I am also in concurrence with Mr. Dudious regarding the performance here from Paavo Järvi and the Cincinnati Symphony. This is the recording of Romeo and Juliet to have if you're having only one. It is a performance I have marveled at for several months, and the one I will come back to most often in the future. Actually, I've only slowly come to appreciate the greatness of this particular work. My first purchased version, of just Suite No. 1 from Ansermet (Järvi essays all three suites, 74 minutes) on Decca, left me mostly unmoved. Next, even the famous Mercury recording from Skrowaczewski only mildly stirred my interest. This was fairly early in my classical music appreciation; maybe I just wasn't ready for this work yet.
Last year, after letting the piece sit for a couple of years, I came upon a brilliant reading from Dimitri Mitropoulos in the Great Conductors of the 20th Century series that really immersed me in this music for the first time. Performing about 45 minutes of excerpts, Mitropoulos goes to town on Romeo and Juliet, leading the New York Philharmonic through a dramatic, passionate performance of violent extremes, almost Fürtwangler-like in its intensity, and quite appropriate to the subject matter of course. Given the draining nature of the interpretation and the somewhat harsh and congested mono sound, though, it's not really a performance for everyday use.
At first blush, Järvi plays this music a little closer to the vest. But repeated listenings reveal a warm and deeply felt interpretation that at all times serves the score without ego, and with countless moments of subtly expressive beauty. The degree of simpatico here between conductor and orchestra is rare; the Cincinnati Symphony is with Järvi every step of the way, playing with superb ensemble and flair. The idea of there being only 3 or 4 great American orchestras is more and more a thing of the past. Cincinnati can hold their own with the best.
So the best performance and the best sound… what are you waiting for? Go for it. I hope you love it as much as I do.