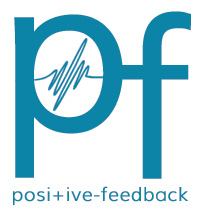 You are reading the older HTML site
Positive Feedback ISSUE
13

may/june 2004
Montreal = Music: Festival Son & Image 2004 - Part I
by Sasha Matson
Prelude
When I visited Montreal for the 2003 Festival Son & Image, which is the largest annual hi-fi show in Canada, I thought to myself: "This is one great town!" Having now visited again for the 2004 Festival, I am sure of it. Great music, great audio, great food, beautiful women—what the heck more do you want of a town?! And this is in the dead of winter. I have yet to experience Montreal in any other season, but I look forward to doing so.
My impression during conversations with professionals in high-end audio at the show, is that Montreal supports high fidelity on a per capita basis as strongly, or more strongly, than any place you can think of. I heard mention of five successful high-end dealerships in Montreal; can you name more than five in Manhattan or Los Angeles? And then there's the actual music; the world-renowned annual jazz festivals, opera and symphonies galore, preformed and recorded in wonderful venues of all shapes and vintages. Vivé Montreal!
On this visit to Festival Son & Image I decided beforehand on a little different approach from what I had attempted the year before. Rather than try to photograph every piece of equipment in every room, and considering the extensive coverage PFO has rendered of this year's models at CES, it was my choice to concentrate on a few dealers and products that had caught my attention the previous year, and try to spend a bit more time with them. In doing this, I want to make clear that it by no means is meant as a negative judgment of the many other very fine and worthy participants of the Festival. My choices merely represent one possible bouquet that I picked as I strolled through the sonic gardens of the eight floors at the Delta Hotel and the five floors of the Four Points Hotel across the street.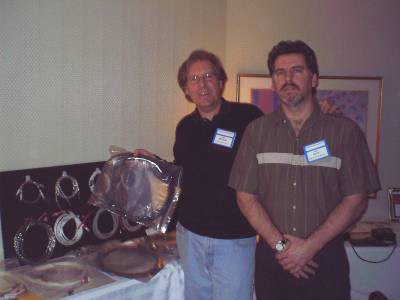 Sasha Matson grabs some cables from Tom Hills
Hudson Audio Technology
Upon pulling into Montreal, one of the first people I sought out was my buddy Tom Hills, and his company Hudson Audio Technology. I first got to know Tom when I spotted one of his power cords on my way out the door to the airport from CES two years back. At this point in time, every power cable in my system that could be yanked off has been replaced with Tom's. Hudson Audio Technology also displayed the Audiopath cable line that includes the PC-1 power cords that I own a number of, the PS-1 power strips, speaker, interconnect, and dedicated phono cables. Whew! Tom Hills is an audio jack-of-all-trades, and very knowledgeable and experienced. There's nothing analog that doesn't grab his attention I am sure. Hudson Audio has become a distributor for the well respected Lehmann Audio "Black Cube" series of phono stages, which have garnered all sorts of rave reviews and awards since 1995. If you are in the market for a great phono stage, this is something you should definitely look into further at: www.hudsonaudio.net or by contacting Tom Hills directly at: HUDS143@aol.com. If you live far away from a bunch of audio dealerships, (as I do in up-state New York), then Tom Hills just may be your guy. Tom is a 'turntableist' (true word: used in the documentary "Scratch") of the first order. At this show Tom had set up the mouth-watering Amazon Reference turntable, made in Germany. This is constructed primarily from acrylic materials with a separate outboard rechargeable battery power supply, and employs an inverted thrust-type bearing. Hudson Audio also imports the well-reviewed (by Michael Fremer) Morch series of tonearms, which were mated to the outstanding Allaert MC1B cartridge. This combination was so elegant and quiet that it seemed to suck the background noise right out of that hotel suite! I mean NO record noise artifacts to speak of, just drop-dead elegant wonderful analog magic-time. But save your pennies—Tom's turntable set-up was on the higher-end side of this room. The Amazon table lists at 9k U.S. dollars, the Morch tonearm at $1800, and the Allaerts cartridge at $2850 U.S. Now we're talkin'—about your budget that is. But boy is this stuff good! Hudson Audio also distributes Opera Audio tube electronics that are compact, low-wattage, and functional as heck. People were really paying attention to these amps and pre-amps, and Tom tells me he wished he'd brought more of them to the show, which is a good sign. You can learn more about these as well on the Hudson Audio website, which once again is: www.hudsonaudio.net. Good 'nuff!
Omega Speaker Systems.
Sharing the room with Tom Hills and Hudson Audio, and making this one of the standout 'bang-for-the-buck' rooms at the show, was Omega Speaker Systems. This speaker company is the love of audio designer Louis Chechos's life, and Louis is delivering outstanding value for those searching for reasonably priced speakers on the sensitive side. Chechos has created a line of single-driver crossoverless designs that range from 93 to 96 in their dB ratings. They don't go down to the deepest, but with the addition of a well-chosen subwoofer, (as I heard in their room here), you are in business with really fine musical sound for amounts that aren't going to bankrupt you. Omega does all their own manufacturing and assembly right at home in Norwalk, Connecticut. I listened several times during the show, and always found the room full of enthusiastic people who know a genuinely musical high-end bargain when they hear it. Omega employs modified Fostex drivers in compact ported enclosures, in a choice of nice finishes. Retail starts at around $399 and tops out at $1499, so there is a range of choices. Louis Chechos is someone who is obviously already making his mark in high-end audio and will no doubt be heard from much in the future—highly recommended! You can check it out at: www.omegaloudspeakers.com.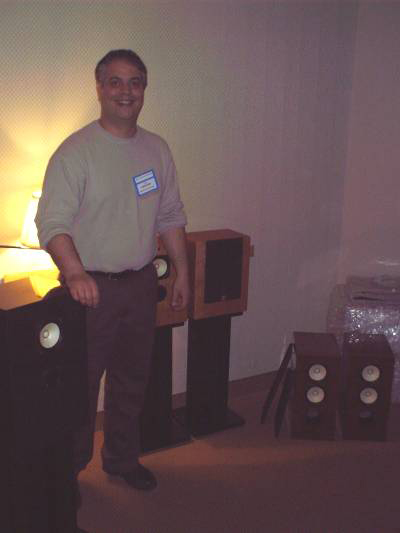 Louis Chechos and his Omega speakers
Gingko Audio
Next up was a visit to the Gingko Audio room, that I had been alerted to by an e-mail from head designer and principal, Vinh Vu. Located in New Jersey, Gingko Audio specializes in vibration control products, and their current line includes a variety of covers, individual vibration isolation units, and complete rack systems that incorporate all these features.
Gingko Audio presented the most interesting and informative demo session I have yet to experience at a high-end audio show, and it was directly related to their area of expertise. Basically, in my low-tech way as I understand it, what Ginkgo Audio is doing is a very ingenious common-sense solution to a complex problem. By creating a vibration reducing acrylic two-part box, (whose parts do not touch), with rubber balls sandwiched in between upon which the top section of the box 'floats', you end up with a platform capable of supporting various weights of components in almost completely vibration-free isolation.
How do I know this? Because I saw the evidence with my own eyes, and heard it with my own ears. In a technical comparison between identical isolated and non-isolated CD players, side-by-side results could be seen in real-time. One almost felt like John Atkinson getting out the test gear and seeing what cooks! A probe that measures vibration was attached to the two units, coupled to a computer graphic software display that showed vibration in a vertical axis as the display scrolled in real-time in the horizontal axis. You know those weather maps in USA Today? It was a bit like that—color intensity illustrated the relative amounts of vibration and their intensity, with the split-screen enabling the two units to be compared. The visual evidence was very convincing. First of all, there was direct confirmation that on the seventh floor of a modern hotel, with sealed windows and air-conditioning in every room, that you are going to have serious vibration in the room environment. On the CD player that had no vibration platform underneath it you could see a regular hash at various frequencies, tending towards increased on the low-end frequency end of the scale, which would square with common sense experience of what such a room sounds like. Comparing the identical CD player that was mounted on top of a Ginkgo Audio "Cloud 10 Vibration Control Platform" you could see a startling difference in the display. Vibration traces by frequency, and scrolling in real-time, were dramatically reduced. Trace frequencies that remained can in large part be attributed to the internal vibrations generated by the CD player itself— its transport and internal electronics vibrations. These would probably be reduced further by damping the CD player itself with a VPI 'brick' or some such device.
Another dimension of comparison was offered during the demo by playing both CD units with a time-delay between them, for a direct A/B comparison. This was harder for most of the show listeners in the room to hear, but the consensus was that there was a noticeable improvement in CD playback. I personally felt a decrease in 'hash' quality in upper string parts, where I hear sound most musically impacted by compromised digital playback. All in all this was an intriguing demonstration that was comprehensible as well as convincing about the effectiveness of the Gingko Audio Cloud 10 isolation platform's ability to clean up the sonic environment. Along with Vinh Vu, the presentation was also effectively made by Gingko Audio Marketing Director Norm Ginsburg. Mr. Vu credits Jens Waale with developing the concept of the demo and contributing the necessary test equipment from his work with manufacturing control systems. My thanks to all involved for a very informative session!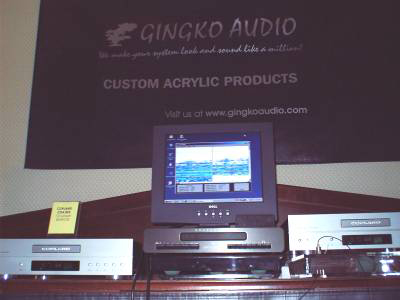 The Gingko Audio vibration demonstration session. Left of screen without, right with Cloud 10
And the results are in—in my living room that is. I couldn't leave that session without asking Vinh Vu to send me one of those fantastic Cloud 10 platforms, which he promptly did. The one I have is a handsome clear acrylic unit that fits like a glove underneath my Rega 25 turntable. An 18' x1 4' "Cloud 10" carries a retail list price of $300, and Gingko Audio will make custom-sized units as well. Check their website for information as well on complete rack systems.
What can I tell you about the sonic results? Spectacular! Clear depth-charge level lows, sparkling diamond highs, airy to-die-for vocals and mids. My whole turntable front-end has gotten better than I ever thought it could. I am listening to a LOT of vinyl since this platform came into my system. But don't just take my word for it. You can read what others have to say as well at: www.gingkoaudio.com. For the money invested, you are getting an outstanding sonic return. And furthermore, you can replace those rubber balls by visiting the gym and playing some racquetball, which would be good for some of you audiophiles. Bravo Gingko Audio!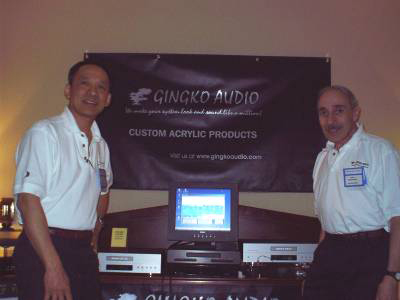 Vinh Vu and Norm Ginsburg of Gingko Audio
RL Acoustique
My understanding of the Canadian high-end audio scene, based on my two visits now to the Montreal Son & Image show, is that there is a very talented small group of designers and manufacturers who are doing extraordinarily fine work, and that they all know each other and sometimes the businesses are intertwined. Robert Lamarre is a mechanical engineer and loudspeaker designer who is one of the founding partners of Tenor Audio. Lamarre is also the president and designer of his own company, RL Acoustique, primarily devoted to the manufacture of high efficiency speakers. I regret I did not have the opportunity to interview Robert Lamarre in detail about his work—but that is something to look forward to on my next visit! In the meantime I can certainly tell you that RL Acoustique are building some of the very finest speakers on the market today.
Of the three primary kinds of speaker design technologies—dynamics, ribbons, and horns, Lamarre has chosen to focus on the latter. RL Acoustique are well known and highly regarded for their Lamhorn series, which are horn loudspeaker cabinets with various driver options, including horns made by Lowther. Some of these models are quite large enclosures, constructed from a bevy of serious materials all designed to optimize the musicality of the horn acoustics involved. Robert Lamarre has also addressed his design thinking to solving the riddles involved in creating a modestly sized single-driver speaker cabinet that preserves the important sonic advantages of single-driver designs, while achieving a frequency range that is sometimes sacrificed by such approaches. I had the chance to hear one of my sample discs through the Lam MK-1 design, which is a full-range single-drive loudspeaker utilizing the AER MK-1 driver. For those who value the quality of musical imagery above all else, look no further. The pinpoint accuracy and precise positioning of aural information was magical, almost holographic, and one felt with a tactile awareness the stability of these images within the soundstage. Robert Lamarre described this technique of being able to have sonic cake and eating it to, as a "bafflestep compensation", (if I wrote that down correctly!). This maximizes the frequency output of single-driver designs by careful management of interior and exterior cabinet dimensions and acoustic formulae. RL Acoustique lists the "Lam MK-1" at $6.5k Canadian dollars. RL Acoustique is located in Quebec, and those desiring further information can find it at: www.rlacoustique.com.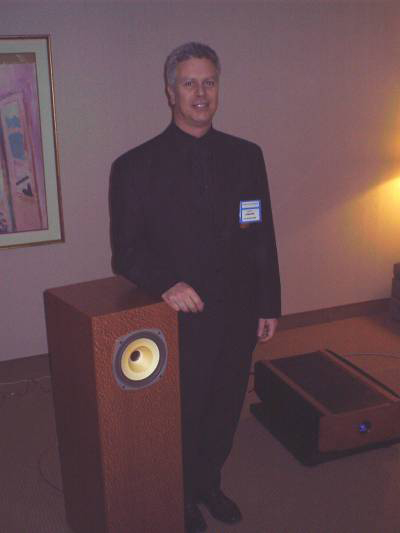 Robert Lamarre and his Lam MK-1 Loudspeaker
At this years Festival Son & Image in Montreal, I also had the pleasure of speaking at some length with the principals involved in three cutting edge high-end Canadian audio companies—Michel Vanden Broeck of Tenor Audio, Julien Pelchat of Verity Audio, and Michel Berard of Fidelio Audio. These conversations can be found in Part II of my show report from Festival Son & Image 2004.