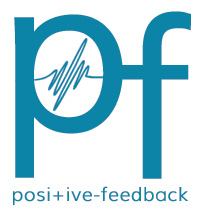 You are reading the older HTML site
Positive Feedback ISSUE 14
july/august 2004
Summer Listening Session
by Bob Neill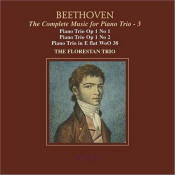 Beethoven, Piano Trios, Volume 3. The Florestan Trio. Hyperion Records.
Approaching this last of three recordings of Beethoven's Piano Trios by what has become my favorite piano trio was a fascinating challenge, mainly because I have been reading Florestan pianist Susan Tomes' richly insightful new book, Beyond the Notes, and because back in the spring I heard the trio play at Union College in Schenectady, New York.
Why a challenge? Mainly having listened to these musicians 'live,' having spoken with them, and having read about the trio's interior musical life, I find myself approaching their new recording with almost too much knowledge, too many interests. For example, one of the most fascinating as well as disheartening pieces in Tomes' book is one on the strange nature of the recording process from the performers' point of view: how it contrasts so significantly from 'live' performing. The fact that this piece by Tomes focuses on the making of this very recording makes it even more interesting.
I am going to narrow my focus here by taking Susan Tomes' useful advice to reviewers in another of her essays. She is a bit miffed by reviewers who feel obliged to consider recordings of a work in relation to other 'competing' performances, a practice, which we know from A/B audio auditions and reviews, that generally results in a focus on their differences from each other rather than on what each actually is. In this case, in relation to Beethoven. Who is Beethoven as revealed by the Florestan Trio?
To begin with, he is not primarily the bold, dramatic, colossus of contrast he often comes to us as, especially when presented by super-star chamber groups of musicians not accustomed to playing together on a regular basis. Contrast and boldness are present in this performance, but they are part of a more complex and thoughtful whole. The Florestans' Beethoven is elegant, playful, discursive, adventurous, ironic, joyful, reflective… and bold and contrasty.
This is Beethoven's Opus 1 and it is an auspicious beginning, especially in the hands of musicians who have taken the time to dig beneath its apparent straightforwardness to the rich complications below the surface. And that is what I would like the gist of this review to be about. We always have the sense in listening to the Florestan Trio that we are listening to three musicians who consider the whole to amount to considerably more than the sum of its parts and who work together to that end. Tomes and cellist Richard Leceister played together for several years in Domus, a somewhat larger group whose adventures comprise the first half of Tomes' book. In Anthony Marwood, they have found a violinist who clearly shares both their seriousness and their love of a repertoire of which they are rapidly becoming the definitive performers. I urge you to pursue all three of their recordings of the Beethoven trios.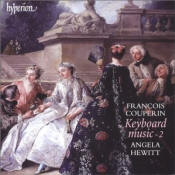 Francois Couperin, Keyboard Music – 2, Angela Hewett, piano. Hyperion.
Brave pianist Angela Hewett marches on to Volume 2 of her projected three volume selection of Couperin keyboard music, in the face of scattered critical misgivings about whether the modern grand piano can render these flowers of the French baroque with anything approaching their due. I love Kenneth Gilbert's traversal of this poignantly un-Bach music, but agree with Ms. Hewett that the music is hardy enough to please us on the piano, giving us something bolder and also different in other interesting ways. Many harpsichord purists are beginning to enjoy their Goldbergs and Well-Tempered Clavier on piano, so I expect Angela Hewett will ultimately bring all but the most stubborn sticklers around.
The richest music can always surprise us with its resources but sometimes it takes a different slant of light to reveal them. In this album, it is Couperin's counterpoint which surprises me. On the harpsichord, especially with Gilbert's style, it is harmony and spaciousness—Couperin's difference from Bach—that I am most aware of. With Hewett on the piano, the spaciousness is surely there, as I remember it from the first volume of this series; but this time it is linear movement and melodic weavings that come out most clearly. There is a flow to her playing that brings out the sublime peacefulness of the music, which the softer edges and longer lasting notes (I am not particularly aware of the presence or absence of a sustaining pedal) of the piano reinforce.
Even with all of the many successes of William Christie's Les Ars Florissant, French baroque music remains less well known among the general listening audience, than either German or Italian. If you are one of those I am referring to, an hour with Angela Hewett's Couperin (or Kenneth Gilbert's, though the digital transfers of his marvelous set on Harmonia Mundi were ugly), should be a rich revelation. The nobility and maturity of this music is a wonder.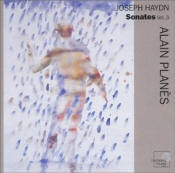 Haydn, Piano Sonatas, Volume 3, Alain Planès. Harmonia Mundi.
How do you like your Haydn? The poised, mature Haydn of John McCabe? The urbane Haydn of Alfred Brendel? The sonorous and dramatic Haydn of Ronald Brautigam and his forte-piano? The lyrical, flowing Haydn of Andras Schiff? The virtuosic Haydn of Andnes?
I love this music, find it almost impossible to play wrong, and lately have been enjoying the highly inflected, whimsical, coy, picaresque, bewitching, and, well, French Haydn of French pianist Alain Plainès, who is also in the midst of a revelatory Schubert cycle. Brautigam has just completed his cycle with a very moving version of The Seven Last Words of Christ, transcribed under Haydn's direction for keyboard, which I'll get to below. Plainès, just at Volume 3, still has a way to go.
Plainès' Haydn is a fascinating composer, if not quite the eighteenth century figure we are accustomed to. His tempos, though they often remind me a little of the way Leonhardt plays Bach, tempos measured by an invisible, and inspired, drummer in his head, are generally quick. His touch tends, accordingly, to be a little lighter than those of pianists who linger over the notes longer. I am much taken by Plainès' Haydn as I am by his Schubert. He has a way of making both composers sound refreshing, without trivializing them in the least, which is often what we get from a musician looking for new takes. With Plainès, we can hear an artist truly engaging the composers and drawing them out. Harmonia Mundi has clearly sensed in Plainès a major musician and committed to release his interpretations of Schubert and Haydn in full. To my ears, they have made a sound choice and I urge you to try him out.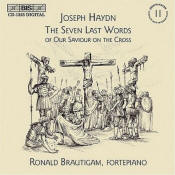 Haydn, The Seven Last Words of Our Savior on the Cross, Ronald Brautigam, forte-piano. BIS
It takes a particular taste to enjoy Haydn's Seven Last Words, which even he admitted was a challenge to write. "The task of writing seven consecutive adagios, each of them a length of about ten minutes, without exhausting the listeners, was not an easy one; and soon I discovered that I could not bind myself to the prescribed time." As it turned out, he wrote ten, at an average time of closer to seven minutes than the requested ten. And he did just fine. Whatever particular taste it takes to like this piece, I seem to have it.
He originally wrote it, on commission, for a small orchestra>—a fine version of this has been done by Jordi Savall and his Concert des Nations on Astree. He also arranged the work for string quartet, a version both the Quatuor Mosaïques and the Emerson Quartet have done. The former is, as expected, a bit more lean and delicate, the latter a bit bolder and more dramatic. Both work very well. Haydn did a version for voices several years later, which I have not heard. The one before us, for keyboard, was not done by Haydn, but he is said to have corrected the proofs of the unknown arranger and praised them as being "very good and made with remarkable diligence."
To my ears, this work fares extremely well on keyboard. A single instrument always sounds relatively monochromatic and, like black and white photographs, this quality suits formal subjects well. Brautigam's forte-piano, which I have listened to with pleasure through the preceding ten CDs in his Complete Haydn set which this release completes, brings a wonderfully coppery and slightly darker sound to the occasion than a modern piano would. Brautigam is particularly good at communicating the drama in this music. His pauses, which seem to bring the entire world to a stop, his accelerations and decelerations, which never let us settle into the flow this music resists—together make the occasional lyric passages feel like emotional clearings.
Brautigam's Mozart sonata cycle, also on BIS, is well respected. His Haydn cycle, crowned by this eloquent Seven Last Words, should settle itself among the few definitive ones.