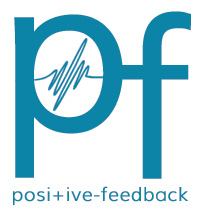 You are reading the older HTML site
Positive Feedback ISSUE 15
september/october 2004
Early Autumn Wild Flowers
by Bob Neill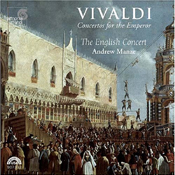 Vivaldi: Concertos for the Emperor, The English Concert, Harmonia Mundi.
Virtuoso baroque violinist Andrew Manze can be a trial as a soloist. I have made a considerable effort to warm up to his Handel and Bach violin sonata recordings; but even for a fan of early music they are a stiff drink. "But why does it have to sound so bad?" asked one critic in Fanfare magazine, who while commending the musician's technique found his astringent tone almost unbearable. But as leader of an orchestra, Manze can be brilliant. I am very fond of his version of Handel's Concerti Grossi Opus 6, in which he is the leader and conductor of the Academy of Ancient Music. And as leader and conductor of The English Concert in the recent Mozart: Night Music, featuring a fresh new look at Mozart's chestnut, the Eine kleine Nachtmusik, while still not sauterne or even white burgundy, he can be a gas. As the most visible conductor and leader of both the AAM and the Concert these days, Manze is clearly considered the cutting edge of English early music violin playing.
Like many early music fans, I have been a fan of Christopher Hogwood's version of the AAM for years. His 'English baroque' has never struck me as straight-laced or constrained, as some HIP purists find it, but an appropriate middle path between the warm and deliberate school of baroque musicianship it succeeded and the Dionysian rompers from Italy and their somewhat cooler colleagues from Germany. I still find his Handel Messiah and Concerti Grossi Opus 3 (with the Boston Baroque) definitive. I have also slightly preferred Hogwood to Trevor Pinnock, Manze's predecessor as leader of the English Concert; though like Hogwood, Pinnock has laid down nearly a generation of good work, and many of his recordings are considered the leading choices among listeners, with good reason. Neither Hogwood nor Pinnock take flamboyant liberties with the music, and their soloists—Huggett, McIntosh, Holloway, Ritchie, Stepner, Quan, and Standage—avoid the sharpness of tone that sometimes characterizes Manze's performances. As a result their recordings wear well.
But. But all of this said, the recent Italians to seem to 'get' Vivaldi in a newly convincing way – and they are clearly a strong influence on Manze. Both The English Concert and the Academy of Ancient Music under Manze are more Italian than English. There is a good deal more inflection than innuendo, tempos are brisk, timbres are crisp, and the whole can be very exciting. Unless your music system is too bright, I expect you'll find this new recording in particular great fun—"electric" as some of the quoted critics say. Manze's tone, while characteristically bitter-sweet, can be quite lovely in the slow passages. The program, some of which sounds familiar, is said to bring together "for the first time a reconstruction of six violin concertos from the manuscript which Vivaldi presented to the Holy Roman Emperor Charles VI in 1728."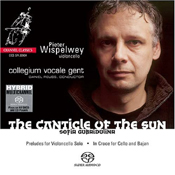 Gubaidulina, The Canticle of the Sun, Pieter Wispelwey, cello, Collegium Vocale Gent, Harmonia Mundi
It was only a matter of time before Pieter Wispelwey would find his way to this work, written by one of Russia's leading contemporary composers in 1997 for Rostropovich and recorded by him in 1999 (EMI). Wispelwey recorded this performance in the fall of 2003 and brings to it the most ecstatically spiritual sound I have ever heard from a cello. Firm, lithe, and luminous, his tone complements the Collegium Vocale perfectly.
There is less sense of tension and ecstasy in the Rostropovich performance—by cello, percussion, and chorus alike (London Voices). Rostropovich's hand on the instrument is slightly less firm, creating a fascinatingly different view of the work. Its faith seems to come easier. It feels less evangelical, more Catholic—or Orthodox. Which performance moves you more will say as much about you as it does about the two performances, both of which are superb and very moving in their different ways.
The work itself, like the rest of Gubaidulina's oeuvre, is elusive but more persuasively spiritual than that of the more popular Pärt and more substantial and less affected than that of the also better known British composer and metaphysician John Tavner.
Wispelwey also plays five of Gubaidulina's enigmatic ten Preludes for Violincello Solo (1974) and In Croce for Cello and Bajan (1979). He makes the Preludes, which strike me as both a meditation and set of etudes, appealing to cello lovers, though as music it, it is not a particularly ambitious or memorable piece. In Croce was written for cello and organ, but has been arranged here for cello and bajan (a Russian accordian) by the composer for the soloist, who is a well known performer on the instrument in Russia. The version for organ and all ten of the preludes are available on a Chandos CD. In Croce is more dramatic on its intended instruments, more accessible and interesting with the bajan. Wispelwey, who is a generally more lyrical musician than many of his peers, makes this piece work very well. Nevertheless, a fascinating comparison for fans of this extraordinary composer.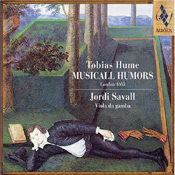 Tobias Hume, Musicall Humors – London, 1605. Jordi Savall, Viola da gamba. Alia Vox
Unless you are a student or amateur lover of English Renaissance music, close enough to it have become familiar with its variety of voices within an overall shared style and sound, these marvelously introspective solo viol pieces may well strike you at first as all of a piece. If this describes you as a listener, I urge you to spend some time with this music and find your way inside it, played by the contemporary master of renaissance viol music, Jordi Savall.
There is a rich and eloquent intimacy to a viola da gamba that no cello can quite achieve, even a baroque cello. Savall has played this music on record before—I seem to remember an Astree CD a while back that I can no longer find in my fat and increasingly diffuse collection. That he has chosen to re-record it on his new label, Alia Vox, is a musical blessing, if only because the sound, typical of this label, is absolutely exquisite: clear, detailed, and naturally warm. Or is that just Jordi's gamba?!
The music - twenty solo pieces are, in turn lyrical, mournful, elegiac, wistful, wooing, playful, gallant. All of the humours, the term understood in its renaissance sense as moods, have their proper distinctiveness from one another; but there is a pervasive meditative quality that seems to tie them together. As a whole, the recital can be spellbinding, especially listened to late at night.
I don't usually make much of a fuss over packaging, but I do wish the audio world would take a hint from Alia Vox. This CD comes in a handsome, heavy cardboard folder, which contains a 73 page booklet with two essays in French, English, German, and both Catalan and Castillian Spanish. The artwork is beautiful.
What else can I say? Buy one for yourself. Buy one for your lover(s).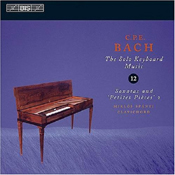 C.P.E. Bach, The Solo Keyboard Music, Volume 12, Miklós Spányi, Clavichord, Bis.
So you think this music might be too specialized for you? Too precious? Well, if Jordi Savall can move you with Tobias Hume late at night as I promised he would, so can Johann Sebastian's eldest son, Carl Philip Emmanuel, who, if his name were not Bach would be among our most notable composers. And the sound of a clavichord on a good music system can be celestial.
This is music that is the essence of the musical style we call 'rococo', falling between the baroque and simpler, more regular classical style of the later eighteenth century. I have always been drawn to transitional styles. They have a way of taking us to unique and surprising places, especially in literature, painting, and music. As one style or sense of the world works its way toward what will eventually be its successor, some great things can happen. I consider 'impressionism' a transitional style in painting, taking us from 'realism' to 'modernism,' and consider the riches that lie there! And where would we be without Henry James and Joseph Conrad?
C.P.E. Bach's music is unpredictable, curious, various, and at its best truly eloquent. Eloquent in ways that neither his father's nor Mozart's and Haydn's are eloquent. He is a marvelous musical voice unto himself, who is finally getting the audience he deserves. His solo keyboard music, to my ears, is where the richest of his work lies, though his keyboard concertos, also coming out on BIS with Spányi at the keyboard, is also exciting music. I love the solo music and I love Spányi's way with it, especially his choice of instruments: clavichord, tangent piano (you've got to hear a tangent piano!), and harpsichord.
It doesn't matter where you break into this series, but I promise that if you love eighteenth century music, you won't be able 'to eat just one.'
Equipment used for this review includes electronics by Audio Note and speakers by Audio Note and JM Reynaud.