ED MORAWSKI'S SYSTEM:
LOUDSPEAKERS
DIY 2 way monitor speakers with Scanspeak 8535 & 9700 drivers.
ELECTRONICS
Bel Canto eVo2 amplifiers and an E.A.R. 864 preamplifier.
SOURCE
Musical Fidelity Nu Vista 3D CD player, Aries turntable w/JWM 10 arm and a Dynavector 20X cartridge.
CABLES
Analysis Plus Oval 9 Speaker cables, Cardas XLR, Kimber Camble XLR, and Holophonic-PC interconnects, power cords.
ACCESSORIES
Dedicated balanced power with Brick Wall Surge Supression.
This seems to be a very good time for less-than-wealthy audiophiles. The DK VS-1 MK 2 integrated amplifier is the third component I've encountered in the past few months that offers extraordinary value. Like the Mobile Fidelity OML-1 speakers and the Xindek integrated amp, the VS-1 MK 2 offers good looks and extremely high quality at a reasonable price.
When PFO Editor Dave Clark asked me to review the VS-1 MK 2, I had never heard of DK Design Group. I couldn't have been more pleasantly surprised when I saw the amplifier. The workmanship is just fabulous, and I couldn't believe the price. My reference preamp alone cost that much! The VS-1 MK 2's dimensions are slightly odd, as it is only 9.25 inches tall, but 17 inches wide and 19 inches deep, but it looks great. The amp is fairly massive, and it weighs 82 pounds. It was a small struggle to get it into my car, and even more of a chore to get it upstairs into my listening room.
I let it warm up for an hour while I studied the manual and checked DK Design Group's website, which did not contain much information aside from basic specs:
Power output @ 8 Ohms: 150W x 2

Power output @ 4 Ohms: 300W x 2

THD (1 kHz): <0.1%

Frequency response (+/- 1dB): 20Hz – 35kHz

S/N ratio: >90dB

Input sensitivity: 200 mV

Input impedance: 47 kOhm

Amplifier type: Class A

Output transistors: FET (Sanken SAP 15 P/N)

Phono section gain: Input 10 mV, output 200 mV to 2V

Line stage gain: 200 mV to 2V
The VS-1 MK 2's output is quite impressive for an integrated, it has both balanced and single-ended inputs, and it even has a phono stage! Not being able to wait any longer, I turned the unit on (from standby) and let it warm up even faster. I was rewarded with perhaps the coolest display I have ever seen on a piece of audio equipment. The face of the VS-1 MK 2 has a power meter that is similar to a LCD display but is multi-colored. Each channel has a different colored needle that moves with the power output. For some of you—we know who we are—this display alone will be worth the price of admission. I also discovered the elegant remote, a slim, silver unit with gold buttons that has just the right heft.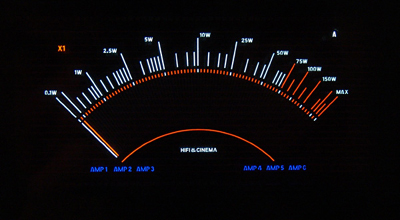 The VS-1 MK 2 looks cool, but how does it sound? A few years back, I had the pleasure of reviewing the Gryphon Callisto 2100, and thought it was the best integrated ever. Its $5700 price was way out of my range, or it would have been on my shelf. The VS-1 MK 2 does everything the 2100 did, and more. In terms of dynamics, it positively threatens to jump off the rack. It immediately reminded me of the Callisto in this regard, but goes it one better, portraying more depth and musical dimension. This leads me to its second distinction—soundstage and imaging. The VS-1 MK 2 is the best amplifier I have heard in this regard. Ten minutes after spinning the first CD, Best of Sade, I realized my mouth was open.
My criteria for a component are as follows:
Accuracy

Dynamics

Power and headroom

Imaging and soundstage

Bass control and depth
The VS-1 MK 2 met every criterion, and exceeded my expectations completely. I was faced with a reviewer's dilemma: How do you avoid going over the top in praising a component? When a piece of gear sounds bad, I try to say so without insulting anyone, keeping in mind that it sounds that way in my room, and my system. Likewise, when a component sounds good, I try to say so, but no one wants to read that every piece of gear is the best the reviewer has heard. We all know that isn't true, but when you discover something that is really wonderful, you have to say so.
Therefore, let me start this review again. After warming up the VS-1 MK 2 for an hour, my first listening test was Best of Sade. It was immediately evident that the VS-1 MK 2 was special. It is adept at turning mere recordings into live performances. It is also excellent at digging up low level detail and portraying every note realistically. I have found that the cymbals and brushes in so many jazz recordings are difficult to reproduce correctly. I use Diana Krall's Look of Love to test for this. Do the brushes sound like nylon tapping brass, or indistinct white noise? This is one of my critical tests for CD players, and one of the reasons I own the Musical Fidelity NuVista. When I was evaluating preamps and preamp tubes, it was quite eye-opening to discover how different tubes made those brushes sound. The VS-1 MK 2 was flawless in this regard, which tells me that its preamp section is top notch. It is also dead quiet. There is no hum, vibration, or noise of any kind coming from this unit. For a component containing tubes, that is an accomplishment. In fact, this is probably the only piece of electronics I've encountered that is completely, absolutely quiet. I have had plenty of $3000 preamps that hummed like crazy.
Krall's vocals took on a subtle huskiness that I hadn't noticed before, and she sounded a bit more emotional than usual. I listened to the CD all the way through because it just sounded so good, then took a break, as I wanted to find out if the VS-1 MK 2 sounded as good the next day. So much of musical enjoyment is emotional, and I find that I have to reevaluate equipment as my mood changes. Twenty-four hours later, the VS-1 MK 2 was nice and warm, but not hot, and I sat down for another session. Another of my test recordings is Madonna's American Life. I like its deep bass and super-wide soundstage. It sounded fantastic through the VS-1 MK 2. The bass went deeper and was tighter than ever before, and the soundstage literally wrapped around my room. Every detail was vibrantly alive. This CD revealed the VS-1 MK 2's character in another way. On certain tracks, Madonna's voice has a lot of sibilance that has bothered me with every component I have used to play this CD. The VS-1 MK 2 was no different, but while I clearly heard the sibilance, it didn't bother me as much as it has in the past, because all of the other details that the VS-1 MK 2 dug up helped to balance out the presentation.
Keiko Matsui's Deep Blue has a lot of synthesized bass, and has proved to be a great test of a component's ability to handle the low end of the frequency range. Bad speakers boom, and many amps can't control the woofers. If you have both bad speakers and a bad amp, this CD would probably be unlistenable. On the VS-1 MK 2, the bass notes shook the room, with no overhang and nice, tight edges. The Corrs' Unplugged is one of my favorite CDs, and the only live performance recording that I really like. It can be bright on some systems, so I was wary that this would be emphasized through the VS-1 MK 2, but the amp portrayed the acoustic instruments very dynamically and with great musicality. Once again, I noticed something different in Andrea Corr's voice—a subtle, yet noticeable, sultry quality. I could listen to Andrea singing the phone book, but this was truly magnificent. On the track "Toss the Feathers," she plays the Irish whistle, and I could plainly hear her tiny intakes of breath. When she sang "What Can I Do (To Make You Love Me)," I fell in love all over again. Every nuance of her fabulous voice came through with tremendous emotional impact.
Of course, I also enjoy Alison Krauss. New Favorite is one of her best, and was again floored at how good, and different, it sounded through the VS-1 MK 2. The banjo sounded hollow and organic as opposed to electronic or mechanical. Every instrument was reproduced as it is live. I noticed a similar phenomenon with drums, which sounded so hollow and deep that I swore I could hear the tightness of the skin and whether it was made of paper, plastic, or hide.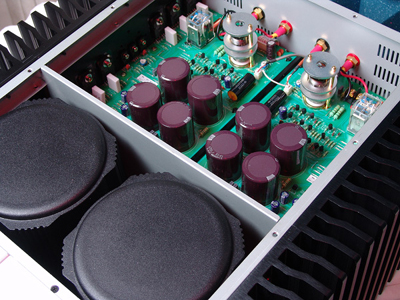 About this time I decided to take a look under the hood, as it were. You will see from the pictures that it contains well-executed pcbs and two very large enclosed transformers. Most interesting were the two tubes and the elegant cages that contain them. I searched the manual and website for the specs on these tubes, but found nothing, so I pulled one out. It turns out they are Chinese 6N11s (6922s). Since I didn't have any of these on hand, I couldn't experiment, but I was willing to bet that better tubes would bring the VS-1 MK 2 to an even more stratospheric level. I later discovered that I was correct.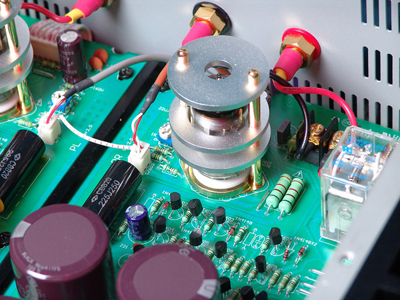 I don't usually talk to the manufacturers of the products I review, although we are encouraged to do so. Most of the time, I want to distance myself from their pitch and decide for myself, but in the case of DK Design I had already formed a very positive opinion, and I wanted to discover who these guys were! I called Daniel Khesin, who is the "DK" in DK Design, and had a nice conversation. He informed me that his company was built upon providing good value and customer service, and that many more products were in the pipeline. I asked about the striking looks of the VS-1 MK 2, and was told that he has a full-time industrial designer on staff. He also employs a full-time engineer and circuit designer for the electronics. The engineer spent much time in China searching for a factory capable of turning out extremely high quality components, and they are pleased with the selection they made. I have to agree. I went over the VS-1 MK 2 inside and out, and it is as good as anything from Japan or Germany.
After some prodding on my part, two other interesting points emerged during our talk. The balanced inputs are mainly for convenience, and Daniel recommends using single-ended interconnects whenever possible. The other thing was that DK Design strongly encourages tube rolling in the preamp section! In fact, Daniel told me that NOS tubes like Siemens ECC88s will take the VS-1 MK 2 to a completely new level. Daniel really likes the Siemens CCa, which was developed for use in extremely high-precision oscilloscopes, and thus had to have extremely low microphonics and distortion.
Over the next few days I threw everything at the VS-1 MK 2, trying to find its limitations. Vanessa Mae's Storm has a little classical violin on "Happy Valley." Although I have never really liked this track, it took on a texture I had not previously noticed. The VS-1 MK 2 brought forth so much rich detail that I appreciated it in a whole new light. I do like the track "I Feel Love" for its lightning-fast bass beat and Vanessa's furious electric violin. If a component has trouble keeping up, it will be painfully obvious on this track. Once again the VS-1 MK 2 not only rose to the occasion but exceeded every expectation, again pulling out detail I never knew was there.
The CD playing as I finish this review is the magnificent Burmester #3. There are no bad tracks on this disc, but Rimsky-Korsakov's Allegro Molta is outstanding, and proved that the VS-1 MK 2 can handle classical music just as expertly as any other genre. The sweeping expanse of this piece came shining through, rolling over me like a wave of joy. I really had nothing to complain or nitpick about. I cranked the unit up as loud as I could endure and it just sounded better. The amp looks great. It is incredibly quiet. It has plenty of power to handle almost anything, and it sounds wonderful.
The DK Design VS-1 MK 2 is an incredible piece of gear. It is the best integrated amplifier I have heard. It is not only the best integrated amp, but the best preamp and best amplifier as well. That's a strong statement, but I stand by it. The VS-1 MK 2 does everything very, very well, but best of all are the rich dynamics that make every recording come alive. As the review period came to an end, I was as in awe of the VS-1 MK 2 as I was the first time I heard it. I'm putting my money where my mouth is and buying the review sample. My advice to all of you, no matter how big your budget, is to find a dealer near you and give the VS-1 MK 2 a listen. I would also advise you to hurry. When DK Design realizes that the VS-1 MK 2 should cost $6000, not $2995, they might just raise the price! In the meantime, I'm going to be enjoying mine. Ed Morawski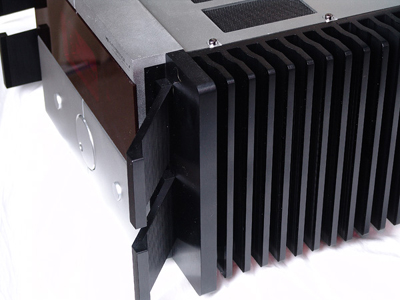 Addendum by Dave Clark
I had the integrated prior to passing it off to Ed (I should make it clear that I only had the unit for about a week—so anything I say here is more of a preliminary report and not one that is all inclusive) and would have to agree with what Ed says—this is one killer product at the price! No make that one killer product at any reasonable price—the integrated easily competes against products at several times its price.
In comparison to my amp and preamp combo (Clayton M100 and Blue Circle BC3000—around $13k combined) things are a bit too close (tonally and overall musically) making me squirm a bit. That is replacing the Clayton/BC combo with the integrated resulted in no significant drop-off either musically, tonally, or harmonically. It was hard to tell the two set-ups apart, they sounded too darn similar—music simply filled the room. The integrated came across as being tonally neutral and clean—no added crap or deviations from what we feel is audible accuracy, as heard here. As such, harmonically and tonally the integrated seemed to be quite right it its voicing. Not too rich, not too lean, just right. The frequencies were well extended with very good delineation of instruments occupying either end of the scale. Not quite to the level of our regular combo, but very close. I would expect as much as we have spent quite a few years building this system to get our music to sound just like we want it to sound—yeah it is a personal thing after all. But the integrated was a close second.
So yes, we still preferred our set-up only because it was just that much more dynamic, visceral, out-into-the-room, and dimensional. Not a lot, but enough in the ways that are important to us. The Clayton/BC had that bigger shut-up and listen sound that we prefer. Even so, we did enjoy our brief stint with the integrated. In the time we had the unit, it worked without a hitch, offered no extraneous sounds, and was a beauty to see. What we have here is the proverbial giant killer. Dave Clark
VS-1 MK 2 integrated
Retail: $2995
DK Designs
web address: www.dkdesigngroup.com