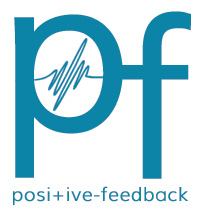 You are reading the older HTML site
Positive Feedback ISSUE 15
september/october 2004
Janice Siegel + Cheryl Bentyne + Alan Paul + Tim Hauser = The Manhattan Transfer
by Karl Lozier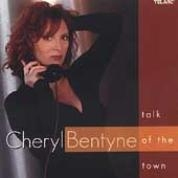 Cheryl Bentyne, Talk of the Town (Telarc CD 83583)
The first two songs on this particularly nice disc are Cole Porter's "You'd Be So Nice to Come Home To" and Gershwin's "They Can't Take That Away From Me." Cheryl Bentyne performs both in a style that I would describe as either swing or simply cool jazz. The piano accompanist on these tracks, and most of the others, is Kenny Baron. Corey Allen takes over on three tunes. The piano is on equal footing with the singer on all selections, and the second track also features some very nice flugelhorn playing by Chuck Mangione. Ray Noble's romantic composition, "The Very Thought of You," receives a very appropriate ballad-style rendition by Bentyne, with tenor sax by David "Fathead" Newman added for subtle emphasis. On "Girl Talk," we get a bit of electronic organ playing by Corey Allen, and Bentyne is aided by the voices of Mark Kibble and Alvin Chea of Take 6.
Bentyne and her group really belt out Art Farmer's be-bop tune, "Farmer's Market," to fine effect. Richard Roger's "It Might As Well Be Spring" is treated to a rhythmic Latin interpretation that seems at times as if it could be either a mambo or a cha-cha. Almost all of the other selections are deservedly well known, and the performances are consistently appropriate. With the nearly equal presence of the piano on every track, the varied styles, arrangements, and performances are not as readily apparent as they are on Janis Siegel's Sketches of Broadway album (reviewed in this issue). Some listeners will prefer it this way, others will not. Telarc again treats us to an excellent studio recording without any undue highlighting or other aberrations to mar the clear, clean reproduction. On a couple of tracks, there is some noticeable though unexaggerated sibilance, though on other tracks there is no hint of it. This in no way detracts from this top-quality release.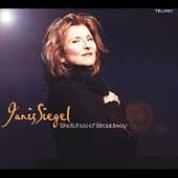 Janis Siegel, Sketches of Broadway (Telarc CD 83597)
Janis Siegel grew up listening to Motown as well as The Beatles, Aretha Franklin, and many others. Living just a subway ride away from Broadway, she and her family enjoyed musicals such as Funny Girl, Pajama Game, Oklahoma, and Carousel, among others. Known mainly as a jazz singer, she has at last turned to Broadway theater as source material, as did other jazz singers, including Ella Fitzgerald and Sarah Vaughn.
Do you think you know show tunes? I am going to challenge you! Purchase the CD, or better yet, have someone buy it for you. Then, without looking at the notes or other references, play the recording and write down the title of each song and the show it came from. If you are a pro, add the name of the person who first sang it on Broadway. No peeking, and good luck!
The excellent, sometimes unusual arrangements on this CD feature different personnel and instruments on different cuts. Siegel's interpretations are also surprisingly varied and effective. In one, she uses a disarmingly simple ballad style to intertwine two beautiful compositions, "Out of My Dreams" and "I Have Dreamed," in a subtle and beautiful manner. While she does not perform Ethel Merman's "I've Got the Sun in the Morning" in an Ethel Merman-ish style, Siegel is not at all restrained in her upbeat interpretation. Stefon Harris really shines on vibes on this tune, as does Antonio Sanchez on drums and all the other accompanists. Siegel does "The Surrey with the Fringe on Top" in a sophisticated ballad style, and chooses an even simpler arrangement for the disc's closing selection, "Make Someone Happy."
Siegel is in particularly fine voice on this truly excellent recording. Her projection seems effortless, with no annoying vibrato on her part and no exaggerated sibilance on the part of Telarc. "Show Me," the extremely upbeat opening tune on the CD, did not prepare me for the beautifully done ballads that follow. A request, Janis—please do more of these beautiful ballads and arrangements in the near future! This CD is highly recommended in every way, with special mention of the accompanying musicians.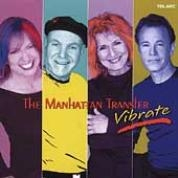 The Manhattan Transfer, Vibrate (Telarc SACD-63603)
This is masterful music making by a group performing at the pinnacle of its career. The opening track is "Walkin' in New York" by composer Brenda Russell. Janis Siegel says, "Russell captures the buoyant feeling, a kind of sassy strut down the city streets that makes you feel that nothing can go wrong." I agree with that description. The next selection, "Greek Song," which features the guys to the exclusion of the gals, seems to have more of an Oriental than a Greek feel, possibly because of the inclusion of a sarangi, a unique bowed string instrument from India. Tim Hauser and Alan Paul's upbeat harmonies are as beautiful as ever.
The title song, a very low-key ballad, features lovely harmonizing between the two gals and between the gals and guys, and it is just perfectly done. The accompanying instruments are subtly but totally in synch with the vocals. This deeply emotional piece, with its hints of tango, is right up The Manhattan Transfer's alley, and they perform it with haunting beauty. The following song, "The New JuJu Man (Tutu)," is definitely off the wall, and difficult to categorize, though there is some nice harmonizing and interesting counterpoint. "Doodlin'," an abstract tribute to Miles Davis, is one of the first ten songs the Manhattan Transfer learned together back in 1972. It was originally an instrumental by Horace Silver. Jon Hendricks later wrote lyrics, and the song has only now been recorded by the group. Also included in this album is a song co-authored by Alan Paul, "First Ascent," a highly atmospheric piece with exotic overtones that begins with a tribal drum riff and of course embraces gorgeous harmonies.
This disc contains extremely varied music, from simple ballads to swing, pop, jazz and cutting edge. John Pizzarelli plays his acoustic guitar on two of the tracks, joining the regular group of excellent musicians. The album ends with three beautiful tunes done in a disarmingly simple yet masterfully nostalgic vein: "Embraceable You," "Come Softly to Me," and "I Met Him on a Sunday." These great standards are done to near perfection, and I could use similar words to describe Telarc's richly revealing sound. If you like the Manhattan Transfer and the work they have done in the past three decades, you will love this album. Words can only do so much. Get the recording and listen, then listen some more and appreciate. The multichannel surround sound recording almost places you and the group in the same place at the same time.