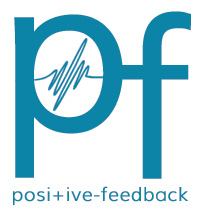 You are reading the older HTML site
Positive Feedback ISSUE 15
september/october 2004
More Music to the Max!
by Max Dudious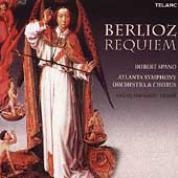 BERLIOZ - Requiem - Robert Spano/Atlanta Symphony Orchestra and Chorus (Norman Mackenzie, Director of Choruses; Frank Lopardo, tenor) - Telarc SACD 60627, 77:40, 4 Stars
Those of you who read my screed regularly might remember an album of Berlioz choral music I reviewed a few months back (La Revolution Grecque, EMI). I observed, then, that despite his success with The Symphony Fantastique, Berlioz's favorite form was the chorale, to which he returned throughout his career. In this Requiem, or "Great Mass for the Dead," we hear him at the height of his creative power, marshaling the overly-large forces he liked to command (an enlarged orchestra and chorus, plus four brass ensembles, and 24 muffled drums), for a grand public occasion (the 1837 state funeral of the Comte de Damrémont, the governor-general of Algeria), to be performed in an acoustic venue (the "cavernous" church of St. Louis des Invalides, in Paris) that would best showcase his music to thousands, including most of the government and the Royal Family. This was "a symbolic representation of the whole nation united in religious and patriotic expression," according to Nick Jones's illuminating album notes.
Mrs. Dudious (La Dudeen) and I were lucky enough to have spent a week this past summer in Paris, at a low-budge hotel on The Place of Saint Sulpice, named for the "cavernous" 1783 Greco-revival church of Saint Sulpice. This church is not on the usual tourist routes because it is in need of repair and doesn't compare in grandeur to the cathedrals of Notre Dame or Sacre Coeur. But it does compare in size, as we found out participating in the celebration of the mass one misty Sunday morning last August. We were there to see the great and often recorded gallery organ of St. Sulpice in its venue, and to hear just how it sounded. The organist, Sophie V. Cauchefer Choplin, had a field day with a recital she played between the 10:00 a.m. mass and the one at noon. She breezed through a formidable program of French composers of centuries past: M. Dupré (1886-1971), E. Gigout (1844-1925), C. Franck (1822-1890), and L. Marchand (1669-1732), each composer a renowned organ virtuoso in his time. If you haven't heard an organ in an enormous setting, you have little conception of the orchestral gigantism that Berlioz employs to make his audiences feel really small before the infinite. Again, from the album notes: "Berlioz, more than any other composer, has understood our primeval terror of death combined with our fascination with it." In the text Berlioz urges his chorus to sing "with an expression of humility and awe."
Home again, I played some "Mercury Living Presence" LPs of Marcel DuPré at the gallery organ of St. Sulpice (the largest in Europe) on my big stereo rig. I was pleased to hear how closely the recorded sound matched my memory of the original. The spaciousness, the eeriness, the natural reverb and decay, the swelling pedal tones, were all there. Then I played the Berlioz Requiem, because it had recently arrived. Even without an organ in the score, it was more grandiose. All of the elements (orchestra, percussion, brass, choruses, and soloist) alternated between thunderous and overpowering at times, quietly simple and humble at others. This is the secret of Berlioz. As the album notes go on to say, these contrasting musical intensities create "a sonic chiaroscuro in which fire and brilliance are all the brighter against the dark recesses glimpsed between." I'd add, for the purpose of generating a religious experience in his audience (in the sense of William James's Varieties of Religious Experience). Imagine thousands of people, shoehorned into a very large church by candle-light, to hear a memorial service for a national hero, hearing this music for the first time!! It must have been like a nineteenth century "Woodstock." Rather than for his abilities as an orchestral colorist, or as an innovator in symphonic form, it is the religious aspect of Berlioz's music that makes him great to me.
It is this characteristic, the use of gigantic forces performing in a gigantic venue to suggest the infinite that is captured in the new Telarc recording of Berlioz' Requiem. The new SACD Surround Sound lends its technical excellence in service of this music. Never do we hear the recording break-up or distort when called on to capture and recreate a BIG MOMENT in the score. Not with loud music from the brass, nor from the massed voices of the chorus, nor from the thunder of the massed and bass drums do we hear recording error. SACD captures all the complexity of the big sounds, and the quiet simplicity of the small ones. And isn't one of the benefits of multi-channel SACD supposed to be its ability to capture more accurately the spatial relationships of the instruments in their venue? At this reconstruction of the recording venue's acoustic (Symphony Hall, Woodruff Arts Center, Atlanta, Georgia) the Telarc Requiem excels. It makes my (small, badly designed) multi-channel room sound like something at least approaching a large hall. It makes my large stereo-only room (connecting with the living/dining room, forming an L-shaped space) 30 feet along its long (and nearly 11 ft high) walls really begin to suggest the acoustic of a cathedral. I was amazed at how close a facsimile I was getting—how the farther away I sat, the more spacious it seemed.
Now we get to the performance. Let me break it out for you. How did the orchestra play? Wowie!! Wait 'til you hear the brass. How did the chorus perform? Zowie!! Wait 'til you hear them go for it. How cool was the tenor? A tad subdued on this side of heroic. Way cool!! Not to put too much emphasis on the recording engineering, but the balance between the soloist and the chorus was extraordinarily reminiscent of the mass I heard at Saint Sulpice. The voices seemed to rise into space, particularly the sopranos, linger a second to be appreciated, then ascend. The music was designed to get the audience in mind of the infinite, the divine, and it succeeds. Wowie Zowie.
If you want to hear the essence of Berlioz, it is now available on a recording of his Requiem from Telarc, the label that has recently won Gramophone Magazine's "Label of the Year" award for the usually "astounding fidelity" of its recordings. It has been my experience that a good stereo rig can create a plausible facsimile of the gigantic in a moderately large listening space, and a good multi-channel rig can come surprisingly close in a small room. The Telarc recording does the heavy lifting because no matter how good your system is, it is only as good as the software you play through it. Now, more than ever, GIGO!
This SACD-Surround Requiem is extraordinary. Great music, great performance, great engineering. If you are really into Berlioz, and even if you're not—four stars. Another "good job!" to the Telarc gang.
Highly recommended.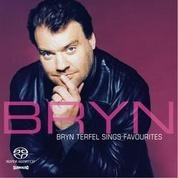 BRYN TERFEL - Bryn Terfel Sings Favorites - Bryn Terfel, w Andrea Bocelli, Sissel, The London Voices, Terry Edwards, Dir./ London Symphony Orchestra, Barry Worsworth (Cond.) - DG 474 638-2, 73:46: [2 discs], 3 Stars
This is one of those records of favorites that present you with the problem that you might love three or four, but then there are the other fourteen. Some other folks might really like three or four different individual cuts, yet remain indifferent to your favorites. I'll run the titles at the end. If you like Bryn Terfel, as I do, and you love three or four of the selections on this album, you might get it and listen only to your fave of faves. If you like hymns and spirituals, more than half the selections might appeal. If you prefer only operatic arias, you may be disappointed.
If you love Bryn Terfel so much that anything he hums or whistles turns to gold in your ears, that's great; you'll love this. For most of the rest of us this will be a "good news/bad news" kind of album. I'll start with the good news. This recording has some of the best sound DG has authored. There are some selections that have Bryn singing lead, backed by a chorus, and a full orchestra, and difficult as it may seem to some labels, DG gets everything balanced and in perspective, no small feat.
Bryn's super-macho version of Bizet's "Toreador's Song," and his and Bocelli's version of Bizet's fabled "The Pearl Fishers' Duet" are outstanding. The singing in the duet is spot-on and effortless. It doesn't beg, but rather demands comparison with the definitive versions, say, of Jussi Bjoerling and Robert Merrill (1950). Though theirs is more than a half-century old now, it is still easy to hear just how masterful and leisurely their singing was (RCA 7799-2-RG). Bryn Terfel and Andrea Bocelli match their relaxed presentation. (Some tenors sound as though they will bust a gut going up for the high notes.) Bryn and Andrea are so consummately artful, by being so apparently artless; their singing seems just the next thing to breathing. And the modern SACD engineering is quite an improvement. Gangbusters! If you have a warm spot somewhere for Bizet, this one's for you.
There is something about the traditional "Danny Boy" that I've liked whether sung by Bryn or Bill Monroe of Bluegrass fame. I've heard it argued (on NPR) that rather than having evolved from a folk song, it was written as a Music Hall song, for a forgotten Irish tenor who could go up and hit the high notes. It gained popularity because it was a beautiful song that tugged at the heart strings, and later earned such universal acceptance it became as if a folk song. NPR said no true folk song ever had such high notes because so few can sing them. In this performance I particularly liked the hushed beginning, the Ralph Vaughan-Williams mysterious work in the strings, and the Celtic harp turn that lent authenticity, a nice touch. The singing, oh my, the singing was so right, so tender, so heartfelt that it mists me over listening to it now. Just when you think you know what's coming, that Bryn will go up and punch the final phrases with his big bad baritone, he shifts to his high falsetto and sings it triple pianissimo. My women (my wife, La Dudeen; my daughter, La Dudette) listen through it dry-eyed, but just about each of the guys I've played it for was at least a little touched. If you ever had issues with your father or son, and who hasn't, this one will grab you somewhere deep beneath your usual defenses.
And then there is the charming "Bella Notte," from Walt Disney's opera The Lady and The Tramp. I always liked this obviously romantic bit of fluff, but didn't know exactly why. When I read in the liner notes that Norwegian-American Peggy Lee had a hand in writing this Italian-American favorite, the song and she gained even greater stature. A very pleasant surprise it was indeed, confirming what I'd always thought: Peggy Lee had exquisite taste and seldom did wrong. The "Ave Maria," in duet with Sissel and supported by The London Voices was another surprise. There are some people who get by with one name: Madonna, Cher, Ali, Shaq. Sissel seems to be another who doesn't need two names. She is well-enough established, and has a clear enough voice, to be invited to sing with Bryn Terfel, and young enough in her career to gain, what the pollsters call "a bounce in popularity" for it. Her voice is of the type that prompted the old cliché, "Clear as a bell." She may have the right stuff to go on and become one more of DG's stable of young classical stars, along with pianist Lang Lang, violinist Hilary Hahn, soprano Anna Netrebko, and Bryn who is still relatively young. Keep an ear out for the singing of soprano Sissel and tenor Andrea Bocelli. They bear watching and hearing.
And the bad news is, with the exception of Brahms' "Lullaby," and Hoagy Carmichael's "Lazybones," I didn't find any of the following songs could hold my interest on a long car trip to Maine: They are "Shenandoah," "Bugeilio'r Gwenith Gwyn," "The Lord Is My Shepherd," "Goin' Home," "Swing Low, Sweet Chariot," "Home Sweet Home," "Il Mio Cuorre Va," "At The River," "None But The Lonely Heart," "If I Can Help Somebody," and "Abide With Me." I thought the production, the type of setting given each of the songs, often with full symphony orchestra and (sometimes) chorus, was often overblown for the type of song. There were no songs of amber unrequited love, or green-eyed jealousy, or white-hot hate that might have made (for me) a more polychromatic mix. But, as the French say, "Chacun a son goût." Or, "There is no accounting for taste." One man's favorite is the next man's anathema.
All in all, a lively, well-sung album, with some outstanding numbers that make it a must for Bryn Terfel fans. Recommended with caveats. With excellent singing and good engineering, worth three stars.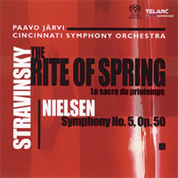 NIELSEN - Symphony #5: - STRAVINSKY - The Rite Of Spring: Paavo Järvi, Cond./ Cincinnati Symphony Orchestra - Telarc SACD-60615, 73:08, 4 Stars
This is one of those pairings that Robert Woods loves to produce. There are some similarities in these two pieces of music that becomes evident after listening to the entire CD a few times—certain instrumental combinations in the orchestration, certain timbres, harmonies, cross-rhythms, percussive effects—where the two pieces resemble each other. Since Stravinsky broke fresh harmonic ground years earlier with the Petrouchka chord, it is incumbent on Nielsen to take such new sounds and make them his own, and he does. Where Stravinsky is seeking to portray primitive tribal dance in much of his ballet, Nielsen is writing something like impressionist music, pastoral vs. militaristic motifs, approaching an extraordinary degree of lyricism in his symphony.
Some critics say Nielsen's Symphony #5 is his crowning achievement. I don't know all of Nielsen's six symphonies backward and forward, but the opinion seems worth bearing in mind. The symphony has "an early aleatory feature, when the side-drummer is instructed to improvise so as to drown the rest of the orchestra," according to The Concise Oxford Dictionary of Music, which to my mind helps Nielsen make some claim for originality. While he strikes some Stravinsky-like moments, he is not a Stravinsky wanna-be. He is his own man. This symphony happens to be modern in the sense that it came in the aftermath of WWI. As there were certain ideas "going around" in painting and the dance at the time, so there were then certain ideas going around in music. There are moments that sound like Mahler to me, and others that sound like Sibelius. So Nielsen is a man of his time and place. Stravinsky is merely one of his influences.
If you know very little Nielsen, this is a good place to start. The Cincinnati Kid is up to his usual tricks, illuminating the score here and there, and the CSO is up to the demanding task of playing this symphony well. Another example of Paavo Järvi as someone to watch. Five star sound.
The list of Stravinsky's Rite Of Spring is getting as long as the list of Beethoven's 5th's out there because there are differences in approaches, as you would expect. Järvi's reading is very well structured and nuanced, with as many details that jump out of the performance as I've ever heard, live or on record. This may speak to the craft of the conductor, or to the new SACD Hybrid Surround Sound. It comes as no surprise that Telarc has been named "Label of The Year" by Gramophone, "the UK-based magazine recognized worldwide as the definitive classical music publication," ..."for sound quality of astounding fidelity presented in the latest formats" according to Telarc's press release.
I hate being an "I tole ya so," but that's what I've been saying without reading in the UK magazine. I recommended Telarc's SACD Prokofiev's Romeo & Juliet as Max Dudious's "Record of the year" last fall. Telarc's recording of The Rite Of Spring is another CD of similar stature for its majestic performance and glorious balance of sound. It is about as good as I can imagine a recording to be. My system has recently been host to some photo-optical interconnects that are surprisingly free of colorations. The Telarc recording crew has once again come up with a very neutral, very musical recording. Of particular merit is how the orchestra, at full cry, does not compress, mask, or color any of the parts when the music becomes dense. Each of the sections retains its sonic integrity. Each little grace note is heard. Everything sounds as it does in the symphony hall. The dynamic range is startling. The string tone is sharp, but not etched. Brass instruments have correct overtone structure. The trumpet, horn, trombone, tuba always sound separate. Each instrument is as it was played. This recording verges on 5 stars.
I'm not sure what criterion might be employed to give one recording a 5 star rating, and another merely a 4 star rating. On some recordings I hear, sometimes, a thickening of the sound, a sound in the cello region that becomes bloated. Not to mix metaphors here, but it is something like when I have a head cold and I wake up in the morning and speak to my wife, La Dudeen, and everything I say seems chestier that usual. I can hear it immediately. Suddenly I am Bryn Terfel, broken hearted, seeking my soprano to sing the reconciliation duet. This is a subtle but real shift I hear on certain recordings as the volume increases. I do not hear that coloration on Telarc CDs, nor do I hear a list of other subtle distortions and colorations I might catalog for you.
In any event, this new Telarc recording of Stravinsky's Rite of Spring is as accurate as any I've yet heard, the interpretation is one of nearly life long familiarity with the score, the playing is exuberant yet controlled. It is really something. I'm not as familiar with the Nielsen, but I suspect I wouldn't be surprised if specialists in Scandinavian music were as enthusiastic about Järvi's reading of Nielsen's Symphony #5.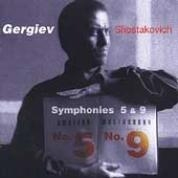 SHOSTAKOVICH, Dmitri - Symphonies 5 & 9 - Valery Gergiev/Kirov Orchestra - Philips 470 651-2, 73:30, 4 Stars
I've been listening to Shostakovich since college, over forty years now. I (with many others) consider Shostakovich among the greatest, if not the greatest composer of the 20th century, ranking him along with Mahler, Stravinsky, Bartok, and Prokofiev. I'm one of the few people of my acquaintance who have actually seen a performance of his satirical opera, Lady Macbeth of Mtsensk, and who also own a complete set of his string quartets. I was drawn to his wide emotional range and his finely developed satirical sense. For example, each of the many comic-opera cops in Lady Macbeth wears a Stalin moustache and a military-style hat like the one Stalin often wore. I also liked the idea that Shostakovich became a contrarian in a time and place where that was a dangerous thing to be: After WW II he had to hide his satirical works under heavier and still heavier layers of camouflage to survive.
If you've never read about the birth of his Symphony #5, I'll try to go through it briefly here. After a successful run of Lady Macbeth, in 1936 Shostakovich fell under attack by a writer in Pravda, the official state newspaper. Reports held the opera was filled with "leftist distortion," "petty-bourgeois sensationalism," "formalism," and I don't know what-all counter-revolutionary subversion. In 1937 Shostakovich replied with his 5th symphony, subtitled, "A Soviet artist's practical creative reply to just criticism." This was a "politically correct" symphony if ever there was one, a symphony that became and has remained one of his most popular. It paints an uplifting, positive picture of the Soviet Socialist People's Republic. It is, however, a standard reading of the work as it might have sounded at the time of its first performance, I'd guess. Which is pretty damn good. Valery Gergiev is not considered something of a national treasure for nothing. But it is standard brand. There is not one satirical phrase to be found.
Also on the same CD is Shostakovich's 9th. Here the picture is quite other. Compared with the RCA recording by Yuri Temirkanov and the St. Petersberg Philharmonic (1991), or the Serge Koussevitsky and the Boston Symphony Orchestra (1946) recordings, Gergiev takes the first movement 25% slower. The other two race through the first movement so quickly the details get a bit lost. Perhaps these performances were protecting Shostakovich from himself, racing headlong through the opening movement so that nothing could be viewed as subversive. Gergiev's slower reading allows for many small phrases to be accented. This in turn allows for a greater degree of irony. What is considered the "authoritative" tempo of the earlier readings (the BSO version was recorded while Shostakovich was still alive, and, I think, in his presence) is now seen as rushed, and the more leisurely tempo allows the work to seem more ironic.
According to The Concise Oxford Dictionary of Music, "All his [Shostakovich's] works are marked by emotional extremes—tragic intensity, grotesque and bizarre wit, humor, parody, and savage sarcasm." The 9th symphony would come at the end of the war against the Nazis. It was expected to be a large work with soloists and chorus expressing, as he himself said, "the greatness of the Russian people ... our Red Army liberating our native land from the enemy." Instead it seemed like a Julius Fucik piece for Circus Band, or something Nino Rota might have written for the score to a Federico Fellini film—very light and humorous, razz-a-ma-tazz and fluffy. It was considered inappropriate, even by one American critic. In this version, Valery Gergiev and the Kirov Orchestra demonstrate just how subversive Shostakovich's savage wit could get. Watch out!
This pair of symphonies demonstrates what a complex character Shostakovich was. Seldom do we get such insight into the dynamic of a composer's personality than by the juxtaposition of these two works. Usually someone like Carl Haas or Peter Schickele will find and broadcast two such pieces and then comment upon them. The way in which these two symphonies are presented makes an interesting album. I find them a must for anyone who values Shostakovich as a great, and satiric, composer of the 20th century. Good music, well performed, and well recorded, with the bonus of good album notes.
Highly recommended.
This article also appears in the current issue of Audiophile Audition.