FOWN-MING TIEN'S SYSTEM:
LOUDSPEAKERS
Onix Reference 1 monitors on Osiris 24.5" stands with an Onix UFW-10 subwoofer.
ELECTRONICS
Aragon Aurum preamplifier and Aragon Palladium II monoblock amplifiers.
SOURCES
Audio Alchemy DDS-Pro CD Transport, Perpetual Technologies P-1/A Upsampler/Interpolator, Perpetual Technologies P-3/A DAC w/ModWright Level 2 mods stacked on PandaFeet sorbothane vibration dampers.
CABLES
Onix Statement speaker cable, Argent Jaden Signature RCA interconnect, Acoustic Zen Silver Reference MkII RCA interconnect, Onix Grand Master Digital Coax from CD-T to P-1/A, Revelation Audio Prophecy I2S cable connecting P-1/A to P-3/A, Onix Statement power cord, Onix Statement 1 power cord, two Absolute Power cords used on the amplifiers.
ACCESSORIES
Quantum Symphony Pro and Quantum ElectroClears.
What's not to enjoy about high-end audio? The gear not only sounds and feels great but looks stunning. Many of us drool when we see, hear and touch equipment from Genesis, Wilson, Burmeister, Rowland, or MBL. The beautifully polished surfaces on gear that look more like works of art make us drool. We want to see it in our listening rooms, but the thing that pulls our tongues off the floor and snaps us back to reality is a glance at the price tag. Sometimes the amount is higher than that of a new car, or even a house! For most of us, who live in a world of mortgage payments, car payments, student loans, and other real world expenses, owning high-end audio gear is but a dream.
Well, my fellow audio enthusiasts, do not abandon your dreams, as they may have just taken a big step toward becoming a reality. Enter Mark L. Schifter of AV123. Some of you may already know Mark, as he is a veteran of the consumer electronics industry, having worked with Arnie Nudell of Infinity and Paul McGowan of PS Audio when he was with Genesis loudspeakers. Mark was a key contributor to the legendary APM-1 speakers (as you may have noticed, the APM name contains a letter from each of their first names). Mark also founded Audio Alchemy and Perpetual Technologies. AV123 is an internet company that produces unique products designed with performance and value in mind. AV123's direct-to-the consumer sales model does not have the overhead of the traditional dealer structure, factory-sponsored advertising and promotional allowances, sales commissions, and other allocations that push up prices without adding value. This review of the Onix H34 integrated tube amplifier will be the first in a series of reviews that focuses on the products offered by AV123.
I have owned and heard a variety of tube gear from Rogue, Antique Sound Labs, Bottlehead, Wright Sound, Eastern Electric, Cary, ModWright, and others, so I am no stranger to tubes. While I continue to enjoy their wonderful sound, I eventually migrated back to solid state because the tube equipment I could afford was noisy, microphonic, lacking in drive and dynamics, and unable to reproduce bass with the articulation and punch of good solid state. Unfortunately, tube gear that was not afflicted with these shortcomings was well beyond my budget.
Because I own a pair of Onix Reference 1 monitors from AV123, I was already familiar with the company's ability to deliver high-end sound, coupled with high-end looks, at a price that most audio enthusiasts can afford. Nevertheless, I was skeptical that the H34 would be able to deliver the wonderfully intoxicating sound of high-end tube gear for $1295. I had gotten rid of a $2395 Rogue Magnum 99 preamplifier because its hiss and microphonics drove me nuts. The little Eastern Electric MiniMax preamp that I enjoyed tremendously after installing some NOS tubes, and which cost $1195 before the cost of the upgraded tubes, required a power amplifier, which can easily run over $1K or so. The H34 integrated costs 85% less than the Rogue and only $100 more than the Eastern Electric, and offers 45 watts of conservatively rated amplification, so I did not think it would be able to deliver the type of sound that I expect from the top tube manufacturers, but I was still curious to see what it could achieve.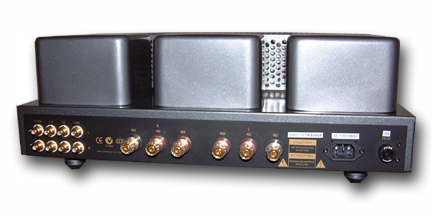 The unit arrived double-boxed, and was quite heavy. I was surprised to find a pair of embroidered cotton gloves inside, to be worn while handling the amplifier to minimize fingerprints. These gloves also had rubberized nubs on the palms to provide a good grip, which was useful since the amplifier weighs over 50 pounds. The H34 is attractively painted in metallic gray. The front panel is very simple, with a power button and a blue LED power indicator located on the left side, a volume knob in the middle, and an input selector knob on the far right that allows switching for up to four components. There is a protective cage covering the rear row of tubes, while the front row is protected by individual covers that match the color of the body of the amplifier. These covers are nice for those with kids, as they prevent curious little fingers from getting burned. More importantly, they will protect your precious NOS tubes.
The high quality gold-plated RCA inputs on the rear are labeled Tape, CD, LP, and Tuner. While there is an input for a turntable, there is no built-in phono stage, so vinyl buffs will need to buy one. The binding posts are high quality WBT-style posts that allow hookup to 4- or 8-ohm speakers. There is also a 15-amp IEC socket that allows experimentation with aftermarket power cords. Twisting the volume control and input selector was enough to tell me that quality parts were being used.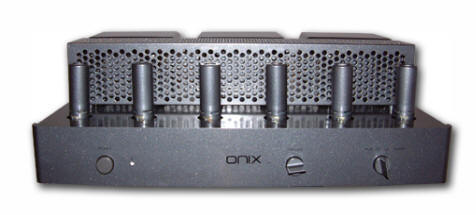 The first thing that became obvious after I fired up the H34 was how quiet it is. There was no hiss coming out of the speakers! I had never experienced any tube gear that was devoid of hiss, and this was especially surprising considering the H34's price. I was already impressed with the amp, and had yet to play a CD! I decided to start with some female vocals to see if this $1295 integrated tube amp could capture my attention. I had no idea what I was in for. I spun Natalie Cole's Unforgettable, and what a revelation it was! I had planned to play a few tracks, then move on to something else, but her voice was so smooth, warm, and inviting that I had to sit through the entire CD. In the past, I found that tube amps lack detail, but the Onix H34 was exactly the opposite. I heard more detail in the vocals, especially the trailing edges. Notes flowed from one to the next. Tubes are known for their fluidity, but I have never heard this level of grace and finesse from budget-priced tube gear. I was taken aback. My monitors had never sung like they did with the H34 driving them. The sound was stunningly musical!
Since the one major drawback of tube gear is a lack of bass control, I decided to throw in something that would test whether there was any loss of dynamics and slam—Pink Floyd's The Wall, specifically the part following the helicopter flyby, "Another Brick in the Wall Part 1," which has some kick drums that my solid state monoblocks render with punch and authority. While the H34 was not able to match the power, weight, and dynamics that my amps can produce on this track, it was not significantly lacking. It could have been better, but it wasn't bad by any stretch of the imagination. The track was immensely enjoyable and engaging, but lacked that last 5-10% of realism. Of course, each of my monoblocks costs more than the H34, as does my preamp, so the fact that it performed as well as it did was incredible.
Another knock on tube amps is that they can sound slow compared to solid state amps, but I perceived no sluggishness with the H34. Baroque music is perfect for this test, as it has passion and rhythmic drive in spades. I chose Vivaldi's La Stravaganza, which contains a plethora of fast-tempo movements. At no time did I feel that these pieces were dragging. All were conveyed with a spry liveliness and natural energy. The finesse and speed were on par with some of the best amps I have heard. The rhythmic drive did not sound artificially induced. The only hint that I was listening to a tube amp was the gorgeously sweet sound of the violins. Solid state can sound thin, harsh, and bright on strings.
The H34 performed splendidly with all of the types of music I threw at it. It handled music with a degree of grace and aplomb that I have never encountered in tube gear at this price. A stellar tube amp with this type of sound and power output usually costs at least twice as much as the H34, and you would still be short a preamp! To top it all off, I know I am not hearing the H34 at its full potential, as I have not yet tried any NOS tubes, but I will have plenty of time to experiment with them, since I have decided that the H34 will be staying in my system. It not only sounds great, but it looks stunning and is well built. I thought I would have to mortgage my house to get this level of looks, quality, and sound. Thanks to Mark Schifter and AV123, I was wrong! If you have always wanted to try a tube amp, this is a great place to start. Fown-Ming Tien
Onix H34 Integrated
Retail: $1295
Technical specifications:
Frequency response: 18Hz to 30kHz

Power rating: 45W x 2

Input impedance: 100K Ohms

Output impedance: 4 or 8 Ohms

Input sensitivity: 300 mV

S/N ratio: >90dB/THD 1% (standard tube spec)

Dimensions: 19" W x 7.5" H x 11.5" D

Weight: 56 lbs.

Tube complement: 4 x EL34, 2 x 6SN7, 2 x 6922, 2 x 12AT7, 2 x 12AX7
AV123
web address: www.av123.com