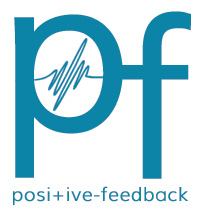 You are reading the older HTML site
Positive Feedback ISSUE 15
september/october 2004
Rocky Mountain Audio Fest 2004 - A Photo Report, Part 3 (page 3)
by Dave and Carol Clark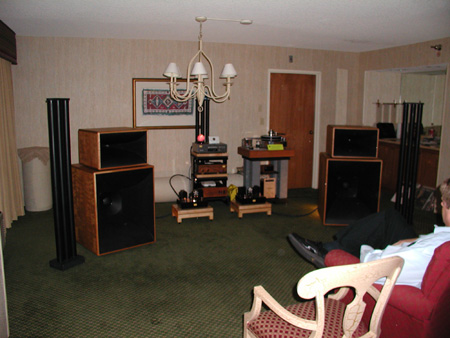 The Galibier Design/Exemplar Audio room was as musical as usual. Meaning very nice... though we are not big fans of big horn-like speakers. Even so, it was a nice departure from the metal dome tweeters drilling into our ears at too high of a decibel that some rooms felt a need to force on the listening public.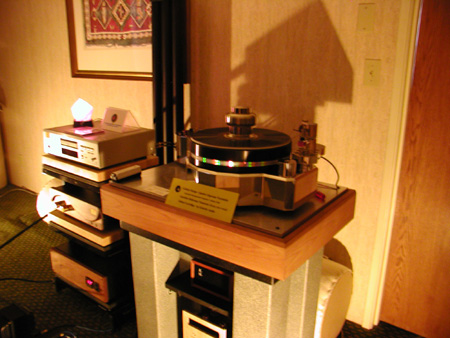 The Exemplar Exception II line level preamplifier, the Exemplar modified Denon 2900, along with the Galibier table. Altogether a real incredible statement both visually and aurally.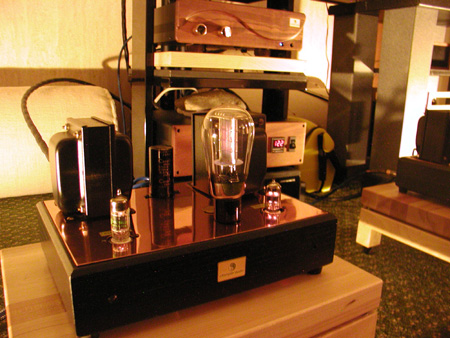 An example of the fine work done by Exemplar Audio.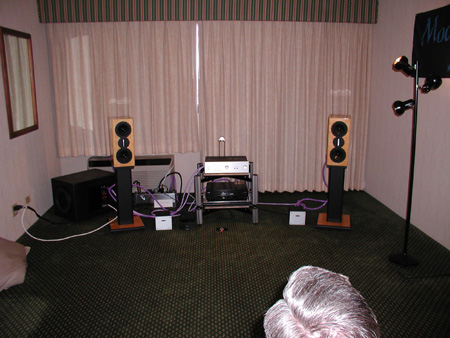 ModWright showed with GR Research using the Diluceo speakers along with the new D100 digital amplifiers from Channel Islands Audio. Revelation Audio cables kept everything connected and WorldPower's Power Wing kept it clean and noise free. Dan showed his new SWL 9.0SE line stage and it was a real winner in all respects. We did prefer the room sans the sub, as the speaker/sub combo was a bit too much to handle. With the sub off, the music was considerably more open, and truth be told, in this room the Diluceos didn't really need the sub's extensions anyhow.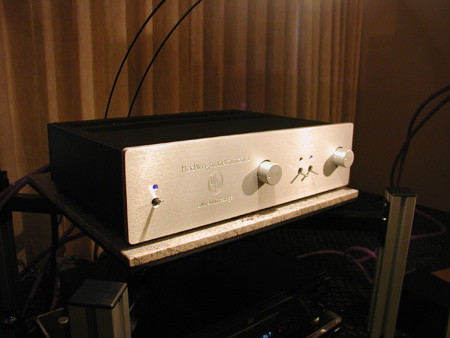 The new ModWright SWL 9.0SE line stage ($1595). A real winner at a very affordable price. A more "elaborate" version is available for a few hundred more.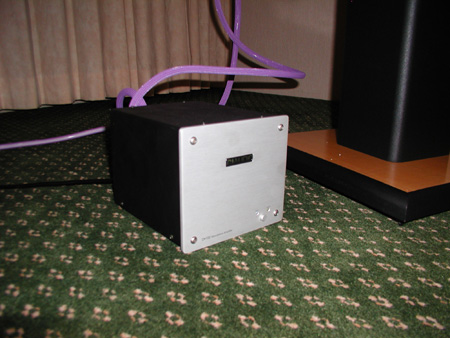 The D100 digital amplifiers from Channel Islands Audio rated at 100 watts @ 8 ohms/180 watts @ 4 ohms ($1599 a pair). The combination sounded quite musical and brought us back for several extended listening sessions. Good things do come in small packages!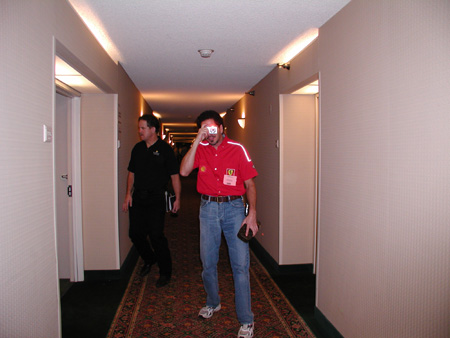 Steveo! Fastest camera in the west! If you check out Steve's site you will the other side of the shot! That is Steve Rochlin of enjoythemusic.com!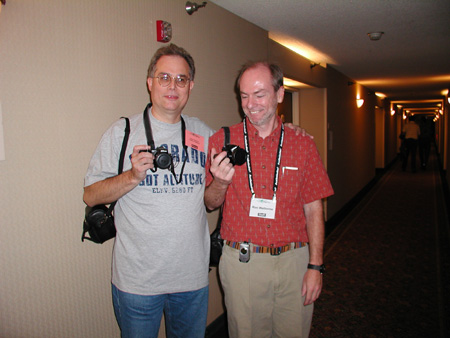 Ah... Dave and Ron consider who has the bigger lens.. er... more bits... er... ram? Actually two good friends enjoying one of the best shows around. Yeah, done Stereophile in LA and SF. Done VSAC (well compared to the RM Fest it is too close to call, as both are really great), and CES is well CES. But I hope that this is only the beginning of a series of RM Fests as this is a prime example of what an audio show is all about—music, people, and good times.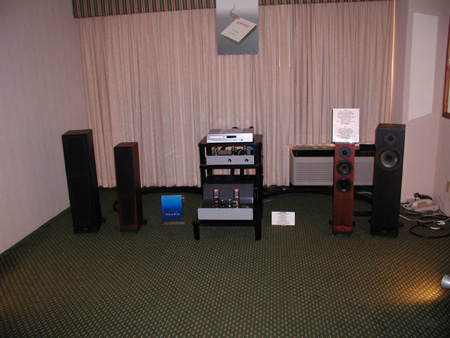 The Spendor room showed with deHavilland, Silent Running, and Prana Wire. Reasonable speakers and excellent electronics resulted in a nice musical presentation. Sure it sounded like Spendors—nice and more forgiving than neutral and truthful—but sometimes that's all you really need.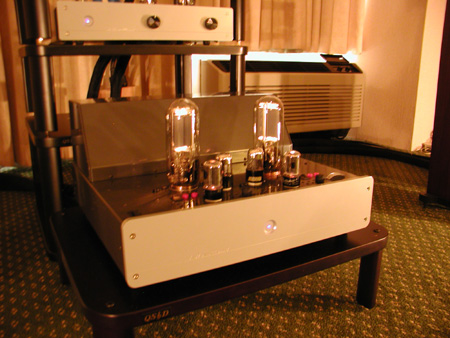 The deHavilland Ios Stereo 845 single ended directly heated triode amplifier with 27 watts of power per channel into 8 ohms. The deHavilland Ios is a 100% pure Class A single ended triode zero negative feedback vacuum tube amplifier.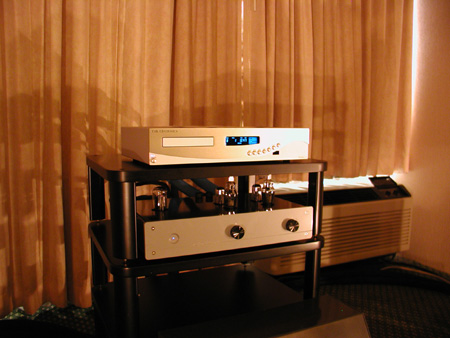 The deHavilland Mercury preamplifier using Type 85 six pin triode vacuum tubes.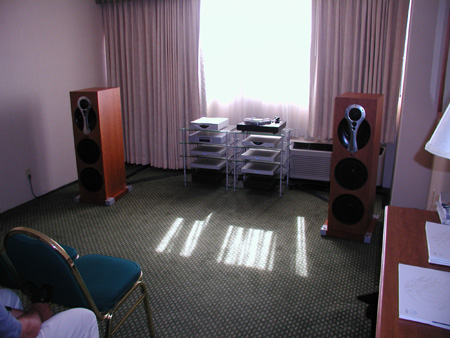 The Linn room was lit by the clarity of their electronics and speakers, and the afternoon sun. A really nice big sound that was never overly analytical or hard. Linn knows what they are doing, heck they have been doing it long enough they should write a book about HOW to do it! You new guys listening to this?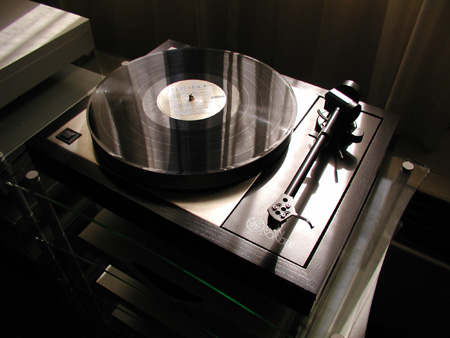 A true classic—the LP12.