Multiple Impressions: In a Vinyl Groove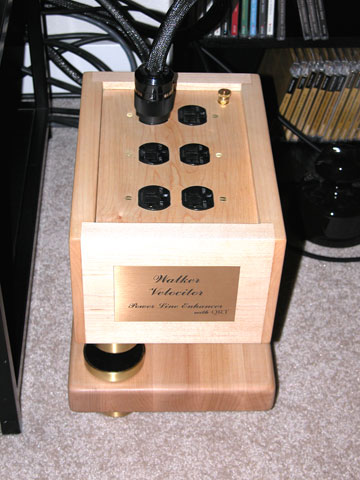 Walker Audio Velocitor with Silent Source Power Cabling
"Meanwhile, back at the ranch..."
Turning back from the world of SACD hotrodding to the realm of LPs and 'tables, there are several important new products I've been listening to here at PFO River City that I should make our readers aware of. And for this batch, there's no one else to blame but Lloyd Walker of Walker Audio. (It's all your fault, Lloyd!)
Lloyd is a great fellow, a treasure trove of audio and tweaking info, who also happens to be the designer of one of the finest turntables on the planet, the Walker Audio Proscenium Gold Signature (review forthcoming). Talking with Lloyd over the phone every few weeks has been a treat; his love for fine audio comes through, but he has a sense of humor about it. Unlike some folks, whose passion for audio becomes pathological, obsessive and dark, Lloyd is what deep Southerners call "jes' plain folks."
And in those parts, that is a high compliment.
He is also one heckuva brilliant audio designer. I've already profiled the Walker Audio SST Contact Enhancer (see PFO Issue 13 at www.positive-feedback.com/Issue13/walkeraudiosst.htm) and Vivid SACD/CD surface enhancer (Issue 14 at www.positive-feedback.com/Issue14/vivid.htm.) In addition, my un-indicted co-conspirator Dave Clark noted the work of Walker: he reviewed the Walker Audio High Definition Links all the way back in PFO Issue 1 (www.positive-feedback.com/Issue1/hdl.htm), and gave Vivid a favorable review in Issue 4 (www.positive-feedback.com/Issue4/vivid_digitaljuice.htm).
So far, so good. But what about larger scale hardware designs?
That's a-comin'! Stage one is covered in this review of the Walker Audio Velocitor (with both the Silent Source and Omega Mikro power cables). Stage two will be a major review project, one of the most comprehensive source-level projects that I've ever done: the Walker Audio Proscenium Gold Signature turntable, Reference Phono Amp, Prologue Rack, multiple Velocitors, and all the trimmings. Definitely an amazing ensemble... stay tuned for this!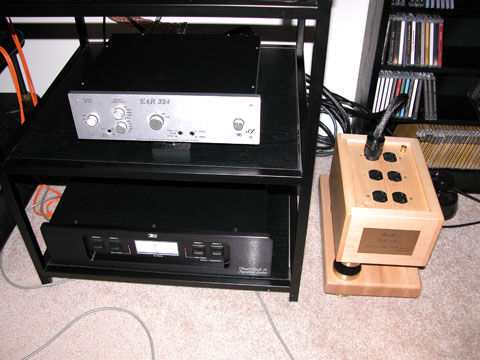 The Velocitor (right) next to the Target rack that houses a Tice Signature III (below) and our new reference phono amp, the EAR 324. The power cables plugged into the Velocitor and the EAR 324 were from Silent Source.
The Velocitor Power Line Enhancer, Part 1: with the Silent Source Power Cable
Lloyd, being the master of temptation that he is, sent a Velocitor to me in mid-summer, together with a pair of the Silent Source power cables that he recommends for use with his product. This was the first time that I had seen a Velocitor—and it's certainly different than anything I've worked with before. Constructed of a solid maple finished in a very handsome natural golden tone with a brass name plate, the Velocitor has an IEC power connector for your favorite cable, three duplex outlets, and a ground tap. It rests on a threesome set of brass Walker Audio Valid Points, which in turn set on Walker Audio's dedicated Velocitor stand, also finished in natural maple. There are four "resonance control discs" on the dedicated stand: three for handling vibes with the Valid Points, and the fourth to soak up excess resonance in the stand itself.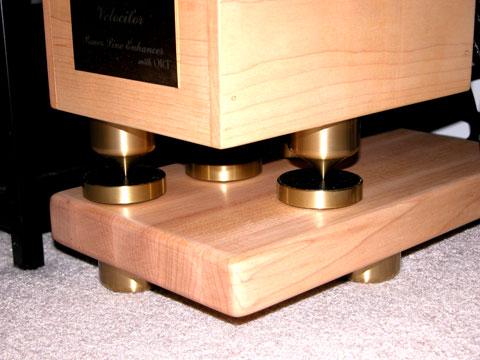 A close-up view of the Valid Points standing on the resonance control discs, which in turn rest on the optional Walker Audio dedicated stand with its own Valid Points. Note that the Velocitor's points are located directly above those on the dedicated stand, and are not staggered or offset. The extra resonance control disc between the two Valid Points resting on the dedicated stand handles excess vibes in the stand itself, and is placed precisely as recommended by Walker Audio.
The Velocitor isn't the world's largest unit, but neither is it insubstantial. Its dimensions are 10" x 7.2" x 7.5". Lloyd Walker has concentrated on the essentials; there is nothing in the signal path that he thinks will slow the responsiveness of attached sources. In many ways it represents the other end of the continuum from what I currently had in my turntable system: the big, heavy-duty Tice Signature III. The parts list for the Velocitor is a sheet of "nots": No chokes. No transformers. No filters. No indicator lights. No power switch or standby. No surge/spike suppression. No phone, no pool, no pets... oops, wrong song!
In other words, the Velocitor operates on the assumption that "less is more," provided that the "less" has been critically listened to and is spot-on for clarity and musical excitement. On the parts list side of the book, the Velocitor that I received from Lloyd has cryogenically treated outlets, and custom-careful internal wiring, things that I am a big fan of.
There are line conditioners that are exercises in overkill; I wondered how this sort of design, different from anything I've seen or heard, would measure up.
Even though I was in the middle of a review of the superb EAR 324 phono amp at the time (see my EAR 324 review elsewhere in this issue at www.positive-feedback.com/Issue15/324.htm), I decided to use this Velocitor with my LP-12 turntable system (LP-12/Ekos/Akiva/Linn Silver Reference phono cable/Cirkus/Lingo II/Linto), since this was a source chain that I knew very well, and since this system had been using the now-venerable Tice Signature III. This meant pulling the EAR 324 for a while so that I could work with a known baseline. With delicate analog signals, I reckoned that differences between the old power conditioner and the Velocitor would be fairly obvious. After carefully setting up the Velocitor according to Walker Audio's directions, I brought out the Silent Source cables and looked them over
This cable is manufactured in Texas by Silent Source; Walker Audio is its distributor since 2002. (Lloyd had tried Silent Source while sharing a room at CES 2002; despite his trepidation about being paired with an unknown cable, he came away delighted with the quality of this power cable. As often happens in cases like these, he ended up distributing the line.) As a general rule, 'phile power cables fall into two categories: flexible, and bloody rigid. I've worked extensively with both categories and, like most members of the human race, prefer a power cord that doesn't behave like a concrete Anaconda. For that reason alone, the suppleness of the Silent Source made it a pleasure to work with. It has a dark silver-black mesh jacket, is rated up to 15 amps, and can be manufactured to custom lengths. There is a heavier gauge version rated at 20 amps, for those requiring it.
Overall, for appearance and for handling I would rate the Silent Source as "grade A."
The Sound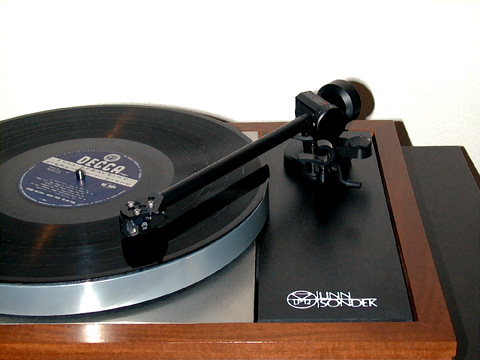 Eighteen years and still flying: the Linn LP-12 (with Ekos tonearm and Akiva reference cartridge)... dry brush image by Robinson.
As always, the big question is how the Velocitor/Silent Source sounded with the LP-12 system. Since at that point in time, the EAR 324 was new to my system, I first tried the Velocitor/SS with my old friend, the very fine, over-performing Linn Linto phono amp. Having only two samples of the Silent Source cables, I plugged one of them into the Velocitor and the other into the Linto. (The Lingo remained power cabled with its known Cardas power cord.) I let the combination sit overnight (Walker Audio recommends at least an hour for warm up).
The next afternoon I fired up the trusty LP-12, and dropped the Akiva's diamond into what has since become a tolerable torrent of vinyl, including some (not nearly all) recent faves in no particular order:
Classic Records reissues
Respighi: Pines of Rome by Reiner and the CSO
Tchaikovsky, 1812 Overture, etc., Reiner and the CSO
Heifetz: Bruch, Scottish Fantasy; Vieuxtemps, Concerto No. 5 (Dave Glackin is right to rave about this one!)
David Crosby, If I Could Only Remember My Name
Crosby, Stills and Nash, Crosby, Still and Nash
Crosby, Stills, Nash and Young, Déjà vu
Graham Nash, Songs for Beginners
S&P Records (Maestros Hoffman and Gray... três bien, mon amis!)
Peggy Lee, Bewitching-Lee! Peggy Lee Sings Her Greatest Hits
Analog Productions
Numerous! The Chadmeister and the RTI Gang (Hoffman and Gray) keep cranking out masterpieces... CCR, Chet Baker's Chet, etc., etc., etc. Too many to mention here.
Mobile Fidelity
The Beatles box set, particularly Sgt. Peppers, Rubber Soul, and The Beatles For Sale
Blondie, Parallel Lines
Bloomfield, Kooper, Stills, Super Session
Sundazed
Way too many to list! Dozens of faves from me boyhood... Lovin' Spoonful, Mitch Ryder and the Detroit Wheels, Otis Redding, the Knickerbockers, Spirit, Booker T. and the MG's, Butterfield Blues Band, the Rascals, the Guess Who, Syndicate of Sound, Shadows of Knight, the Monkees... muchas gracias to the Sundazed group for licensing and reissuing REAL FUN MUSIC. (Hmmm... I can see that it's been way too long since I did an "In Rotation" column. Merely snooty audiophiles should just keep a-walkin' hereabouts....)
Mercury reissues
Janos Starker, Bach: Suites for Unaccompanied Cello, Complete (Signed, limited edition... absolutely smashing!)
Simply Vinyl
Mike Oldfield, Omnadawn
Van Morrison, Back on Top
Etc.! You can quibble with the quality of the work in the re-mastering with SV... I do... but you can't fault their bloody titles! These folks have gotten some great real music licensed.
JVC Japan
The recent reissue set of the Beatles
ABKCO
The Rolling Stones remastered to vinyl from DSD, particularly Aftermath and Let it Bleed
Cisco Music
The Weavers, Traveling On with The Weavers
Vivante
John Mayall with Eric Clapton, Blues Breakers
Rhino reissues
Grateful Dead, Workingman's Dead
Various and sundry
Moody Blues, Days of Future Passed (Deram reissue, Brit pressing)
Neil Young/Crazy Horse, Everybody Knows This is Nowhere (German pressing)
Frank Sinatra, September of my Years (Warner Reprise 180 gram reissue from RTI)
...and I was immediately bemused. So much so, that I sat there listening for a while, trying to find the right words to describe what I was clearly hearing.
So much so that—after listening for a while—I deliberately left my listening room for the rest of the evening to think about what had happened to the presentation of vinyl via my LP-12 system. It was a sound that I knew so well, and it had changed fundamentally. (When I mentioned this to Lloyd Walker, he was sympathetic... but he also chuckled a lot, the dog!)
Over the next day or so, I ran a couple of my Classic Records RCA Living Stereo LPs (The Pines of Rome and The 1812 Overture with Reiner and the CSO) plus some of my favorite blues and pop past the LP-12/Linto/Velocitor/Silent Source combination. My initial impression was confirmed, and extended by ongoing listening.
My conclusions about the Velocitor/Silent Source:
The entire sound field seemed to have expanded in all directions. There was a definite, unmistakable sense of greater spatiality, without a loss of musical intimacy. This was the aspect that struck me first, and most powerfully. My immediate and quite visceral reaction was that something had happened to my listening room itself... that its dimensionality had altered. Not like some phasiness, or a polarity problem; more like a movement to a greater dimensional rightness that I hadn't suspected existed on the LP side of the ledger. Compared to the (admittedly dated) plow horse of a Tice Signature III, the Velocitor is a dimensional racehorse. The Tice was left far behind as I took in the new sonic presentation. It was a strange feeling, and one that took some getting used to... but now that I have, I wouldn't go back.

The harmonic structure of my LPs struck me as more coherent and proportional. Tonal ranges were right, with no bloating in the bass, nasality or forwardness in the mids, and no sharpness or harshness in the upper frequencies.

Detail seemed to be somewhat enhanced by a noticeably greater sense of ease and quiet. The music on my LPs emerged with enhanced naturalness; I confess that the old 'phile review chestnut "palpability" came to mind. Clarity was definitely improved over the Tice Signature III. Then again, this didn't surprise me so much, having heard this sort of thing happen with the likewise excellent JENA Labs Fundamental Power 6.1 line conditioner over on the SACD side of things.

Dynamic range (macro) was noticeably better. The Reiner 1812 and Pines of Rome were slamming along in a remarkable way—less tubbiness and more roundness when it came to the whacks and whammos.

It's no surprise to note that micro dynamics were also improved. Smaller textures and moderatos (as opposed to ff or fff) had a better sense of leading and trailing rightness.

The critical string section in every LP I tried had an improved silkiness, a touch better clarity without any steeliness. I cannot abide screechy strings; I am glad to say that I didn't have to.
I was impressed enough that I immediately pulled the Linn Linto out of place, and replaced it with the EAR 324 phono amp that I had been evaluating when the Velocitor/Silent Source arrived. My conclusions were quickly confirmed; if anything, the stellar performance of the EAR 324 did so with a vengeance. I ended up writing the final revision of my EAR 324 review using the Velocitor, with the Omega Mikro Active cabling... see the next section.
Overall, the Velocitor/Silent Source set me back on my hindmost parts with more than just a bit of a thump. I hadn't expected so much from this attractive, unassuming maple box... and there was another level to come.
Shifting to the Omega Mikro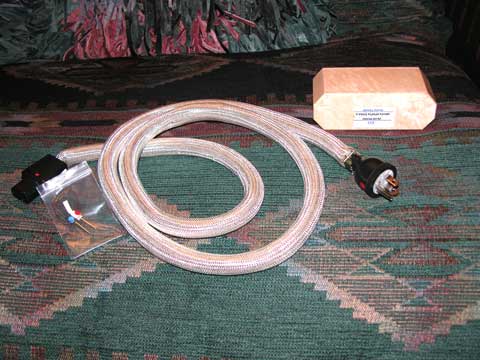 The Omega Mikro 100 Watt Active power cable system, "Red" directionality; the maple box to the upper right is the battery for the cable. (See Bauman and Sprey's designers' notes at the end of this review for more information.)
As we had discussed the upcoming Velocitor project, Lloyd had told me that there were a couple of levels that the Velocitor could operate at, depending on power cabling. The first was with the Silent Source cable, that he termed "really good." As I've noted, this was the solution for those who needed more robust cables, or that particular price point.
For those who could handle a much more fragile power cable, based on an air dielectric (see the Bauman/Sprey discussion below) at a higher price, there was more to be had said the Lloydmeister: we could go up to the Omega Mikro 900 Watt for the Velocitor, and the 100 Watt for sources, both passive designs. One step above that were the "active" versions of the same cables, employing a maple battery box that supplies this version with a bias current, further enhancing the performance of the cable. This was the "take no prisoners!" level—but don't have any pets or small children around your listening room! Which version did I want to try?
Need he ask?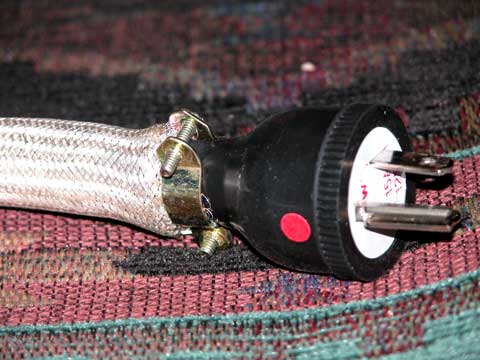 The Omega Mikro 100 Watt "Red" power cable, showing off its red dot. This is fragile stuff, amigos!
I spoke with both Lloyd and Ron Bauman of Omega Mikro about this product, and Ron kindly agreed to send along both the "Red" and the "Blue" version of the active cables to try. (This review was based on the "Red" version.) The main difference between the two lies in the directionality of the conductors, as Ron Bauman explains in his commentary below. You can go with the one that sounds better in your system.
Once the Omega Mikros arrived and I had the time to sit down with them, I could see what Lloyd meant about being very careful with these power cables. If you were to drop these or step on them, you'd be a miserable person in short order. With their very flexible silver-coated copper mesh jacket, these power cables are attractive and nothing like concrete Anacondas, but they are also very sensitive to proper handling and placement. Omega Mikro recommends handling these with gloves... cloth tube gloves work very well, I found... to preserve the jacket. Having done it, I'd agree; do NOT use bare skin on these products.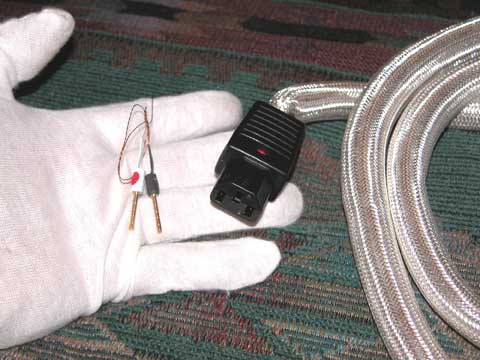 Handle with care: The IEC end of the Omega Mikro Active 100 Watt power cable, showing the battery pins that are inserted into the battery case after final placement.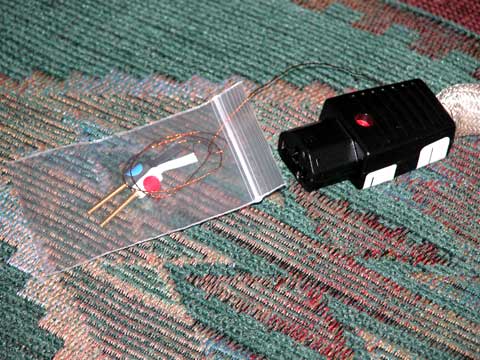 A closer view of the battery pins in their protective bag.
Handling and placement of the Omega Mikro cables was a little trickier than I thought it would be. Since I don't have unlimited space in my listening room, and since these cables should not be placed on other cables or directly on carpeting, I had to jigger things around to find a configuration that worked in the confined area that I had for them. I had to keep these out of harm's way, but also away from other sources of interference. It took a while...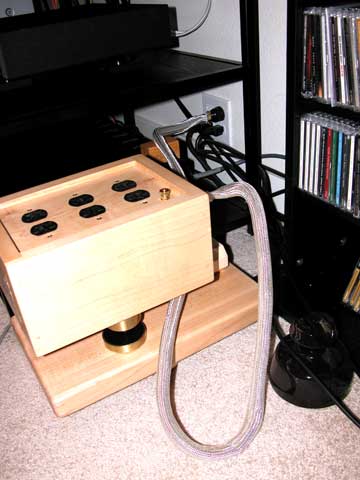 Placing the Omega Mikro, step one: approximate placement, and a VansEvers block in the background to rest the far end on. Note that the Velocitor is plugged directly into a dedicated 20 amp circuit (one of four in my listening room). Walker Audio does not recommend plugging a Velocitor into another line conditioner.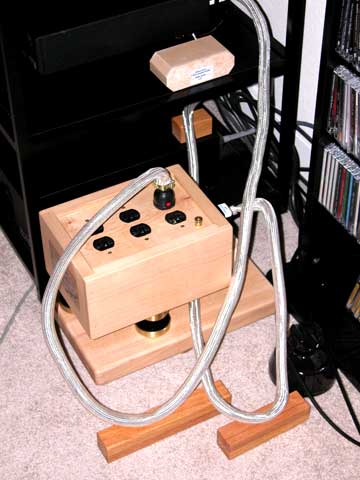 "It's alive!" After about 30 minutes of noodling, I finally got a layout that worked. No cable is touching another (though it may look like it is in this photo), and VansEvers blocks are hoisting the Omegas off the carpeting. A minor tweak or two since this photo has improved the configuration even more.
...but I finally got a setup that worked. With the cables happy, the battery pack plugged in, and the EAR 324 in place, I was ready to take on the Omega Mikro Active (Red). I let the whole thing sit overnight—systems can be very fussy about being taken apart and kicked around this way. Don't ask me why this is... but it sure seems to be that way.
Yet another Ka-ZOW from Walker Audio!
When I sat down the next day with the LP-12/EAR 324/Velocitor/Omega Mikro Active system, I wasn't sure what sort of incremental improvement I'd be hearing. Lloyd had warned me that it was going to be "really good," but you never known until you hear it. Once more I dropped the Akiva diamond into the stylus of the Reiner Pines of Rome, sat back, and...
OH MY!!
Everything that I had been hearing with the LP-12 chain/EAR 324/Velocitor/Silent Source and had listed in my bullet points above was there... no loss of those virtues... but now I was hearing some new excellencies that I had never heard in my LP-12 playback before:

The sense of quickness, speed and liveliness was startling. The active Omegas with the Velocitor are a match made in heaven for those (like me) who love a sense of immediacy and "liveness" in their listening room. This was not a sense of tilted upper frequencies, or like some graphic equalizer trick... it was instead that rare sense of "you are there," with transient response at both the front and back end of recorded musical events that sounded really right. I now know that my Tice Signature III was slowing down the LP-12.

Detail, detail, detail! And yet no sense of overload... just a feeling of substantial gain in resolution from vinyl. The Linn Akiva/Linn Silver Reference cable excel in digging more out of the grooves, and the EAR 324 puts this out nicely... but the Velocitor/Omega Mikro active provided the essential third member that raises the overall synergy to a much higher, instantly appreciable eminence.

Transparency... in spades! At the risk of issuing another audio cliché, the Velocitor with the Omega Mikro increased the clarity of the Linn/EAR 324 combination in a way that surprised me. I hadn't realized how much the Linn/EAR 324 could deliver until the Velocitor/Omega Mikro active components were added to the mix. It was almost as though the Tice had put some sort of haze, a layer of audio film into the picture, holding back what I could be hearing... impossible to realize, except by comparison to the Velocitor/Omega Mikro. It's pretty humbling to realize how easy it is to be lulled into complacency about your vinyl playback, then hear what you've been missing.

The sense of musical solidity, of the roundness of imaging and the extension of spatiality... particularly depth and height... was improved, even over the Velocitor with the Silent Source. These are extremely important qualities for me in my listening room... the gain in this realm was very gratifying.

The sense of musical rhythm, of musical "rightness"... what Harvey "Gizmo" Rosenberg used to call "wholeosity"... was notched up, big time. Relaxing into my LPs has gotten an awful lot easier with the Velocitor/Omega Mikro active in place. An awful lot easier.

Air, atmosphere, presence... all improved. Notes float. Enough said!
I had started with some great classical recordings... Lloyd recommends it as a way to tune your system (as a matter of fact, he called me to say hello while I was in the middle of a serious load of Gizmonic "musical ecstasy" listening to The Pines of Rome. He got to hear it over the phone... poor guy!) Over the next week I listened to a number of LPs, all sorts of genres, and heard the same thing pretty much wherever I went: a much greater sense of quickness, much better clarity, truly exceptional spatiality, timbral rightness, and excellence in dynamic range and dynamic emergence.
There was no doubt about it in my mind, and in my listening room—the Silent Source with the Velocitor is good... but the Omega Mikro, tricky as it is to handle and place, is much better.
My first impression of the Velocitor left me so startled that I was truly bemused. It took me a while to realize what a significant step forward from my old line conditioner the Velocitor was; don't be surprised if you experience the same sense of audio vertigo the first time that you put the Velocitor into your system. And I have to say it: the Velocitor system with the Omega Mikro active is simply flat-ass superb. I don't think that you're hearing what you could be hearing in your playback unless you have the Walker Velocitor with the Omega Mikro active power cables in place.
If you're like me, and have been using a dated line conditioner, now is the time to make the arrangements to give the Velocitor a test drive in your listening room.
The good news is that I am quite sure that you'll be as dazzled as I was... this is the real thing, partner!
The bad news is that you'll have to figure out whether your old line conditioner ought to be made into a plant stand, turned into a speed bump, or used as a boat anchor.
Life's painful choices, for sure... .
I therefore award the Walker Audio Velocitor system (with dedicated stand) and with Silent Source power cables a "Ye Olde Editor's 'highly recommended,'" and the Velocitor system (with dedicated stand) and with the Omega Mikro active power cables a "Ye Olde Editor's 'very highest recommendation.'"
Current prices: see www.walkeraudio.com/price_list.htm
Manufacturer/distributor:
Walker Audio
1139 Thrush Lane
Audubon, PA 19403
TEL: 610. 666. 6087
email address: lloydwalkeraudio@aol.com
web address: www.walkeraudio.com
See Walker Audio's web site for more information about Omega Mikro and Silent Source power cables.
As always, Positive Feedback Online invites the constructive participation of audio designers in our discourse about the audio arts and the possibilities of fine audio. Lloyd Walker has been asked to contribute some thoughts on audio design, the Velocitor, and what he's about. We expect to see an article from Lloyd very soon now.
I also enjoyed a long chat with Ron Bauman last summer, which ranged from audio products to quantum mechanics and chaos theory, and invited him to contribute some thoughts on how the Omega Mikro product line is developed. The following is his response.
Notes on How We Develop Omega Mikro's Audio and Video Products
by Ron Bauman (CEO inSound, inc) and Pierre Sprey (CEO Mapleshade Records)
inSound, (www.insoundaudio.com) along with our partner Mapleshade (www.mapleshaderecords.com) develops and manufactures Omega MIKRO and Clearview products including audio analog, video and digital interconnects, power cords, speaker cables and jumpers. inSound also designs and manufactures audio amplifiers, phono preamplifiers and passive line stages. We've been in business since 1990.
Throughout our 14-year history we've designed our products to bring the listener ever closer to the sound of live acoustic music. Our unique facilities include the use of Pierre Sprey's Mapleshade Recording Studio and its master tapes. Mapleshade uses the purest recording techniques to capture the sound of a live performance in the studio or at a recording site—analog tape with no overdubbing or electronic effects. We continually attend live concerts and recording sessions—jazz, classical, rock, soul, folk, world and gospel, to maintain current our memory of the live music experience.
We use these live sessions as our reference when we design a product. In carefully controlled and documented experiments, we compare the effects our design variables—e.g., copper thickness, annealing protocol, dielectric configuration—have on the reproduced music. Does the design variation we're evaluating make the music sound more or less like the live performance? If it sounds more like "live" the design variation stays, if not it goes.
We employ a rigorous listening protocol always using the same one-minute test samples drawn from our favorite recordings. We're meticulously careful about the quality of AC power during our listening experiments: We turn off all appliances like heaters, A/C's, refrigerators, dimmers and fluorescent lights to keep the RF (EMI) environment clean and constant.
The latest research on hearing, though still evolving, guides our designs far more than theoretical work or mathematical models; e.g., we pay particular attention to accurately reproducing the leading and trailing edges of the music because we believe that that is where the excitement of live music is. Get this right and the music comes alive. Get it wrong and the music loses its impact and emotion.
We use our hearing instead of test equipment because we've found that better sound does not come from better frequency response, intermodulation and harmonic distortion, i.e., the classic benchmarks for audio equipment. These classical measures of audio simply miss the vital qualities that make music come alive. Our listening tests suggest that parameters that affect our enjoyment of music are critically dependent on time domain fidelity. The leading and trailing edges of music's macro and micro dynamics and transients are examples of time domain parameters.
Harmonic coherence is another. This term refers to the harmonics lining up in time with each other and the fundamental just as they did when the notes were first struck. Components that do this better make each instrument's voicing sound more like live. Components that get this quality wrong change and thereby ruin the timbre and quality of an instrument's voice—they sound congested, especially when attempting to pass complex musical passages.
We're continually finding new ways to achieve better sound, e.g., by using more air and eliminating or minimizing other insulation (dielectric material) we find the sound livelier, with more infectious rhythm and exciting pace, less smeared and far less congested. By making our conductors (copper ribbons) thinner but with just the right width, we find the music sounds louder, more dynamic and sparkling.
We also find that protocols for refining, dimensioning and processing copper—more importantly than the purity of the copper—profoundly affect the sound of conductors made from it. Furthermore, one protocol does not work best for all product types; each of our major products benefits most from its own unique protocol. We've therefore developed copper processing protocols that provide the best sound for each of our products.
Combined, more air and less other insulation, thinner conductors, optimum physical configuration and copper processing protocols better capture the very delicate leading and trailing edges of music's constant transients and micro transients, and better time-align each separate instrument's harmonics. The result? The music sounds more exciting, more like the live experience.
All of our products, therefore, incorporate a common design philosophy: maximize the use of air and minimize the use of other insulation and use the best sounding dielectrics if we can't eliminate them; minimize at least one of the conductor's three dimensions, optimize the remaining dimensions, use the best sounding physical configurations and processing protocols. Through more than 14 years of research we've developed unique ways of expressing our design philosophy.
Power Cords
All of our power cords come in a choice of two directionalities we call "Red" and "Blue." The only difference between them is that each of the copper ribbons is turned around relative to their opposite color counterpart. When evaluating which color power cord to use, we recommend using acoustic music, especially piano recordings that are known to be recorded in correct absolute acoustic phase. (Please read Clark Johnsen's The Wood Effect for more insight into absolute acoustic phase. By the way, all Mapleshade recordings are recorded in correct absolute phase.) Listen for the initial impact of each keystroke; the correct color power cord will render the keystroke more natural (the wrong color will slightly soften the initial attack of each note). Of course, the same effect is present with all music, but for first time listeners to this effect, a solo piano is easier to hear than a complex ensemble.
It's hard to believe that a power cord can make such a profound difference in the quality of reproduced music. But we (and our thousands of customers) have discovered that it's as important as any other interconnection component in your system. Omega Mikro power cords come in two power ratings and in either passive or active configuration.
900-Watt Passive
The 900-Watt power cord uses pure copper ribbons with optimized geometry and processing protocols to transfer power back and forth between the source of power and your components. Each ribbon is insulated using the same multi-polymer film used in some of our interconnects.
We designed our AC plug to sound better than anything else we could find, including hospital-grade plugs and other such devices that use unnecessarily large amounts of dielectric. Ours are hollow and therefore surround the conductors with air rather than plastic. Why is air better? Because it doesn't store energy and then release it out of time with the music the way other dielectrics do. In other words, they don't smear or congest the sound.
Our silver-plated fine copper braid on the outside shields and protects without adding more dielectric. Our IEC socket uses minimal dielectric and incorporates compression connections instead of solder. The compression fittings float in their compartments so that they're loosely coupled to the polymer dielectric and are mostly surrounded by air.
This combination of features assures that our power cords achieve the same high standards of time domain fidelity and harmonic coherence as our interconnects and speaker cables.
The 900-watt rating is conservative and represents the limit on continuous average power. Short peak demands, of the duration of loud musical peaks, up to 3000 watts can be safely handled.
100-Watt Passive
We designed our 100-watt power cord for those components that consume low power, i.e., CD and DVD players and transports, D/A converters, phono and line stage preamps, turntable motors and motor controllers, FM tuners, all kinds of TV's, surround sound and video processors.
The 100-watt rating allows us to use ribbons one fourth as thin as in our 900-Watt power cords. The dimensions and processing protocols for this ribbon are optimized for its 100-watt rating. Otherwise it uses the same shield, dielectric, AC and IEC plugs and multi-polymer dielectric as our 900-watt power cord. The thinner ribbon pays off in even greater time domain fidelity and harmonic coherence.
900-Watt and 100-Watt Active
Our active power cords are identical to their passive counterparts except they use an 18-volt bias voltage from a battery and network supply box. The bias applied to the shield reduces the residual smearing effects from our already minimal multi-polymer dielectric.
The impact of the shield bias on the sound is immediately obvious; micro dynamics and transients are reproduced with greater clarity, backgrounds become blacker and more solid. Leading and trailing edges are more like live and lend the music an excitement and presence you must hear to believe. Instrument voicing becomes truer and instruments better maintain their identity in complex passages.