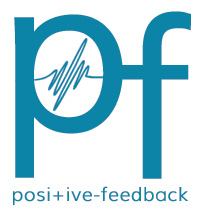 You are reading the older HTML site
Positive Feedback ISSUE 16
november/december 2004
Super Audio CD: The Column
by Stephen Best
Stephen runs the site SA-CD.net (www.sa-cd.net) which not only features information on just about every SACD title in existence, but has links to where these titles may be purchased. It should be mentioned that Stephen does receive a small percentage of any sale made through his site.

Label profile – Songlines
The Canadian label Songlines (www.songlines.com) is the expression of the tastes and resourcefulness of a single person, Tony Reif. A longtime jazz fan, Tony established the label in 1992 initially to document the creative jazz scene in Vancouver. Since then he has widened the scope to jazz, jazz-related and world music with artists from the US and Europe "taking inspiration from various styles and traditions and developing new forms of expression". A self-professed audiophile he was quick to adopt SA-CD technology, releasing his first SA-CD in late 2001. Since then the label has been responsible for some 16 SA-CDs (3 just out), most with multichannel 5.0 included as well as stereo mixes. All have been issued as single-inventory hybrids with "pricing will be kept as close to that of our regular CDs as possible, and because DSD-mastered CD sound is among the best available we believe we are offering consumers value for money in any case."
The recordings themselves variously come from analogue, PCM or DSD sources. As Tony explains it "sound quality is dependent on so many things, though I would always record to analogue or DSD if that were feasible [but] I'd rather get a particular project that isn't amenable to simple recording approaches and/or there are practical limitation on available equipment recorded well musically even with some compromise in the sound than not recorded at all". From my listening, recording provenance shouldn't hinder exploration of the label's catalogue.
Artists recorded by Songlines include such well-known jazz names as Dave Douglas, Bill Frisell, Wayne Horvitz, Misha Mengelberg, Ellery Eskelin and Ben Monder (though not all are currently available on SA-CD).
Before I pass comment on Songlines' offerings, I think it fitting to explain where I'm at and where Songlines has taken me. The musical tastes for most of my adult life have been exclusively classical, but ranging from the middle ages to contemporary, the latter now forming a large percentage of my listening time. Somehow I've only peripherally taken to "jazz" (as I've understood it) for reasons that I can only partly fathom. The music on Songlines' recordings (or at least the ones I've had the privilege to listen to) is undeniably different to my experience but somehow familiar territory. In this I can hear echos of Debussy (on Horvitz/Holcomb Solos), elsewhere elements that influenced so-called minimalist composers like Steve Reich and Philip Glass and so on. Music for me involves multiple levels of listening, sometimes intense concentration and at others just letting it wash over me... I'm sure I'm not alone here. But one thing I always seek is "depth" of intent and will tune out if I find the musical ideas bereft. The music I've heard here has this "depth" in spades... intelligent, stimulating, rewarding, sometimes challenging. Maybe you're ready for a similar discovery. Maybe you've already preceded me.
Songlines' catalogue is rich and varied and I'm not sure I have the vocabulary to describe it with any justice. Certainly most of the artists were previously unknown to me (other than Wayne Horvitz who has done film music as well). Hopefully somebody at PFO will pick up on some of these and give them more thorough and deserving reviews. In the meantime here's some discs that pushed my buttons:
Mark Nodwell's Nemesis is a great disc. Ostensibly taking "listeners on a heroic journey of transformation, portraying a shamanic descent into the underworld to retrieve the spiritual fire" the journey is more of a musical one through a rich and varied landscape of thematic and free, sometimes discordant material which resolves itself into an overall satisfying experience. Artists featured are Ron Miles (trumpet), Khabu Doug Young (guitar), Art Lande (piano), Drew Gress (bass) and Tom Rainey (drums).
Aros is an Amsterdam based sextet led by Canadian saxophonist Rob Armus and Austrian classical pianist Marion von Tilzer. Their Train Song has a more classical feel and instrumentation, sometimes with direct references to Philip Glass. A classy disc.
Waraba is a fusion of traditional West African music (and instruments) underpinned by French bassist Jean-Jacques Avenel. Somewhat gentle and exotic but with a complex interplay between the performers. Though only heard by me in stereo, I think this album deserves to be played in multichannel.

Songlines SGL SA1550-2
Wayne Horvitz & Robin Holcomb: Solos
Wayne Horvitz & Robin Holcomb Solos is a new disc of solo piano with Horvitz and wife Holcomb alternating. The compositions include those of Horvitz and Holcomb (with some improvisations), Wayne Shorter and Frank Perkins. I also enjoyed Horvitz's earlier Sweeter Than the Day.

Songlines SGL SA1552-2
Benoît Delbecq Unit: Phonetics
French pianist Benoît Delbecq's Nu-turn is solo music for piano and prepared piano "using ideas and techniques from contemporary classical (Cage, Ligeti, Nancarrow), jazz, Pygmy polyphony, European improv and other sources". Perhaps more demanding of the listener, the "structured improvisations" herein are not without charm and can at times be mesmerizing.
Delbecq's new Phonetics is somewhat more conventional fare with saxophone (Mark Turner), viola (Oene van Geel), bass (Mark Heias) and drums (Emile Biayenda). Track 7 Yompa is great fun. Good, clean sound from a 24-bit/96kHz PCM recording.

Songlines SGL SA1553-2
Jerry Granelli: Sandhills Reunion
Granelli's Sandhills Reunion is a disc of Rinde Eckert reading his own writings with a mainly jazz accompaniment. The beauty here is not just the strength of the words, but the sensitive interplay with the music. Eckert's own photographs adorn the cover and booklet. The pricing of this disc would seem to be very keen.
As an Australian I was keen to learn whether Bruce Chatwin's book The Songlines was the basis for Tony's label name. For those who haven't read it, Chatwin describes Australian aboriginal traditions of "singing the landscape" as ancestral worship and to pass on a map of features distinguishing a particular pathway used for migration or as trade routes (this from memory, it's been a while since I read it). Says Tony: "I didn't know that much about aboriginal cultures, but the idea intrigued me, and it somehow seemed to be an appropriate metaphor for the kind of label I wanted to create, one which would find connections between different forms of music—music that was new and creative but that took its inspiration from deep roots. My songlines are to be paths traced globally, as well as in the minds and hearts of musicians and the public".
My thanks to Tony Reif for his generosity.
Classical transfers to SA-CD
There has been much discussion on the recent RCA Living Stereo and Mercury Living Presence transfers from analogue tape to SA-CD, but over the format's five-year lifespan there have been quite a few similar issues from the archives. I thought it might be instructive to include a survey of these to encourage further exploration. Certainly there are some classic performances amongst these. The original recording dates range from the 1940's to the early 1980's.
Sony Classical
www.sonyclassical.com
In the early days of the format, Sony issued a fair number of single-layer stereo only discs from the Columbia catalogue. This included performances by George Szell, Leonard Bernstein, Pierre Boulez, Eugene Ormandy and Bruno Water and soloists such as Glenn Gould and Murray Perahia. All these recordings had parallel issues in Japan, with a few extra titles not making it outside of Japan. Later when Sony started with multichannel they issued more recordings of Bernstein and Boulez plus discs of John Williams and E. Power Biggs (among others). The sound quality of these varies depending on the original recording but there are some very fine discs among this collection. If you're not adverse to single-layer discs, this catalogue is well worth investigating.
Vanguard/Everest (Omega Records)
Omega had plans to issue six titles on SA-CD a year from their Vanguard and Everest catalogues but only made it to twelve when Seymour Solomon died. The Vanguard catalogue was then transferred to Artemis (see below). The most popular recordings issued were arguably Davrath's Songs of the Auvergne, Virgil Thomson's The River and The Plow That Broke the Plains conducted by Stokowski and Goossens's recording of Antill and Villa-Lobos. Though discontinued, some of these discs are still obtainable. The sound quality of these is amongst the best from the era.
Vanguard (Artemis Classics)
www.vanguardclassics.com
Artemis purchased the rights to the Vanguard catalogue. Their first titles have overlapped with the earlier Omega issues but other recordings (e.g. of Brendel) are on the way. These have also been well received.
Mercury Living Presence
www.deccaclassics.com/music/mercurylivingpresence
As mentioned in my previous column, ten such titles from this treasury have been recently issued with more planned. All can be heard in their original "three channel stereo" for the first time (on capable players/systems). Highlights include Dorati's Stravinsky Firebird, Starker's Bach Cello Suites and the Rachmaninov Piano Concertos Nos. 2 & 3 played by Byron Janis. Some have compared these recordings to the best available on the format. Certainly the dynamics and level of detail are astonishing for their age.
RCA Living Stereo
www.livingstereo-sacd.com
The first batch of ten titles from this series includes classic performances from Reiner, Munch, Heifetz, Rubinstein etc. These include a mixture of stereo and "three channel stereo" (where available). This series has proven very popular because of fondness for the performances and no doubt by very reasonable pricing. Another ten titles will be out in January.
Avex-Classics
www.avexnet.or.jp/classics
From this Japanese label are available twenty transfers of late analogue recordings from East Germany. Featured are conductors such as Kurt Sanderling, Herbert Kegel and Heinz Rogner and soloists Peter Damm and Karl Suske. There are some very fine performances amongst these and the transfers are excellent.
PentaTone Classics
www.pentatonemusic.com
PentaTone was founded by some former Philips Classics executives. In addition to issuing their own new recordings (mostly done by Polyhymnia) they obtained a license from Universal for the quadraphonic recordings made by Philips Classics in the seventies. These they continue to issue as their RQR (Remastered Quadro Recordings) series. About thirty such titles (all 4.0 multichannel) have been released and these include such performers as Sir Neville Marriner, Sir Colin Davis, Salvatore Accardo, I Musici, Elly Ameling etc and more recently Masur's Beethoven symphony cycle. The remastering is also done by Polyhymnia.
Deutsche Grammophon
www.deutschegrammophon.com
A number of transfers from DG have been issued, perhaps the best known being the Karajan Beethoven symphony cycle from 1963, now available separately. Also released have been Karajan's Mozart Requiem, Pollini's recording of the Chopin Polonaises and Kleiber's famous recording of Beethoven Symphony 5 & 7 and Verdi La Traviata. The transfers themselves are somewhat controversial as Emil Berliner Studios used 24-bit/96kHz PCM masters (for whatever reason).
Deutsche Grammophon/Philips/Decca
www.universal-music.co.jp/classics/release/superaudiocd/superaudiocd50.html
Slated for release in Japan in late December are 50 titles from the DG, Philips and Decca catalogues. The transfers themselves were done by Sony Japan. Performers include Richter, Böhm, Kubelik, Haitink, Quartetto Italiano etc. There is no word on whether these are to be issued internationally, but they can easily be ordered directly from online retailers in Japan.
Mobile Fidelity
www.mobilefidelity.com
Mobile Fidelity have issued four classical transfers on SA-CD. Included are recordings by Slatkin of Prokofiev and Mussorgsky, Skrowaczewski's of Ravel and the Holst Planets conducted by Susskind. These discs have been very favorably received.
Dreamlife Classics
www.dreamlife.co.jp
Recently announced by Dreamlife in Japan are half a dozen transfers of "Wilhelm Furtwangler Great Live Performances of 1942 - 1944". The first three of these will be available in December with the balance in January.
Audite
www.audite.de
The German label Audite recently announced their upcoming Listen & Compare series on SA-CD where they plan to package both original and restored transfers on the same disc for comparison purposes. From Audite: "According to the quality of the original recording, tape noise and disturbing noises are reduced to a minimum, pre-echoes and echoes removed, rests revised and the recording sound improved as much as possible." A number of recordings of Kubelik have been announced, the first of Schubert Symphonies Nos. 3 & 8 and Mahler Symphony No. 8.
Title round-up:
Below are another dozen recent or upcoming SA-CD releases, some I've heard personally (and enjoyed), or there's some buzz about, or I just think could be worthwhile checking out. For a complete list check out the new & upcoming lists of your favorite vendor or consult www.SA-CD.net.

Harmonia Mundi HMU807326
Anonymous 4: American Angels
The final album from this accomplished a cappella foursome, this time of 18th and 19th century American sacred, psalmody and gospel songs. A DSD recording.

Spoon Records SPOONSA8
Can: Ege Bamyasi
One of four remasters from this Krautrock group.

A&M Records
Carpenters: Singles 1969-1981

Hyperion SACDA67463
Handel: An Ode for St Cecilia's Day - Robert King
Not as well known as Purcell's, but it should be. Some delightful singing from Sampson and Gramophone's Recording of the Month.

Papyros MWCD 5011
Luthomania: Itinérances
The first SA-CD from this Dutch label features "world music in a fusion between Arabic, Chinese and European traditions, using the various lutes from these regions as well (European lute, ud and pi'pa') blending with jazz and classical music."

Verve (Japan) UCGU-7036
Stan Getz: Plays
One of ten remasters from Verve's 60th Anniversary - Supreme Sound Edition.

Hyperion SACDA67501/2
Rachmaninov: Piano Concertos (complete) - Stephen Hough
This live recording of all four concertos is garnering some great reviews.

Mercury 9867715
Mark Knopfler: Shangri-La

Island
Derek & The Dominos: Layla

Avie Records AV0030
Handel: Arias - Lorraine Hunt Lieberson
A riveting performance by this mezzo-soprano at her peak. A DSD recording.

Alpha ALPHASA503
La Tarantella - L'Arpegiatta/Pluhar
The first SA-CD from this highly respected French label.

V2 Music VVR-1026900
Paul Weller: Studio 150
A surprisingly enjoyable album of covers. Great sound as well.