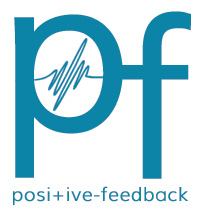 You are reading the older HTML site
Positive Feedback ISSUE 16
november/december 2004
The Higher End: Robinson's Brutus Awards, and the Gizmo Award, for 2004: Part 1
by David W. Robinson
All photographs and image processing by Robinson, unless otherwise noted.
The earth spins on its axis… the world moves in its orbit, the galaxy whirls in its group…and once more it's the time of the season for the PFO Brutus Awards, and the one-per-year audiomaniac Gizmo Award. These awards are given by Dave Clark (see mine later this week - Dave Clark) and I at the end of the publication year, and recognize the best of what we've heard in our listening rooms during the previous twelve months.
I stated the criteria for the Brutus Awards in Issue 10 last year (see http://www.positive-feedback.com/Issue10/brutusawards.htm for the full text):
[The Brutus Awards] will be recognition given to "the best and the brightest" products that we have experienced in various categories in a given year. In hardware, these will range from "best bang for the buck" to "the best period, and hang the expense!" designs. In recordings, we'll be paying tribute to the best that we've found in various formats. In addition, we'll have a "Lifetime Achievement Award" that will recognize individuals whose contributions to fine audio in various respects has been both superior and sustained.
All products that are so recognized by PFO will be work that has been reviewed by us personally; no design will be recognized that we do not have experience with in our listening rooms. This means that you, our readers, may disagree with our selections, wondering why this or that component, recording or individual was not mentioned. Quite apart from differences in taste/opinion, the answer is simple: we won't be mentioning any design that we haven't spent time with in our own listening rooms. If a product does not win a Brutus Award in a given category, this does not signify lack of merit—we just may not have gotten to work with it. You're certainly welcome to write to us and bring worthy components to our attention.
Our readers should use these awards as indicators that the listed products are worth further investigation and trial listening, if possible. No slavish mindlessness, please; no loud cries, screechings, or cursings from the aisles… use our awards as guides, not as substitutes for intelligent and passionate personal experience and educated appraisal.
(Signed,)
Ye Olde Editor
P.S. There may well be an addendum to my list in the next week or two, as I am completing several last minute review projects that aren't quite ready for final consideration. Should that happen, you'll see those here when I'm done.
Lifetime Achievement Award: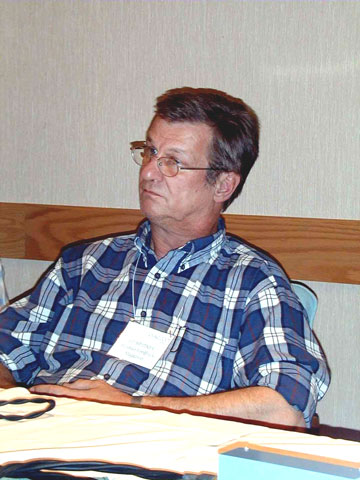 Ed Meitner of EMM Labs gets a 2004 Brutus Lifetime Achievement Award for his major contributions to digital playback technology going all the way back to the Soundstream days, and particularly for his unique world-class accomplishments in the world of DSD and SACD engineering. Audiophiles everywhere are deeply in Ed's debt for helping to establish DSD/SACD as the "next generation" digital audio format.
Loudspeaker (reference stereo): none this year
Loudspeaker (surround system): the Linn Akurate system (242/225/212)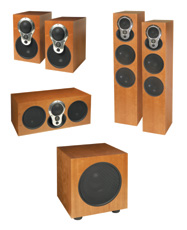 The Linn Akurate System (photo courtesy of Linn, Inc.)
Linn deserves recognition for its exceptional Akurate line, which puts monitor-grade coherence into our surround sound/home theater rooms. A striking combination of beautiful form and excellent sound; Linn continues to excel as a premier producer of fine audio equipment at a global level.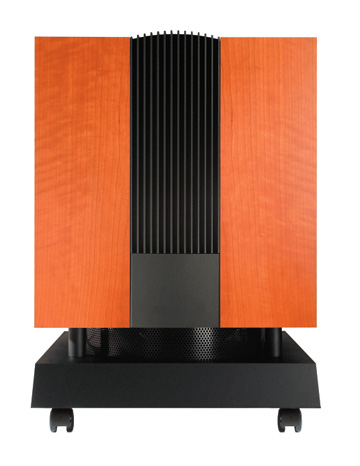 Loudspeaker (subwoofer): the Linn Melodik (photo courtesy of Linn, Inc.)
Linn's subwoofer for the home theater crowd, handsomely designed and providing clean deep bass without wooliness or the "muddy-tubbies." Adjustable crossover and a dedicated 200 Watt amplifier make this a well-integrated accompaniment to the rest of the Linn Akurate system.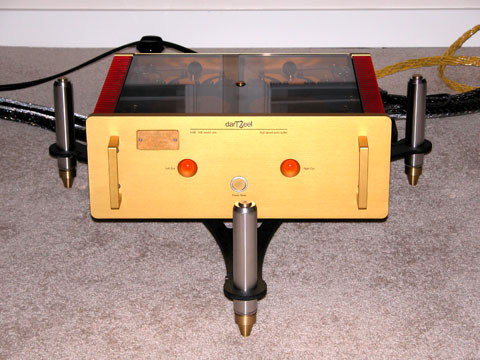 Solid-state amplifier: darTZeel NHB-108
A late-comer to my listening room this year (fall of 2004), the darTZeel plays smash-mouth with the traditional image of the solid-state stereo amp. Detailed, without carving its initials in your eardrums; silky, without being rolled off; gain without overdoing it. Here's an amp that gives you 100 Watts per channel that don't sound like they're working up a sweat—and all this from an amplifier designer who clearly has a sense of humor about fine audio. A category buster, for sure!
Tube amplifier: none this year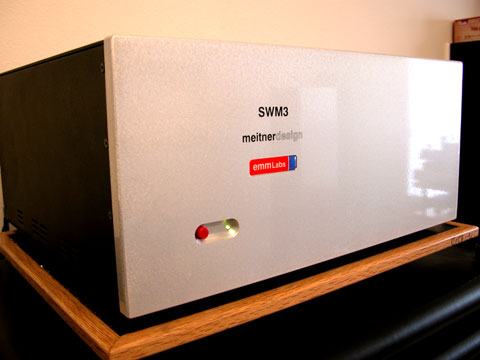 Solid-state preamplifier: EMM Labs SWM-3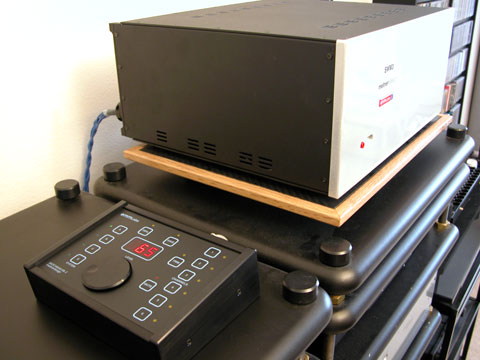 Can you spell "TRANSPARENCY"?! Ed Meitner's EMM Labs Switchman-3 preamp gives us 2-6 channels of preamp, with no less than four sets of 2/6 channel inputs (2 sets of inputs balanced, 1 set balanced or unbalanced, 1 set unbalanced), plus both balanced and unbalanced outputs(!) This is the preamp for DSD/SACD use, but also shines with analog sources, staying out of the way of the signal. The SWM-3 lives up to my standard for preamps: "gain without pain!" And it also shows Ed Meitner to be an audio engineer with many talents…DSD and SACD development and design are only one aspect of his abilities.
Tube preamplifier: none this year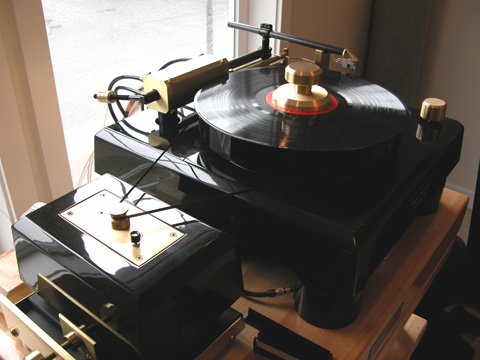 Turntable (linear air-bearing arm): Walker Audio Proscenium Gold Signature system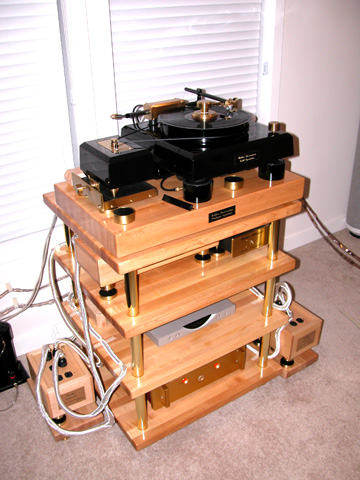 Well, what can I say? The Walker Audio Proscenium Gold Signature turntable (and its related components selected below, together with the Micromagic Magic Diamond MC cartridge) embodies turntable design done in a particular way, at the highest level. An air-bearing, linear tracking arm made of pure carbon fiber… a lead platter without vacuum hold-down, floating on air…an extraordinary pump system for all air requirements, suspension and tonearm… the Proscenium is accomplishing vinyl playback at a stratospheric level that I've never heard in my listening room before. Contrary to its reputation, the Walker Audio Proscenium is extremely adjustable in a number of important parameters, but it is not "tweaky." (More on that in my forthcoming review, where I will draw a distinction between the two.)
A unique achievement, and an obvious winner in the category of "whatever it takes" in the world of turntables; as such, it takes its position at the very top level of turntable engineering.
Mind bending, my friends—truly awesome.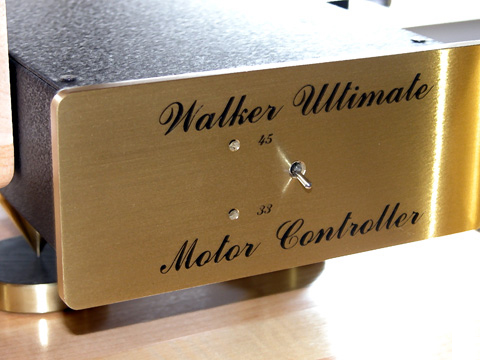 Turntable motor controller: Walker Audio Ultimate Motor Controller
Part of the Walker Audio Proscenium system listed above, the Walker Audio Ultimate Motor Controller is available separately for turntables using AC motors. The result with the Proscenium is nothing less than stellar: the KAB strobe shows it to be spot-on and locked-down, providing "adjust it and forget it" precision of turntable playback in both 33 1/3 and 45 RPM settings.
Not cheap; but world class, without a doubt.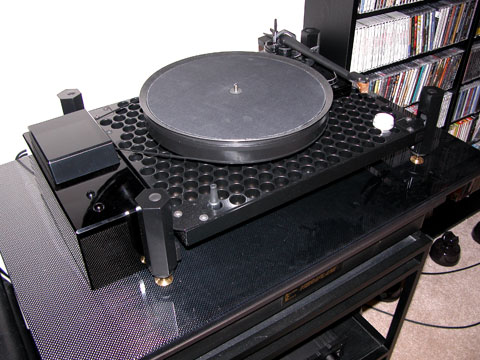 Turntable system (pivoting arm): SOTA Millenia turntable with the SME 4.5i tonearm (separate 2004 Brutus Awards to both SOTA and SME for this synergistic match!)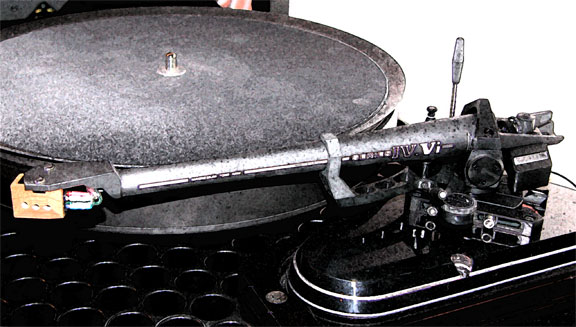 SME 4.5i tonearm with Cardas Myrtle Heart (fresco) on the SOTA Millenia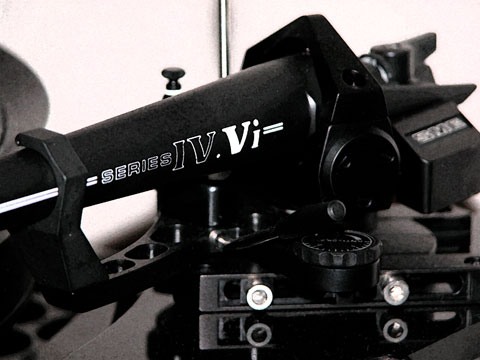 The SME 4.5i tonearm (fresco)
Another relative late-comer to my review queue was SOTA's reference model the Millenia. A completely different approach to turntables (and a different price point than the Walker Audio system), the SOTA Millenia takes a "belt plus suspenders" approach to handling LPs, mating vacuum hold down and a workmanlike record clamp. These are set on a very rigid platform using an innovative bored-out chassis and shock-absorbing suspension. In the review system, an SME 4.5i tonearm was mated with a Cardas Myrtle Heart to produce a smooth, ever-musical analog playback. The Cardas Myrtle Heart's tonal balance slightly to the warm side does an excellent job of counterbalancing the SME's tendency to detail.
It is particularly pleasant to note that SOTA has come up with a vacuum hold-down system that does not seem to attract undue grunge to LPs. Better yet is the fact that the vacuum motor is so quiet that you can definitely have it in the same room that you listen in! On the other hand, potential buyers should note that "some assembly is required."
The SME 4.5i is an impressive achievement in tonearms, and is worthy of its own Brutus Award. Carefully engineered, solid as a rock, and a pleasure to use, the SME 4.5i has a detailed, with a tonal balance slightly to the cool side. The combination of the SME 4.5i and the Cardas Myrtle Heart is highly synergistic, with the strengths of each complementing the other.
Kudos to SOTA for the Millenia as configured above; it's a turntable for LP and music lovers everywhere.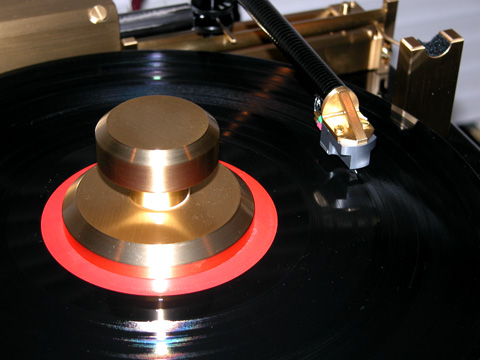 MC cartridge (medium output): the Micromagic Magic Diamond (pictured here in action on the Walker Audio Proscenium Gold Signature turntable)
This is the current reference cartridge from the Swiss firm, Micromagic, and was recommended by Walker Audio for use with their Proscenium reference system in preference to the Clearaudio Reference that was their previous choice (at twice the price). It's already a "vinyl underground" classic, with a number of cartridge connoisseurs buzzing with the news of an important new reference standard. There's no doubt about it at all in my mind: the Magic Diamond is simply superb… unquestionably the best MC that I've ever had in my listening room, or have heard thus far along my audio journey. Extraordinarily detailed, extended at both ends, natural, and running over with effortless ease and transparent soul, listening through (not to) the Magic Diamond has been a watershed event in my turntable experience.
Thanks for Art Manzano at Axxis Distribution for carrying this cartridge in the USA (http://www.axiss-usa.com/contact.html), and a BIG "gracias!" to Walker Audio for drawing my attention to this truly amazing MC.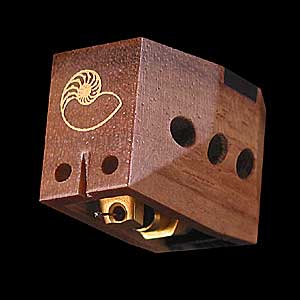 MC cartridge (low output): Cardas Myrtle Silver Heart (photo courtesy of Cardas Audio)
As noted in the SOTA review above, the Cardas Myrtle Silver Heart with its silver-wound coil and its .26mV output takes some breaking in (50 or so hours), but once it's there, it pumps out music all day long. The Cardas is detailed, but doesn't lose the music (or your soul) along the way. Neither is it too warm or rolled off.
This is an MC for people who really get into the music carved into their vinyl, and who are looking for synthesis more than analysis, the Cardas Myrtle Silver Heart is an excellent way to go.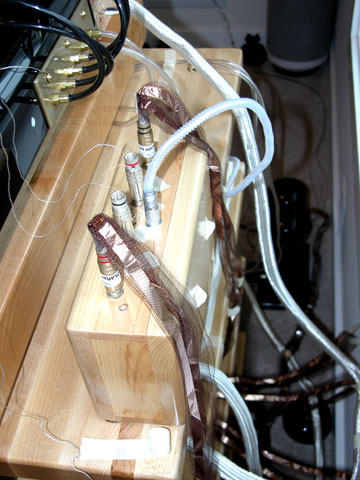 Solid-state phono amp (MC fixed): Walker Audio Reference Phono Amplifier (shown here mounted behind the Walker Audio Proscenium turntable, and directly connected to the cartridge leads, resting on the Walker Audio Prologue Top Shelf and Prologue Rack… the planar output cables are the Omega Mikro Active interconnects, another Brutus Award winner for 2004)
Here's a truly extraordinary thing: a reference-grade phono amp housed entirely in maple, with nude solid-state components of the highest quality inside, hand-wired with very fine pure silver cables in a point-to-point fashion, and cryogenically treated to a "deep immersion" process before completion.
No dials; only left/right pot adjustments for zeroing the output (via the provided digital multi-meter). No LEDs. No frills.
In the reference grade edition, there is a direct connection of bare pure silver phono cartridge available as an option that leads to the Walker Audio Reference Phono Amp, which can be placed directly behind the Proscenium (or other) turntable… no lengthy interconnects at all! The reference power supply in its separate maple housing powers the unit without hum.
It looks unlikely; it sounds like a serious slice of heaven! All this, and 66dB of gain. Friends, the Walker Audio Reference Phono Amp is a true reference standard for LP playback.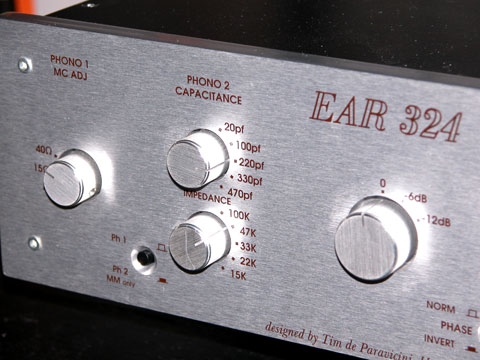 Solid-state phono amp (MM/MC/variable): E.A.R. 324 Phono Amplifier
Tim de Paravicini does it again! A solid-state phono amp that gives a very fine set of controls for both MC and MM playback. Two input channels, with both balanced and unbalanced output, and up to a very impressive 72dB of gain… the E.A.R. 324 is an exceptional solid-state performer. Whisper quiet, with detail and musical soul… virtues galore.
May the reader pardon the cliché, but whether you do or not: I liked it so well that I did buy it!
Tubed phono amp: None this year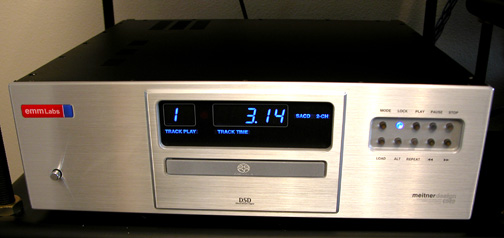 SACD transport: EMM Labs CDSD
I was able to source an EMM Labs CDSD in time for the Brutus Awards, courtesy of Jonathan Tinn of Chambers Audio/Blue Light Audio. (Thanks, Jonathan!) Let me be blunt: this is the best SACD/CD transport that I've ever heard. In tandem with either the EMM Labs DAC6 or the DCC2 (and I've listened to both), and using the Meitner optical link with separate fiber paths for clock and data, this is the best digital playback for both DSD/SACD and PCM that I've heard. There is no aspect of SACD or CD playback that it doesn't do in a world-reference way… your choice of criteria.
Period.
End of story.
"GET THEE TO A MEITNER!!!"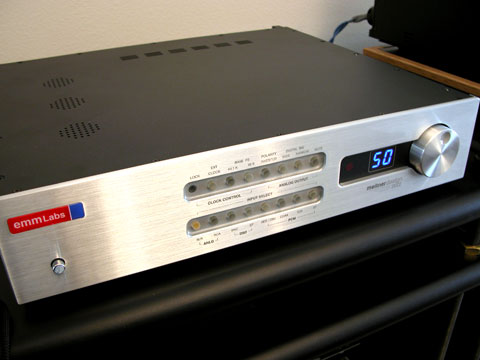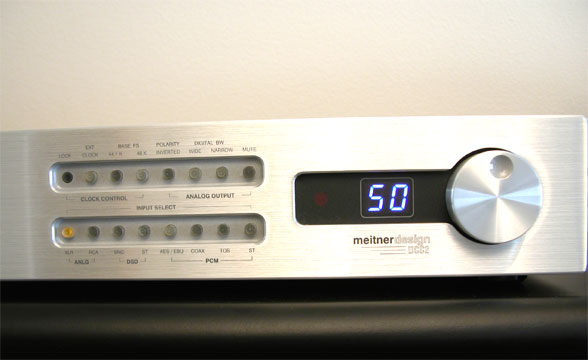 SACD/DSD Converter (stereo only): EMM Labs DCC2
The stereo version of the EMM Labs SACD/DSD and PCM converter also includes brilliant preamplification and a wireless remote, all done in a very attractive package. The DCC2 has all the reference-level strengths of the DAC6 multi-channel package, without the excess channels that a stereo purist eschews.
What I said about the EMM Labs DAC6 (a Brutus Award 2003 winner) last year, I can say about the DCC2 for those seeking stereo only: this is it, mates! Want the current best digital conversion in the world, in my experience? Then this is it.
"GET THEE TO A MEITNER!!!"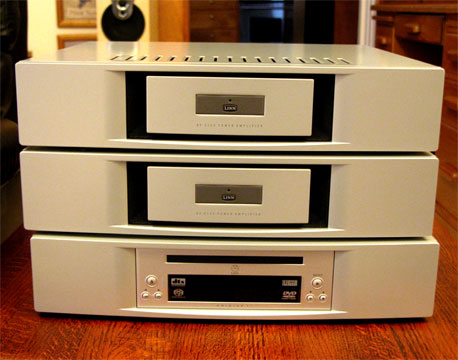 Universal player: Linn Unidisk 1.1 (the bottom unit in the image above, beneath two Linn 5125 5-channel amplifiers)
The world of universal players is crowded with entry- and mid-priced contenders, but the Linn Unidisk 1.1 clearly sets the standard for the playback of multiple formats with minimal compromise and maximum quality… and this includes DVD video. With its array of I/O options and its Linn digital engine, the Unidisk 1.1 is second in my experience for SACD playback only to the EMM Labs CDSD/DAC6 or DCC2 combination; as a universal player it's top of the heap!
DVD-A still requires a monitor, of course… one of several curses to that format… but if you have one, then the Unidisk 1.1 is going to give even those discs a serious spin.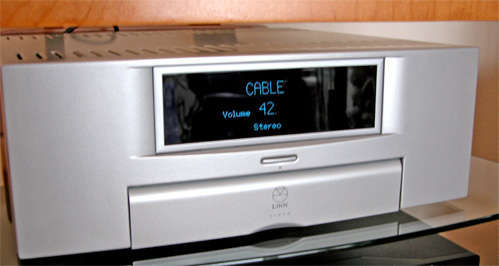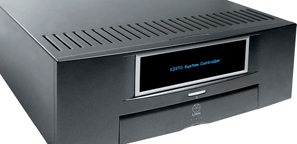 Surround Controller and Processor: Linn Kisto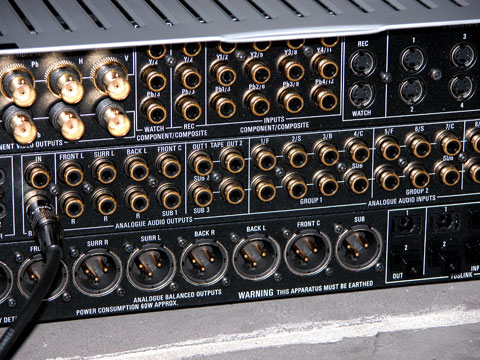 Rear view of the Linn Kisto — I/O galore!
Lawdy, Miss Clawdy! A relative late-comer to the review year, but the Linn Kisto is one of those rare "does it all" components that do massive input/output without compromising sound quality, functionality, or scalability. It can handle video I/O, audio I/O in both stereo and surround modes, and multiple rooms/whole house (via the Linn Knecht system). It's also massively programmable, auto-selects Dolby modes, handles just about any connector currently in favor, washes the clothes, rakes the yard...
Well, maybe not the last two, but it does do all the rest of them.
Surround sound lovers/home theatre owners (and concert DVD video lovers especially!) who can handle the price tag need to put the Linn Kisto on a very short list when it comes time for auditioning. The intelligence of design and performance of the Kisto is superb.
In my experience, the Kisto is unique.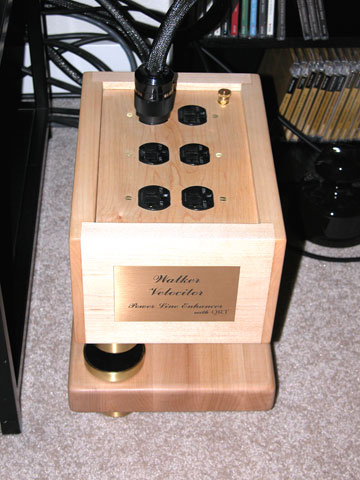 Line conditioner: Walker Audio Velocitor
Another extraordinary design from Walker Audio—this time addressing the challenge of providing pure, clear, extremely transparent power via an all silver, point-to-point, cryo-treated socket system, once more in the blond maple that has become a signature of the Walker Audio design. In tandem with the right power cable (especially the Omega Mikro Active 900 Watt and 100 Watt systems listed immediately below), I've never heard better than the Velocitor in my listening room. Only the JENA Labs Fundamental Power 6.1 (last year's Brutus Award winner in this category) has anything like the virtues of the Velocitor.
The Velocitor with the Omega Mikro Active series power cables is a wonder! If you're looking for a line enhancing system that will take things right to the extreme edge of maximum transparency, quickness, transient response, and detail, then look no further. This is it.
BTW: do consider the "optional" maple isolation stand and the Walker Audio Valid Points to be non-optional. If you're going to do the Velocitor, make sure that you include all of these for best results.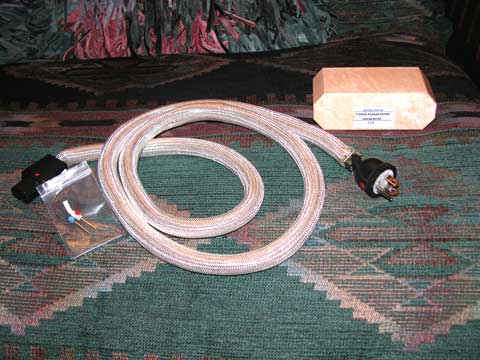 Power cables: Omega Mikro Planar III Active 900 Watt and 100 Watt systems
Silver-coated copper mesh protectors over "specially insulated planar conductors." Maple battery cases to provide DC power to a DC electronic shield, plus a special filter. Very supple handling… but very fragile! Delicate… ike music itself.
These are the Omega Mikro Planar III power cables, available in either a "blue" or a "red" configuration, for best directional results in your system. (Which is best? You get to try both to find out!) These cables represent an astonishing level of accomplishment in power cabling, at the trade-off price of requiring very careful handling and planned deployment. Note that both 100 Watt (for smaller components) and 900 Watt (for amplifiers) are available.
If you're willing to invest money (these are not cheap), the care and effort required for proper deployment, and live in a household without small children/pets, then the Omega Mikro line is the most highly nuanced, remarkably revealing power cables that I have heard, ever.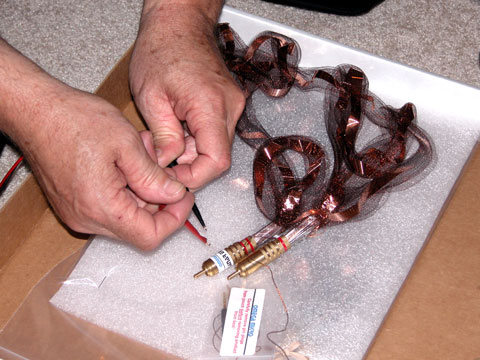 Interconnects: Omega Mikro Ebony Active LCX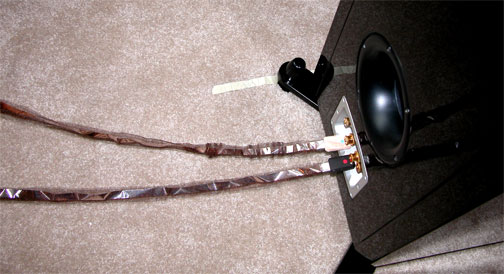 Speaker cables: Omega Mikro Ebony Active LCX
Silver on one side, copper on the other, the Omega Micro Ebony Active line of cables is a no-compromise design for the audiophile willing to go to the limit in the pursuit of those last few points of audio performance at the far end of the curve. Dittoing my comments about the fragility of the Omega Mikro cables and the care required for deployment and movement of same in the power cables section, the Omega Mikro Ebony Active interconnects and speaker cables provide "edge of the world" performance and incredible detail, transparency and speed. These are another in the active line of cables from OM; they have DC-based shielding, using battery power to provide protecting against outside interference to the delicate signal being transported.
The downside is the cost of the cables (another "these ain't cheap!" component set) and their fragility. No kids, pets, or klutzy friends/owners allowed…you can see through these planar cables.
If you have the budget, the setting and the commitment to the very best, and aren't afraid of the demands that this level of cable technology will make upon you, then the Omega Mikro Actives are automatic finalists for your consideration.
Yes, they are that good.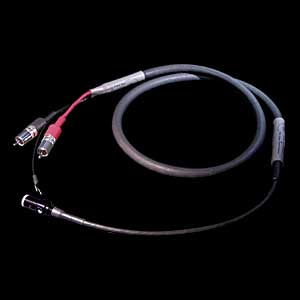 Turntable cable (standard DIN): the Cardas Golden Reference Phono Cable (used in the SOTA Millenia/SME 4.5i/Cardas Myrtle Heart review project; photo courtesy of Cardas Audio)
An extremely important part of any turntable system is the cable used to transmit the delicate signal from the cartridge to the phono amp. When I was discussing the final configuration of the SOTA Millenia review project with Kirk and Donna Bodinet of SOTA, we decided that a combination of the Cardas Myrtle Heart with the Cardas Gold Reference Phono Cable would be highly synergistic with the SME 4.5i tonearm. A quick phone call to Cardas Audio confirmed that they were willing to participate in the project… thanks, George and Colleen!
The results are exceptional: detail without astringency, warmth without tubbiness, and a slightly more neutral tonal balance than the Cardas Golden Cross that I am very well familiar with. The Cardas Golden Reference has proven to be highly synergistic with the SOTA Millenia and SME 4.5i tonearm, as I suspected. (I also think it likely that any member of the Benz family of cartridges would do very well with the Cardas Golden Reference phono cable.)
I've used a couple of standard DIN phono cables over the past 7-8 years, but none that I've liked better than this one. The Cardas Golden Reference is a real music pipeline for turntables; put it on your very short list if you're planning to audition/upgrade your DIN-based phono cables.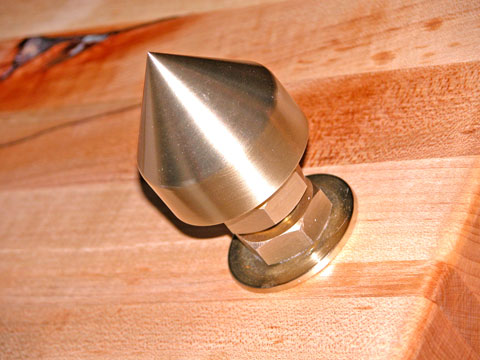 Isolation devices: Walker Audio Valid Points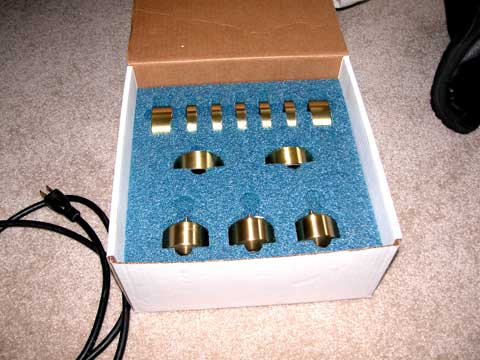 Isolation devices: Valid Points Super Tuning Kit
Another score for Walker Audio! The Valid Points and the Valid Points Super Tuning Kit represent vibration/resonance control technology taken to an exceptional level. Fashioned of brass, carefully shaped, and (in the case of the resonance controllers) constructed of brass pucks filled with an anti-resonant material, the Walker Audio Valid Points/Valid Points Super Tuning Kit are wonderfully crafted and provide a complete tool set for isolating components and dealing with resonance gremlins.
Serious tweakers and those interested in improved resonance control will want to check these out… great stuff!
System enhancers: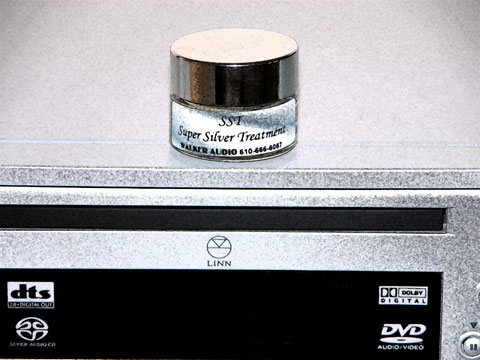 Walker Audio SST Contact Enhancer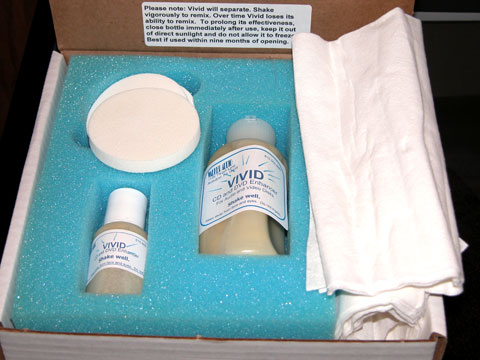 Walker Audio Vivid SACD/CD surface treatment
I've raved at some length about these two important enhancement products from Walker Audio, and won't go back over that ground. (Interested readers will find SST covered in my review in PFO Issue 13 at http://www.positive-feedback.com/Issue13/walkeraudiosst.htm, and Vivid evaluated in PFO Issue 14 at http://www.positive-feedback.com/Issue14/vivid.htm.)
In short, these are two products that set the standard for their product categories among all the samples that I've heard. The SST is unique… you aren't really hearing what your system can do until you use it. (CAREFULLY! This is VERY CONDUCTIVE STUFF! Follow Walker Audio's directions for application, however, and you should be fine. Klutzes will either want to find a steady-handed friend, or should steer clear.)
Vivid is a revelation for SACDs and DVDs, noticeably improving both audio and video performance. You really want to have Vivid around for enhancing the playback of the silver devils.
Vivid has also stirred up the creative fire in competing firms. We'll see how this turns out in 2005!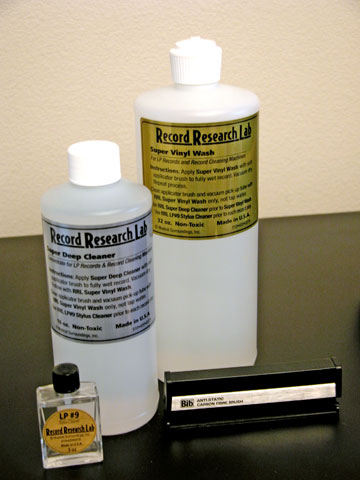 LP cleaning solutions: Record Research Labs
Brian Weitzel's RRL Vinyl Cleaning and Super Cleaning solutions have been my constant companions over the past year. These have just recently been released in an "improved" formulation, which I have been using in my VPI 17F, and also using with carbon fiber brushes followed by vacuuming. I am noticing fewer tics and pops with the RRL than with earlier LP cleaning solutions that I have used. (E.g., VPI solution, or the Torumat solution that was another fave of mine over the years.)
There is a standard cleaning solution, and also a "deep cleaning" version of Record Research Labs' formula for the especially gunky LPs. Cheap bin divers and flea market/garage sale record buyers should check this out.
I have another candidate for a last-minute Brutus Award in this category, so may add another name to the list of LP solutions shortly… but the RRL solution will not be displaced by that addition.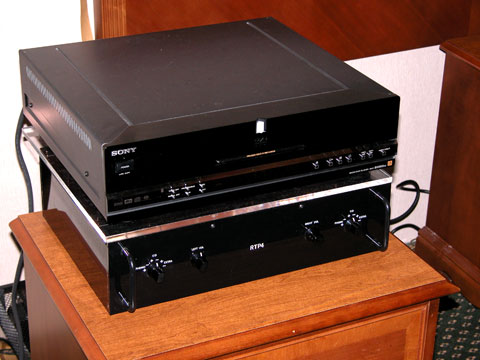 Best SACD modifications: Allen Wright of Vacuum State Electronics, modified Sony DVP 9000ES (VSEI Level 4 mods, balanced output)
This is an unqualified rave, my friends. (For the full text, check out PFO Issue 15 at http://www.positive-feedback.com/Issue15/9000se.htm.)
I have heard many very fine modifications developed by Richard Kern, Dan Wright… and now, Allen Wright. Of them all, the Vacuum State Electronics Level 4 mods with balanced output come closest to the sound and virtues of my reference standard EMM Labs CDSD/DAC6 or DCC2 SACD playback systems. If you can't "get thee to a Meitner!" then do the next best thing: get thee to Sir Allen of VSEI!
The Gizmo Award for 2004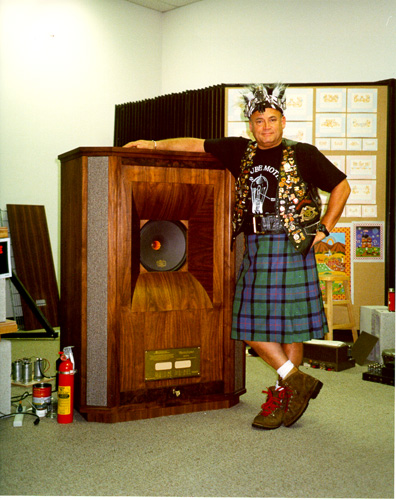 Harvey "Gizmo" Rosenberg, in full Triode Guild Techno-Shaman regalia
Last year, in announcing the Gizmo Award, I stated the idea behind it:
Long-time readers of PF and PFO know that Harvey Rosenberg (AKA "Gizmo") was a close friend of mine, and a valued member of the PF writing community for a number of years. His untimely death a couple of years ago was a real blow to fine audio, the loss of a uniquely creative writer. In Harvey's memory, we have created an annual award that (like Harvey!) will be unique: a one-only-per-year recognition of a person/design that is surfing the edge of audiomania, going all-out to push the frontiers of fine audio. There will be no multiples of this prize… no hard-and-fast categories… and if nobody floats our boat in a given year, it won't be awarded.
(You can also read Terry Cain's accompanying article on Harvey Rosenberg and the Gizmo Award in PFO Issue 10 at http://www.positive-feedback.com/Issue10/gizmo.htm.)
Well, there may be some years in which a Gizmo isn't awarded… but this year isn't one of them! I'll be detailing the audiomaniac meticulousness of this year's winners in a future photo essay, but there is no doubt in my mind as to who "gets the Giz" for 2004: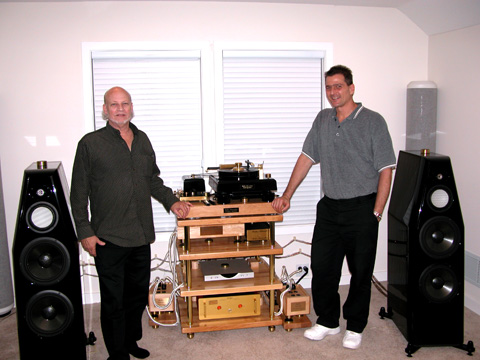 Lloyd Walker and Fred Law of Walker Audio
These two gents show more determination to get it right with their reference turntable system, their tweaks, and their system enhancements than anyone I've seen in recent years. (Heck, they've been wearing me out this year!) It'll take me quite a while just to do the image editing for the photo essay that I'll publish, outlining the procedure they followed to get the Walker Audio Proscenium Gold Signature system set up. And the development of the Walker Audio SST Contact Enhancer and the Vivid SACD/CD Surface Enhancer were products of an effort to achieve "modern fine audio through stellar tweakery." After working with a number of their products in 2004, I concluded that Lloyd and Fred deserved the Gizmo, hands down.
Besides which, they are two of the nicest crazy guys I've met in fine audio!
Move over, Josh Stippich—here come Lloyd Walker and Fred Law!