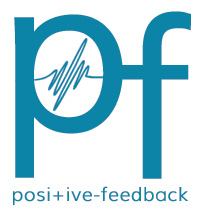 You are reading the older HTML site
Positive Feedback ISSUE 16
november/december 2004
The Higher End: Robinson's Brutus Awards, and the Gizmo Award, for 2004: Part 2
by David W. Robinson
All photographs and image processing by Robinson, unless otherwise noted.
Part two of my Brutus Awards for 2004 wraps up some last minute projects and evaluations. This doesn't clear the queue—there were other products which arrived during the past several months that I simply didn't have time to complete a sufficient evaluation, but which are already in the running for a Brutus Award in 2005. Among these is the latest revision of the Auric Illuminator digital disc enhancement system, the audiodharma Cable Cooker 2.5, the Disc Doctor's Miracle Record Cleaner system for LPs, and several promising new designs from Tube Research Labs.
Be patient!
SACD enhancers: Record Research Lab's Shine Ola™ solution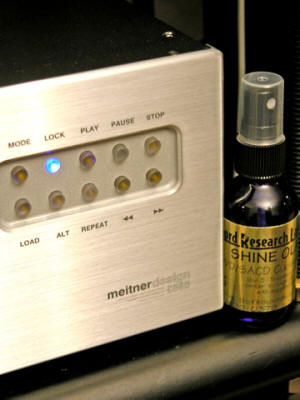 The EMM Labs CDSD and Record Research Labs Shine Ola: an excellent duo!
Not quite as forward (vivid?!) in effect as Walker Audio's Vivid SACD/CD enhancer, RRL's Shine-Ola has been a welcome replacement for my now discontinued JENA Labs Esoteric Mist treatment solution over the past year or so. Brian Weitzel's formulation is safe for use on all but the first generation of gold finish Sonopress SACDs. I have found the Shine-Ola formula to provide excellent clarity to any SACDs or CDs that I've applied it to. It doesn't provide quite the same level of detail as Vivid, but some SACDs may benefit from the slightly less revealing presentation that Shine Ola gives.

Headphone Amps: The Headroom Blockhead Headphone Amp (continuous gain pots, not the stepped attenuator model; photos courtesy of Headroom)
I'm sitting here typing these Brutus Awards while listening to the bloody fine Blockhead reference headphone amp from Headroom, using the Cardas XLR headphone cable upgrade run into a pair of Sennheiser HD-650s. The result of this combination of components is truly exceptional: sound that is rich, detailed, intensely involving (I'm listening to the Classic Records 96/24 DAD of Glory right now… haunting), and a profound pleasure to listen to. As in, "Can you spell SYNERGY?!") The Blockhead's true dual mono construction, really intelligent design—including left-right processing to avoid too much "ping pong" in headphone listening, phase inversion, switchable floating ground, switch-adjustable gain, and switchable filtering for brightness—and uncompromising XLR configuration, make for a headphone experience like I've never had.

Headphone lovers, this is flat-out the best headphone amp that I've ever heard. The only option available in this model is the stepped attenuators; maybe I'll give that version a test flight in 2005. This one is easy: if you can handle the price tag and love the best for your 'phones, the Headroom Blockhead/Cardas XLR headphone cables/Sennheiser HD-650 headphones are, at this point in my experience, ne plus ultra.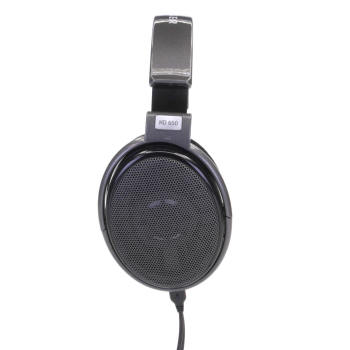 Headphones: Sennheiser HD-650 [photos courtesy of Headroom]
My comments about the magically synergistic combination of the Blockhead/Cardas/Sennheiser HD-650 are above. All that I need to say here is that my trusty-rusty and beloved Beyer Dynamic DT-990s have been thoroughly dethroned by the HD-650s. The 650s are deep, rich, nicely extended, wonderfully detailed, and comfortable too. I'm not the world's biggest fan of headphone listening, but the 650s with the Blockhead and Cardas headphone cabling has changed my thoughts on that subject ever since they arrived.
The Sennheiser HD-650's are absolutely the finest headphones that I've ever heard…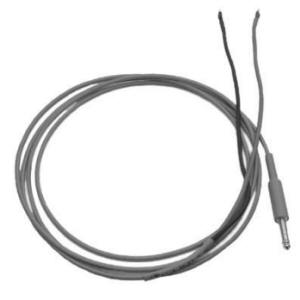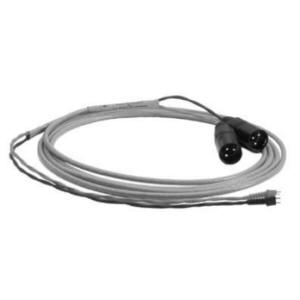 Headphone cables: Cardas Headphone Cables (both XLR and "Cannon" style ¼" jack) [photos courtesy of Headroom]
…provided that you get them with the Cardas headphone cables. The stock Sennheiser cables are OK in either ¼" cannon jack or XLR, but take my word for it, the Cardas cables are significantly better in every way. No comparison. Period. End of story.
In other words, don't even think about purchasing the Sennheiser HD-650s (or the Headroom Blockhead!) without budgeting for Cardas headphone cables, amigos.
It's as simple as that.
Music
Universal Music Group: The RCA Living Stereo reissues on SACD; the Mercury Living Presence reissues on SACD
What can I say? In one year, UMG has placed music lovers and audiophiles everywhere very deeply in their debt by beginning the release of some of the most treasured classical recordings ever made. While not completely without flaws in their transfers (particularly the RCAs), there is no doubt that these SACDs show us the extraordinary promise of DSD and the SACD format when used to deliver recordings and performances of superior merit.
"Mic feeds and master tapes for the masses!" Kudos to UMG… and a Brutus Award that is richly deserved!