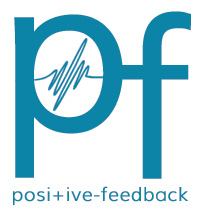 You are reading the older HTML site
Positive Feedback ISSUE 16
november/december 2004
A First Look at the Next Four the New Mercury Living Presence SACDs
by Robert H. Levi
The next four Mercuries are on the shelf. Two of them are state of the art, one is excellent, and one is very good. These German productions are absolutely first rate, eclipsing the mediocre BMG/RCA effort. The SACDs preserve the swagger as well as the sweetness and texture of the original LPs while lowering distortion considerably. I use them as demo discs for visitors, and love to listen to listen for my own enjoyment. I hope they do the entire Mercury repertoire.
While these discs offer standard stereo CD layers along with two- and three-channel SACD layers, the CD layers are the same as the ones on the 90s CDs, and they fall far short of the SACD layers.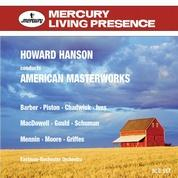 The Best of the Best: Hanson Conducts Hanson (4756181)
This disc is wonderful. It sounds like you are running the master tape in your listening room. It is unfailingly musical, with delicate textures and marvelous crescendos. Though not as dynamic as the Chabrier disc, it is so musically truthful that it will transport you to the event. The Song of Democracy is the best yet recorded, and beats the LP hands down. The chorus is clearly arranged behind the orchestra, and all distortion and vagueness is gone! The SACD sounds so clear that I wondered if I had a defective LP, and I bought it sealed for $100! At $10.05, the SACD is a bargain. I have nothing to criticize about it. If you own an SACD player, you must acquire this disc ASAP.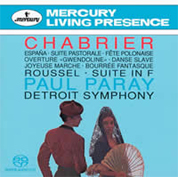 Almost the Best of the Best: Chabrier (4756183)
This disk has swagger with a bang. It is both musical and dynamicóeven more dynamic than the Stravinsky Firebird, yet still sweet and smooth. It is also entertaining, with exciting melodies that sound relatively modern compared to the Hanson. Boy, will it demo your gear! It sounds fantastic, equal to anything Iíve heard from Classic or Speakerís Corner. It may actually be a bit more alive than my original LP, but this is cartridge-dependent. It IS much lower in distortion and has better detail. This disc is oh so listenable, and a must-buy for both audiophiles and music lovers. I hope you canít wear these things out from frequent playing!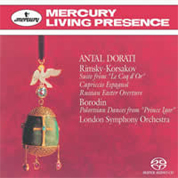 Quite Excellent: Rimsky- Korsakov (4756194)
This is a very fine SACD with excellent sound. It is pleasant and entertaining. The original recordings were not great (I have an original LP), so this is as good as this recording is likely to get. Thereís a lot of delicious music here, all played pretty well. The dynamics are bold and master-tape-like. The definition is first rate, and the sound is smooth and sweet. I loved the Capriccio Espagnol and the Polovtsian Dances. While this disc has very listenable but not reference-quality sound, I still think itís a must-buy.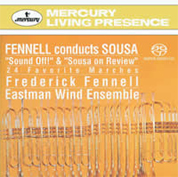 Very, Very Good: Fennell Conducts Sousa
Iíve never owned this recording, but I like this kind of band music on steroids. It is recorded with a rather distant perspective, with good but not great dynamics. The horn sound is nice, but the tympani are lightweight. Several selections are really well done, particularly the Sesqui-Centennial Exposition March and the Liberty Bell March. Lots of special effects are used to pump up the presentation. All is done live, with no electronic fooling around. I enjoyed the disc, though Iíve got better-sounding march music on other recordings. Buy it if you love Sousa.
Out of the first nine SACDs, Iíd buy eight. My favorite Mercury SACD releases so far:
Suppe (4706382): A+++
Hanson (4756181): A+++
Chabrier (4756183): A++
Byron Janis, Rachmaninoff (4706392): A++
Starker, Bach (4706442): A
Stravinsky, Firebird (4706432): A
Respighi (4706372): A
Rimsky-Korsakov (4756194): A-
These discs have a three-channel layer for those with a center channel. They must be swell, but the two-channel SACD layers are more than generous. Enjoy! Robert H. Levi