The Legendary Oscar Peterson Trio, Live at the Blue Note (Telarc CD-83717, 4-CD set)
by Karl Lozier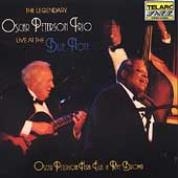 The setís title is completely accurate. Oscar Peterson truly is a legend. If you are a jazz lover, you do not need to know much more about this outstanding four-CD set, priced as if it were two discs. Aficionados probably know that these recordings were made during a historic two-week performance at the Blue Note in mid-March 1990, and probably own some of them. If not, here they are, at a bargain price and with excellent sound. The performances, nearly all of which are jam sessions, are not in exact chronological order.
All of the performances are excellent. Oscarís playing is a bit more relaxed than it was in previous years. There was no reason for him to show off. He had nothing to prove. The live atmosphere did not distract me. In fact, the Dolby Pro Logic Ilx mode in my home theater system heightened the illusion of being in the audience. The live recording is so clean, clear, and simply alive that I am almost embarrassed to note that it could have been a bit better. The very large setting of the Blue Note may have made it impossible to reproduce the last degree of bass extension and power of his Bosendorfer piano, and the same can be said of Ray Brownís excellent bass playing. I am fairly certain that drummer Bobby Durham would have preferred his microphones to be slightly closer, for greater presence. These are minor quibbles, and many listeners may not even notice them. Guitarist Herb Ellis was probably very happy with the sound of his famous guitar playing.
Petersonís playing, particularly in his later years, is so very lyrical that many lovers of "just good music" (i.e., not only jazz lovers) will enjoy these discs. All four CDs are similar. Most have eight selections, with three well known to all and most of the others composed by Peterson and known mainly to jazz fans. All are either melodic or lyrical and enjoyable. Well-known selections include "Hereís That Rainy Day," "Falling in Love with Love," "Body and Soul," "Yours Is My Heart Alone," and "Sweet Georgia Brown." Oscar Peterson is a long time favorite of mine, and I would not be without these recordings. I highly recommend them, particularly at their special price. Karl Lozier