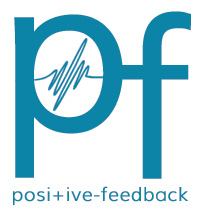 You are reading the older HTML site
Positive Feedback ISSUE 16
november/december 2004
Rocky Mountain Audio Fest: Photo Essay, Part 1
by David W. Robinson
All show photographs and image processing by Robinson.
In the aftermath of VSAC 2003, some of us a PFO were wondering if we'd be seeing another western regional fine audio event any time soon. The inimitable Doc B. of Bottlehead fame was pooped of organizing VSAC shows in Silverdale, Washington, and it wasn't clear that anyone else was willing to grasp the nettle. Regional audio shows are relatively thankless propositions: months of preparation, long hours, endless chumming for exhibitors—followed by endless moaning and complaining from said exhibitors during the show, and low return on investment. (Not to mention the loss of business while the organization of the show is happening.)
Definitely not for the faint of heart!
Which is why I was so pleased to hear that Ron Welborne of Welborne Labs (http://www.welbornelabs.com) had stepped up to the plate in organizing the Rocky Mountain Audio Fest (RMAF). Working in conjunction with some other local audio manufacturers/designers and the Colorado Audio Society, Ron kept the same approximate time slot (October 8-10), but shifted the venue from Silverdale to Denver, Colorado, and went upscale in the setting, selecting the Denver Marriott Tech Center Hotel as the new site. Good choice! The rooms and facilities were very fine, allowing for an enjoyable show in an excellent setting.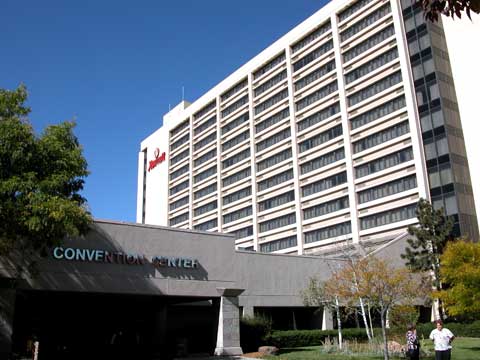 The Denver Marriott Tech Center…as you can see, the weather was gorgeous!
Another substantial change that was made for the RMAF was that the content of the event was broadened noticeably over VSAC. VSAC as a show traditionally concentrated on the SET, analog, and DIY/craftsman aspects of fine audio, with only occasional exceptions to that mix; the RMAF show included those areas, but also welcomed DSD/SACD, surround sound, push-pull, solid state, and home theater as valid items of interest to audiophiles. As such, the RMAF proved to be a different sort of experience than VSAC: more cosmopolitan, and more diverse.
Early on, PFO made the decision to cover this event in a significant way. Dave and Carol Clark as well as Roger S. Gordon came in from LA, Lila and I from Portland, Bryan Gladstone from Kansas, and John Zurek from the local area. In addition, PFO Associate Editor Mike Pappas was involved in helping to organize radio coverage via KUVO FM, and also provided a remarkable pure DSD surround sound demonstration using master recordings from his archives.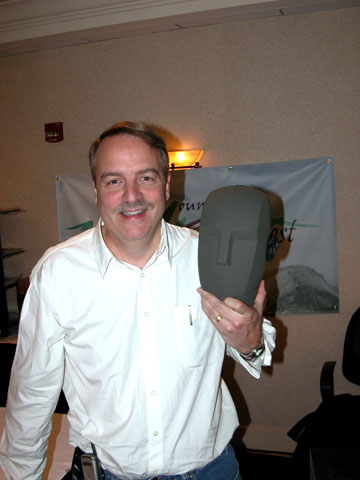 PFO Associate Editor Mike Pappas with his "dummy head" rear channel recording device.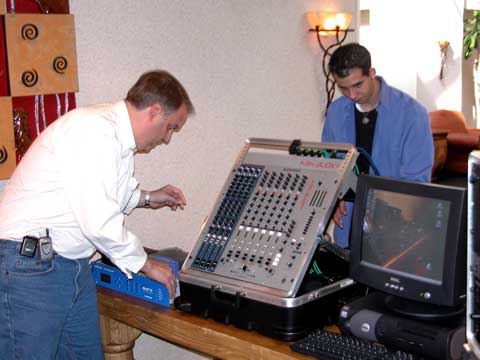 Mike Pappas setting up the console in the lobby for the daily KUVO FM live broadcasts from the Rocky Mountain Audio Fest.
Shortly after Lila and I arrived on Thursday afternoon, we were able to connect with Dave and Carol Clark and our good audio friend Dan Meinwald, get everything loaded, and haul our baggage to the Marriott Tech Center (greatly assisted by a very cool talking GPS). We unloaded, sipped a few brewskies, and got ready for Friday, the first day of the show.
RMAF: Day One
The fact that the show didn't start until noon on Friday gave us some time to wander around, get organized, and locate some of the key people that we wanted to talk with. The show occupied rooms on the main floor, the mezzanine, the second floor, and the ninth-eleventh floors—dozens of rooms and exhibitors to check out. Having a little lead time was helpful.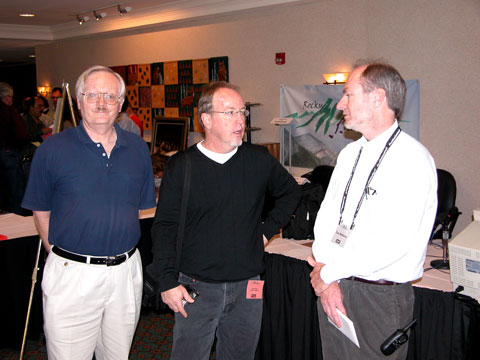 Roger S. Gordon and Dave Clark of PFO talk with Ron Welborne of Welborne Audio, the lead organizer of the RMAF.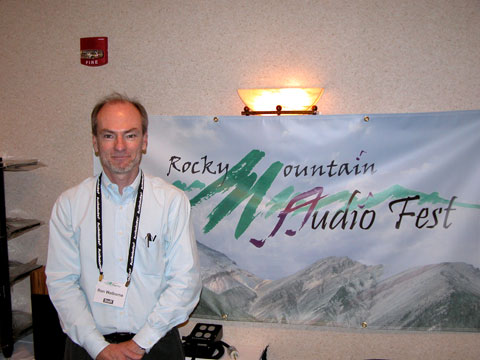 Ron Welborne next to the "official RMAF show banner" on day one. See how neat and mellow he looks? If you're an audio show organizer, "neat and mellow" doesn't last….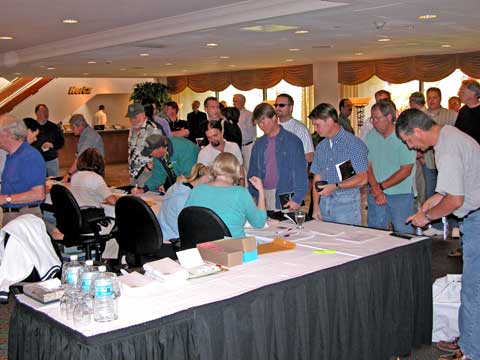 The lines for attendee registration on day one… lots of people, without being impossibly crowded.
The turnout looked pretty good to me, though I never got an official count as to the attendance. Over the span of the show, a number of industry reps that I talked with said that the traffic was good: enough people, without being standing room only. Overall, the impression that I got was that most rooms were finding that the number of attendees allowed for some time to get to know some people, and time to listen to the music. Most large audio shows do not have that luxury.
What follows is a photo presentation with light commentary. As usual, even smaller audio shows have far too much happening for any kind of comprehensive report, so I concentrate on hearing and photographing what catches my ear and eye. What I miss, I miss; what attracted me is here; what didn't do anything for me, I ignored.
The first room we visited was the Cain & Cain/Electronluv suite. As always, Terry Cain and Josh Stippich (winner of PFO's 2003 Gizmo Award) had a knock-out beautiful system, with plenty of audio enthusiasts (particularly of the SET/high efficiency clan) in attendance.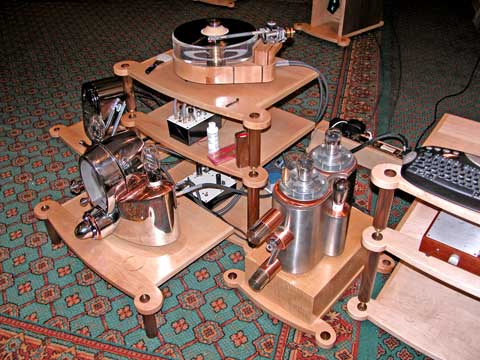 More delicious audiomania from Josh Stippich!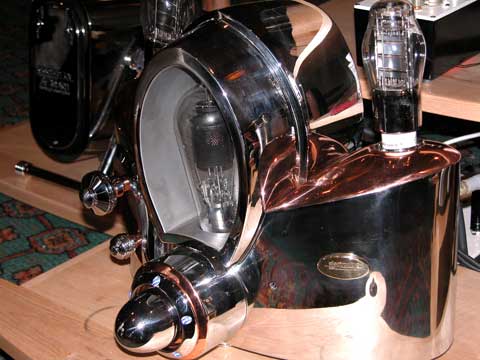 The Joshman sure knows how to turn metal and glass into audio sculpture.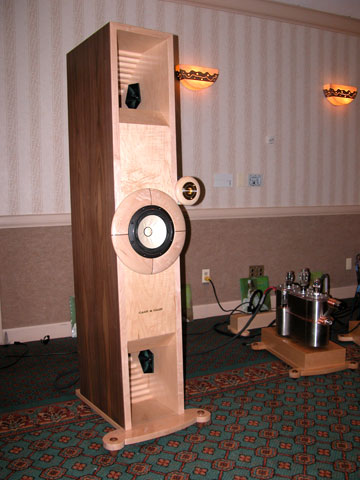 Terry Cain's striking Studio Ben high efficiency loudspeaker.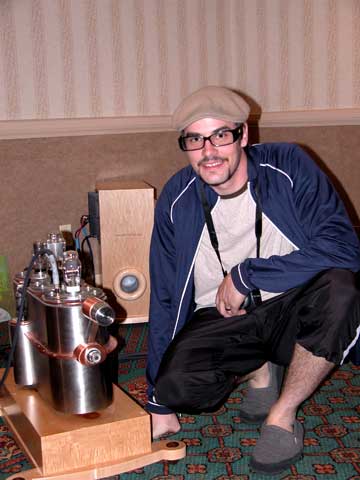 Josh Stippich with one of his creations…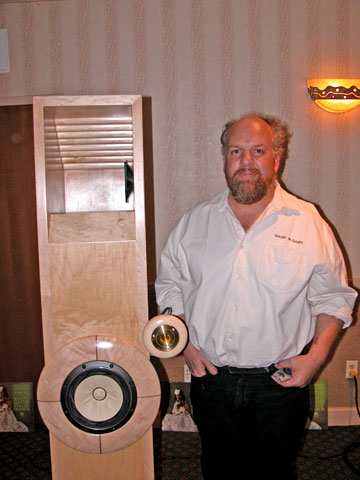 …and Terry Cain with the Studio Ben. World class woodworking, Terry… Gizmo would be ravin' proud.
After that—it was off to the races.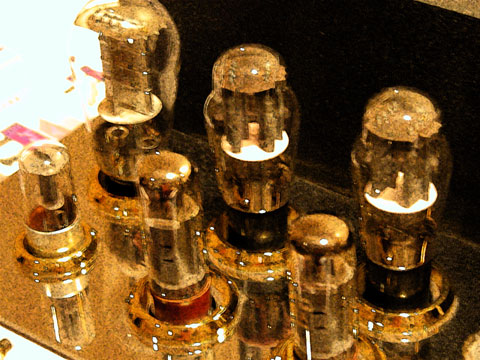 Lovely tubes in the Sounds Real/Cardas Audio room: a fresco of the Art Audio Carissa amplifier.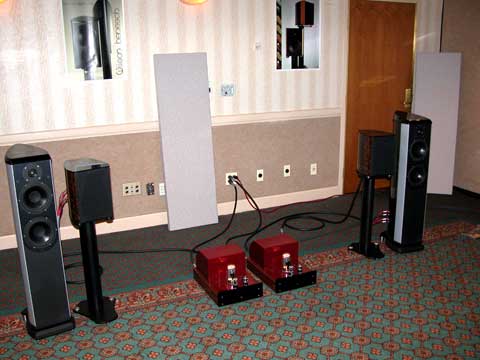 More Sounds Real: Wilson Benesch, the always great deHavillands, Cardas cables… good stuff.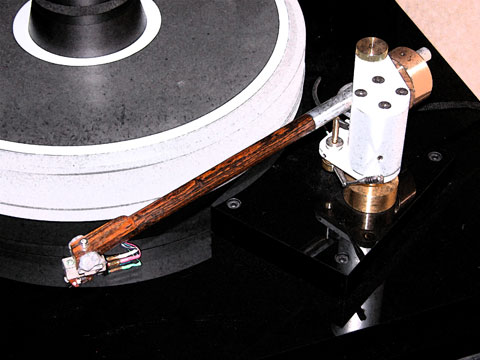 The Sounds Real room was a good place for turntable enthusiasts; here's a fresco of the Amazon turntable with one of the legendary Schroder tonearms. Sorry, didn't catch the cartridge… too bad this wasn't running while I was in the room.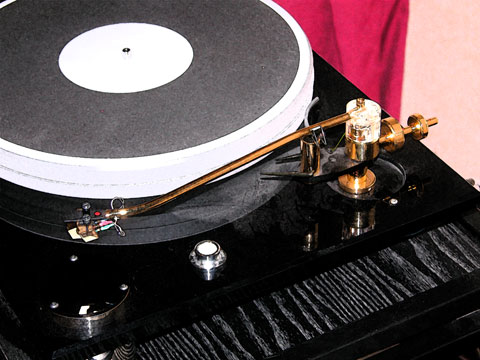 Here's a second fresco: another Amazon with a Moerch tonearm.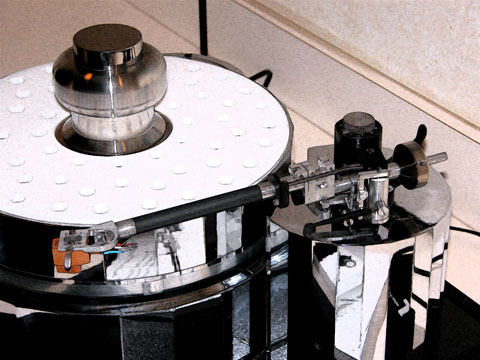 Continuing the audio gallery theme in the next room, this is a fresco of Tri Mai's Triplanar tonearm on a custom Redpoint turntable by Peter Clark.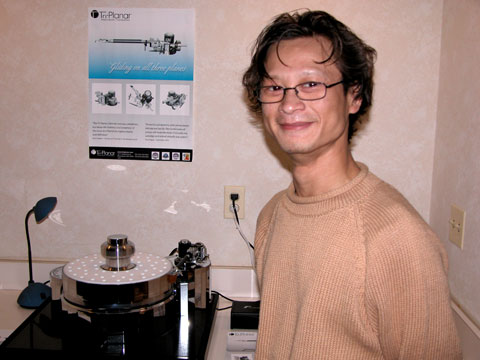 Tri Mai, the artist behind the Triplanar tonearm, stands next to the Redpoint/Triplanar combination. Tri is a very friendly, highly enthusiastic lover of turntables, tonearms (of course!), and vinyl; we finally got a chance to meet face to face at this show. The Triplanar is the result of his passion for the art form.
Here's the Triplanar arm mounted on a Kuzma Reference turntable, sitting astride a pile of Atma-Sphere gear.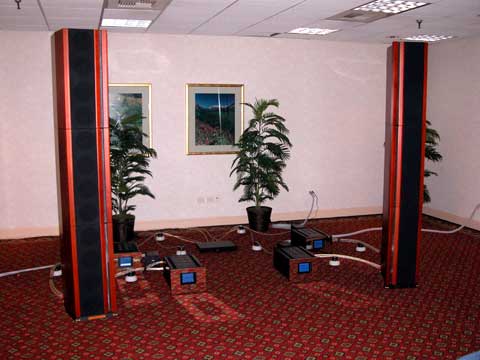 The next place I visited was the Audio Limits/Dali/Tom Evans/Genesis room. In this photo are the Dali Megalines, pictured with the Oasis statement monoblocks.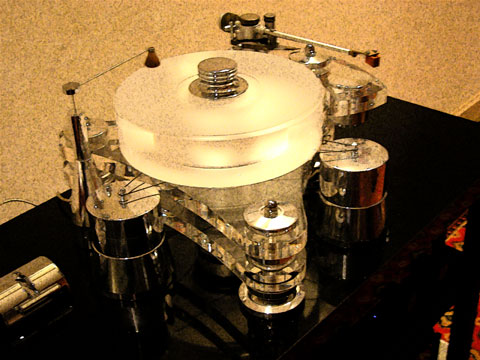 Back to the fresco gallery: Audio Limits also featured a Transrotor turntable, which kept catching my photographer's eye…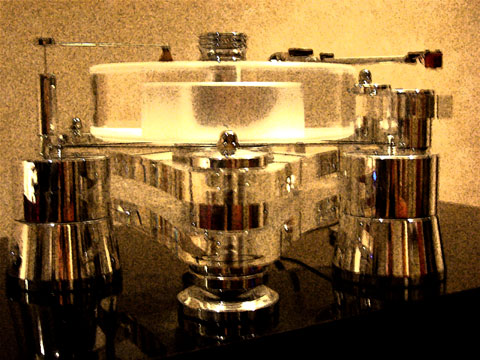 …for some obvious reasons. I guess that turntables can be ugly… and some are pretty homely… but they don't have to be. (Just make sure that they sound good, too, though….)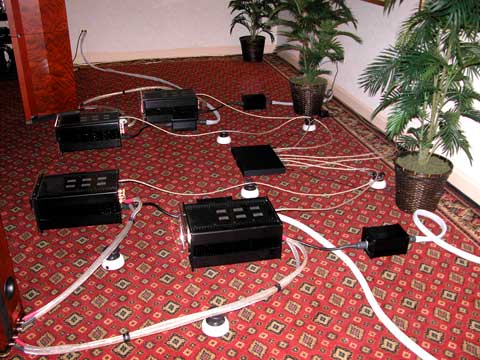 The Oasis Statement monos tied together with a network (!) of Silversmith cables. Watch your step back there….