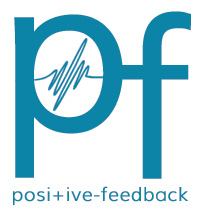 You are reading the older HTML site
Positive Feedback ISSUE 16
november/december 2004
Rocky Mountain Audio Fest: Photo Essay, Part 2
by David W. Robinson
All show photographs and image processing by Robinson.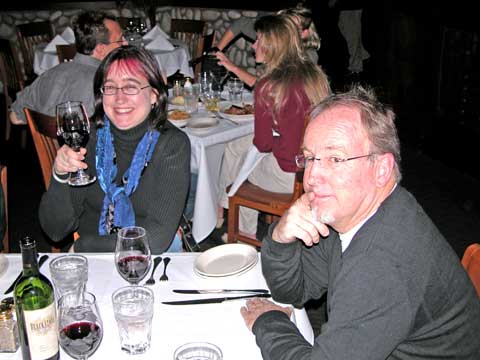 Nope, sorry! I'm not finished with the party scenes! Here's another from the smashing PFO dinner with the 6moons.com gang… Carol tilts the glass yet again! (This catches me up for missing my "Carol drinking photo-op" at the PFO Powwow in LA last spring…)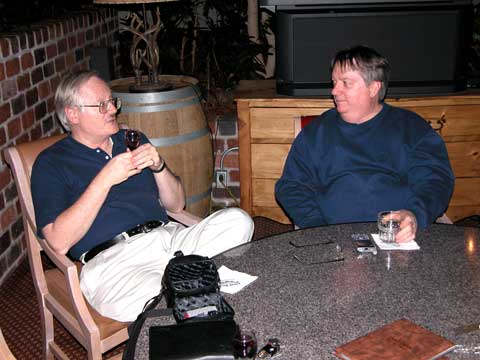 After dinner, it was off for more adult beverages and audio food, fun and fellowship back at the Great Divide Brewing Company. Here's PFO'ers Roger S. Gordon and Albert Porter discussing the finer points of… well, the finer points of… well, errr… what the hell was that finer point, Albert?!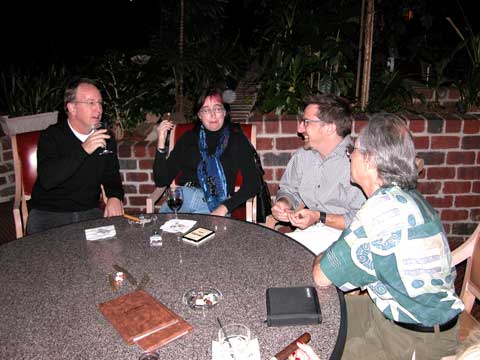 The next step: out come the cigars to round out the fine adult potables nicely! Dave, Carol, Bryan and Joe, shortly after Dave and Carol light 'em up.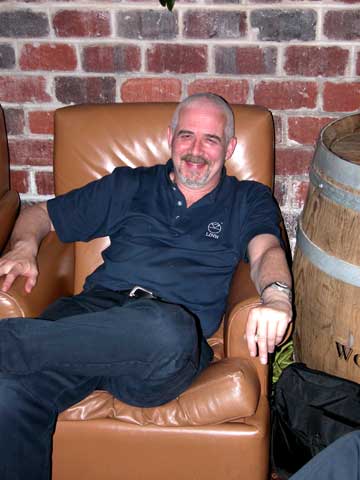 Speaking of lightening 'em up! Right around the corner from the PFO table was our very good audiobud Brian Morris, Director of PR for Linn… time for a bigger table!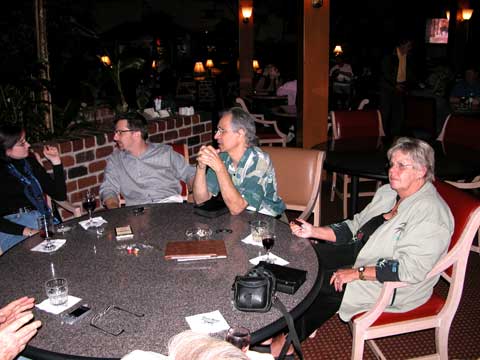 Lila joins the table with cigar in hand…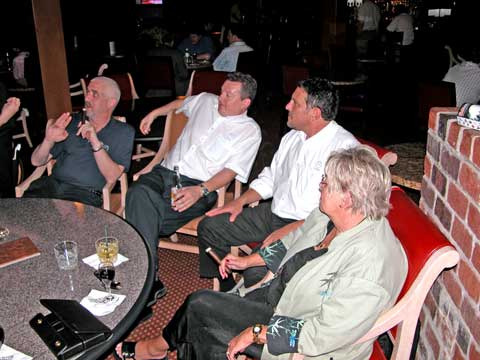 …and the Linn gang slides in with the PFO table. Brian gets to enjoy a very fine El Rey del Mundo Robusto Suprema, courtesy of yers truly.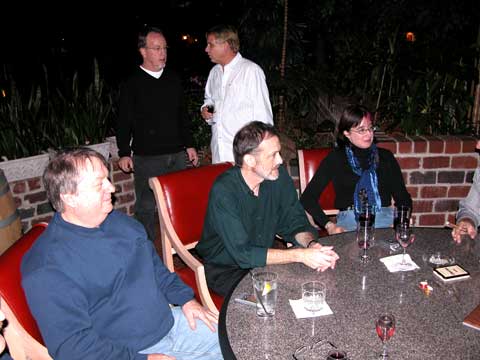 John Zurek and Dave Clark converse in the background, while Albert Porter, Dan Meinwald (E.A.R. USA), and Carol Clark check out the growing crowd.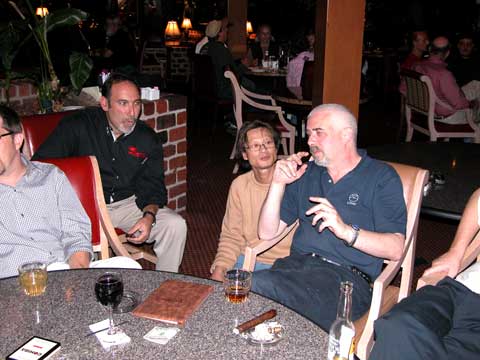 I did say "growing crowd," right? Garth Leerer of Musical Surroundings and Tri Mai of Triplanar (kneeling) chat with Brian Morris of Linn.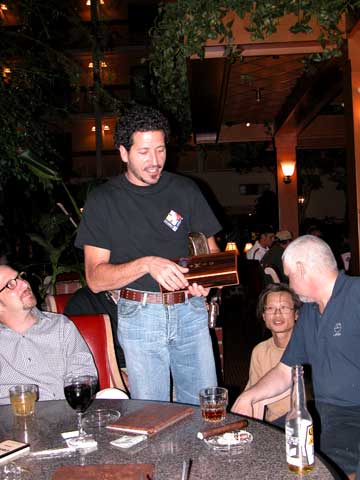 And speaking of GREAT CIGARS and HOLY SMOKES, good audiobud and fellow cigar aficionado Steve Rochlin, editor of enjoythemusic.com, dropped by right then, complete with an exceptional humidor of <censored> cigars in hand. What ho! And tally-ho, Stevie-o! He and I traded 'gars, then sat back to smoke, drink, and talk the night away.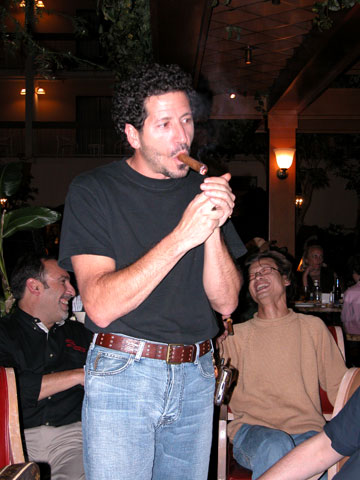 Steve, in characteristic pose (good form, there!), lights 'em up. Garth and Tri Mai hoot it up in the background. As you can see, fine audio is a drab and boring passion, with nothing but BAD TIMES and GRUMPINESS ABOUNDING. Don't know why any of us bother! And if you missed it, aren't you GLAD that you MISSED THIS AWFUL AUDIO SHOW?!
(Heh heh!)
The next morning was Saturday, the first full day for the show. For the PFO crowd, it was back to the rounds of the rooms, looking for what might catch the ear and eye.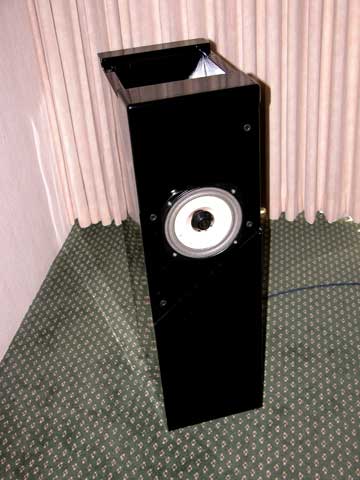 In the Vivaldi Audio room, I thought I spotted a Lowther driver. I was right… though it was mounted in a very attractive cabinet. Vivaldi Audio makes both finished speakers and kits for DIY'ers into Lowthers; see their web site at www.vivaldiaudio.com for details.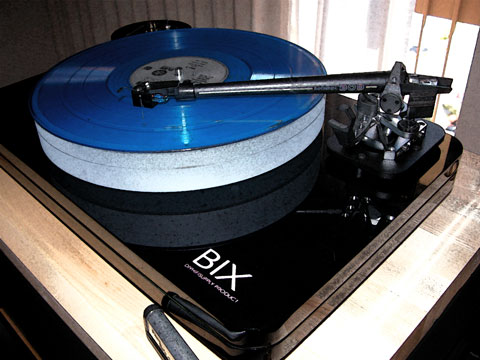 Also in the Vivaldi Room was a very kewl jewel, one that I had not seen before: a DIY turntable! The table in this fresco is the BIX, kitted kit from DIYHIFI Supply. This one is outfitted with an SME 309, spinning some lovely blue vinyl. Clean, simple, and affordable… DIY maniacs, take note! For more info, prang www.diyhifisupply.com/diyhs_bix.htm.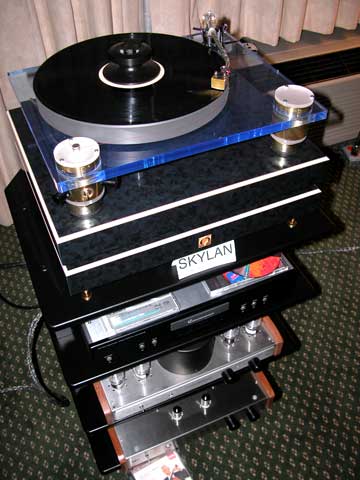 In the Hudson Audio/Omega Speaker Systems room, a Consonance SACD player shares the Skylan rack with Opera Audio tubes and what is, methinks, a Eurolab Cello 'table with Moerch arm and Allaerts cartridge. With the Omega speakers, a very musical system…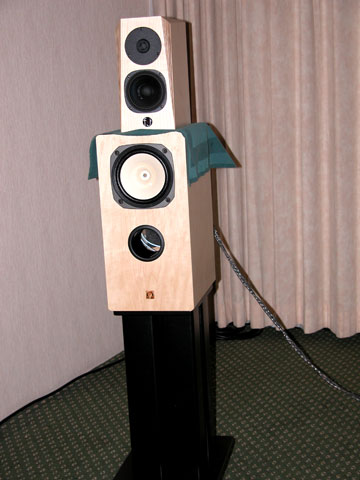 Speaking of the Omegas, here's an Omega stack, show style.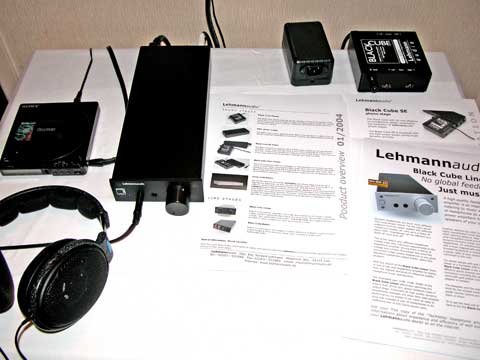 Also in the Hudson Audio room: the fine and affordable Black Cube line of phono and headphone amps from Lehmann Audio. Good stuff! As a matter of fact, I'm sitting here typing the text for this photo essay while listening to the Lehmann Audio Black Cube Linear headphone amp feeding my Sennheiser 650 headphones via Cardas headphone cables… choice! (For the omnivorously curious, the source is my Dell Precision 650N workstation, dual Xeons mit 2 GB RAM, outputting via a Creative Audio Audigy II 192kHz/"24"-bit capable sound card. Not bad for PCM… just wish I could get an SACD player into my computer and my car, you know?)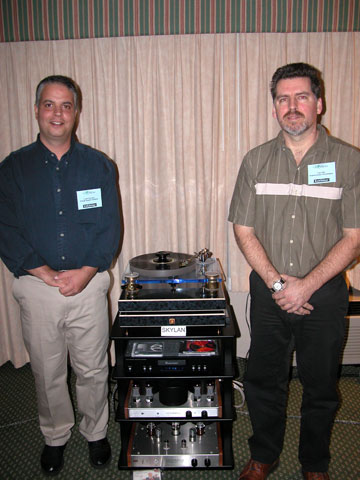 Louis Chochos of Omega and Tom Hills of Hudson Audio, enjoying a photo op at the show. I didn't get a chance to talk with Louis, unfortunately, but I've had more contact with Tom. We've talked a few times on the phone, and I've enjoyed his interest and enthusiasm for fine audio. We need more of that; check out his site at www.hudsonaudio.net.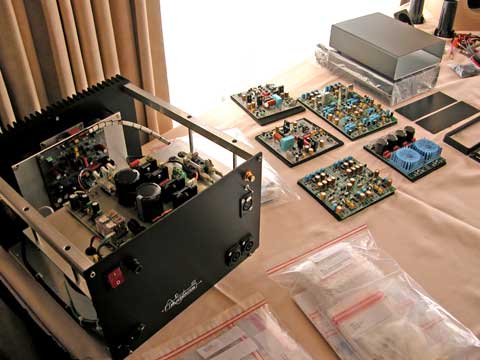 The Audiokits.com room was a Mecca for DIY'ers: lots of excellent looking projects, and some very solid looking construction.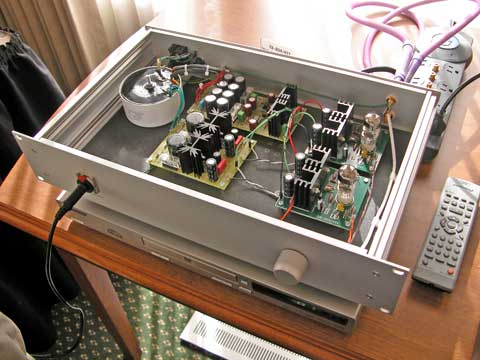 One of the preamp kits in the Audiokits.com room—clean, classic looking design...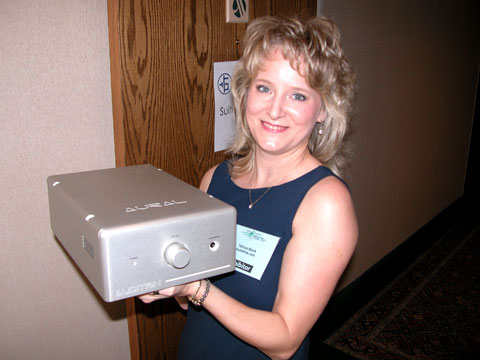 Tahnya Black of Audiokits.com proudly displays one of their headphone amps. (There were a lot of headphone systems at the Rocky Mountain Audio Fest, for some reason. A trend, maybe?)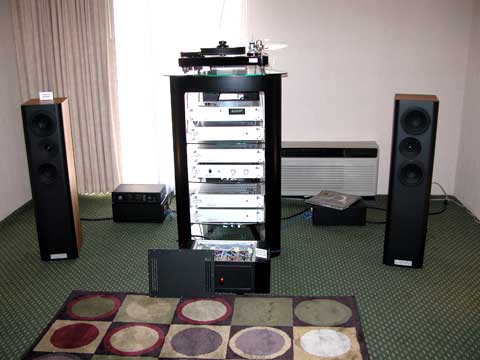 The Audiokits.com sample system was very attractive looking, and would undoubtedly entice DIY'ers to look at their line. It wasn't playing any of the times that I was there, so I can't comment on how the system sounded… alas. For the record, the turntable at the top was an Aries.