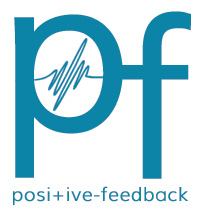 You are reading the older HTML site
Positive Feedback ISSUE 16
november/december 2004
Rocky Mountain Audio Fest: Photo Essay, Part 3 (page 2)
by David W. Robinson and Albert Porter
All show photographs by Porter and Robinson; image processing by Porter and Robinson.
After we got back, and as we were preparing to attend the later of two RMAF/Avalon Patricia Barber concerts that night, PFO was asked to do the "official" RMAF photography for the show that night. But…no flash, please!
Ugh. That made it tough. My Nikon 5700 is a fine general purpose digital camera, but it doesn't have the ability to "push" the ISO in very dim light settings, especially when hand held. I was dubious that I would be able to get anything worthwhile.
Fortunately for all, PFO's Albert Porter was attending the show with us. If you don't know Albert, who has joined PFO's editorial community from the precincts of audiogon.com, he is a long-time audiophile with very extensive experience in fine audio, both as a retailer/consultant and as a listener. Better yet in this context, Albert is also a professional photographer with an exceptional portfolio, including work for some well known fine audio firms. (See his web site over at http://www.albertporterphoto.com for samples of his work.)
Since he had his Nikon pro-grade digital camera with him, Albert generously volunteered to do what he could to help capture the second concert. The photos and frescos that follow in the Patricia Barber concert coverage are therefore courtesy of Albert Porter.
Ron Welborne of Welborne Labs worked as a marketing advisor to Show Director Al Stiefel of Red Rock Audio and his wife Marjorie to produce the Rocky Mountain Audio Fest in 2004, and will be doing so again in 2005. There's a lot of hard work involved in doing a show of this magnitude, that's for sure! In this frame, Ron does the introduction for Patricia Barber and her band.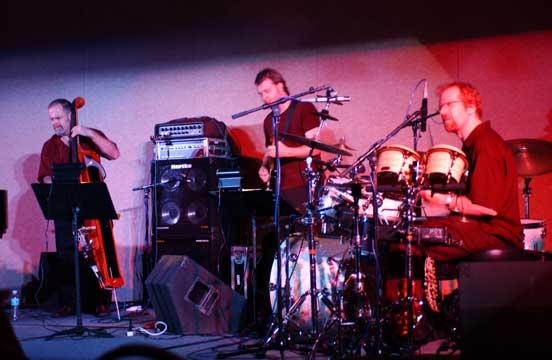 As it turned out, Patricia's band was a very cool set of gents: Neal Alger on guitar, Michael Arnopol on bass and Eirk Montzka doing the percussives.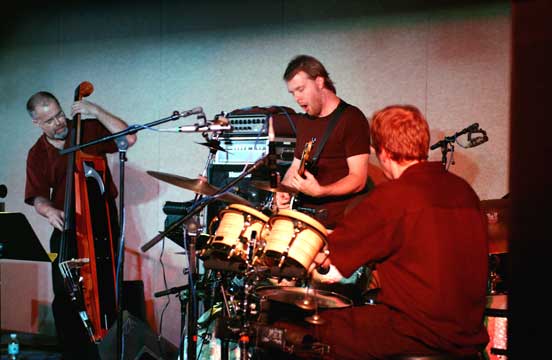 They started out with several trio numbers, with each member showing some very fine chops…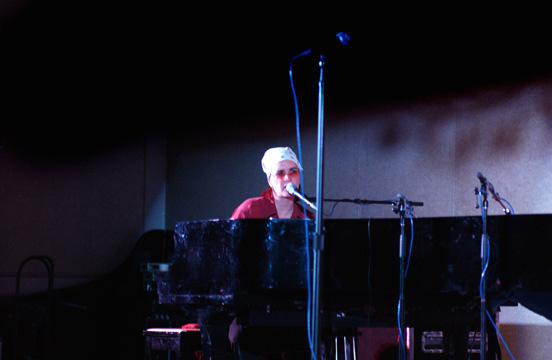 …then on came Patricia, looking very laid-back. The look was not Café Blue, but the sound was every bit Barber.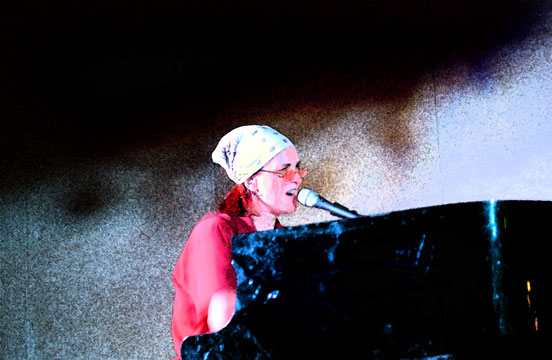 Song by Barber… photo by Porter… fresco by Robinson.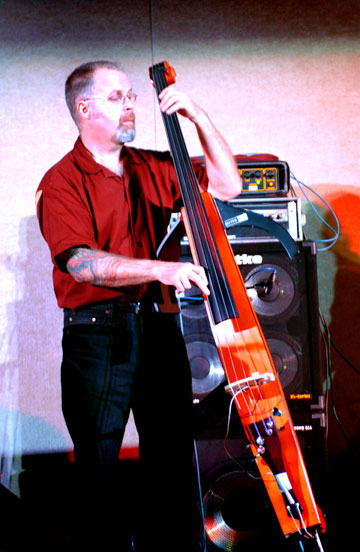 Michael Arnopol on what looks like an Oregon bass… my acquaintance David Friesen, the jazz bassist, helped to pioneer its use years ago.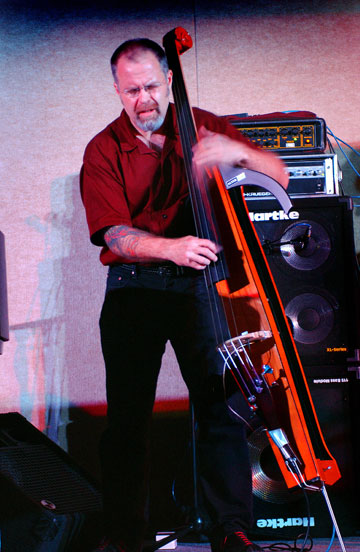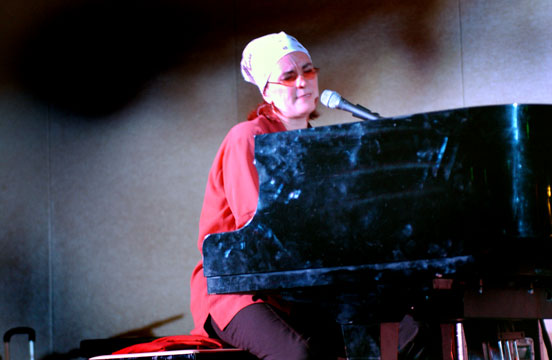 Patricia was excellent during the set; I was surprised at how good her jazz chops on piano were.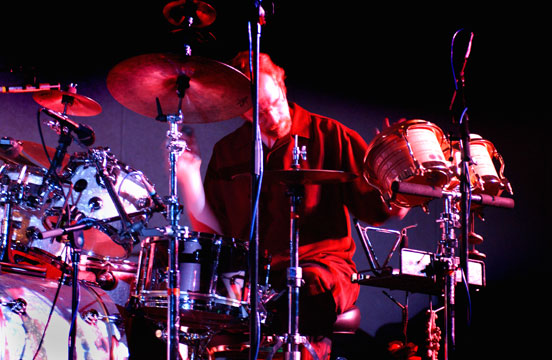 Drummer Eirk Montzka off in the zone...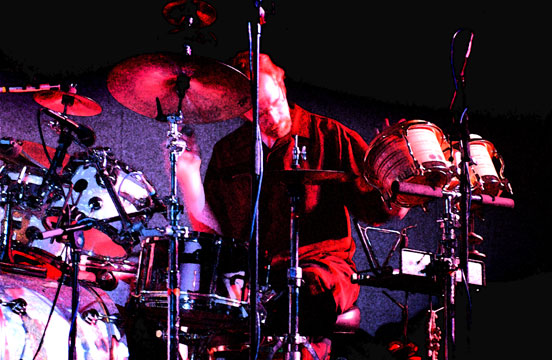 …a moment so good that it's worth a fresco!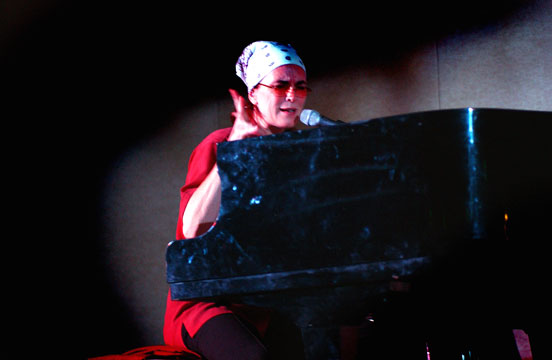 More moments with Patricia…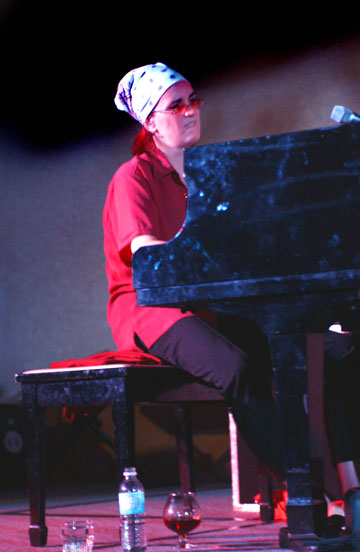 …and note the adult beverage in the brandy snifter! (She did wait until the end of the set to imbibe, however.)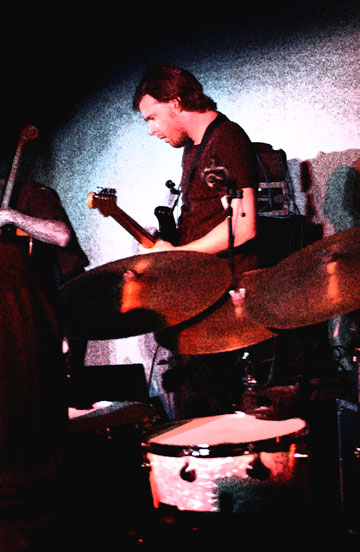 A fresco of guitarist Neal Alger getting some licks in…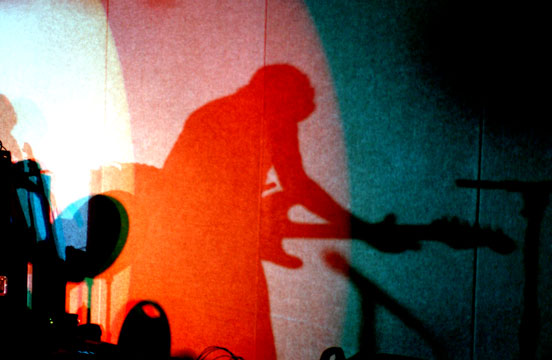 …and a magic moment during one of his solos.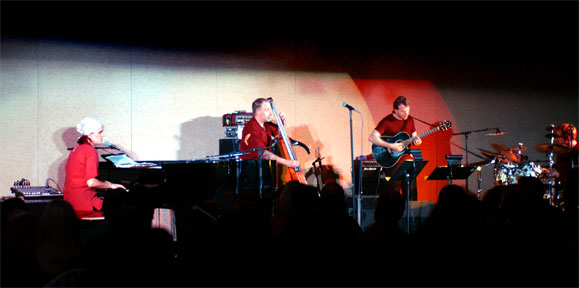 The entire band together…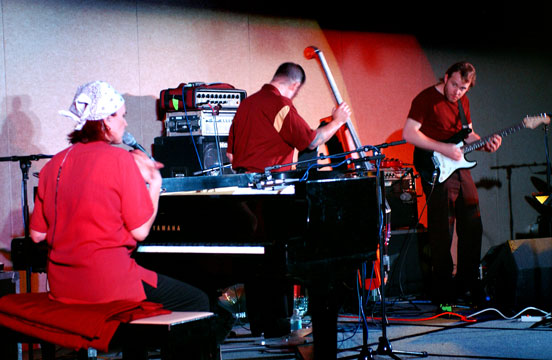 …and Neal stealing a glance at Patricia.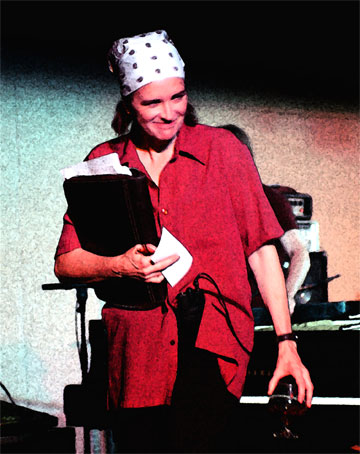 A fresco of Patricia leaving at the end of the set…brandy/cognac/whatever in hand. Here's to your health, all! (And many thanks to Albert Porter for a terrific set of performance photographs under very tough conditions.)