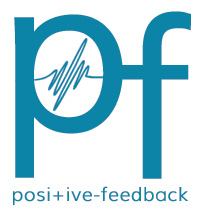 You are reading the older HTML site
Positive Feedback ISSUE 16
november/december 2004
Livin' With the Blues in Salina, 2004 (page 2)
by Dave Glackin and John Volk
Text by John Volk (guest writer and musician) and Dave Glackin; photos by Dave Glackin; image processing by Robinson
Direct-to-Disk Sessions
On Saturday afternoon, direct-to-disk recording sessions were done with two of Saturday's acts. For those of you who are unfamiliar with this process, LPs are usually cut after the performance, from an analog tape. The direct-to-disk technique gets us closer to the performance, eliminating intervening storage media, by cutting the master LP lacquer in real time during the performance, straight from the microphones, through the electronics, to the cutter head that inscribes the grooves in the soft LP master lacquer. Many feel that this purist technique results in the finest possible recorded sound quality. But note that an entire record side has to be done in a single take, which can make life very difficult for the poor engineer who is on the receiving end of the feed. Chad first did this in the year 2000, with the legendary Stan Ricker at the controls. This year, the cutting was done by Kevin Gray of AcousTech Mastering. After getting some recalcitrant bugs worked out of the system, Kevin cut 12 direct-to-disk sides on Saturday afternoon.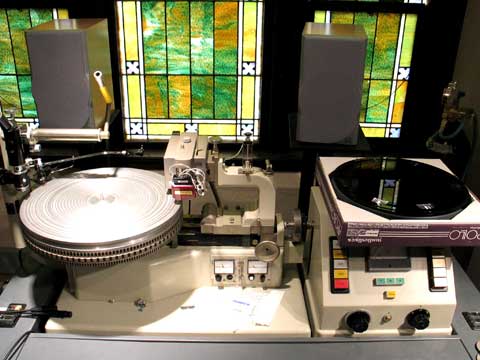 The Mastering Lathe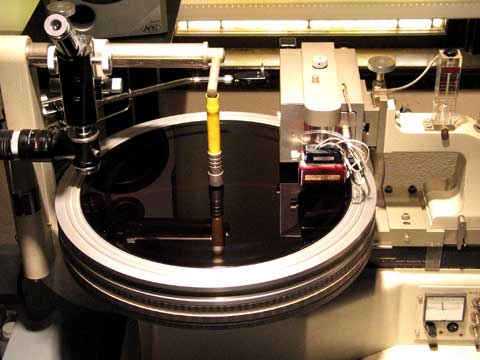 A Lacquer Being Cut on the Lathe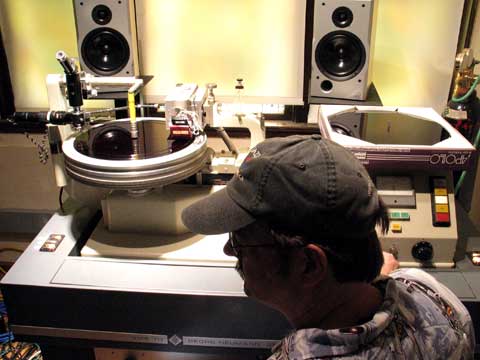 Kevin Gray at the Controls
We were fortunate enough to watch Leroy Jodie Pierson (reviewed below) cut two direct-to-disk sides, each in one take. Despite knocking everyone's socks off with a stunning and very clean performance, he was clearly not satisfied, always striving for better.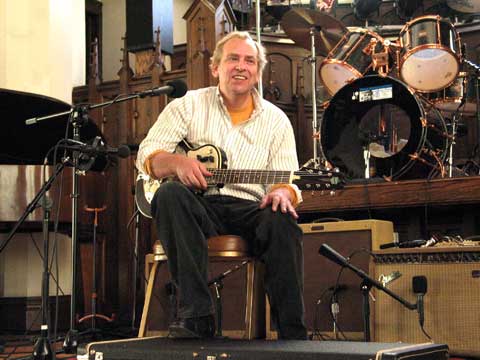 Leroy Jodie Pierson Prepares for D-2-D Session
We also watched Arthur Williams and his partner (reviewed below) perform a smokin' direct-to-disk session. This gentleman is one serious harmonica player, and has a gravelly voice reminiscent of Sonny Boy Williamson II. I eagerly anticipate hearing the results of both of these sessions, which should make for some awesome LPs.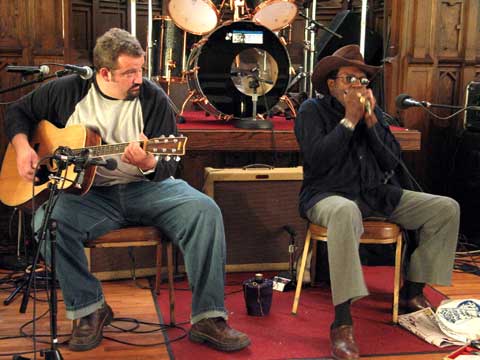 Harp Player Arthur Williams and Partner Warm Up for D-2-D Session
Saturday's Show
SilverCloud and Edwards are a unique pairing of SilverCloud, a wonderful old time blues piano player and Ron Edwards, a blues historian and capable bottleneck slide guitar player. Ron and SilverCloud moved us through popular blues hits of the 1920's, 30s and 40s. SilverCloud carries on the traditional style of Memphis Slim, with a very full, rolling sound, tastefully complemented by Ron Edwards on slide. Ron introduced each number with the origin and interesting historical information on each song. This set was a very pleasant blend of history and expertly played traditional blues.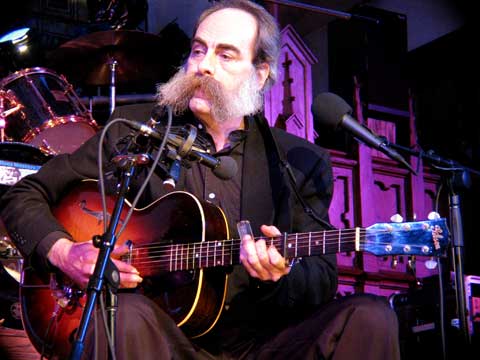 Ron Edwards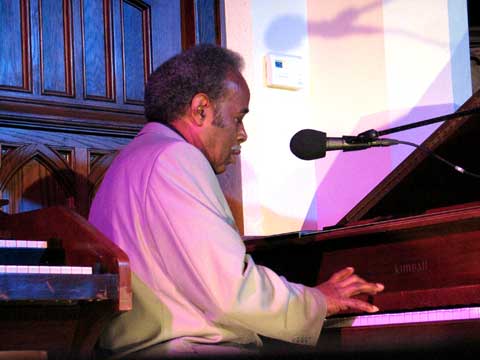 SilverCloud
Leroy Jodie Pierson, the slightly built white man with neat business shirt, slacks and conservative necktie, had those unfamiliar with him wondering. After the first few bars sprang out from his National resonator guitar, the uninitiated realized that they were dealing with one serious blues man. A master of the bottleneck slide with firm soulful voice and deep repertoire, Leroy made one realize that he was born into the blues and has lived it ever since. Leroy Jodie Pierson has spent years trading chops with the likes of Mississippi Fred McDowell and other greats. Leroy is serious about his craft, which is finely honed, and he is also a prominent blues scholar. This immensely talented and thoughtful musician captivated the audience like no other that evening, and was the clear favorite of both of your authors.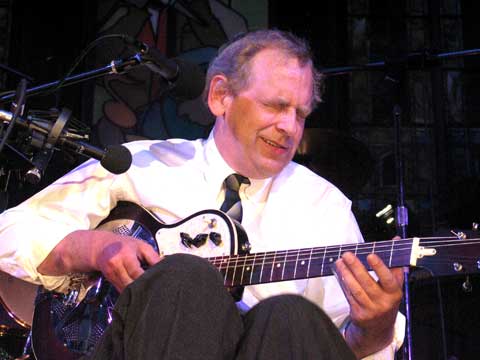 The Incomparable Leroy Jodie Pierson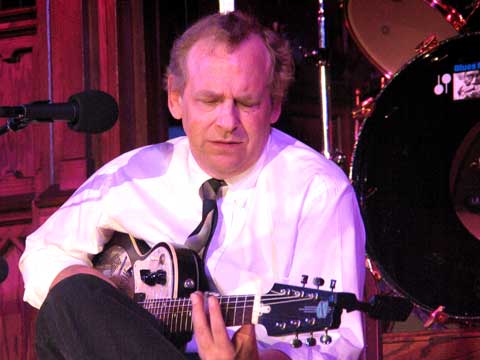 Pierson Provides the Best Blues of the Show
Arthur Williams gave the crowd good old fashioned St. Louis blues with one of the blues harp greats. This acoustic set was comprised of Arthur on vocals and harp, and a very capable, energetic and full sounding guitarist and co-vocalist. The duo did a great job of alternating vocals and leads to keep the audience solidly with them. The pair provided a relatively short set of really solid down home blues.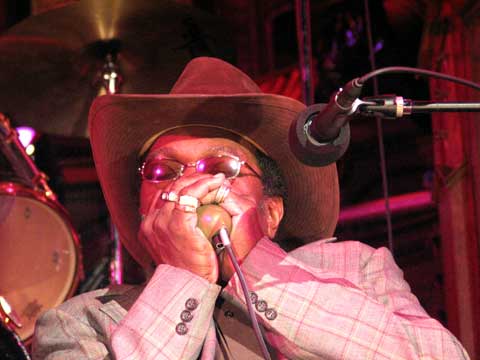 Arthur Williams
Big George Brock was a master showman in the genre of flamboyant blues front men. He was gold adorned from head to foot—gold suit, hat, tie, jewelry, and a huge belt buckle commemorating the "Heavyweight Champion of the Missouri Blues Harp." A rich vocalist with a deep and penetrating voice, he wowed the crowd with powerful songs, accented by some fabulous harp work. His style was a bit reminiscent of Howlin Wolf, with a uniquely powerful and energetic twist. Some theatrical floor rolling and such delighted the crowd. Of note was a great version of "Got my Mojo Working," accented by really nice work by the accompanying guitarist.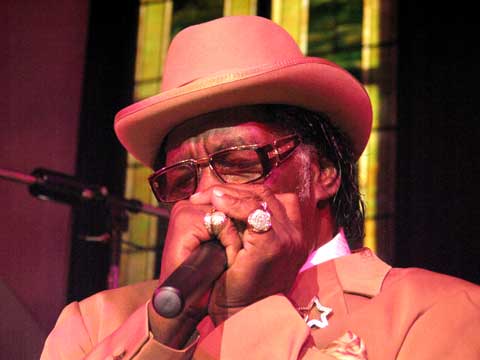 Big George Brock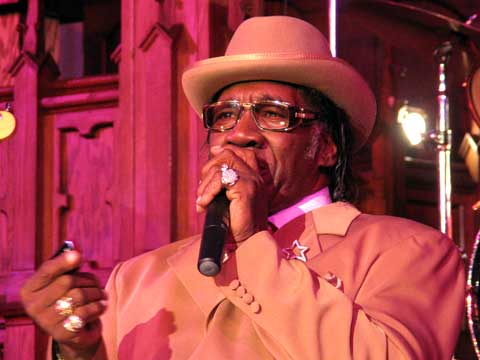 Big George and his Mojo
Ray Sharpe, billed as the only black rockabilly artist, took the stage with a full band (piano, bass, rhythm guitar, Kaz Kazonoff on tenor sax, drums and Ray on lead guitar and vocal), and provided lots of good ole rock and roll. Ray has a lighthearted style and is a cheerful entertainer. Ray moved through lots of rock and roll standards and some originals, letting the 'good times roll'. The style was more reminiscent of Chuck Berry and Bo Diddley than rockabilly. Of particular note were a very strong bass accompaniment, and the always-great Kaz really shined with this style of band. Although no virtuoso on vocals or guitar, Rays endearing style worked well as a package.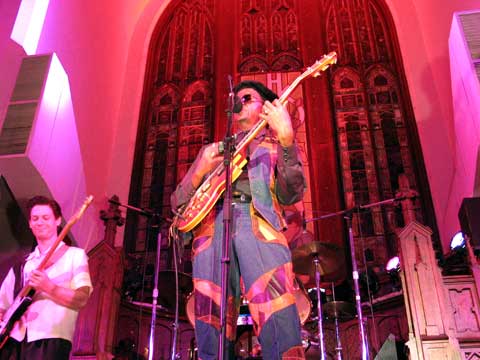 Ray Sharpe and his Signature 'Gooolleeee'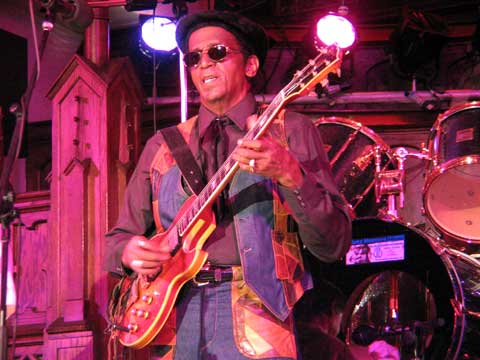 Ray Sharpe - Rockabilly or Rock and Roll?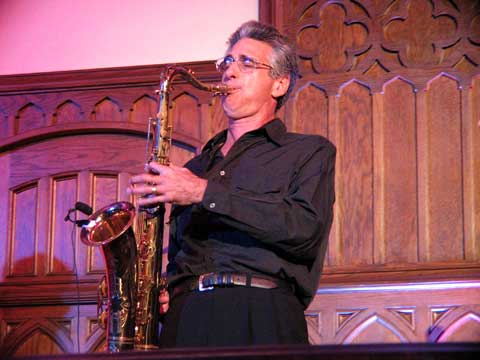 Kaz Kazanoff Ripping It Up on Tenor Sax
Robert Belfour plays the Mississippi blues style of the hill country where he grew up. The set was simply a man and his guitar. Although frail, Robert displayed a powerful voice and strong and agile finger style guitar method. He plays the pure blues, with a mournful primal tone and beat that penetrates your core being. A very powerful and moving player, he rose above technical problems and an inattentive stage crew to complete the set with two numbers in which he tuned his guitar to a rare tuning of the early 20th century blues. The crowd responded with a rousing ovation.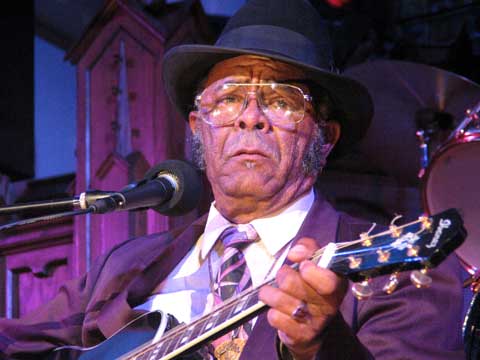 Robert Belfour's Got the Blues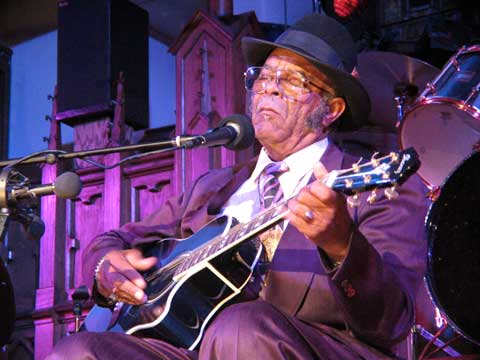 Robert Belfour's Got dem Mississippi Blues
Son Seals, the electric blues legend, was clearly ailing, and required assistance to take the stage. Although very frail, Son was still able to put together some nice guitar chops and vocals. He was supported by a very strong backup band, the James Solberg band, (guitar, organ, bass, drums). The band really helped carry Son, who clearly was lacking endurance due to his health. Backup bandleader and guitarist James Solberg was able to put some really fine complementary material together, as well as tasteful solos to carry the pace of the set. Son was able to rise to the occasion on songs that were clearly part of his original repertoire, while struggling more on the generic material. The set and wonderful evening ended when an exhausted Son motioned for assistance to be helped from the stage.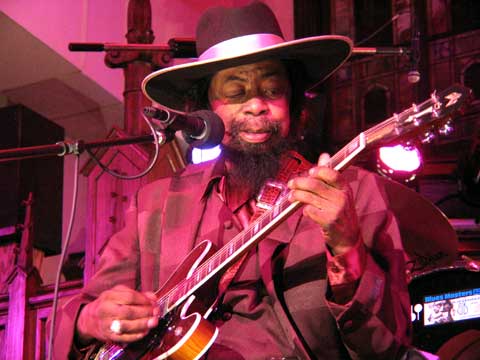 A Riffin' Son Seals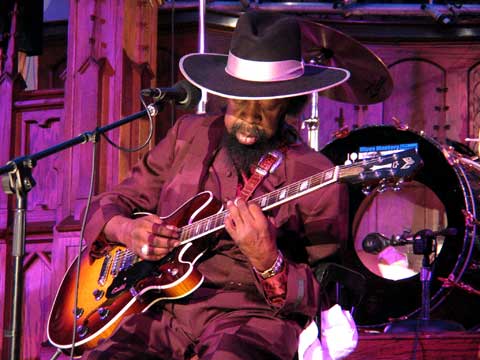 A Focusin' Son Seals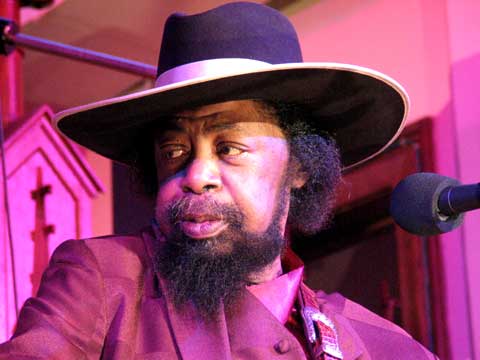 Son Seals Closes the Show
Hats off to Chad in his support of getting some of the aging and frail greats on stage to both expose them to new audiences, and to remind the artists of how their craft is appreciated. Our best wishes to Chad for many more successful years of stunning Blues Masters at the Crossroads festivals. It's become an event that your authors can't bear to miss.