Strunz & Farah, Zona Tórrida
by Victor Chavira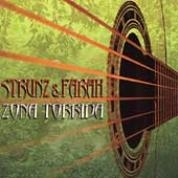 I have been a fan of the guitar duo Strunz & Farah since their first album, Mosaico, was released in 1982. That album featured masterfully rapid flat picking accompanied by syncopated Latin and Middle Eastern rhythms. The duo's newest CD, Zona Tórrida, explores familiar territory in new and interesting ways. The duo has abandoned the traditional drum set in favor of a variety of percussion instruments, most notably the cajón, a resonant wooden box that the player sits upon and slaps with the palm of the hand, creating a tone that is part conga, part bass drum.
Like most of Strunz & Farah's recordings, Zona Tórrida begins with a rhythmic rumba. No other pair of guitarists can execute runs across the fretboard with the such unison precision as Strunz and Farah, who have played together for over twenty years. The title track is a complex composition that opens with a folk-like motif in cha-cha time that is juxtaposed with a daring and angular middle section before ending with the top. The surprise on the CD is the Django-inspired "Milieu de l'Été," with frequent collaborator Charlie Bisharat on violin. The Middle Eastern-flavored "Kereshmeh" calls to mind whirling dancers, veiled women, and burning incense. The CD closes with a beautiful Astor Piazolla-esque ballad called "Secret Village" that features the duo playing harmonious and melodic arpeggios.
The CD isn't as warm and organic-sounding as my LP of Mosaico, but the truth and timber of the duo's Hermanos Conde nylon string guitars comes through. Three out of four stars. Victor Chavira