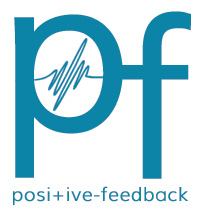 You are reading the older HTML site
Positive Feedback ISSUE 17
january/february 2005
Two LSO releases - Brahms, Serenade No. 2 and Symphony No 3 and Benjamin Britten, Peter Grimes
by Karl Lozier
The London Symphony Orchestra's ranks as one of the five top symphony orchestras in the world, and one of the most recorded—a fact aided by the large number of film scores and soundtracks that they have recorded. LSO Live is the name of the orchestra's own recording label, which is issuing a continuing series of recordings. Many of them feature their permanent principal conductor, Sir Colin Davis. The recording site is usually their permanent home, the Barbican, in London. The LSO Live engineers have worked hard to put out high-quality recordings from a hall that is not known as one of England's premier recording venues. The recordings are usually sold at bargain prices by Borders, Barnes and Noble, and some of the larger record store chains. Many are scheduled for release in SACD format.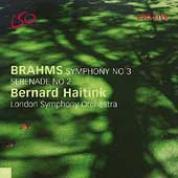 Brahms, Serenade No. 2 and Symphony No 3 (LSO0056)
This recording, finished in June 2004, is conducted by Bernard Haitink. The Serenade, one of the composer's less well-known pieces, deserves more attention. It is a particularly lovely work, and Brahms has been quoted as saying that it was one of his personal favorites. Instead of being written for strings only, its rich scoring features ten additional wind instruments. In the third movement, Brahms' emphasis of the lower strings in some passages makes for a particularly full effect. Later in the same movement, the precise unison pizzicato playing by the LSO's strings is very beautiful. The piece has a pastoral atmosphere that is sometimes rather dark, but always present. We are treated to a fifth movement in this composition, and it is rather symphonic in character, with fine horn playing in the climax. The sound is just fine. It is full range, though not quite as dynamic and detailed as the finest audiophile recordings. The conducting is sympathetic, and entirely appropriate for this beautiful selection.
Brahms' Symphony No. 3 is similar to the Serenade in many respects. The opening movement is taken at a very leisurely pace, even for a later work by the well-established and confident composer. The opening theme and its recapitulation in the third movement (a well-known and loved theme) is as lyrically beautiful as you are ever likely to hear it. In the final movement, Haitink's interpretation becomes distinctly more passionate and dramatic, while the audio engineers seem to be capturing more detail, along with a particularly natural presentation of the horns and brass. The recording gives a good sense of the Barbican as heard from mid-hall—just where many concertgoers like to be seated if given a choice. This recording is as good as any for an introduction to the musical genius of Johannes Brahms.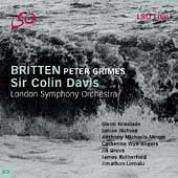 Benjamin Britten, Peter Grimes (LSO0054)
Peter Grimes is possibly the greatest English opera ever written, at least in the past couple of hundred years. There is nothing I can tell opera buffs about the piece, so to them I say, "Go out and buy this fine recording." Peter Grimes, the main character, is a fisherman who lives in a small town. He is considered a bit of an outsider who is "simply different and does not fit in." A short series of tragic events beyond Grimes' control turns almost all of the townspeople bitterly against him. Yes, this is another example of the age-old struggle between society and the individual. Also, Britten is often quoted as saying he wanted everyone to be aware of the perpetual struggle of the people who depend upon the sea for their livelihood. He was born in a port town, and lived a major part of his life on the seacoast.
There are a number of English composers whose last name starts with the letter "B" and who wrote beautiful music, but Britten is the greatest of them. He should also be considered for the title of Greatest Modern English Composer, along with Elgar and Vaughan Williams. Most of Britten's operas, including Peter Grimes, were recorded with Britten conducting and tenor Peter Pears singing the male lead. Colin Davis conducted the most competitive recorded performance many years ago, but as with any opera, there are many many reasons to prefer one performance over another. Though this version, recorded at the Barbican, is different than the composer's famous performance, it has no real weaknesses, and features excellent sound quality. This is perhaps the best of the recent LSO Live releases.
Peter Grimes is a powerful, melodic, and appealing composition. The scoring is from music's "romantic" period, and though hints of composers such as Tchaikovsky and Verdi are heard, it is uniquely Britten. Male singers outnumber the women, and are featured prominently, along with the large chorus. This is definitely not one of those operas that ain't over until the fat lady sings. There is no overture as such, though there are a half-dozen attractive interludes. This is an excellent and powerful recording. Try something new, at a bargain price for the three-disc set.