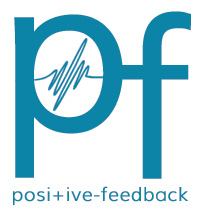 You are reading the older HTML site
Positive Feedback ISSUE 17
january/february 2005
CES 2005 - Part 2, page 2
by Dave and Carol Clark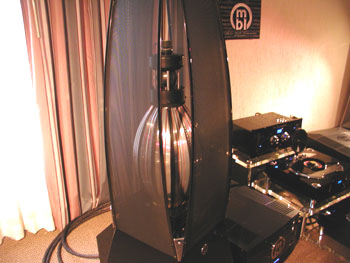 MBL featured the Radialstrahler Reference 101E speakers ($45,000). This stuff is so out there in terms of being from some 50-ish Sc-Fi flick. Way cool!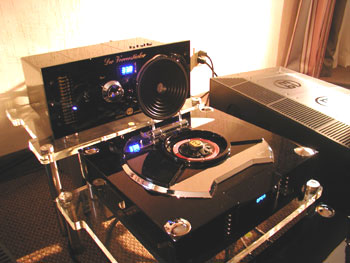 The MBL 1621 A Reference Transport ($18,800) with the 6010D Reference preamplifier ($17,200). A bit too glitzy—the black and gold are not our cup of tea. But very well-built and retro slick!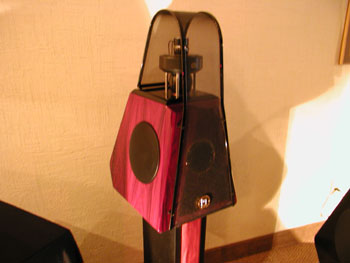 Brand new speakers from MBL, the Radialstrahler 116 ($19,600 as shown). You sort of expect them to get up and move around the room.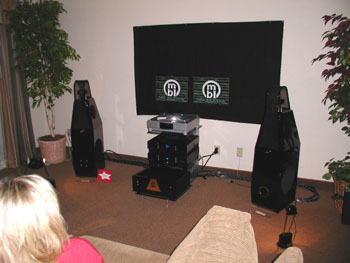 The MBL Radialstrahler 111E Hybrid ($23,600). I really liked the tonality of the music being heard here—simply gorgeous. Big and powerful with an expansive soundstage. Nice people too.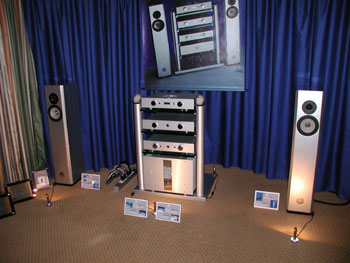 In the Accustic Arts room they featured the Classic MK11 speakers with the Drive I transport and the DAC I-Mk3 D/A converter, the Preamplifier I-MK2, and the Amplifier II-AC. Clean and neutral.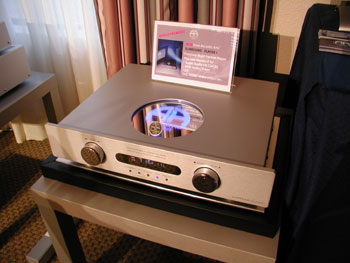 The Accustic Arts Surround Player I.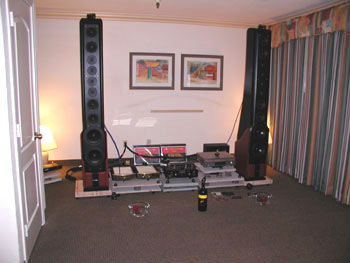 In the Golden Sound room, the Premier SP-100 speakers ($12,800) with Ultra Tweeters ($400) along with Uniwave Anaco 2 power supply and digital amplifier ($6,800) made good music. Big and tall.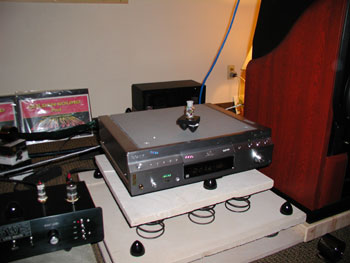 Golden Sound room with a small bottle of Brilliant Pebbles on their modified Sony player (and other items of interest). They also showed the new Intelligent Chip that is based on "programmable matter" and quantum dots. They did go out of their way to explain what they are doing and then actually demonstrated their new Ultra Tweeters ($400 a pair)—and they made a significant improvement—and the chip which seemed to make a difference (to me, but not to Carol). But this environment is hardly the place to be making definitive statements. We have one here so stay tuned. Nice guys who really wanted to make people feel welcome. The tweeters are interesting too—output is above 100k and out to 1 gigahertz.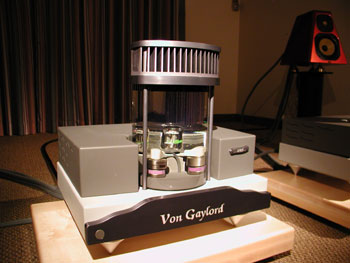 Von Gaylord Uni ($48,000 pr) filled with a non-dielectric fluid). Fish not included and nice people too.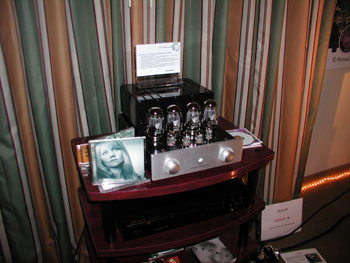 In the DH Labs room the Prima Luna Prologue Two integrated.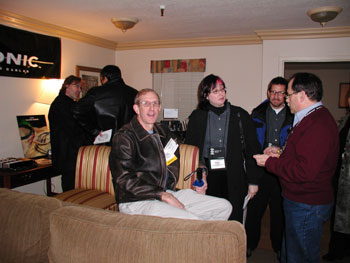 DH Labs room. Carol and Bryan with Mark Gilmore and Terry Rossen.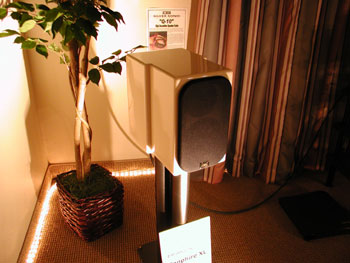 In the DH Labs room, the ACI Sapphire XL speakers ($1200 pr) sounded very nice when one considers the price of the system being played (Prima Luna Prologue Two integrated and DH cables). Nah, forget the price, it sounded good if it was twice that!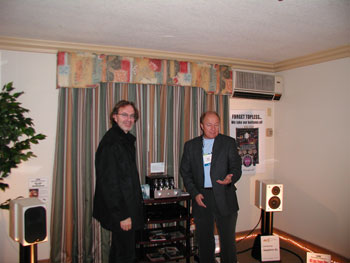 Kevin Deal of Upscale Audio (the Prima Luna importer) with Herman Van Den Duungen (Durob Audio, Holland). Really nice guys!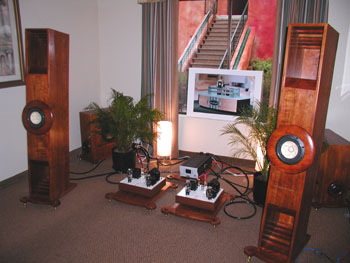 Cain and Cain speakers IM-Ben ($6500) in the Wavelength Audio/Cain and Cain room.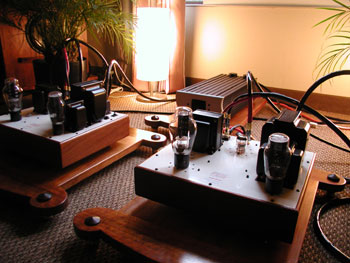 Wavelength Audio Napoleon amplifier. Sweeeeeeeeet!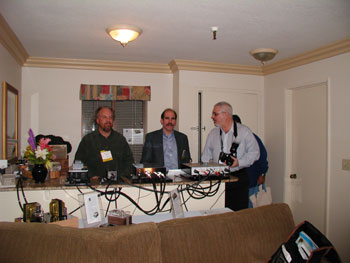 Terry Cain, Gordon Rankin and Greg Weaver. Gordon was doing the music server thang from his laptop and the music was quite inviting as always.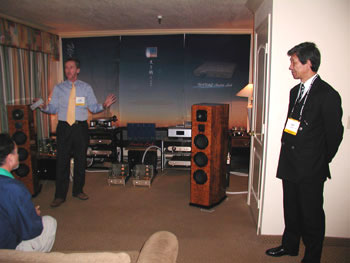 Wavac Audio room featuring Jim Ricketts and Yuzuru Ito, chief engineer for Wavac. This room always impresses... not because everything costs a gazillion dollars, but because it sounds like a gazillion dollars should sound!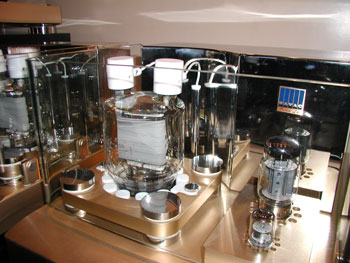 He-833 MK-11 single-ended power amplifiers from Wavac. A pair gets you an average house in Long Beach!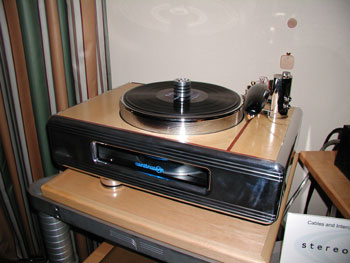 In the StereoVox room, the Continuum Caliburn turntable ($50,000). Very "thinking outside the box" sort of thing, but I did find it not very appealing to the eye. Perhaps an issue of form following function, but for being so state of the art, it looks too retro and clunky.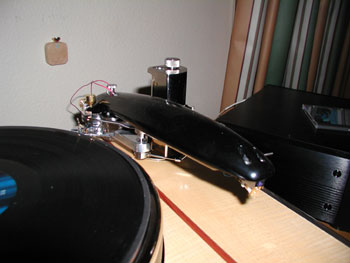 The Cobra tonearm. Gee, looks like a Cobra too... oh, now I get it!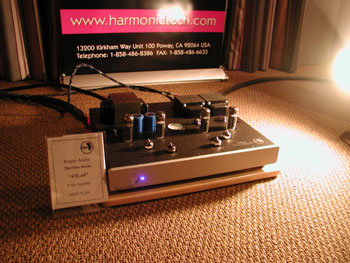 Meadowlark featured Rogue Audio electronics with their new Titan series Atlas amplifier ($1395) along with the Harmonic Technology CyberLight cables. Nice sounding room and as always, nice people who like to have a good time! Yo Mark!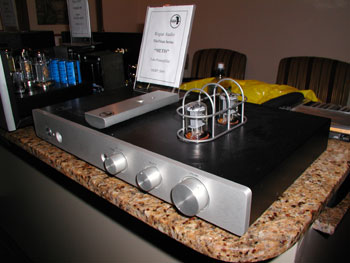 Also from Rogue's Titan series the Metis preamplifier ($995). Nice and very affordable.