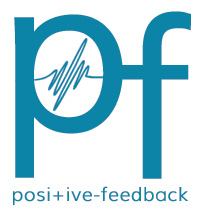 You are reading the older HTML site
Positive Feedback ISSUE 17
january/february 2005
CES 2005 - Part 2, page 3
by Dave and Carol Clark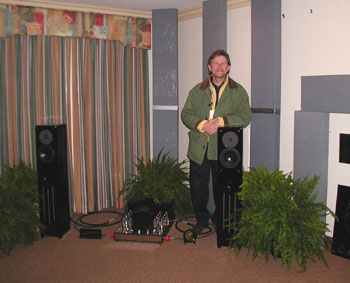 Bobby Palkovich in the Merlin room powered by the new CAT amplifier. Always sounding good and always good people. Hey Rich!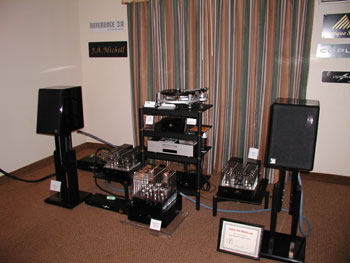 In the Divergent Technologies room they showed the Reference 3A De Capo-i, JA Michell turntable, Antique Sound Labs integrated amplifier Leyla 845 DT ($3495) and power amplifiers Monsoon DT ($2995 pr), Copland CDA 822 player ($2495). Good music here and good people too. Nice seeing Tash... maybe in Montreal this year.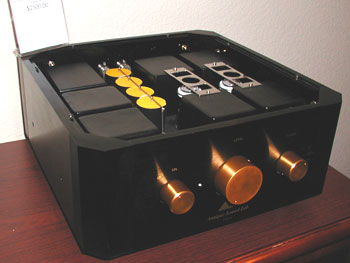 Antique Sound Labs new top-o-the line preamplifier. A definite departure from the other models in the looks department.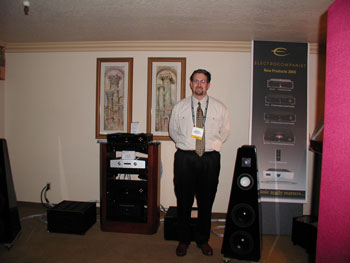 Michael Farnsworth from Talon with the Fire Hawk speakers ($22,500). These are new and sounded quite promising. Too bad all the Talon stuff is $$$, but in talking with Michael, one quickly realizes that no corners are being cut in making what he feels to be the best speakers for the money. Nice guy and good sound too!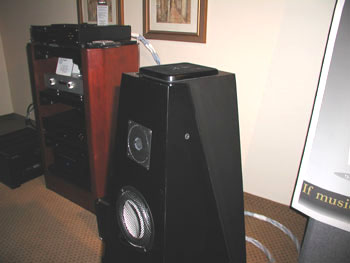 The Fire Hawk speakers... an easy 92dB 8 ohm load. Okay so the corners are cut!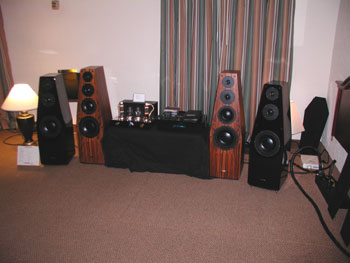 Silverline Audio showed upgraded versions of the Sonatina MKIII ($5000 pr) and Sonata MKIII ($7200 pr). The Sonatina is on the outside and the Sonata on the inside. Big sound.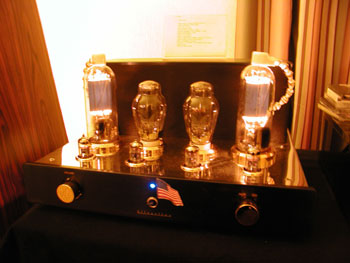 Alan Yun of Silverline created this power amplifier "just for fun." And hey, it sounded quite good too.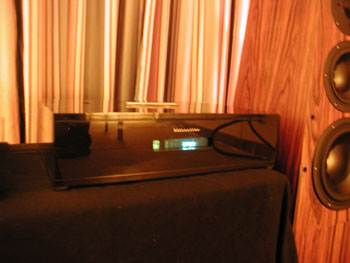 Alan's CD player which he also designed for fun (neither are for sale). Alan is a fun guy whose enthusiasm and joy is what the audio community needs more of—out with the dower and in with the Alan. Not sure I could ever imagine Alan not smiling or having fun at a show. Plus he makes good speakers that will not break the bank.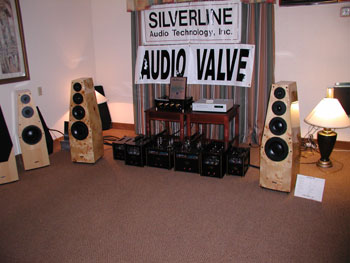 Silverline also showed with the Audio Valve line of electronics. We will have some of the Audio Valve stuff coming soon.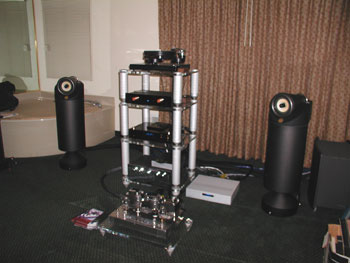 Over at T.H.E. Show, Art Audio showed with Rethm speakers and PranaWire. Nice guys!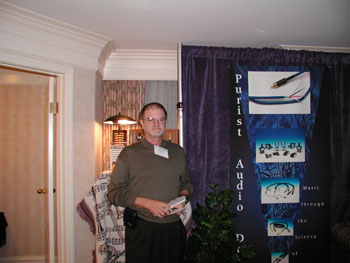 Jim Aud, Purist Audio Designs. Smile Jim.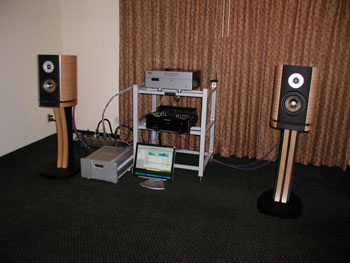 Equarack with the Magico Mini loudspeakers and VRS sources getting clean AC from a WorldPower Power Wing. Interesting companies that are pushing the envelope in terms of design and execution. No punches are being held by either company.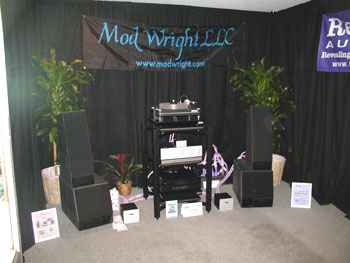 In the Mod Wright room, we found the VPI Scoutmaster turntable with the Mod Wright SWL 9.0 tube linestage, the Graybeard KB/2/W loudspeakers, CIAudio electronics, and all Revelation cables.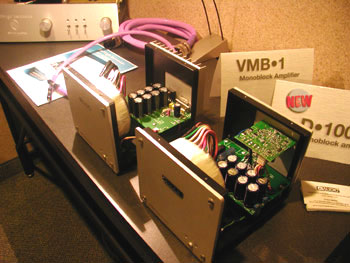 CIAudio D-100 and VMB-1 mono block amplifiers.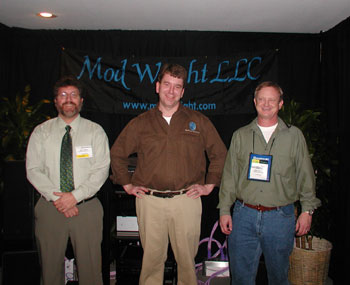 Dan Wright of Mod Wright in the center, Brad Vojtech of Revelation on the left, and Dusty Vawter of CIAudio on the right. All nice guys! Well, maybe not the one in the middle... HAHA. Nah, Dan is a good guy too. He modifies stuff I think...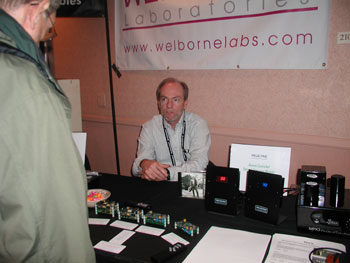 Ron Welborne of Welborne Labs.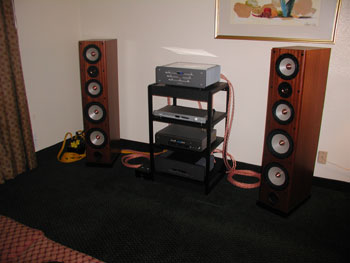 Tyler Acoustics Linbrook speakers shown with Coda Unison 3 integrated and Coda 05r line control buffer in the Coda room. No one around to talk to, too bad as we were hoping to connect names to faces as we have reviewed just about the whole Coda line.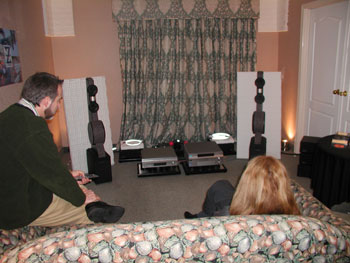 Balanced Power Technologies showed Gallo Ref 3 speakers and Balanced Power Technologies along with Z Cables. They felt their system showed that good power and good cables make things sound good, and it did. A very nice and musical sound without a hint of stress.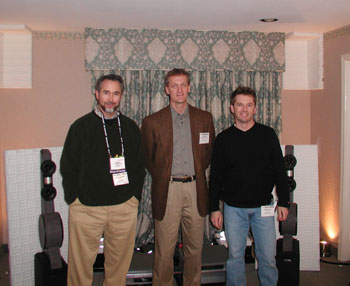 Mark Hampton of Z Cables, Chris Huff of BPT, and Michael Garner of CryoTweaks. All nice guys too! Even Michael! It was inspiring to see people like the above (as well as Dan Wright, Brad Vojtech, and Dusty Vawter in their room) coming together to create some of the better sounding rooms at the show. Different minds joining together to create new synergies!