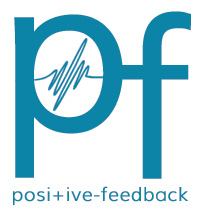 You are reading the older HTML site
Positive Feedback ISSUE 17
january/february 2005
CES/T.H.E. Show 2005: A Photo Essay, Day One, page 2
by David W. Robinson
All images and image processing by Robinson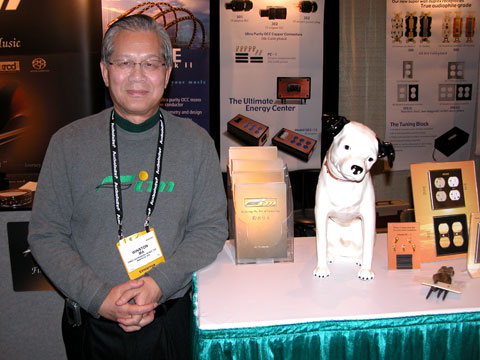 After leaving the Clearaudio suite, I stopped in at the music displays for a while to visit friends. The first person I saw was my dear friend Winston Ma of First Impression Music. I couldn't resist a photo of Winston with a limited edition Nipper…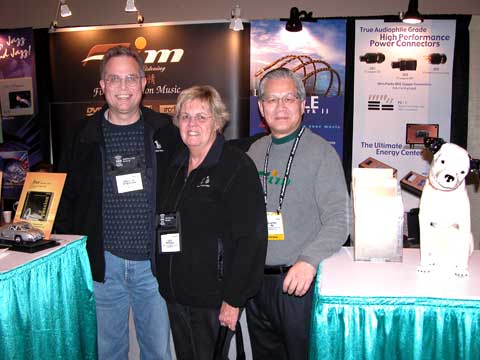 …and he couldn't resist one of Ye Olde Editor and Lila with him. Winston is a true gentleman, an aristocrat of audio; audiophiles everywhere have been enriched by his dedication to perfection in fine audio. That's why he was in the charter group of Brutus Lifetime Achievement Awards that we gave in 2003. If you haven't purchased a First Impression Music SACD, LP or XRCD in your life, you have really missed out!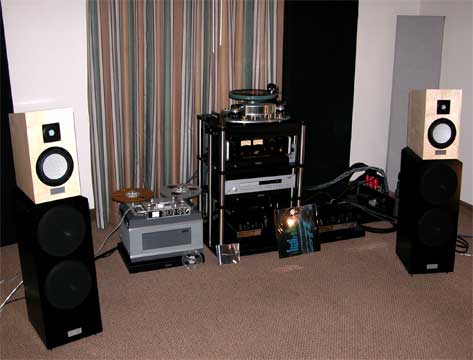 Rushing onwards (remember, we only had three hours this first afternoon), I ducked into the E.A.R. USA/Jorma Design/Marten Design/Red Point Audio Design room. On display were the new Marten Design speakers, and a pile of de Paravicini kit—wonderful and unique design work here!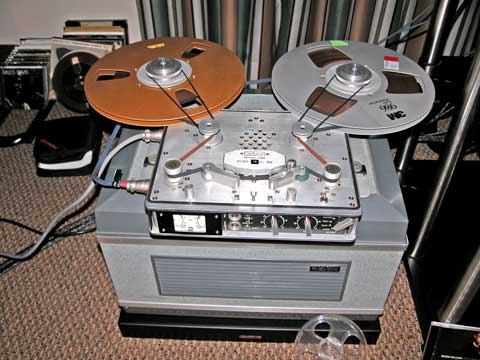 Tim de Paravicini's Stellavox caught the eye of this old open reel lover! You can bet that Tim has done some very righteous stuff with the head stack and electronics of this lovely.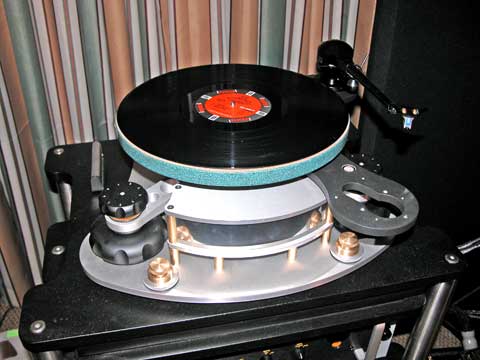 Here it is! The turntable that got an awful lot of commentary during CES: E.A.R.'s radically new prototype. Spheroidal platter… remarkable suspension… incredible new drive system. It's unlike anything that I've ever seen before, all right. Tim is an audio designer with an utterly unique vision…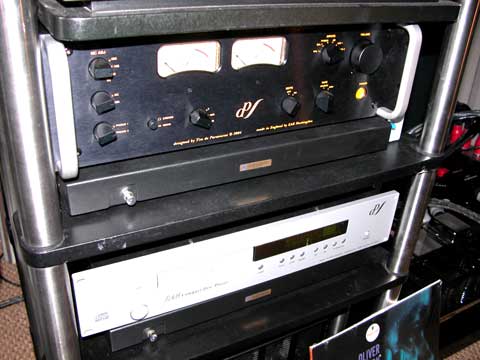 This is Tim's dPS preamp (in black) and CD player. Now all we need is an E.A.R. SACD player.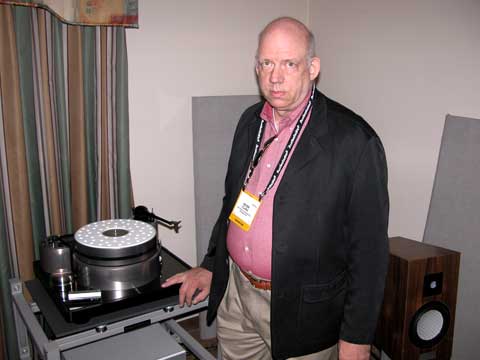 Right next door was Peter Clark of Red Point Audio Design, with the latest iteration of his Red Point turntable. I first saw Peter's work at VSAC, and have been interested in it ever since.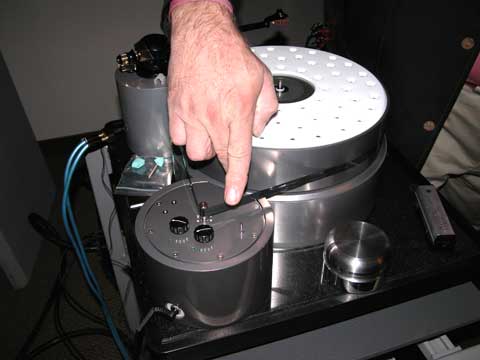 Peter points out the Red Point motor pod and the distinctive wide drive band that this turntable uses.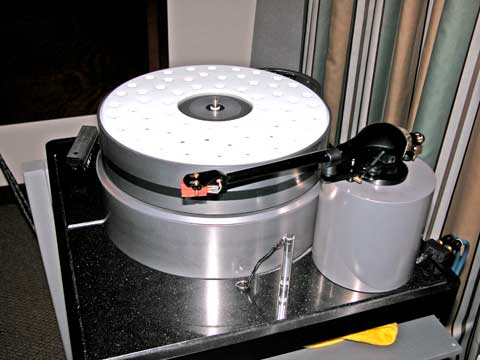 Here's the arm pod side of things, showing the Teflon platter filled with lead. Very solid stuff.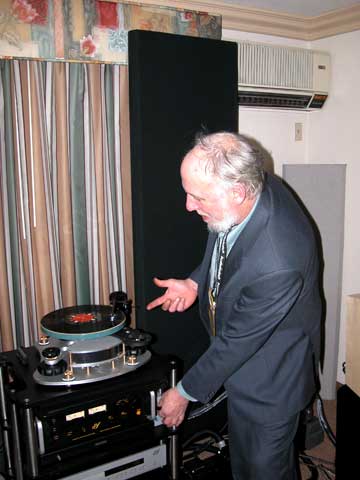 Meanwhile, back in the main room Tim de Paravicini was demonstrating his new turntable… I had to get back to this!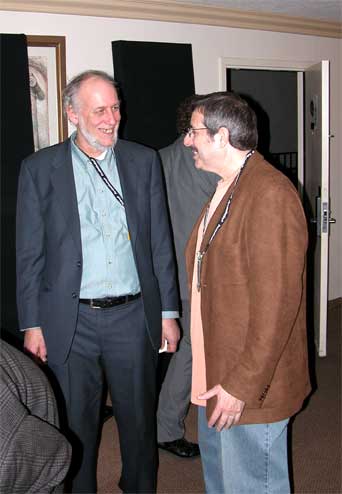 I wasn't the only one elbowing in to see the new E.A.R. turntable! Here we see Tim greeting my good audiobud Alan Kafton of audioexcellenceaz… let the laughs begin!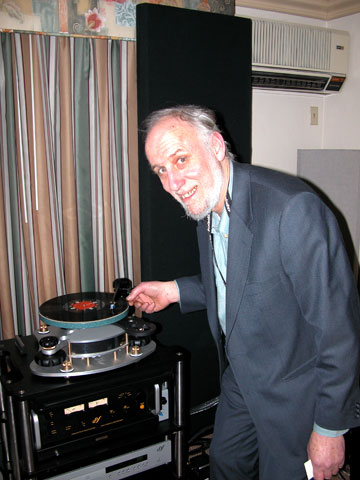 You know, I've taken a goodly handful of photos of Tim de Paravicini, but I have to say that this is probably the best one yet. Puckish!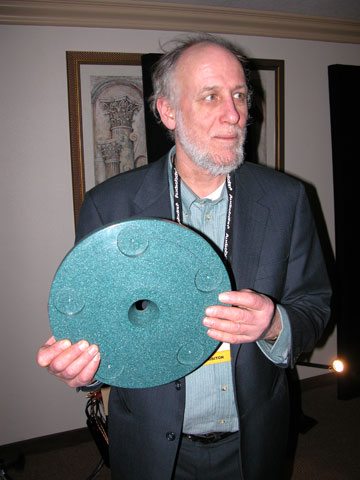 "In which Tim shows off his incredible platter, to the sound of dropping jaws…"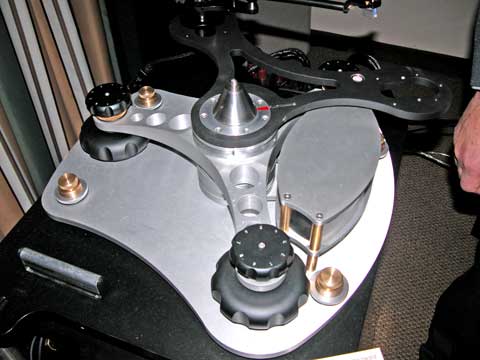 …and this, believe it or not, is the highly original drive system and chassis underneath. Believe me, I didn't have nearly enough time to take this in. I hope to review this creature one of these days.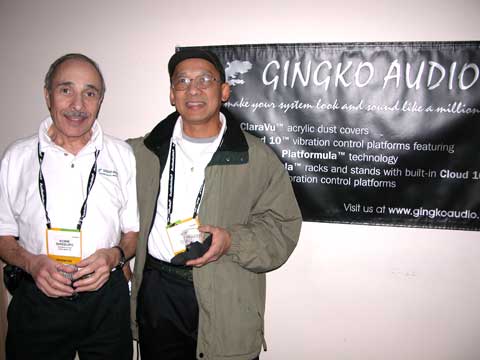 From the EAR room, we ducked down and said hello to Norm Ginsburg and Vinh Vu of Gingko Audio (www.gingkoaudio.com). What terrific fellows… utterly in love with audio… and with a raft of excellent new products under their belts already. We had a great time there; it was getting late, so we sat back and sipped some wine…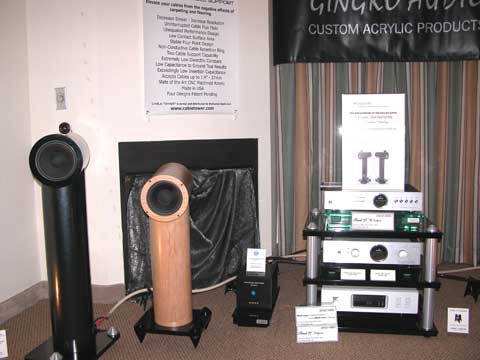 …while checking out their listening room. Those unusual looking speakers are the new Tubulous line…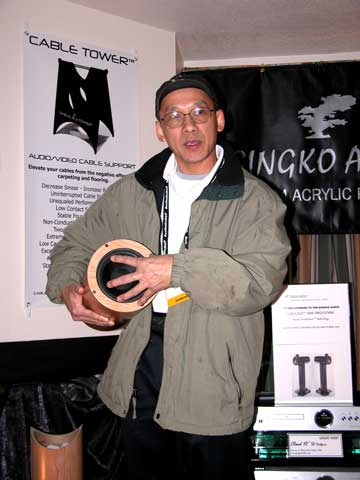 …which Vinh was kind enough to explain to us. Very solid and clean design, with the ability to rotate for best sound presentation in a given room… and all for a relatively reasonable price. Good show, Vinh! They were also featuring the new Cable Towers… I've already got these in on review!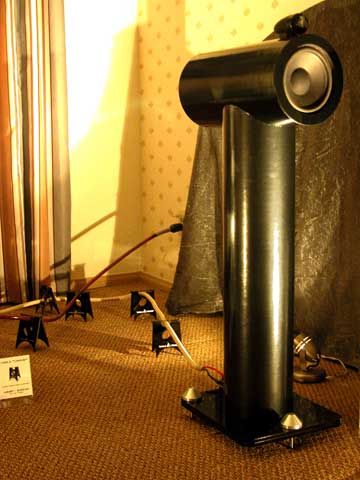 Here's the Gingko Audio Tubulous speaker in black, with the Dedicated Audio Cable Towers (http://www.cabletower.com) upholding their end of the bargain.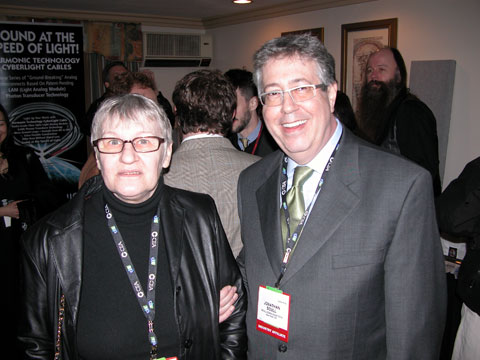 After finishing up with Norm and Vinh, Dave, Carol, Bryan, Lila and I all made our way over to the Harmonic Technology room for a press presentation on the new HT Cyberlight cables. I've been hearing nothing but serious praise for this radical new concept in speaker cables, and both as an audiophile and as an IT professional was intrigued by anything that would introduce the blessings of photonics into fine audio in a listenable way. There to greet us were Kathleen and Jonathan Scull, truly dear friends of ours, and of PFO. It just wouldn't be an event without K-10 and J-10!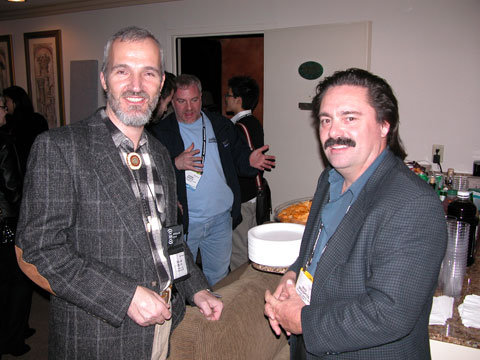 Also at the HT Cyberlights presentation was our very good 'phile friend Srajan Ebaen of 6moons (www.6moons.com), on the left, with Mike Broughton on the right. Srajan edits one of the best online audiophile journals out there; 6moons is a kindred site with PFO, for sure.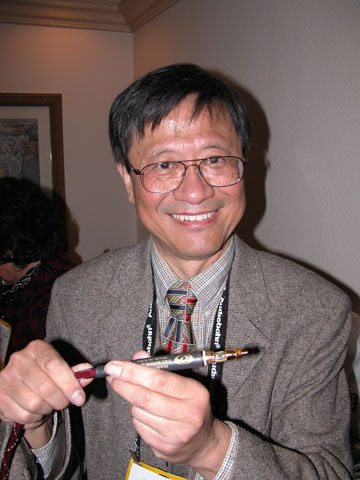 Just before the technical presentation began, Jim Wang, President of Harmonic Technology, showed me a Cyberlight cable. (Now all he has to do is get me a review set!)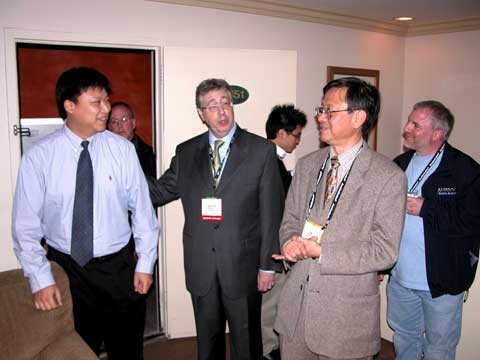 "In which J-10 introduces the good folks at Harmonic Technology to the general congress of press, assembled…"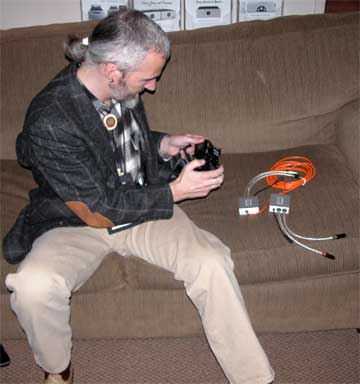 Srajan photographs the provocative topology of the Cyberlights for 6moons.com.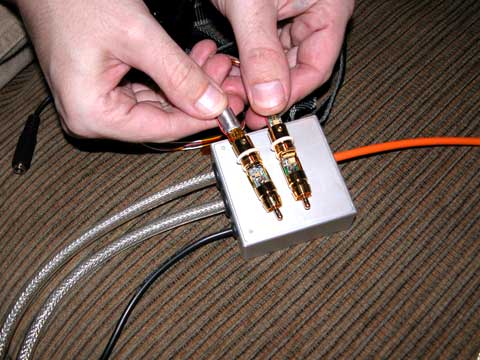 Srajan then helped me by holding the remarkable connectors of the Harmonic Technology so that I could photograph them. They are laying on the battery-powered fiber optic box beneath them.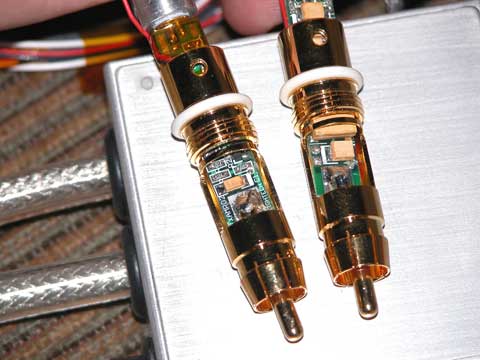 Closer, and closer! Believe it or not, you're seeing a complete analog to photonic (NO DIGITAL CONVERSION!) circuitry that fits INSIDE the RCA housing. This is brilliant…utterly like anything I've ever seen in cables. If it sounds as good as I'm hearing from trusted industry friends, then you're looking at a true revolution in cable technology, my friends.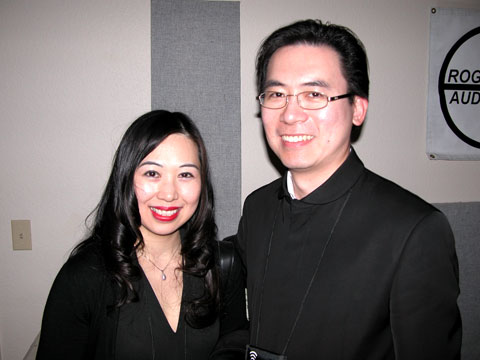 Also at the HT Cyberlight press conference were Ann and Constantine Soo. Constantine is the editor of DAGOGO (www.dagogo.com), a very fine online audiophile publication. Constantine is a gifted writer and a hard-working editor; you should definitely check out his site.
After that, the PFO gang adjourned for dinner and drinks. Today was just an overview; tomorrow would be a much longer day!