CES and T.H.E. Show 2005 - Part 1, page 2
by Fown-Ming Tien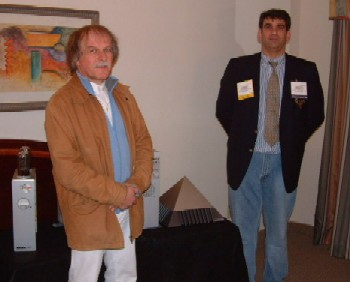 Like proud beaming father, Jean-Claude Schlup stands on the left of his latest creation, the Nagra PMA (Pyramid Monoblock Amplifier which is also available as a stereo amplifier. Anthony Chiarella of Specialty Sound and Vision, the US importer of Nagra, dCS, ARCAM, Verity Audio, and Nottingham Analogue stands on the right.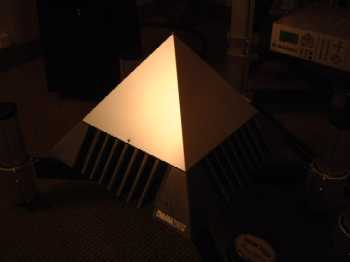 The Nagra PMA delivers 200WPC and will sell for $13K/pair while the PSA delivers 100WPC and will retail for $8K. Totally symmetrical, the amplification circuit is a push pull type operating in class AB. The secret of the Pyramid is Nagra's patented Power Factor Corrector power supply whose function is to clean up the current coming from the input transformer before feeding it to the amplification stage. The PFC circuit reduces the need for downstream filtration and reduces the number of capacitors needed and enables a high-powered unit to be offered in a relatively compact and lightweight package. The base of the PMA is cast as a single piece of aluminum and offers optimal heat dissipation that is further enhanced by having the heatsink fins on a 50 degree angle.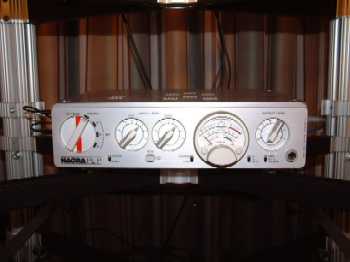 With the Nagra PL-L preamplifier as a willing partner, these two combined to make some wonderful music!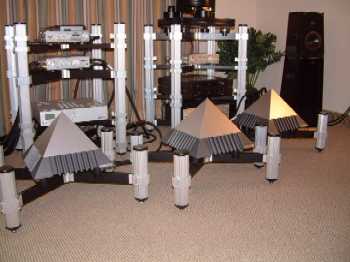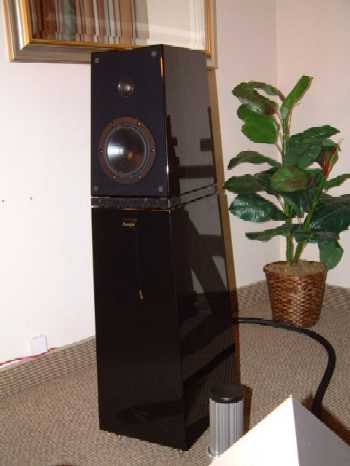 A brief glimpse of the Pyramid PMAs driving a pair of elegant Verity Audio Parsifal speakers!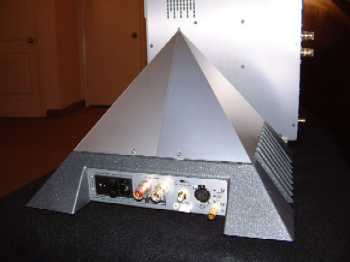 A final parting shot of the Pyramid's rear end.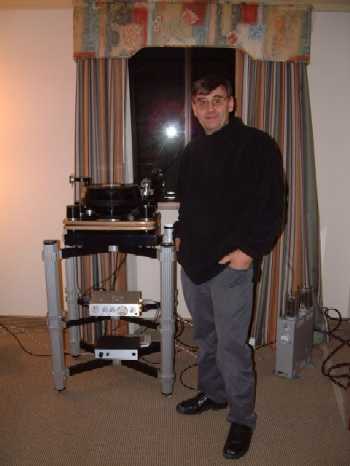 Here is Nottingham Analogue's managing director and principal designer, Tom Fletcher, with his masterpiece turntable, the $40,000 Deco! There are only 4 of these available worldwide and this is one of them!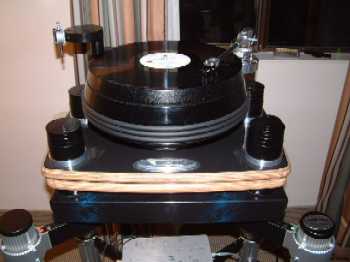 What an incredibly quiet and mellifluous sounding turntable and to top it off, Tom gave my wife and me a private demo—a simply amazing treat! Now this is what I call audio nirvana!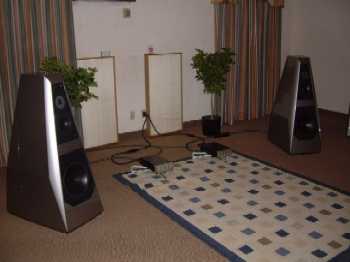 The Jeff Rowland M501 monoblocks were equally at ease driving the Rockport Antares speakers with delicate finesse as well as with raw visceral power.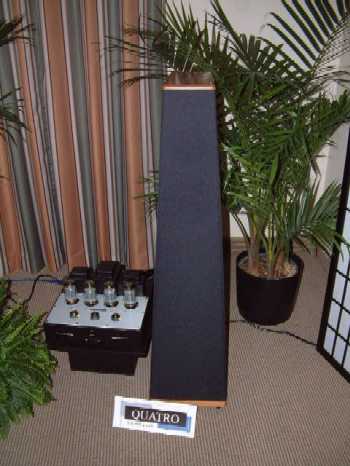 The new $6.5K Vandersteen Quatro with 2 8" carbon loaded cellulose cone subwoofers powered by a built in 300W amplifier capable of delivering flat frequency response from 24Hz to 30kHz. This is one speaker I would love to hear in my room! Actually, I would love to hear the 5A in my system, but having to move 360 pounds of speakers around is not something I am looking forward to doing anytime soon so maybe the Quatros will have to do.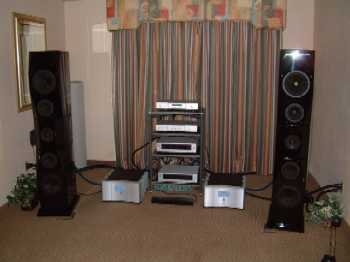 The Focus Audio Master III ($19,200/pr) driven by PS Audio electronics.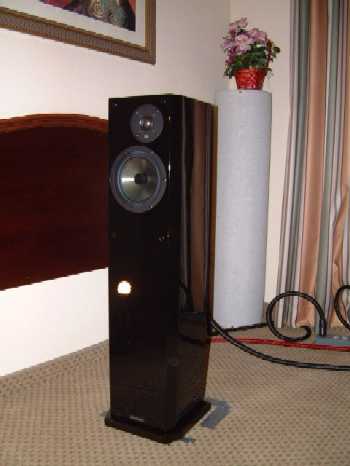 Focus Audio's Signature Series - Tenth Anniversary Special Edition FS-78 in Piano Black ($3450/pr).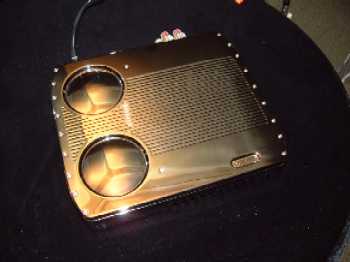 Chord Electronics' Mezzo 140 power amplifier—love this audio jewelry from Chord!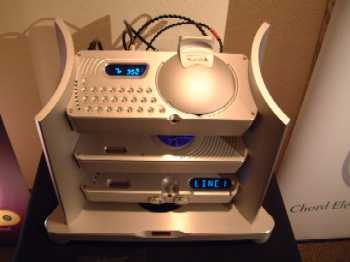 More Chord jewelry… Here is a shot of the Chord Blu CD Transport, DAC64, and Prima preamplifier.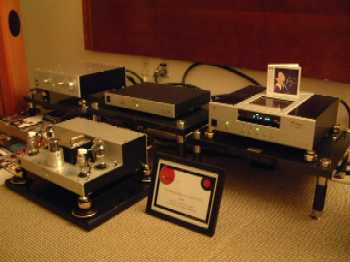 The incredible Combak Harmonix-Reimyo room!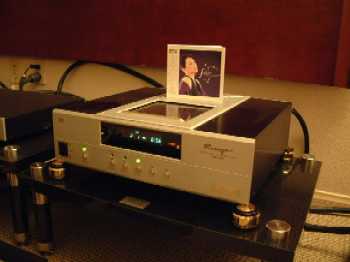 The incomparable Harmonix-Reimyo CDP-777… I had a chance to hear this CD player at a speaker manufacturer's system and was blown away by the amazing sound across the board! Build quality is top notch. I need to figure out a way to get my grubby little fingers on one of these. Actually, all it would take is a paltry $13,995!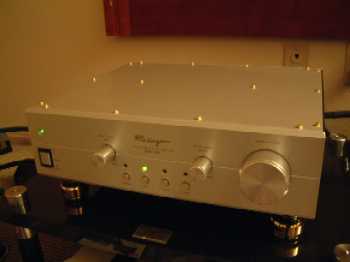 The $13,995 Harmonix-Reimyo CAT-777 Vacuum Tube Control Amplifier (preamplifier).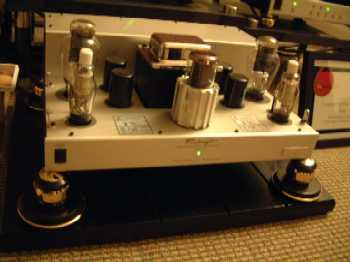 The $21,995 Harmonix-Reimyo PAT-777 300B Single-ended Stereo Amplifier operates in Class A mode and delivers 7W + 7W at 8 ohms.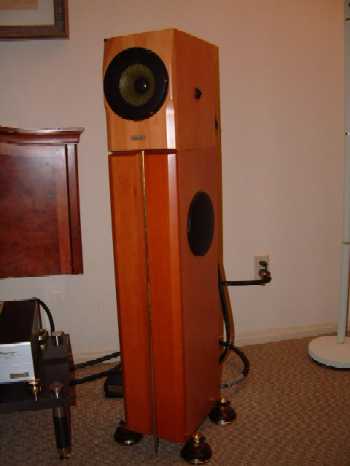 The Harmonix Bravo speakers rounded out the Harmonix-Reimyo room.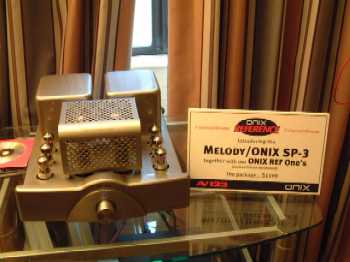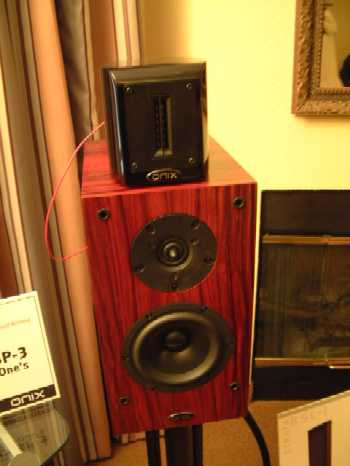 This $1199 package offered by AV123 includes a jewel of an integrated tube amplifier in the Onix SP-3 and a pair of Onix Reference 1 monitors (the ERT super tweeter is not included) finished in a real rosewood veneer. Yes, you read correctly. $1199 gets you this beautiful sounding integrated tube amplifier AND a pair of the wonderful Onix Reference 1 speakers. Mark L. Schifter, president and founder of AV123, likes to offer value and this just about represents the epitome of value!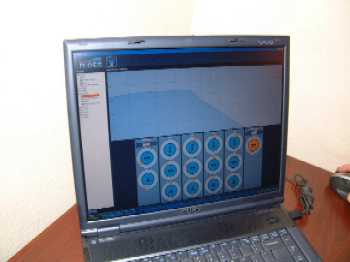 Here is a screen shot of R-DES, a 4-band parametric EQ with a graphical representation on your PC screen that allows the end user to control the in-room bass response for their subwoofer. It comes with a small box that contains the DSP hardware as well as the software for the PC. The user manipulates the frequency response in real time and watches the curve created on the screen. After this is done, the curve is saved to the computer as well as the hardware box. The box can hold 5 different curves.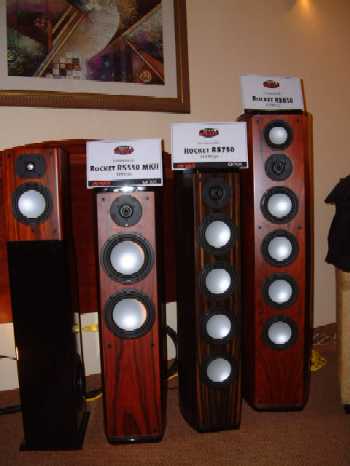 The $1999/pair RS850 floorstander (far right) is the newest member of the Rocket speaker lineup. It takes its place right underneath the $2799/pair flagship RS1000 speaker.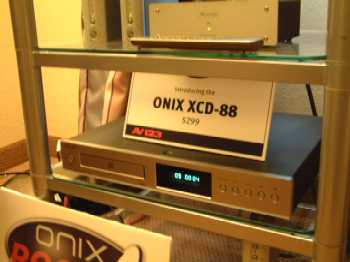 Mark seems hell-bent on making hi-fi affordable to all. Witness the new $299 Onix XCD-88 CD player which is based on the Shanling CD-S100 HDCD player!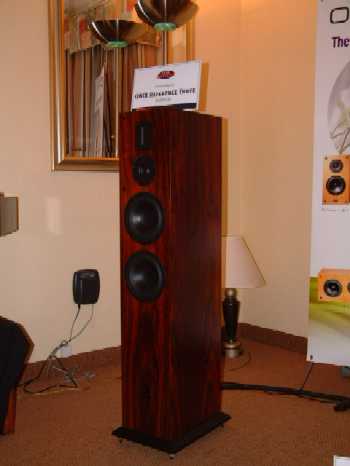 The flagship Onix Reference 3 loudspeaker in rosewood ($4500/pr).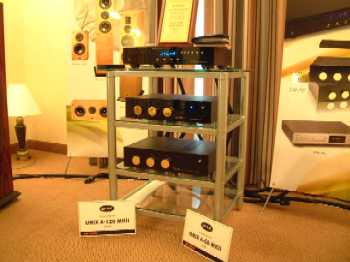 is being driven by the impressive 120W Onix A-120MkII Integrated amplifier ($695) and $1500 Onix CD-1 CD player. On display is also the 60W Onix A-60MkII integrated amplifier ($495). The aesthetics and finish give no hint of the low price tags.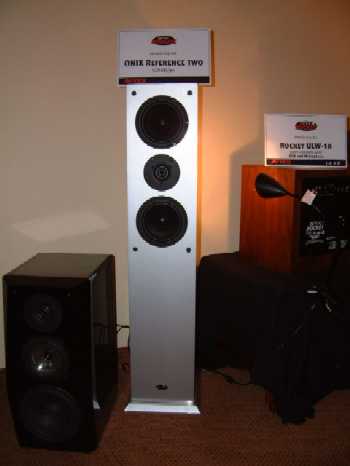 The Onix Reference 2 speaker in Artic Silver ($2500/pr).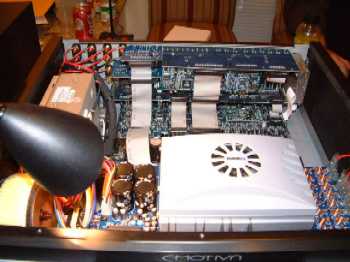 With the upcoming release of the Emotiva 7.1 Home Theater Receiver with Class D amplification and the soon to be released Onix Strata line of speakers, AV123 appears to firing on all cylinders with products that address nearly every price point in hi-fi.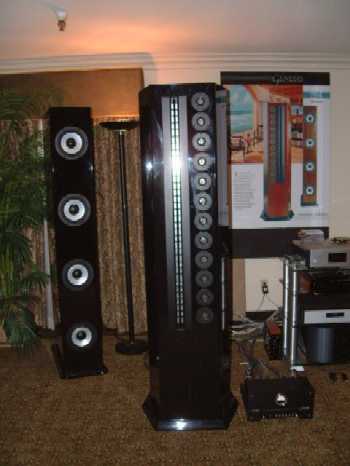 The uncompromising Genesis 201 system delivered sound that could simultaneously blow you away with its dynamics and suck you in with its alluringly sweet midrange.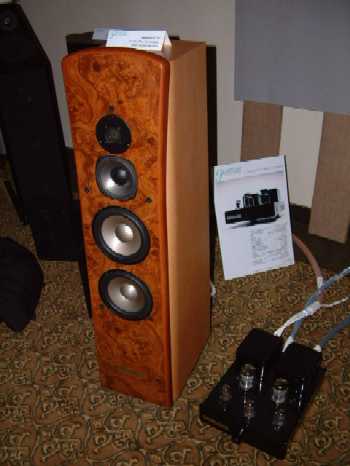 The Genesis 6.1e loudspeaker.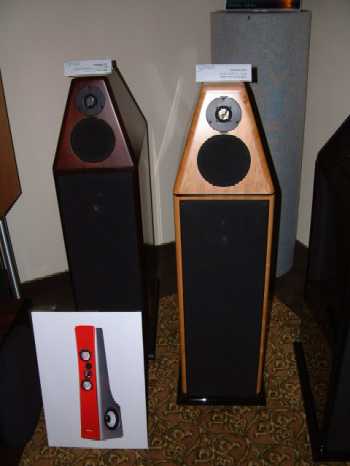 And the Genesis 501 speaker.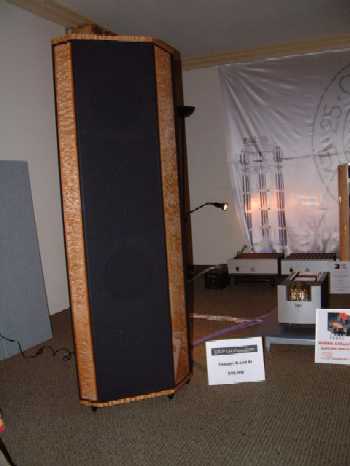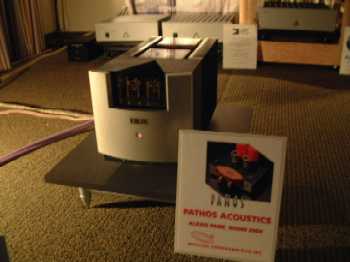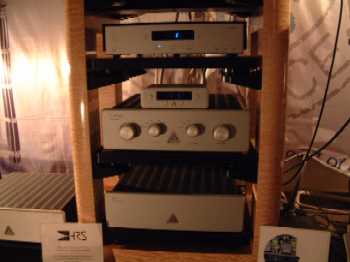 The $40K/pr ESP Concert Grand SI loudspeakers were well fed by Pathos amplifiers and Aesthetix electronics. Gorgeous sound, indeed!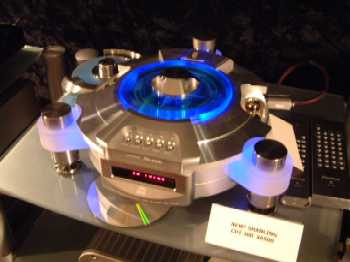 The new $6500 "spaceshipesque" Shanling CDT-300.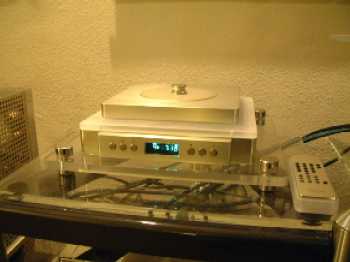 To wrap up my CES2005 experience, I will leave you with some mouth watering pieces! Pictures can not do these pieces the justice they deserve. Here is the Zanden Model 2000 CD Transport.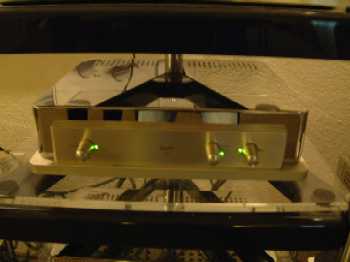 Here is the Zanden Model 5000 Signature 16-bit D/A converter getting its cue from the Model 2000.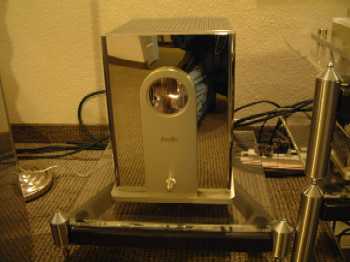 Finally, the Zanden Model 9500 845 60W Class A monoblock power amplifier.
Be sure to stay tuned for Part 2 where the coverage turns to T.H.E. Show at the St. Tropez!