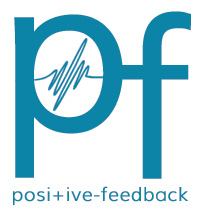 You are reading the older HTML site
Positive Feedback ISSUE 17
january/february 2005
CES and T.H.E. Show 2005 - Part 2
by Fown-Ming Tien
As if there was not enough to see at CES alone, there is T.H.E. Show that takes place at the same time next door at the St. Tropez hotel with lots of goodies to ogle over as well.
Unfortunately, my batteries ran low on juice so I was not able to capture very many images. But here is what I was able to snap photos of…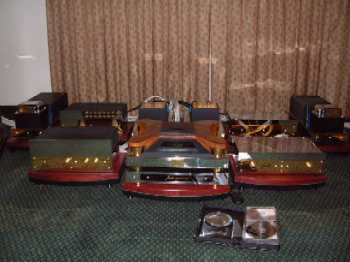 The Pierre Gabriel room was loaded with gorgeous Jadis gear which included the JD-1 CD transport, the JS-1 MkIII 24/96 upsampling DAC, the JPS-2 preamplifier, and the JA-200A monoblock amplifiers.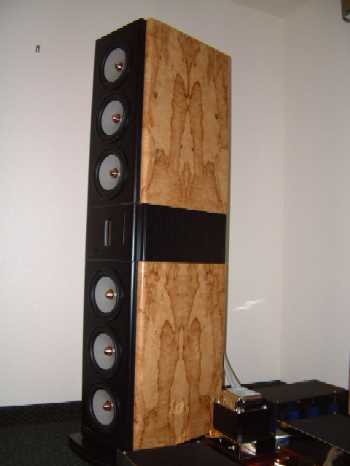 The Jadis gear served as the front end driving the Pierre Gabriel Grand Master speaker.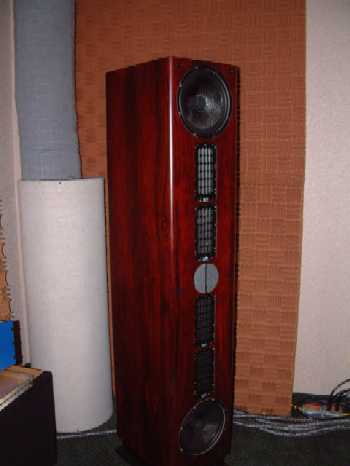 Brian Cheney's VMPS RM40 speaker driven by...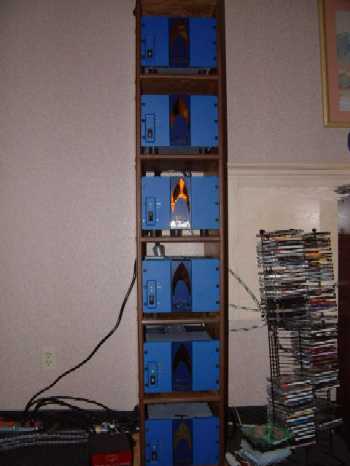 ...a bank of James Bongiorno's Spread Spectrum Technologies Ampzilla amplifiers!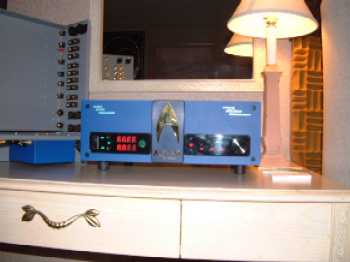 Bongiorno's new SST Ampzilla preamplifier.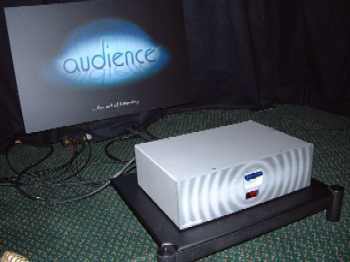 Here is the new Audience $3800 adeptResponse power conditioner, which is certainly one of the nicest power conditioners I have seen to date.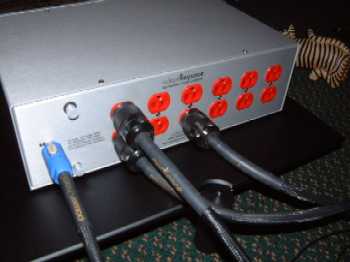 It sports 12 Hubbell outlets and does not limit current. Electricity from the wall is fed to the adeptResponse through a 20A Neutrik Powercon connector.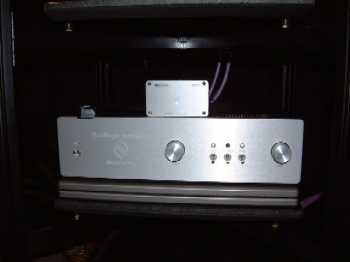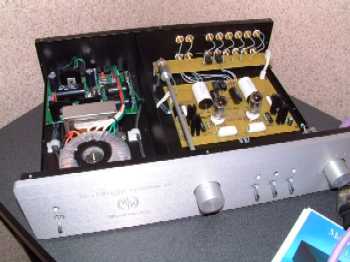 Dan Wright's new Modwright SWL 9.0 linestage.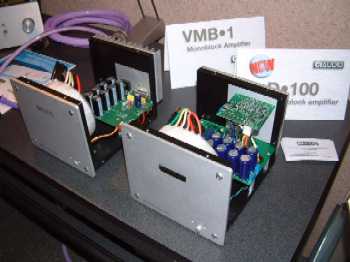 Dusty Vawter's new Channel Islands D-100 class D 100W monoblock amplifier to the right of his VMB-1 40W monoblock. The D-100 may be the first affordable class D amps that get the sound right.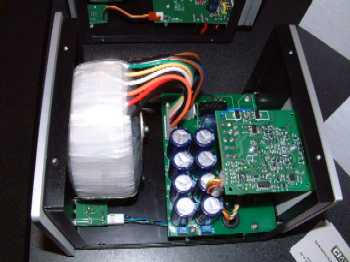 The gory blood and guts of the CIAudio D-100!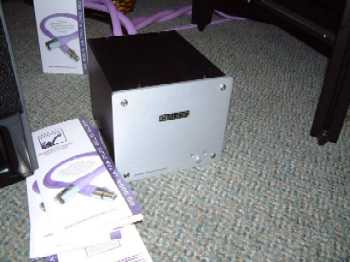 The D-100 brought to life by Brad Vojtech's Revelation Audio Labs excellent Precept power cord.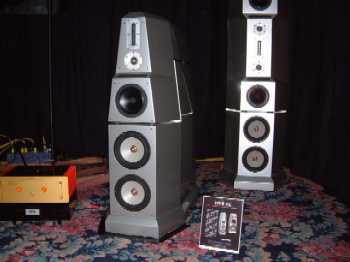 The new Von Schweikert Audio VR-9 SE in gloss Lexus Silver finish...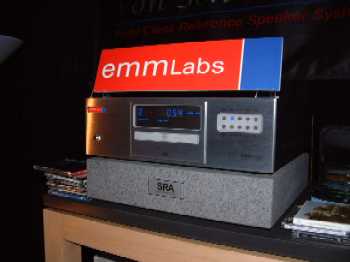 ...driven by an EMM Labs front end.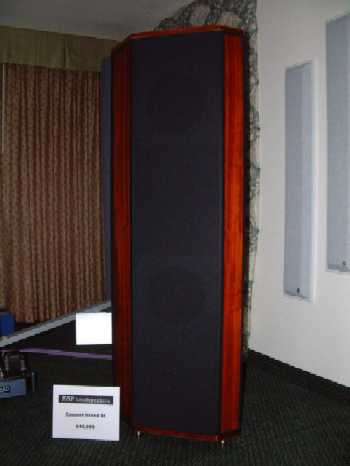 ESP Loudspeakers also had a room at Alexis Park.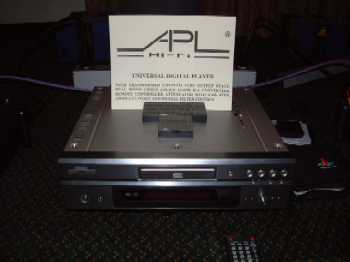 An Alex Peychev modified APL Denon 3910 universal player was the digital source for the ESP speakers shown at St. Tropez.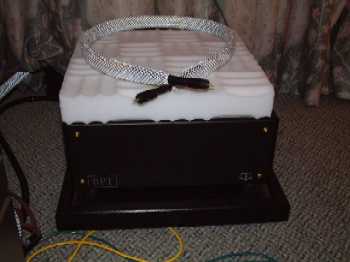 Chris Hoff's new BP-5 power conditioner. What makes this power conditioner so special is that each duplex of the BP-5 is isolated from the others.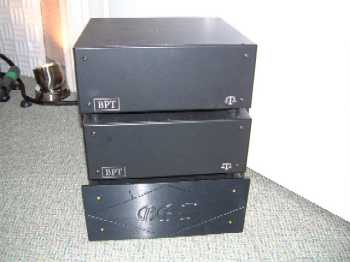 We all know battery power is quieter than electricity from your wall outlet, however you can't possibly enjoy your audio/video system without plugging into your wall outlet. Or can you? Chris Hoff is working on a new battery pack system that will allow you to better enjoy your system with less noise than ever!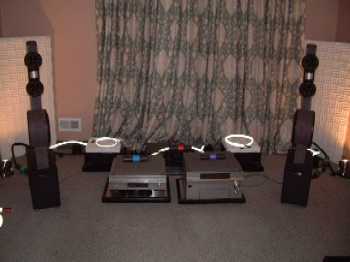 Mike Garner of CryoTweaks was using his excellent cables to drive the Gallo Reference 3 on the BrightStar stands.
Unfortunately, the battery to my camera ran out of juice so the photos stop here. But, I did have a chance to visit the Von Schweikert room displaying the VR-4 Sr IV speakers in African Hazelwood and left speechless. These speakers sounded very much like the amazing VR-4 Jrs that I reviewed except they offered more of everything I loved about the Jrs. More transparency, more air, more bass, more naturalness! Kevin and Albert should definitely expect a call from me soon about this.
I also had a chance to stop by the Ephiphany Audio room and heard their wonderful Model 12-12 line array.
Armed with more experience and knowledge, I will be back next year with the intent of seeing and hearing more! Thanks for reading. Until then, happy listening!