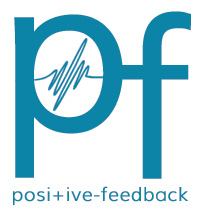 You are reading the older HTML site
Positive Feedback ISSUE 17
january/february 2005
Another One from the Road… CES/T.H.E. Show 2005: Part 1
by Greg Weaver
This year was more fun than ever. You see for me, the understandable pleasures of experiencing the latest, greatest, or even the over-the top in audio and video reproduction are only part of why I enjoy my annual near week's long visit to Vegas. While listening to/seeing gear that is getting all the press, or digging up those that you have yet to hear about, is truly pleasurable, it is not the sole reason I make this annual pilgrimage. If I was to be frank (and he just hates it when I do that), it may not even be the foremost reason I attend. The truth of the matter is that it is the time that I get to spend with friends and colleagues who, at any other time of the year, I could only visit electronically, via email or phone calls, which brings me the most enjoyment.
In that respect, I was able to spend a great deal more time with many of those people than in the past few years. The 2003 show was an abbreviated one for me (only three days), and last year, the 2004 show ran concurrent with my honeymoon. Kim and I, understandably, spent most of our time together in restaurants, casinos, and at concerts (Carlos Santana ROCKED!), not tirelessly tracking down gear and music. This year was different. I got in early afternoon Tuesday and started my social agenda right away. I got to spend time with the following folks, listed in alphabetical order.
Peter Clark, Redpoint Audio Design
Joe Cohen, PranaWire
Tim deParavicine, E.A.R.
Paul Garner, VSA
Jonathon Goldman, Goldman Audio
Kevin Hayes, VAC
Clark Johnsen, PFO
Alan Kafton, AudioExcellenceAZ
Barry Kohan, Bright Star Audio
Alvin Lloyd, Grand Prix Audio
Steve McCormack, McCormack Audio
John McDonald, Audience
Dan Meinwald
Jeff Parks, PFO
Jonathan Tinn, Chambers Audio
Richard Smith, Audience
John Ulrick, Spectron
Dusty Vawter, CIA
Brad Vojtech, RAL
Albert Von Schweikert, VSA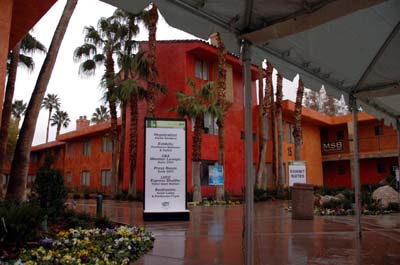 This year show-goers were confronted with the most remarkably foul looking paint job known to high-end audio…
Any who chose to attend the high-end show this year, traditionally held at the Alexis Park just west of the Hard Rock Hotel on the south side of Harmon Boulevard, were in for a real treat. First, the lobby and parking lot of the AP were "under construction." All this renovation contributed to congestion and bottlenecking for all attendees. But the real "eye-opener' was the new paint scheme for the first 10 or so buildings. What can only be described as an "urban underpass graffiti" motif, the buildings had been "attacked" with at least two hues of paint, a bright orange and a bold red. The treatment honestly looked as if someone had, with no forethought or plan, taken spray cans and haphazardly applied the different colors to the previously cream white walls of the buildings closest to the front of the campus, as though they were spraying graffiti on a city wall or park bench. To say that it looked dreadful would be gracious.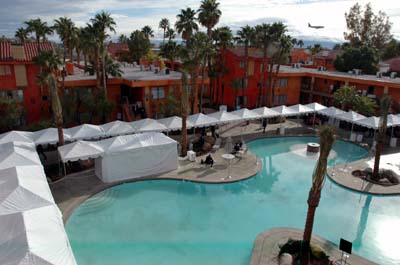 After days of cold, rain and even snow, the sun popped out Saturday.
The proximity to McCarran Airport always contributes yet another loud and competitive noise to the frequent cacophony of sounds that compose the near constant background stratum of noises, that of landing aircraft. In addition, this year brought a first at Vegas for me, snow. Tuesday through Friday was cold and rainy, with snowflakes falling mid Thursday morning, much to the chagrin and surprise of the locals. They actually had an accumulation of the white stuff on the east side of city, allowing the rare option for sledding and snowball fights. It is typically in the mid 60s the second weekend of January in Vegas, but this year, we were in the 40s and 50s through Friday. But by Saturday, the sun had come back, making the atrocious paint job that much more offensive…
To The Task at Hand…
With my recent cable change to all Audience Au24 products and experimentation with their powerChords, I was on a mission to speak at length with Richard Smith, Director of Product Development and John McDonald, President of Audience. The dramatic move toward neutrality, balance and naturalness the Au24 products afforded almost required that I award my first ever 2004 Positive Feedback Online Writers Choice Award to Audience. I can't tell you how shocked I was when, while getting breakfast seconds first thing Wednesday morning, I heard a very familiar voice just over my right shoulder calling my name. It was John McDonald. After all, it is a small show…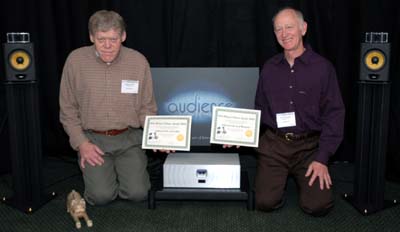 Richard Smith and John McDonald with their two PFO Writers Choice awards (Auric Illuminator and the Au24 product line), straddling the new adeptResponse conditioner.
Theirs is a remarkable story. This year Audience was introducing their new power conditioner, the adeptResponse, carrying a retail of $3800. Their room was almost set up when PFO staffer Jeff Parks and I ambled into their room just after lunchtime Wednesday. Their system was unusual for a number of reasons. They were using some solid-state amplifier modules 'liberated' from one of Richard's prior loudspeaker projects for main speaker power, a subwoofer of Richard's design powered by a plate amplifier, all Audience cables and at center stage, the new, very cool and gorgeous looking adeptResponse conditioner.
But the speakers were where it really got weird! Richard had chosen to use a pair of Radio Shack Optimus Pro LX-5s. Remember those? They have a 5-inch Kevlar mid-woofer and the dipole Linaeum tweeter… Richard had modded the x-overs of course, with a handful of crossover parts including their own auriCaps. After a brief listen, I noted that left and right was reversed somewhere in the chain. Once that was rectified, the system really opened up and sang. Jeff played a number of discs, and we both sat there in awe of this unassuming looking system.
Keep in mind that the speakers used here were the least expensive component—by far—in the whole system. Purchased on closeout at $50 each, and with about $20 with of crossover parts thrown in, the speakers cost about a quarter of the price of an Audience Au24 one meter interconnect! Did I say wow yet? The system sounded simply superb; fast, clean, dynamic, detailed, and remarkably spacious. I told them then and there that more people would be asking about the speakers than the new adeptResponse conditioner. As the show wore on, they acknowledged that this was indeed the case. I have to say, this was one smooth sounding, detailed, and musically satisfying room…
I have to say that this was the first conditioning product in some time (the last was the World Power Power Wing) that made me want to audition one at home… and my adeptResponse arrived just last week. Talk about making a difference! Things were a bit on the "hard" and "etched" side right out of the box, but have already begun to smooth out after just a couple of hours in place. The added "texture" it affords is compelling. Voices of all natures have much more refined spatial cues, both in terms of their location relative to each other and in specific size. Space is recreated with much more, well, space! Everything now emanates from a newfound "blackness." This has a remarkable effect on dynamic contrasts of all scales, micro to macro. The insertion of the adeptResponse had an astonishing impact on midrange timbre. The voices of pianos, violins, and even Stratocasters, have taken on a slight warmth and improvement in harmonic texture, complexity, and body. The most unexpected thing to me has been a noticeable reduction of a slight granularity to the upper treble I had not even been aware was there prior to its insertion. I cannot wait for some significant run in time... More as the delicious saga of the adeptResponse unfolds.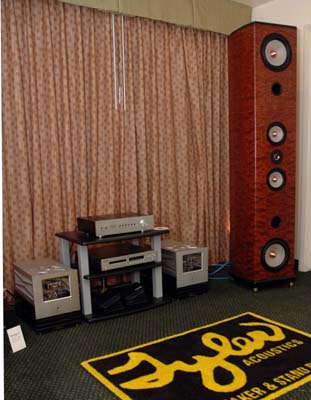 The Tyler Acoustics Woodmeres serving up the lush and engaging sounds recreated by the Jolida Tubed Separate line.
The Jolida/Tyler Acoustics room was, in a word, seductive. I had played with some of the Jolida gear while living in southern Maryland in the mid 90s; after all, they are located in Annapolis Junction. Their mission of providing the characteristic tube sound at prices anyone could afford was one I had whole-heartedly embraced. But this gear took me a bit by surprise both in its more sophisticated and polished appearance and sonics. The Jolida I recalled had fit and finish problems to work out; drawers that didn't quite close flush with their faceplate, cases that were not quite aligned at the corners, etc. This was the mature product.
The full-grown separate line featured the $1100 JD 700 tubed DVD/CD player (two channels of 12AX7A output and full capability for Dolby 5.1, DTS, Redbook Stereo, MP3, CD, HDCD, CDR, CDRW, DVD R, DVD-RW, DTS, DVD Audio). The JD 700 was feeding its lush and engrossing signal to the $1500 Musical Envoy preamplifier (includes both MM and MC phono capability) which in turn was handing off to two simply gorgeous looking Monoblocks, the $8500/pr Musical Envoy Amplifier, a 211 based 200 watt mono.
The Tyler Acoustics Woodmere's ($12,000) took the signal that they were given and released it into the room in a relaxed yet detailed manner, very musical and rhythmic overall. I have to admit that this room sounded so much better than I would have expected, given my history with both products, that I almost walked on past. I am glad I didn't, as the resultant sounds in this room force me to include it in this report. I am quite happy to be able to recognize the remarkable level of achievement these companies offered!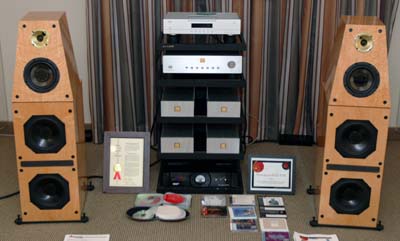 The Hyperion HPS-938 that has recently garnered awards from Enjoy the Music and 6Moons. At the new increased price of $4500 USD, I suspect it may be tough going over the $4000 VSA VR-4 jr.
Given all the praise that the Hyperion HPS-938 speakers have garnered from Steve Rochlin and Srajan Ebaen, and the resultant buzz that has snowballed accordingly, I had to go check them out. Albert Wu, Hyperion's Sales Manager, could not have been more pleasant and courteous. And, long time friend Steve Rochlin was on my right as we listened.
To be fair, I was not familiar with any of the associated equipment being used in the smallish room. They were biamped using four of the Hyperion BEC-Monos (two per side/$800 each) and driven by a CD player that I was unfamiliar with and have forgotten the name of now (it seems that I didn't write it down!). And knowing that, according to Albert Wu, they were designed to work well in conjunction with 300B amplification, I must say that they seemed a bit lean in the upper bass/lower midbass and a bit brittle in the upper-most registers. But, again, with unknown equipment and under show conditions, who can say for sure? Albert did offer to send me a set for further examination, as they do seem to offer great potential. I wonder if they will tone down that gold 'wave guide' around the tweeter? In my opinion, that really detracts from the overall look of the speaker…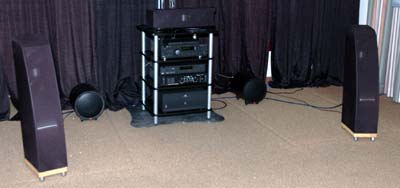 Everything you've heard about Anthony Gallo's new Reference 3 is true. It is an amazing performer at an affordable price.
Some years ago, I completely fell for the Gallo Reference Nucleus Solo. It looked like an aluminum basketball with a #303 can stuck on top. But, GAWD, did it ever get out of its own way and leave ONLY the soundstage. Oh, they were not without their faults, but what they did right was to die for. For some years now, Gallo Acoustics has made a name on their astounding micro products that, at first, appear to be more of a lifestyle than an audiophile product. Don't let the appearance alone fool you.
Well music lovers, welcome the Reference 3, a stunning looking and equally stunning performing product that gets Anthony back to his ambitions. Much like the original Solo and Reference, they completely disappear and leave only the performance. Yet, to my recollection, they are even better balanced… And, Barry Kohan of Bright Start Audio has found a way to make them even better. He has a dedicated stand for the R3, aptly named the IsoRock GR3. With over 30 layers of various materials and a center that can be filled with sand or shot, the IsoRock GR3 both physically and sonically elevates the performance of the Gallo R3. Anthony likes them so much he has entered into a relationship with Barry to supply them to his loudspeaker dealers. Good stuff, y'all!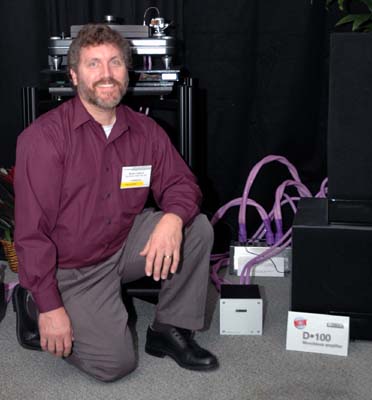 After playing with the remarkable RAL digital cables last year, I was happy to meet Brad Vojtech in person. His cables all come in that characteristic lavender sheath.
Finding my old pal Dusty Vawter brought me a second nice surprise. This year, Dusty had teamed up with Revelation Audio Labs Brad Vojtech and ModWright's Dan Wright. While I have known Dusty and Dan for some time, this was the first time I had met Brad. And it was a real pleasure after experiencing what his Prophecy i2s and Reference power cord combination had done to my ModWright modified Perpetual Technology gear. The system in the room was wired with all Revelation cables, in their highly distinctive lavender sheathing.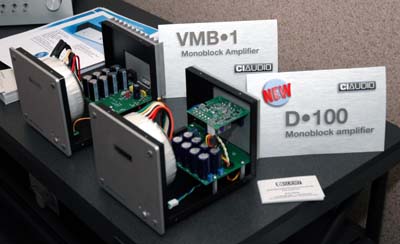 The Channel Islands Audio VMB-1 40-watt monoblock and the D-100 100-watt Class D monoblock!
I knew Dusty was introducing some very cool new Channel Islands Audio products. He has a new Class D monoblock, the D-100. These amps have gotten some great word of mouth from some very special people. And, the Pipedreams folks were using a pair of them in their room to display their new $8000 sub/sat system. More on these soon, as Dusty has suggested that he will let me play with a set. Not to be greedy, but I am hoping for four so that I can biamp. Time will tell. Knowing what a great job he did with the killer little 40 watt VMB-1 monos combined with the good word from people like Albert Von Schweikert, I'm salivating like one of Pavlov's dogs!
He also introduced a sweet sounding little headphone preamplifier, the VHP-1. I heard it briefly with a set of Sennheiser HD-600s and am going to be playing with one in both my HT and 2-channel set up soon. With a list price of just $349 and the sound that I heard, this is sure to be a winner. Watch for my report some time later this year.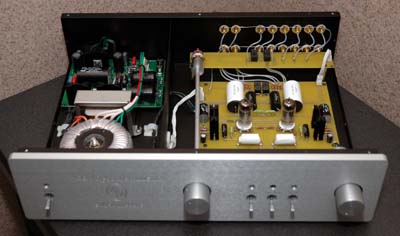 The face and innards of Dan Wright's new brainchild tubed linestage preamplifier, the SWL 9.0 SE.
Dan Wright, the upgrade wiz' who supplies affordable yet dramatic improvements to gear from Denon, MSB, Channel Islands Audio, Monolithic, Perpetual Technology, Sony, and PS Audio, under the ModWright moniker, introduced the first product from his self proclaimed "brother" company MonWright Instruments. The SWL 9.0 tubed linestage is based on a pair of NOS 5687s and is offered in two versions, a standard edition at $1399 and a special edition (SE) at $1899, which also offers remote volume control. Sporting an internal power supply and 4 single ended outs with a tape loop (which can serve as a fifth input if desired), the SWL has two single ended outputs. With 19dB of gain, ~ 700 ohms output impedance, a noise floor of -122dB, and a frequency response of 17Hz to 200KHz, it looks (well, sounds would be a better term) as though it will be a winner. I will let you know as Dan has kindly agreed to allow me to evaluate one later this year.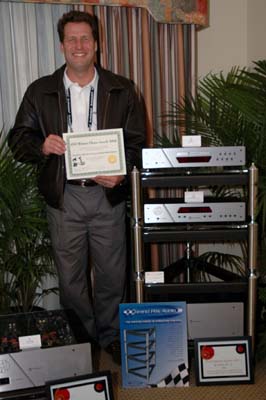 Alvin Lloyd standing beside the classy and effective Monaco Modular Isolation system loaded with McCormack Audio gear displaying his 2004 PFO Writer's Choice award.
One of the very cool items to come to my listening room in 2004 was the Grand Prix Audio Monaco Modular Isolation system. Like Audience, Grand Prix Audio was also a recipient of my Positive Feedback Online Writers Choice Award for 2004. But, I have a confession to make. From the first time I was introduced to Alvin, for about three or four months, every time I thought of his name, I reflexively thought "Alvin Lee," guitarist and vocalist for the late '60's/early '70's British blues-rock quartet, Ten Years After. When I finally confessed this idiosyncratic indiscretion to him during one of our many conversations this year, he laughed as he confided in me that his middle name was indeed Lee. Too bizarre, but I love it.
The Monaco's affect on overall system performance is, in a word, breathtaking. The improvements it imparts are so significant, it is as if I had upgraded every component in my system. We are talking about a scale of performance enhancement I would have, prior to its insertion, believed unattainable by merely changing or adding one component to any system. And, its benefits come in three primary categories; resolve, timbre and space. Watch for a full review sometime this spring.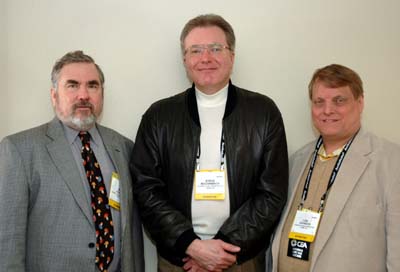 Can you say "Industry Giants?" I knew that you could. Hangin' with Bill Conrad, Steve McCormack and Lew Johnson.
Though the Conrad-Johnson/McCormack Audio room had static displays only, the company in those rooms was impressive. I have to say that it is humbling to be in the presence of any of these gentlemen; imagine how retiring it must be with all three of them in the room! I have to confess that I have admired the work of these men for as long as I have known their names. In the late '70s, a remarkable preamplifier came along that got my juices flowing; it was the conrad-johnson preamplifier, soon to be known as the PV-1. At nearly half the size of my Phase Linear 4000, to my ears, it had twice the performance. In the early '80s, the newly formed Mod Squad offered these really cool looking pointy things to put under your components and an entirely new category of audio accessory was born. I still have my original tiptoes for my Oracle by the way. I count myself among the especially fortunate to have the friendship of Steve McCormack.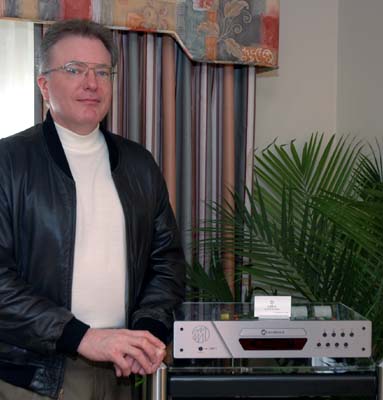 Steve McCormack and his Universal Disc Player 1
The remarkable McCormack UDP-1 first graced my system last spring and represented of a radical change for me as I moved from a 4-box CD playback system (x-port/upsampler/DAC/Power Supply) to a one-box solution. In doing so, it took me by surprise and moved me considerably closer to my music. The UDP-1, besides being a steal, even at its recently updated $3495 price tag, is without doubt one of the most musically involving players I have heard—at any price. A direct comparison to the Linn $20,000 über-box CD-12 is not that ridiculous. So it was my honor when this year, besides being able to share some wonderful libations, Steve presented me with some of his own DVD-A recordings and transfers. Music is, after all, the bond that brings us all to this passionate sport/hobby/disease.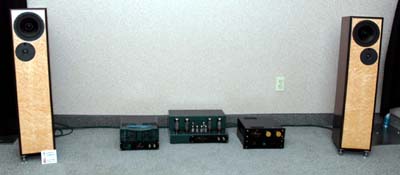 The diminutive DeVore Gibbon Super 8 fed with all Shindo electronics was one of the most palpable and engaging systems I heard this year.
I might have completely missed this remarkable system if not for the urging of longtime friend and Connecticut audio dealer Jonathon Goldman. For the first few minutes I sat in front of this engaging system from DeVore and Shindo, my jaw was on the floor.
Vinyl was demodulated by the $19,800 Shindo 301 player. A modified Garrard 301, improvements to sound staging, noise floor, low level detail and pitch stability were achieved by upgrading the platter, bearing, plinth, tone arm, cartridge and isolation feet. Next in the chain was the $7500 Shindo Monbrison Preamplifier, which uses 7 NOS tubes, amorphous core moving coil step up transformers, point to point wiring, and all vacuum tube rectified and regulated power. The $9500 Shindo Cortese f2a is a 10-watt stereo single ended amplifier that uses a Siemens F2A pentode output tube originally manufactured for Klangfilm professional studio and theater applications and is said to offer full output after 10,000 hours of continuous use. Finally, all this valve magic was released into the room through the exquisite voice of the DeVore gibbon Super 8.
Big, fast, detailed bass. Clear, clean, articulate treble. Palpable, believable, and in-the-room midrange voices. I spoke to both John DeVore and Jonathan Halpern about a closer look at this highly synergistic and superbly musical system. A complete system review is in the works.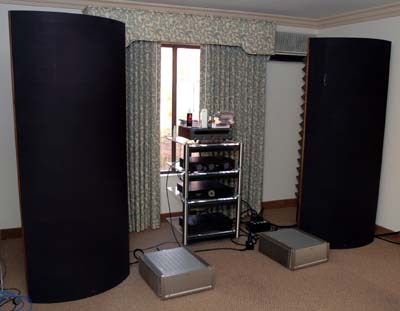 When you feed Soundlab M-1's from the well of the Halo JC-1, the result is spectacular.
Bob Crump was on hand again this year, as always, and the room was just spectacular… again. The $5000 Entec Number Cruncher sent its signal to the remarkable $15,000 CTC Blowtorch preamplifier. Amplification was provided by the very special $6000 a pair Parasound Halo JC-1 amps. The $18,000 Soundlab Millennium-1 really does the job when it is time for the current to hit the air. Musical magic, plain and simple. This room made my "Best of" yet again.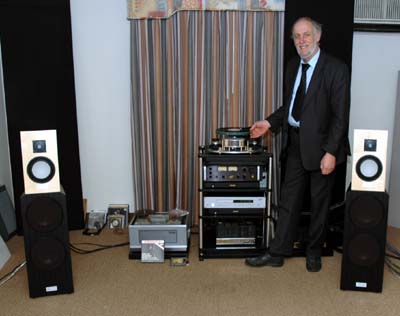 The venerable Tim de Paravicini introduced his new E.A.R. 912 preamplifier, an unnamed turntable, and disc player.
It is always a treat to hang around with Tim de Paravicini, the man behind E.A.R., and shoot the breeze. You never know what may come up. This year, as I hung around Dan Meinwald's room during setup Tuesday afternoon, we discussed all kinds of things, from wind power to Bono's politics. Remarkably, I got Tim to agree to let me do an interview. Dan and I will need to work out the details, but stay tuned.
Dan always manages to create wonderful sound, and this year was no exception. Tim introduced a new and as yet unnamed turntable. When finally ready for production, it should carry a $10,000 price tag. The $2400 Helius Omega arm was fitted with a $950 Ortophon Kontrapunkt B cart. It is unique in a number of ways including the use of a cogged belt, an electric brake, and rapid start. Tim's platter both starts and stops in less than one revolution. The plinth and platter are completely isolated from each other by a space of about a quarter of an inch. Though it ran into some problems as the week wore on, it sounded spectacular when working. A prototype E.A.R. CD player was on tap as well, and I was privileged to hear a direct to digital disc made from the Pink Floyd The Final Cut master tapes for Tim. It seems he had provided a tape machine and some other studio gear to them for the session. Yes, it sounded remarkable.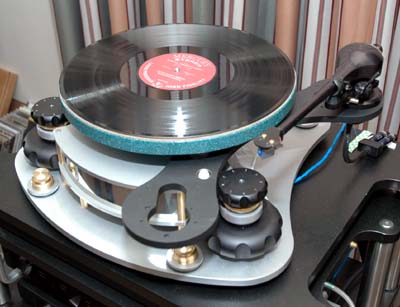 Both sources were sent on to the new $10,000 E.A.R. 912 preamplifier, which then forwarded to the $11,500/pr E.A.R. 509 Anniversary Edition amplifiers. The gorgeous looking $15000 Marten Design Duke speakers and Ellington woofers completed the acoustic transmission. And man, did this room ever sound great. Great detail, yet never in your face. Pace and rhythm. Space and focus. You just could not stand still in this room—this system simply made music. I must have made at least three visits back to this room after my initial stay, it was just that good. This room was definitely in the Best of the Best for 2005.
For the Rest of the Best 2005 – watch this space.