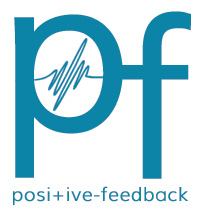 You are reading the older HTML site
Positive Feedback ISSUE 17
january/february 2005
Agony, Odyssey, Ecstasy, Meandering, and Wandering at CES and T.H.E. Show 2005
by Karl Lozier
Old timers should skip this introduction, which is intended for novices in the audio field. CES stands for the Consumer Electronic Show, a gigantic production held annually and attended by more than 100,000 people from all over the world. Most of it is held at the Las Vegas Convention Center, commonly referred to as "the Zoo." I believe it is the second largest convention center in the known universe. For audio enthusiasts, there really is no time to visit the Zoo, which is populated by the really big guys like Sony, Panasonic, Toshiba, Denon, plus companies that have nothing to do with audio. Many CES attendees never go there! You see, high-end audio (officially dubbed high-performance audio) is a separate division of the Consumer Electronic Association, the umbrella under which CES is held. Most of the high-performance audio exhibits are at the Alexis Park Hotel. To confuse the issue, a handful of older, well-known audio companies hold their demonstrations at other hotels, to better entertain those who expend the extra effort to attend the private demonstrations.
There is a third and increasingly important site that has to be mentioned. This year was the seventh anniversary of The Home Entertainment Show. T.H.E. Show is not part of CES. It typically showcases newer, smaller audio companies, but due to the tremendous efforts of Mike Maloney and Richard Beers, many companies stay with them year after year. Their site is the St. Tropez Hotel, which is located next to the Alexis Park. This year, audio enthusiasts could see and hear the latest offerings of almost 500 companies by touring those two hotels.
I try to improve my attendance record every year, but this year some backsliding occurred. It was important for me to see old friends, business acquaintances, and others, to let them know that I am working for the great Positive Feedback Online group. Soon after starting, I ran into Barry Kohan of Bright Star Audio. I owed him money, but I opened my wallet before he opened his mouth. In my review of the outstanding Esoteric (Teac) DV-50s universal player, I mentioned that I would report my attempts to improve upon its already excellent sound, so here goes. Since it plays anything that even remotely resembles a five-inch digital disc, the DV-50s got planted in my modest home theater system. The piece of furniture housing it is lacking in vertical shelf space, so I was unable to use the Bright Star Isorock 3 Reference vibration control platform that I had used under the player in my audio system. Barry offered to make a custom platform half as thick as the standard one. It did offer some improvement, though not as much as the full-size model. Now it was time, as agreed, for me to pay up for the custom platform. Thanks, Barry.
Around the corner, I heard some nice sounds pouring out of a wide-open doorway. Featured inside were the Montana EPS-2 loudspeakers. Their dynamic response was outstanding. Organ pedal notes were full and powerful. The mid bass was not as full as I would prefer, but that is often a function of room acoustics. These speakers were a real bargain at $8500 per pair. The fairly large floorstanders almost uniquely offer color choices for the grille cloths, and were nicely finished in a light-colored natural wood.
The adjoining room featured TEAC's Esoteric line, including the DV-50s player ($6000). They were demonstrating a couple of new models that look almost identical to the DV-50s, but each retails for $13,000! One is a universal player (video and multichannel) like the DV-50s, and the other is a statement two-channel-only player (no video). Esoteric is making a major push to become a top player in the cost-no-object audio world. Their very crowded room was a showcase for expensive, exquisitely styled, and superbly built audio equipment. All of the players were feeding a pair of Dynaudio's Evidence Temptations with unsurpassed delineation of detail.
Close by was the Talon room, featuring their Firehawk loudspeakers fed by the relatively expensive EMC-1 player, Chapter preamplifier, and Electrocompament Nemo amplifiers ($16,999/pair). The bass was not as rich as desirable and the deepest notes were a bit weak. As usual, room acoustics may have been responsible. Some companies seem to handle poor rooms better than others.
Next were Silverline's Sonatina loudspeakers, at a rather modest $5000 a pair, plus their 20-watt amplifiers. The sound, with Stello's upsampling CD player, was rich, smooth, full, and superbly musical. I was very impressed. The room also featured the Sonata IIIs, which were even more detailed, though the deepest bass was a bit weak (room acoustics again?).
The Harmonix room was loaded with products ending with the numbers 777. The Bravo loudspeakers were particularly eye-catching as well as ear-catching, with their absolutely beautiful prototype subwoofers that also act as a base for the full- range Bravos.
Next up were the unusual, but by now fairly well known Second Rethm loudspeakers. This cabinet design is beautiful and contemporary. It uses a single driver, a worthy goal, but one that usually means that something is missing at one of the ends of the audio range. In this case, the deep bass was simply absent. With Art Audio's PX-25 power amplifier, this $7500 pair of loudspeakers was very musical, sweet, and well detailed over the rest of the frequency range. The driver is an excellent coaxial cone design, not often seen nowadays. Lovers of large-scale classical music will need to add a subwoofer or two. Chamber music lovers need do nothing other than enjoy.
When D-day (Dread-day) arrived, I and about fifty thousand others tried to board Vegas' new pride and joy, the monorail, at the same time, to get to the convention center. I found out exactly how sardines feel when packed into a can. I apologize for having a separate agenda at the Zoo, but I wanted to find out what was available in rear-projection flat screen televisions or monitors between 46 and 52 inches. It is obvious that the video and audio arms of CEA are not communicating with each other. Near state-of-the-art video designs often have tiny built-in loudspeakers, severely limiting placement in home theater cabinetry. A few major companies had models using Epson's 3LCD chips, with various company-specific names. Unfortunately, the unique JVC design was not to be seen, as the company was hiding in an off-site hotel.
While at the Zoo, I talked to Jeff Talmadge, Denon's sales manager. Some Denon products have become the number-one choice for mods and tweaks. Jeff mentioned that Denon will soon introduce a new universal player, with outstanding video performance and very decent audio. I'm guessing that mod companies will be grabbing these, as little or nothing will need to be done to the video section. Price is to be about $2000. Don't forget their overperforming AVR-3805. Combine it with the best CD, DVD, or universal player that you can afford, click on Pure Direct mode, and enjoy surprisingly good music reproduction from your home theater setup.
Over at Universal Remote Control, Hank Eisengrein was holding court with his newest baby. Hank has long had connections to the audio world, and does not forget us when designing new products. As usual, the new remote offers more features, but attempts to simplify control. As an example, pressing the LISTEN button reveals all the possible sources in your system. Choose one, and the new Aurora's automation takes over and configures your system. It really has no limits on programmability, with memory for more than two hundred and fifty devices! It comes with a recharging stand. Its battery has no memory, so the remote can simply be kept there without harming battery life or performance. The Model MX-950 is longer than usual, but has a nice fit and feel. I hope to report on this product within the next couple of months. This is not a casual user's remote control. It is designed for very serious users and will be priced accordingly.
The next day I had planned to be back on track, with audio in mind, but that night I got an invitation to a bit of a business-with-pleasure, an extravaganza held at the Bellagio. There was too much to be eaten and drunk, and too much to report, but I will mention that Sony's playful robot, disguised as a dog, has been improved. (Maybe it just matured?) No effort has been made to make it look like a real dog, but the improvements let it act more like a real dog. As you play with it, Aibo (ERS-7M2) actually learns and matures, typically in about three or four months! It can learn new tricks, and it can bark and respond, tail-wag and all. Its vision and accident avoidance are improved, and it can roll over and right itself. To top it off, when it gets hungry—which means that its battery starts getting weak—it returns to its charging station and plugs itself in! No pooper scooper needed, but bring plenty of cash, as you will only get a hundred dollars change if you hand over two thousand dollars. Excellent pets are seldom cheap.
I spent the final day at the Alexis Park and St. Tropez hotels. I will not be mentioning as many exhibit rooms as usual this year, partly because I wasted a whole day at the Zoo chasing down my video dreams. In addition, some listening rooms were closed when I got there, or too crowded for any sort of proper evaluation. Other times, a first listen would eliminate my desire to return. Legendary companies like Magnepan and Sound Lab were in rooms too small to showcase their products well. Last year, in a large exhibit room at the San Remo, the Magnepan home theater setup was so great that at times I felt as if I were listening to the real thing. The same goes for Sound Lab's previous demonstrations.
First up was Carl and Marilyn Marchisotto's room. As usual, their room was so nice, and everyone was so friendly, that it could be considered a hospitality suite. I haven't decided what I think of their new brand name—Nola. For possible legal reasons, all products also have new names. An example, the Mini, a speaker that I gave a rave review and Reviewer's Choice nomination for PFO, is to appear in a Mk III version with an entirely different name! Actually, it is so different internally that a new name is appropriate. Carl and Marilyn were proudly showing off their new Pegasus twins ($45,000). This, their penultimate model, is no mini-monitor. I consider it their second state-of-the-art design, at half the price of most state-of-the-art designs. Though impressive at casual listening levels, it becomes a bold and forward-sounding force at louder levels. Anyone into Italian opera, Beethoven or Mahler symphonies, or similar music must listen to this new speaker.
With a personal agenda stirred up by the Nola speakers, I paid a visit to the Dali room to check out the deep bass response of their speakers compared to the Pegasus. Unfortunately, a snafu at the Dali room cut my visit short.
Genesis Advanced Technology, on the other hand, was blessed by a very large room and Arnie Nudell's continuing efforts as loudspeaker designer. Their top-of-the-line speakers, with two pairs of large cabinets for each channel, were effortlessly doing everything you can ask a loudspeaker system to do, though their size and cost will preclude their general acceptance. Further down the list, at a downright bargain price, are the Genesis 6 Series speakers. These are designed for home theater/multichannel use, and all of the models in the series use essentially the same drivers. The cabinetry is second to none, and is extremely stylish in a classy, subtle, and contemporary way. They are available in a number of finishes, including both wood and automotive paint. The subwoofers are built in, with a pair of twelve-inch drivers for each cabinet plus an internal 500-watt servo-controlled switching amplifier. The design is fully bipolar, and is rated plus or minus 3dB from 16Hz to 36kHz. Price is around $10,000 depending on finish. The cabinets are not very large at 60 x 17 x 20 inches, but they appear smaller due to their unusual design.
Probably the room most often recommended to me was the deHavilland room. The company is well known for fine preamplifiers and amplifiers, but the big deal was their use of old four-track audio tapes played on refurbished players. When I arrived at their rather small room, I heard the last minute or so of a tape and was pleasantly impressed. The next tape was an unreleased recording of a well-known jazz group, done in the fifties. It was a disappointing recording, with a harsh top end, and the sound was certainly not representative of what deHavilland's amplification can do.
I ran across Welborne Labs and owner Ron Welborne, who develops and sells electronics available either as kits or assembled. I left with the latest version of his Gatekeeper line conditioner, the Gatekeeper XI. It uses a unique technique for both EMI and RF line filtering, and also offers surge suppression. It comes with a choice of input receptacles and power ratings, and with or without a power cord. I hope to report on this neat and simply designed product soon.
In the booth area at Alexis Park, the usual companies (mainly LP and CD sellers) were there, except Reference Recordings, now missing for three years. Telarc was a new addition, and seemed to be doing very well. Music Direct was featuring everything from a large number of closed-out Pope and dmp CDs for one dollar each to the newly-remastered Mercury and RCA titles, which were selling like hotcakes.
One of the last rooms I visited was the Herron room. Herron was offering one of the best presentations I heard at CES. This has been the case for the past few years. What was different this year was the fact that Keith Herron was using some outstandingly musical loudspeakers of his own design. They are not in production yet, but will be eventually.