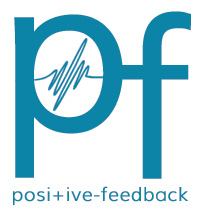 You are reading the older HTML site
Positive Feedback ISSUE 17
january/february 2005
CES 2005
by Roger S. Gordon
Las Vegas was cold and wet this year. Often there is snow in the surrounding mountains, but this time snow fell in Las Vegas, though not at the Alexis Park. Fortunately, there were lots of tube amps to keep us warm, and only a few rooms had flooding problems. Attendance was down this year, with fewer high-end exhibitors and attendees than previous years. Still, most of the exhibitors I talked to were pleased by the quality of the people that visited their rooms. After all, the purpose of the show is to make sales, not to get a lot of people to come through your door.
Listed below are the rooms that I thought had outstanding sound. I attempted to get to all of the rooms at the Alexis Park and St. Tropez in the three-and-a-half days I was there, but it was impossible. Some rooms were too crowded when I dropped by. In others, I could not play my own CDs or LPs (yes, there were turntable in lots of rooms), and I really can't tell how a system sounds without listening to familiar music. I also avoided some rooms because the music was TOO LOUD. So, with those caveats, here are my favorite rooms, in alphabetical order:
Argento Audio Money can buy happiness. The Argento room used a modified Elgar SACD player ($40,000 plus $5000 in mods), Argento preamp ($30,000), Argento 100-watt class A amps ($45,000), Avalon Eidolon speakers, and Argento cables and power cords ($25,000 plus). The sound was very good, but with that kind money I would buy the Ford GT40 ($160,000, and drop-dead gorgeous) that was part of the McIntosh exhibit and spend the remainder on a less expensive system. I guess I am not a true audiophile.
Aurem Acoustics Aurem had a complete captive system—CD player/preamp, amps, cables, and loudspeakers. The amp is actually a four-channel unit with two channels driven by 300B tubes (two per channel) for the midrange and treble and two channels of Bryston-designed solid state to drive the bass. The prototype that Aurem exhibited at CES 2004 had impressed me. The sound was also impressive this year. The CD player/preamp should be available for sale by the time you read this. The complete system should be ready for sale toward the end of 2005. This is an excellent example of what can be done by taking the complete system approach.
Balanced Power Technology/Cryo-tweaks/ZCable This room was a revelation of what can be accomplished by tweaking. They had a $5000 system consisting of a Sony XA9000ES SACD player and a Sony DA 3000 ES Digital Drive used to drive the Gallo Reference 3s' midrange and treble and a Parasound 1000 to drive the bass. Using BPT power conditioners in front of all of the electronics, plus ZCable wiring, Z-sleeves, and all of the other tweaks available at Cryo-tweaks, this modest system sounded better than most of the other rooms.
Cabasse/Art Audio I heard the Cabasse Baltic II loudspeakers with Art Audio electronics at the 2004 Audio Fest in Denver. Because of room problems, I did not think that I was hearing the speakers at their best, but I returned to the room several times because I found the sound captivating, This time, in a much larger room, the sound was equally captivating, but without the distracting room anomalies. The system consisted of an Arcam CD player, Gill Audio preamp, and Art Audio Adagio parallel SET monoblocks ($20,000) using KR T-100 tubes (60 watts per side) driving the Cabasse Baltic IIs ($4659 each) with a Cabasse Saturn 55 active subwoofer ($19,599). The subwoofer has a 21-inch driver, and can produce prodigious bass. The system is expensive, but worth every penny.
deHavilland Electric Amplifier Co./Prana Wire Located at the St. Tropez this year, deHavilland was exhibiting their Mercury line stage and Aries GM 70 monoblock amplifiers driving Nola Lotus Elite Signature speakers. The source was a deHavilland-modified Ampex 351 reel-to-reel tape player. All cables were by Prana Wire. Having moved to a different room this year, it was Sunday before deHavilland was able to get things sounding as good as last year. They kept trying different things day after day until they finally succeeded. It was worth the effort—wonderful, natural analog sound.
E.A.R./Marten Design Exhibited this year was a more affordable (?) system than last year, comprised of the Marten Design Duke monitors (39-40k Hz) on top of the Ellington subwoofers (18-150Hz), at $15,000 for the pair. The electronics included the E.A.R. 509 Anniversary Edition monoblock amps ($11,500) and E.A.R. 912 preamp ($10,000). The sources were a prototype E.A.R. CD player and prototype E.A.R. turntable. The magnetic-drive turntable with Helius Omega tonearm drew rave comments by everyone I talked to. It was dead quiet, compact, and elegant to look at. I got a chance to play several of my LPs, and the sound was exceptional. I look forward to hearing a production model, supposed to be available in the U.S. in spring. The price is not yet determined.
Herron Thanks to prototype loudspeakers, the Herron room was all-Herron this year. The system consisted of the VTPH-1MC tube phono stage ($3250), VTSP-2 tube line stage ($4995), and M1 monoblock solid state amps ($5995 per pair) driving the large speakers, which are probably a year away from production. The interconnects were also by Herron ($225 per 1-meter pair plus $25 for each additional meter). Keith Herron said he would make his own speaker cables, but the DiMarzio Super M-Path speaker cables ($500) are better than anything he can make at that price. In a small hotel room, the system generated a broad soundstage with incredible depth and detail. Recorded music does not get much better than this. This was not a captive system because components can be mixed and matched, it demonstrated what is possible when one manufacturer provides all of the components as a complete system.
Joule Electra/Elrod Power Systems Great sound again from the Joule/Elrod room. The amps this year were the Rite of Passage VZN-220 OTL monoblocks ($28,000) driving Vandersteen 5As. Many people had told me that Joule amps and Vandersteen speakers are a marriage made in heaven, but I had never had a chance to hear that combination. Having heard it, I agree that it is wonderful—very smooth, and very musical.
Merlin As usually, the Merlin room had excellent sound, with their VSM speakers and CAT electronics. Each year, chief designer Bobby Palkovic makes small changes to the speakers that keep edging the sound a little closer to the real thing. Gone is the cool, analytical sound of five years ago. The VSMs are now very natural sounding. Way to go, Bobby. Whenever I needed to retune my ears to good audio, I popped back into the Merlin room for a music fix.
Roan Audio Roan introduced their three-way, floorstanding Cayuse loudspeaker ($3899). With a Philips 963 CD player, March PT-2000 preamp, and Monarchy SE-250 monoblock tube/solid state hybrid amps ($2490 each), and Cardas Golden Section cabling in an untreated room, the sound was very good.
Sakura Systems/47 Laboratory Using Hotei two-way floorstanding speakers ($12,000) with 47 Lab electronics, the sound was musical with either vinyl or CD. I could have stayed there all afternoon. This was my first chance to hear the Miyabi/47 cartridge with the 47 Lab phono cube and Humpty power supply. Yes, that combination is as good as everyone says. Vinyl keeps pushing the envelope.
Totem Acoustic Using Ayre electronics, Totem had two systems set up in one room. One used the floorstanding Hawks ($2400) and the other the Mani-2 monitors ($4675). Since the electronics were different, no comparisons between the speakers could be made, but both systems sounded very good. Roger S. Gordon