FOWN-MING TIEN'S SYSTEM:
LOUDSPEAKERS
Thiel CS 2.2
ELECTRONICS
Aragon Aurum preamplifier, EVS volume attenuators (12 position), and Jeff Rowland Model 10 amplifier.
SOURCES
Audio Alchemy DDS-Pro CD Transport, Perpetual Technologies P-1/A Upsampler/Interpolator, Perpetual Technologies P-3/A DAC w/ModWright Level 2 mods stacked on PandaFeet sorbothane vibration dampers powered by Monolithic P-3 power supply, Pioneer DV-AX10 UDP for DVD-A and SACD.
CABLES
Onix Statement speaker cable, CryoTweaks Silver Reference MkII interconnect, Argent Jaden Signature RCA interconnect, Aural Thrills WBT Gold digital coax interconnect from CD-T to P-1/A, Revelation Audio Prophecy I2S cable connecting P-1/A to P-3/A, Onix Statement power cord, Onix Statement 1 power cord, Eichmann eXpress6 RCA interconnect, and Eichmann eXpress6 AC power cable.
ACCESSORIES
Tice Power Block power conditioner, Hubbell 20A hospital grade outlet, Bedini Ultra Clarifier, Auric Illuminator Optical Playback Resolution Enhancement, and Quantum Symphony Pro, Black Diamond Racing cones Mk3, Polycrystal amp stands (2).
For someone just getting into audio, there is no better time! There has never been equipment of such high quality being offered at entry-level prices. Many manufacturers have taken production to China, which has allowed them to offer better products at lower prices. The internet has also given manufacturers a way to offer their products directly to the consumer, which removes costly middlemen and the overhead costs associated with the traditional business model. While purchasing a piece of audio gear over the internet makes it difficult for the buyer to "test drive" it before handing over their cash, most of the direct-to-consumer companies offer a 30-day, no-questions-asked, money-back guarantee.
In PFO Issue 15, I fell in love with the Onix H34, an overachieving integrated tube amp that redefines the meaning of value. When Mark L. Schifter, founder of AV123, offered to send me a review pair of the entry-level, $699/pair Onix Rocket RS250 MKII two-way monitor speakers, I eagerly accepted. I wanted to hear what $699 could buy, and how the RS250s would stack up to other offerings in the ultra-competitive sub-$1K market.
Other than a reworked crossover, everything about the RS250 MkII is identical to the original RS250, which has been around for over two years. The new crossover purportedly improves cone control to provide better detail, clarity, imaging, and coherency. Owners' comments on AV123's website indicate that the RS250 did not have as high a reputation as the company's beloved floorstanders. Never having heard the original RS250s, I will not be able to offer a comparison between the old and the new model, and can only report on whether the MkIIs deliver on AV123's philosophy of providing products that exceed expectation.
The speakers arrived double-boxed in a single container that weighed nearly 55 pounds. Within high-density foam, each speaker was wrapped in its own protective sock made of t-shirt quality cotton. Each RS250 MkII weighs 24 pounds, which might not seem like much, but the speakers are only 13.75 inches tall, 13.5 inches deep,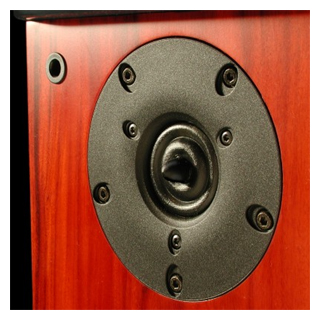 and 9.5 inches wide. Most two-way monitors in this price range weigh about 10 to 20 pounds. Also included is a pair of soft cotton gloves that allows handling the speakers without leaving oily fingerprints on the glossy black end caps.
The review pair came in a matched red ebony veneer. No words or pictures can do the finish justice. These speakers are gorgeous! The sides of the cabinets are elegantly sculpted. The fit and finish is first rate, on a par with speakers costing twice as much or more. Their wife acceptance factor should be sky high. The binding posts are high-quality WBT look-alikes. The tweeter is the Vifa Ring Radiator, partnered with a custom 6.5-inch aluminum alloy long-throw cone woofer. A third-order crossover is responsible for directing traffic.
The RS250s have always been attractive, but what good is a pretty face without an irresistible personality? Would the MkIIs be the real deal, or would they come up short? Since no monitors can fill my large listening room, I set up the MkIIs in a second room, which is about 12 by 15 feet. After placing them on my 24-inch Osiris stands, two feet from the side walls and two feet from the front wall, I aimed them inwards at my shoulders and hooked them up to the Onix CD-1 CD player and Onix-34 integrated tube amp. I played Natalie Cole's Unforgettable, With Love to get the ball rolling. The RS250 MkIIs sounded quite good straight out of the box, but were a bit restrained, so out came Natalie Cole and in went Dave Matthews. I cranked up the volume, closed the door, and let the speakers play. AV123 recommends 100 hours of break-in time before critical evaluation, but I found that the speakers opened up after around 50 hours. High frequencies had a sense of ease akin to running a hot knife through a bar of butter, and the woofer had loosened up considerably.
I played the Natalie Cole CD again, and this time the tightness was gone, leaving only the silky smooth sound of her beautiful voice. Because I had had quite a bit of experience with the Vifa tweeters in other speakers, I was not surprised by the silkiness of the upper midrange and highs, but the quality of the bass was completely unexpected. The MkIIs are said to be down 3dB at 48Hz, which is quite good for small monitors (fantastic for monitors that sell for $699), but having owned a pair of Dynaudio Audience 52 monitors, which are known for their tight, extended bass, I was skeptical that the RS250 MkIIs could deliver as much in the low end. "The Very Thought of You" has some low bass that kicks in around a minute into the track, and it was at this moment that the 250s really grabbed me. The bass was superior to that of the Audience 52s—it was tighter and had more impact! The $850 Selah SA-1 monitors that I reviewed a few months back went a little lower, but the bass was warmer and less tight, probably due to cabinet resonance. The cabinets of the 250s are made of 1-inch MDF, and the curved sides are designed to reduce cabinet resonance. I also suspect that the MkIIs' revised crossover is responsible for the great bass performance, since the stated purpose of the revision was to help control the woofer. Low, tight, full, and balanced bass is very rare in speakers at this price. Compared to my Onix Reference 1 monitors, the bass from the 250s is on the warm side, and it has more overhang, yet gives up little in articulation.
The next track, "Paper Moon," opens with some crashing cymbals—a great test of treble detail, air, and transparency. The Vifa tweeters did what it they were asked to do. They sounded very natural, and did not draw undue attention to themselves. Compared to the Selah SA-1s, with their superior ribbon tweeters, the 250s lacked some air, transparency, separation, and detail. Because my Reference 1 speakers use the same tweeter, but have more of these qualities, I believe that the difference is in the crossover. It's a case of more money buying more performance. Nevertheless, the high-frequency response of the 250s is far superior to that of the DM series monitors from B&W, with much greater refinement. The refinement of the 250s is remarkably close to that of the Nautilus N805s.
The 250s' treble and bass are quite good for monitors, but the strength of these speakers is in the midrange, which is full and detailed yet smooth and grain-free. Voices seem to flow effortlessly, and lack the hardness of other speakers in their price range. Attack, decay, sustain, and imaging are better than the price of the 250s would indicate. They also throw a soundstage that extends well beyond their physical placement, and reproduce scale better than their size and price would lead one to expect.
The RS250s can be driven pretty hard before losing their composure. Complex orchestral music can cause them to sound congested, but such pieces can also be challenging for more expensive speakers. While the RS250s raise expectations of what entry-level speakers can do, the thing that differentiates them from more expensive speakers is the ground they give up when it comes to providing that last 5 to 10 percent of fine detail. Of course, no speakers are perfect, and I would certainly not expect perfection from bookshelf speakers at such a low price. However, the Onix RS250 MkIIs deliver much, much more than I thought was possible for $699. They are entry-level speakers that perform well enough to anchor a system for a budding audiophile. They can also be used to build a better system, and might not even be outgrown. Highly recommended! Fown-Ming Tien
RS250 MkII
Retail: $699
AV123
web address: www.av123.com