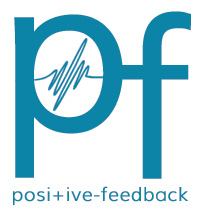 You are reading the older HTML site
Positive Feedback ISSUE 18
march/april 2005
Max on the Music: Rosa Passos & Ron Carter: Entre Amigos; Between Friends. Songs of Antonio Carlos Jobim, et al. Chesky SACD291. Time: 51:51.
by Max Dudious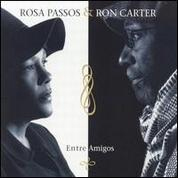 This SACD is a collection of eleven songs, seven by Jobim, and one each by Dennis Brian, Garoto & Luis Claudio, Bide & Marçal, and Noel Rosa. They are all Bossa Nova. In addition to Rosa Passos on vocals and Ron Carter on bass, the musicians are: Luis Guilherme Farias Galvao (Lula), guitar; Paulo Braga, percussion; Billy Drewes, tenor sax and clarinet. They make music about sad things. Even when they are about happy things, they sound blue, down tempo, minor mode. I think a more apt title for this album might have been Blue Rosa.
That said, the album is not a downer. Like a poet who can dial up certain emotions within us as we read his words, not even aloud, Jobim's songs in the hands of Rosa and Ron summon new emotional dimensions. Rosa's got chops. She can break your heart in Portugese. That is to say, her style is so direct, so simple, the lyrics might be in Vietnamese, but her phrasing would still bring a sigh to your chest. She sings of love lost, what else, as a mature woman (she was a youthful 50 when this was recorded.), not as a girl. You can feel the resignation, the acceptance, the ache in her heart. For art's sake, she convinces us this heartache is something she's been carrying around for years—it's her Jones and she can't let it go—while she's a happy person.
I don't want to put the knock on any other of the lady singers out there. But, often, if you listen to enough Pop, or Rock, the divas are trying to express their pain by getting loud and shrill. That doesn't do it for me. On an emotional level, it is too desperate. On an artistic level, it lacks finesse. Frankly, since I passed twenty-five I haven't found that that kind of singing moves me. Oh, it speaks to separation anxiety alright, the panic of suddenly being abandoned and unloved. But in the same way I'd try not to invite a person going through panic attacks home for dinner, 'cause that kind of trouble tries to draw you in; neither can I listen to it too often in the name of art.
And that's what is attractive about Rosa Passos. She's been there and done that. She's a sadder and wiser girl now. And when you hear her sing "O Grande Amor," you realize she's not rejoicing in a great love, as the title might suggest; she's heartbroken at having lost it. Oh boy, is she ever. And it is her understatement that generates the power of her singing without raising her voice beyond a near whisper. If you're older than twenty-five, you know how that works.
Ron Carter is a jazz great who's been around a long time lending the mastery of his instrument, and his towering musicianship, to many, many albums. Here he is, in synch with Rosa, finding the just right note, bending it with a blues flavor just so, adding his expressiveness to hers. This is an almost sublime partnership, with the other instrumentalists chiming in here and there with tasty licks. But it is Ron's sensitivity to Rosa that really puts this one over.
This album was previously released in Redbook CD format. Multi-channel helps it fill out a room, and, not surprisingly, catches more of the detail. Rosa and Ron are in the room with us. Another great job by all the folks at Chesky Records. When will they give us a Christmas Album? When? Rosa also has a new album out on a competing label. She's enjoying a vogue. Buy them both.
This article also appears in the current issue of Audiophile Auditions.